Felicia Teo Wei Ling
age: 19
person to contact:-
mrs teo : 8161 7918
dahiyaht : 9223 3295
Felicia was last seen on Saturday morning (0100hrs), 30th June 2007, in Marine Terrace wearing a green dress. She is not suspected as a runaway case. If anyone has any information of her whereabouts, please do contact any of the persons above.









Please note that tarot will pick up TRENDS /VIBRATIONS of PAST PRESENT AND FUTURE - it will pick up anything that is 'out there'true news or false news - either way it can throw light on what is 'in the air' - please bear this in mind when you are reading the insights.



It is very important that 'readers' of the TAROT understand this, therefore one has to be very discerning when reading. Media news can put out stories that are not factual or are pre -mediated but Tarot can pick that up. It does,nt mean that tarot is wrong, it shows tarot can see what might be suggested. However when writing the tarot it may be taken as fact.

TAROT

CANNOT

BE CONSIDERED AS

100 PER CENT ACCURATE.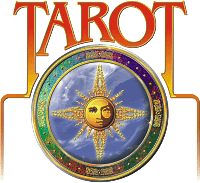 4 DECEMBER 2011
IF YOU HAVE INFORMATION REGARDING FELICIA PLEASE CONTACT POLICE ON 1800 - 255 - 0000
I have been asked here on the blogger if I could look at Tarot for this young girl who went missing in 2007. I presume she is still missing but can only find the above information at the moment to give a clear idea of contact number etc. I have lost the link so please forgive me for that as I have tried to find something I can show regarding her details. Unfortunately there are one or two sites where people are writing rather rude things. I dont think I will be putting those links on this blogger.
So just to remind everyone who is reading, that Tarot only can give glimpses of the situation. Those glimpses are past present and future and I just write what I get. I cannot name a location but can often get a lot of description and other information so I will ask you to always go to other factual sources for reports and also remember that Tarot is not 100 per cent accurate. That having been said, it might say something useful.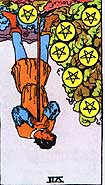 Asking what happened to Felicia on 29th June 2007 I am told she needed to make some money and go to work Nobody has confirmed whether she went or not. If she did then this question is complete. If not it is suggesting that she feels discouraged in her working environment. Was her pay too low because I get the impression that she needed to make more money and part of the thinking I have here is whether her job was not paying her enough.
This might be an outside thought but it seems to me that she had feelings of giving up this job perhaps? I get the sense of their being some feelings of apprehension and financial insecurity and they seem to be influencing her decisions making her feel that she will never really get better work and pay and often leaving her depressed and feeling her job was a bit hopeless. Maybe it was not as bad as that but just how she felt at the time and she might have made some rash decision here thinking of way of making quick cash. Im not sure that is a good idea if it turns out to be the case.
Health issues may come up due to high levels of stress through financial matters and suggests someone who might take a gamble. I dont know if that is literally or just that she made some rash impulsive financial / or work decision? Its why I wonder if she turned up at work?
I actually sense a lot of insecurity with her and where she lives also and even her studies. Did she want to drop out because it was just all too much for her to take on? It could be the case.
On the face of it, this card suggests being North but it is reversed so thats a bit difficult to suggest another direction she could have been North and went South.
I dont want to complicate the issue. Marine Terrace seems right as the two of pentacles shows her at an address or place with a water name so that feels right. But you know she just cant balance her finances and home life, I think she was juggling everything and really couldn't do it. She must have had some financial problems of some sort and I dont know why I say this but was she worried about losing her digs (the place she lived?) I think someone wanted money off her and she couldn't see her way to pay.
This might be wrong but its pretty much telling us it could be the case. I think someone might have knocked on her door - if this is the case the person would have been up to the age of 30 of just over and possibly ethnic, or even singaporean themselves. I think they appear friendly, but maybe had a different side to them possibly even irresponsible . Im not sure that this was helpful to this girl.
Looking at the 30th of June lets see if it differs.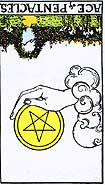 I am seeing again another card of the pentacles. So you can see as I do that this is going the same route and it is definitely picking out some problems with money. Did she get robbed of her money because I think she might have done or someone has taken money off her. This is not good getting an Ace of pentacles reversed. This is a card of health and this card is reversed which is affecting the health in some way. It is also a card that seduces somebody into making money in the wrong way or managing to get the money off someone.
All I seem to feel is whichever way I look at this there is QUICK CASH here - either somebody made it by taking it from this girl leaving her in a quandary and not knowing what to do and affecting her security, or she managed to obtain quick cash because there is a side of luxury to this card but at the same time it is all about physical gratification and can mean gambling.
Even winning lottery can come up on this card as crazy at that sounds. Im sure somebody felt they did win the lottery if money was either gained or taken. There is a winner there somewhere, but does that mean that this girl is in a difficult situation or not?
I feel like her job was given up. I feel she gave up everything but I need to decide if this was her choice or not.
My overall impression is that she made a bad investment with her cash. She took a risk and there is a financial loss here, so if she had money, she might have lost it.
You can see the tarot is trying to show us that work and money are a big problem as she risks losing all her security here and that includes health because it causes a problem . Right towards the end of the pentacles I see a man here who takes advantage of her. I think he is older than her by quite a bit. I dont think he has her best interests at heart at all, hes more interested in what he can get out of her. He might use her.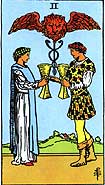 Tarot tells us that Felicia may have met somebody. It might be a new relationship and this card seems to show a union. This card is also WEST so I imagine she is either WEST or that WEST is the name of the place to find her. I think we could be linking up to 'before the wedding'here because the three of cups shows a wedding celebration so she must have met somebody previously? I have an M or a W for a name of a person or place. Im not sure if this helpful but I will put it just in case.
This is also a water card - and may indicate her near water or place with a water name. Perhaps she is not that far from where her address was or where she was last seen.
Has her property been checked thoroughly outside and inside attics basements and otherwise? all should be checked thoroughly as if this card is previous to the wedding that puts a question mark on those few hours between and you can see that somebody has been on the scene here and a problem with money arisen. This two of cups can show 'love in business' as well as just meeting or being with someone so though things might appear jumbled I think there is a spark of truth here somewhere.
I hope she has not done anything silly to make money bearing in mind that Two of Cups can indicate a new contract or agreement and in business matters might even meet an important associate.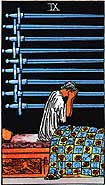 This card concerns me. This is showing me that someone has given this girl some mental anguish. I feel that she has taken part in regretable situations and unfortunately this may be something unfortunate. This is not a good card and it causes a lot of mental stress and strain.
I am not sure about the health of Felicia and I know people close to her may read this. I am not a person to put out bad news, but I have to say that finding her could be a bit upsetting. The reason I say this is because someone may have done her some wrong or she herself may have got involved with the wrong person/people. This card is normally 9 months. It shows a 9 for when she is to be found. Clearly she was not found in 2009 or we would have heard about it? maybe it is 9 months from the time this tarot is written.
What I can say is that it does indicate her being found in the winter months and it should be September time. It is a card of illhealth and when she is found it should have to be expected that it is a difficult journey in order to find her. Already it has been a few years and time is terrible when you are a family member as years go by and there is no sign of someone you love. I feel very sorry for the family I really do and I deal with this situation with missing people every day knowing the families pain and there is nothing I can do to make things better.
My tarot is to try to help because I am asked to do this. That does not make everything I say correct though. I am not correct about every detail. I can assure of that. However, on the surface of it it looks like Felicias wellbeing was compromised and it does appear there is a man involved here who she met or did not know well. I see the financial problem here and I see possibility of someone knocking on her door.
I see her walking. I feel she could have been robbed or that she or someone else wanted to to make quick money. I see her by water and according to the cards it seemed to be west. This last card argues with that and insists it is EAST but then again where she went missing is an Eastern country? maybe East is part of the name . I cannot be certain but usually Tarot does kind of unravel itself as validations come in. I feel that she is somewhere with the name rock/stone and water involved. West or East. I also think her property should be checked as there may have been clues in the bedroom there.
I do not know whether this tarot will offer something helpful or useful in clues. What I DONT like to see is really bad postings on the internet from individuals who write very cruel things. This card also shows cruelty on the internet. I really think whoever does that needs to take a look in the mirror and decide to become a better human being.
I feel that news might turn up on the internet about where she is too, and everything should always be looked at always. I feel that this is a girl who did not know what to do. I think she needs extreme love and support and I also think that there should be a huge effort put out to find her and I do hope this will occur. There may be a reason she had to defend herself also. Where she is may be near hills, airports or railways - they may not be that far away in the distance. Is she the only girl that went missing at the time because I see two here not just her. Did someone else go missing at the same time I wonder?
I hope the authority is going to get behind this case. I think they will because the swords suit ends in authority and lawyers so I believe that there could be some court issues here and that means that there should be an end in sight eventually. I hope so for the familys sake. Though it is a long way off I do feel that Authority will have this case sorted out by 2015. If there are legal complications it really will take that long. I hope however things will resolve sooner.
Meanwhile, please remember tarot is not 100 per cent accurate and I am a human who can make mistakes - however, I know from past experience that Tarot touches upon many issues that are true or are very close to the nub of the problem.
Please keep looking for Felicia. Remember she is your cosmic sister and you must keep your eyes open for her.
I hope this tarot may assist in some way.
Empathy.