JESSICA HEERINGA
fox17online.com/.../update-jessica-heeringa-case-now-considered-an-abduc...
5 hours ago –

Missing Woman: Jessica Heeringa 399819 Commentshttp%3A%2F%2Ffox17online.com%2F2013%2F04%2F28%2Fupdate-jessica-heeringa- .

Please note that tarot will pick up

TRENDS /VIBRATIONS

of

PAST PRESENT AND FUTURE

- it will pick up anything that is 'out there' true news or false news - either way it can throw light on what is 'in the air' - please bear this in mind when you are reading the insights.

It is very important that 'readers' of the blog understand this, therefore one has to be very discerning when reading. Media news can put out stories that are not factual or are pre -mediated but Tarot can pick that up. It does,nt mean that tarot is wrong, it shows tarot can see what might be suggested. However when writing the tarot it may be taken as fact.

Tarot does not have all the answers or claim to solve issues. All it can do is show what it feels may be of USE or point out possibilities.

Please always read the following

ABOUT TAROT ON THIS SITE

which is a useful article in respect of all the Tarot printed for Missing people/children.

TAROT CANNOT BE CONSIDERED AS

100 PER CENT ACCURATE BY LAW.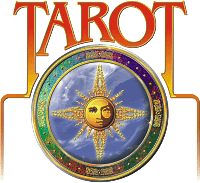 JESSICA HEERINGA
18TH MAY 2013
I have been asked to look at the Tarot for Jessica Heeringa who disappeared on 26th April.

There have been various news reports about this matter. For my part, I will simply write down what I am given from Tarot. That information will show possibilities only within past present and future trends. No information can be guaranteed unless media confirms anything in Tarot after it has been posted. Please always go to official sources of information.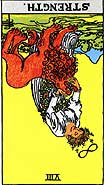 My first card for Jessica is the Strength card which has come to us reversed. This card is sitting next to a vehicle in the previous card and seems to suggest someone who either came off the road or could have crashed or come to a halt very suddenly. In theory a reversed chariot can even show someone being knocked down or run over. That sounds a bit harsh but I will just give the values and leave it as to how or what occurred reveal itself over time.

This strength card can show bones dental and skeletal structures. Our number here is 8 which might represent a route distance or timing and the feeling is rural land by design with a stream running through that but a 'brown mountain' might be symbolic for a name. I feel that there is some kind of stalker element here or contrarities or issues with the family as the family card is reversed and might suggest someone linked to family or outside of the family in this situation. I can only see bits and pieces but I will try to give information and hope that it is helpful.

I see that with this card reversed we are overthrown by someone of more then our equal strength there is 'no talking to this person'. Strength reversed can affect our respiration. It could just symbolise us being out of breath so we must not always take the worst interpretations but if the worst were to be given this is not the best card to get as physically we lack strength.

The primary colour here is WHITE so WHITE may have either a symbolic meaning or it could mean white vehicle sitting next to the chariot or another significance. Roses and animals also come up.

Perhaps we cannot defend oursel

f

in a situation here and hardship and confusion seem to be prevalent. We are not prepared for the situation that is put onto us. There is a link to a summit, peak, hill or mountain. Also a 'garland'. They may be names of places or have another significance here.
Also possibly a man who shaved off his beard. I feel a car went off the beaten track?

Colour Yellow come up here could be a yellow background or a sign.
Someone has a very domineering attitude here and wont listen to reason.
Sometimes we have to consider there is a 'blue mountain peak' hilly green land and a pair of trees but whether that is landscape I cannot be sure. I will look into that.

I feel like someone has something around their waist.
There is a connection here to a Tuesday or it might be a Monday.
We may be looking at a North or North East direction.

A person description that might appear on this card could be someone described as having a large, round head and prominent eyes. They appear to be strong and active tall with broad shoulders. Fair or sandy hair possibly with glints of red and a natural type of curl. Baldness however can show up in this card and the colour red in skin colour might show anger. As the sun is connected in this card it seems to have a family travel connection or that it is linked to someone outside of it but still connected. It should be considered that this description could also hold keywords for places.

Places or Royal type names can come up here such as King Princess Prince - and also other keywords may be theatres, public buildings monuments, public halls, auditoriums, parks palaces, castles, forts. Remote places such as deserts, forests and wild animals (like a zoo) can appear here. This card is 'hot' therefore might signify heat.fire or anything connected to this such as chimneys etc. A country village may be signified but also halls and dining rooms. The name Michael and a Sunday can show up on this card. It does not always mean something but I write it in case.

A very domineering ill dignified man is here with abrasive personality equally it could be a female.
A double square. This card can signify the Heart/Hart.

The letter U and something dark green. Someone with an obsession. Someone feeling sick or unwell. Someone who is greed obsessed.

Colour Lavender.

If this lady had plans then someone else was not going to let her carry them out.

Perhaps a secret has been revealed here and created a difficult situation.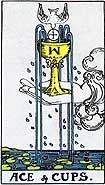 Regarding thoughts about location, again I can only give the suggestions from Tarot which may be cryptic but here we have the Ace of Cups which is going to suggest a water element, either that there is a lot of water or water in the name of a place. The number is 1 direction is West. That could be wind direciton or name of area or road/route. The letters symbolised here are M or W and the word Silver, bell and possible five streams or ponds. I would suggest North West.

There are certain church elements on this card that could signify church names or have some other meaning here, perhap spiritual elements could come into play. I seem to see a father figure, boss, priest or ecclesiaste. Possibly somewhere secluded.

There is some indication here that there are three friends and a meeting here or union (union may be a name). This card generally shows beginnings of love or romance so how that would generate itself into a place is another matter. However, we have a River and a Bridge here with a castle - it seems to suggest that this lady is over the river from her home but in some ways I feel the place is familiar to her like a vicinity that she already knows as we are somehow linked to home town or not very far so perhaps in or near the neighbourhood we know well.

This card has some kind of container on it and we have the colour blue.

Gray, a green hill and some kind of 'waterfall' significance. Or water that falls down. Tree name and an island?

Possibility of lake or puddles of water?
Motorcycles and boats?

Im getting home environment so I do wonder if she is in her own neighbourhood?

North is signified - coupled with the first direction it MIGHT produce North West. I leave both.

Pearls silver and crystals.

Keywords for areas might be the sea, rivers ponds or waters - brooks, springs, wells, wash-houses, sea shores, marshy land. Fields, fountains, baths, highways and desert places, port towns, fishponds, standing pools, boggy places, common shores, little brooks, springs swimming pools. We might also find cellars and basements. Due to the water element it could bring up cisterns, bathrooms, plumbers showers taps or anything to do with water. Someone plump or fleshy.

Drunks and bars. Fish/fishermen any element linking to water/liquid.
Someone who is winking?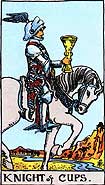 According to this card Jessica will be found as this is a 13 card. Add this together and we have the number 4. Places with 1 and 3 or 4 or 13. I would have said this year or it could even mean 13 days. That is not guaranteed but the fact she will be found is.

This card shows us that it is very likely. Here we have a West direction, note that 'horse' is travelling East. Im still seeing the home town and rural land with water or lake or river along it.

I am seeing all the water elements of the previous card so I would consider them along with this search and find card. True to say there likely have been many searches going on and this card might be showing where searches have already been carried out. However, here I have boats/lakes/motorcycles and a need to check with a third person. There may be a lake and cliffs.
There is someone here who is being very charming and very helpful and might offer up a few clues.

I have no doubt Jessica will be found. I also see a lover here and something about a child/baby or pregnancy. I do not know how this connects perhaps its just good news and messages to the family. I seem to feel that the good news is that Jessica WILL be found but I will not comment on anything else.
Bishop, Draper are names that could come up and also students in a university or college or that is in the name of a place. Something 'Sweet' and a Thursday.

Please combine all the information in this brief Tarot overview to read as one. Tarot cannot get every single detail and just writes in glimpses. I may have overlooked certain factors which if I have will return to add them should Jessica not be found. Meanwhile Tarot gives possibilities and NOT fact in past present and future trends please bear that in mind when reading.

Empathy.
UPDATED WITH MAP POSSIBILITIES 20TH MAY 2013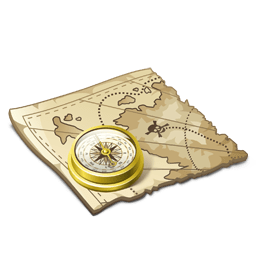 Dee has compiled a map following Tarot instructions/directions which merely outlines POSSIBILITIES of all the areas that Tarot may be touching on or may be describing. Please bear in mind that this is not guaranteed and Tarot can mean somewhere else entirely.


CLICK LINK FOR TAROT MAP
(Hit the Grey word that says MAPS)
MAPS 1 AND 2.
Show on Google Maps
Show on Google Maps