MT. PLEASANT, IOWA -- The mother of a missing Mt. Pleasant woman has posted a Youtube video plea for help finding her.
The Mt. Pleasant Police Department is asking for the public's help in locating a missing Mt. Pleasant woman.

Jackie Douthart was reported missing to law enforcement officials on Sunday, May 22.
Douthart is 24-years-old, five feet, four inches tall and weighs 120 pounds.
Douthart, who has brown hair, was last seen wearing a zebra-striped shirt, a black vest, blue jeans and flip flops.
Read more: http://www.heartlandconnection.com/news/story.aspx?id=630587

Missing woman's family still hopeful after authorities find "person of interest" dead

2:21 PM, Jul 8, 2011 | by Kathryn Stinson

A man Mount Pleasant Police identified as a "person of interest" in the case of a missing woman was found dead following a June 29 police shooting and standoff near Kingston, Ill.

Benjamin J. Biggs, 24, was the last reported person seen with Jackie Douthart, a Mount Pleasant woman missing for nearly two months, Mount Pleasant Police Chief Terry Sammons said.

Authorities had sought Biggs for questioning. Mt. Pleasant Police are now working with the Quincy Police Department and Illinois State Police as the investigation continues, Sammons said.

Read more: http://blogs.desmoinesregister.com/dmr/i....-interest-dead/

If you believe you have seen Jackie don't take any action, but get as much information as you can (e.g. license number of a vehicle, exact location of sighting, activities individual involved in) and contact the Mt. Pleasant Police at 319-385-1450 or the Missing Person Information Clearinghouse Iowa Division of Criminal Investigation 1-800-346-5507.









Please note that tarot will pick up TRENDS /VIBRATIONS of PAST PRESENT AND FUTURE - it will pick up anything that is 'out there'true news or false news - either way it can throw light on what is 'in the air' - please bear this in mind when you are reading the insights.


It is very important that 'readers' of the TAROT understand this, therefore one has to be very discerning when reading. Media news can put out stories that are not factual or are pre -mediated but Tarot can pick that up. It does,nt mean that tarot is wrong, it shows tarot can see what might be suggested. However when writing the tarot it may be taken as fact.

TAROT

CANNOT

BE CONSIDERED AS

100 PER CENT ACCURATE.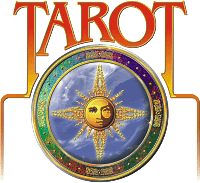 JACKIE LEIGH DOUTHART
16 NOVEMBER 2011

I have been requested on the blogger to look at Tarot to see if there is any advice that can be given for Jackie Douthart . I am assuming that Jackie is still missing . Jackie disappeared 22 May this year 2011. Tarot cannot guarantee 100 per cent accuracy and may only provide 'glimpses' or 'trends' for the past present and future regarding Jackie or whatever may be around her. Please therefore go to factual sources for other information.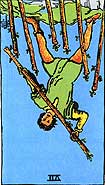 My first card for Jackie is not the best of the pack showing that for some reason Jackie could not stand up for herself. She was faced with hostility and could not decide what to do. I am feeling with this card that it is a 'hostile majority' rather than just one person which is really what it seems to suggest.


Im somehow wondering if she was overpowered by a group of people. When we look at the five of wands it shows us that she might not have been in the house as the four is reversed which can show our homestead and the five itself is having a group of people around you that can be negative towards you. The six by itself also can show possibly going out of the town.


It is a feeling of being ambushed by other people. It could just simply mean that a group of people did not agree with her 'leaving' somewhere but it might have been her choice to do so.

On the other hand it can simply show us people attacking her for various reasons and being outnumbered by them.

The eight of Wands would show her somewhere rural

but it is also a card that makes me feel that where she wanted to go was 'delayed' therefore was she stopped from going somewhere or doing something of her own choice? Either that or people disagreed with her decisions ?


The very basis of this card is feeling embarrassed and or wondering if we are going to fail at something but also being surrounded by quarrels and perplexity. Im feeling as though she was being made to feel indecisive about moving out of somewhere or going somewhere that was just not what others wanted?

I have to say others because that is what the card seems to show, but you know, it could be less then a group of people, even one person. The feeling is pretty strong though. I just feel as though she could not defend herself against that kind of opposition. I do see a lot of jealousy further in the cards too and just a general feeling of negativity around her.
Even with the page of wands reversed we have someone who has been 'stopped' from going somewhere. So this is looking pretty much the case here. There are also possibilities of 'sex and weapons' in the wands cards so we do have to be aware of this.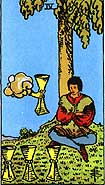 Im seeing in this card a total feeling of rejection. From what I am getting this girl had a good feeling about relationships and even possibly the thought of getting together with someone. It was a lovely foolish feeling that I see where she might have been in love with someone. It might have been a fresh relationship I am not sure but there is a feeling here that she wanted to be with someone and the three of cups shows that she might have had some plans for October Im not sure if that was this year or year before or that October has something to do with things - Halloween in particular. Perhaps she was pregnant, perhaps just feeling jubliant about a love affair, the feeling was good.


But you can see that if she had attended a party or got together with someone or even a small group that she is feeling pretty rejected in this picture here of 4 cups. This is someone who is refusing something or does not want to 'know' . I get the feeling that this woman was left very disappointed about love for some reason and mightily upset her. Often this card can show someone being offered something like a drink, but in general its just being offered something but being refused. This is either Jackie or whoever she was with or whoever was around her.
This card shows

WEST

or that West is in the name of the place 'where she is supposed to be' .


The other initials and clues might be

M

- W - also a 'water name' or place near water.

A Tree name often comes up in this card too.

Also an island. Regarding ISLAND it can represent also

someone on their own.



I am not feeling she has left the town where she lives because we still run into the ten of cups further down the suit so number 4 might be a marker or route or even four away from home. I often see a bridge and stream with the 5 of cups again, it could be the name of a street but I can never guarantee location names so all I can do is write more or less what I see. I can see that there might be a building or a small shed/keep/or somewhere like that possibly near water or in a place with water name. For some reason I am sensing a lot of apathy in this card and boredom.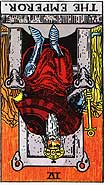 This card also gives us a number 4 so this is a clear number that should have some significance. Its either a door number, number on a car, route number or has some significance here. I really dont like this card very much because it shows authority on its head. Authority will have a difficult time to find her and might be lacking the confidence that they can find her unless she has already been found which could explain this card but I am not aware of that at time of writing.


The other thing about this card is simply that this whole situation could be around three people. I hope everyone close to her is trying to help to find her and that nobody hinders this as I can see some kind of blockage here and possibly something wrong with witness statements and even possibility of someone covering something up?
Is there a step father in Jackie's life? I just wonder as the Emperor can tell us this.


In general this card cannot command respect regarding finding of Jackie but only because people have lied about certain elements of the story. I have to say lie, because clearing away or altering evidence or covering something up is not exactly a good way for a person to be found and that is what we have here. There are some problems that I can see in the immediate family also though I am not sure what they are. It seems to me that Jackie had some unrealistic expectations about romance. Perhaps the person that she cared to be with was not going to be the most suitable person.

I do seem to feel a triangle of love here perhaps I am wrong. However Jackie seemed to pick up unwanted attention too and this could have created a lot of problems for her. It is possible there is a car involved in the mix and it could possibly be red but only because the Emperor has that as a predominant colour. I see a very bad temper with a male here, talk about tyrannical he is very over the top.
I hope the Police do not lose confidence when looking for Jackie.


I personally can never guarantee what I see is correct and most of the time there are details that I cannot supply but I seem to keep feeling that there is something around a home environment that was a problem. Also there is a very small possibility that there could be a hotel somewhere connected but this is not something I would swear to. Anywhere there is a canal or

enclosure

I would look. Any red car connected to her I would check. The direction is pretty difficult with the Emperor as he is on his head here which could mean South. But I cannot be certain. North or South or North West or South West perhaps. I really dislike reversed cards for direction .


I think Jackie has lost some of her belongings . Im getting some connection to her

childhood

in the six of cups and Im still feeling she could be somewhere in her own home vicinity. The Emperor reversed can link someone to their vehicle or someones vehicle. Again this is just a very very brief reading looking at the surface of things but I will come back to this situation with Jackie if she is not found . A four number might help but a dominant figure is not helpful.

Empathy.