Karen Johnson Swift - Missing - 10/30/2011 - Dyersburg, Tennessee
Search continues for missing woman
Wednesday, November 2, 2011
Dyersburg State Gazette

"Swift, a 44-year-old mother of four, was reported missing on Sunday and was last seen early Sunday morning by her husband at their home on Willie Johnson Road.
"Karen Johnson Swift is described as:

Age: 44
Race: White
DOB: 1/25/67
Hair: Blonde
Eyes: Green
Height: 5' 5"
Weight 138 lbs.

More http://www.stategazette.com/story/1780107.html








Please note that tarot will pick up

TRENDS /VIBRATIONS

of

PAST PRESENT AND FUTURE

- it will pick up anything that is 'out there' true news or false news - either way it can throw light on what is 'in the air' - please bear this in mind when you are reading the insights.

It is very important that 'readers' of the blog understand this, therefore one has to be very discerning when reading. Media news can put out stories that are not factual or are pre -mediated but Tarot can pick that up. It does,nt mean that tarot is wrong, it shows tarot can see what might be suggested. However when writing the tarot it may be taken as fact.

TAROT CANNOT BE CONSIDERED AS

100 PER CENT ACCURATE.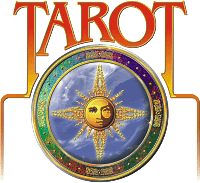 KAREN JOHNSON SWIFT
« Thread Started on Nov 4, 2011, 5:29pm »

I have been asked by a good psychic friend to have a look at Tarot to see if we are able to connect with similar views about Karen who went missing recently. There is a google link with Karen's story but I have not read it as too much information clouds my readings. Tarot is not 100 per cent accurate and I never know if anything I get will be of use. However, I will write what I see.

Tarot is also past present and future and information can be over that time span of which I have no control. Tarot can repeat information already known in order to tell us 'where to go next'.
Please make sure you go to factual sources to read true information regarding Karen.

Unfortunately I have caught sight of the fact that this ladys car was left abandoned but I will see what tarot has to say.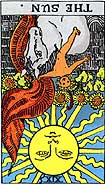 My first card for Karen is the Sun reversed. This is a

travel card and would confirm that travel has been delayed in some way

. This is a family card and you can see that this family is 'upside down'. There is a lot of unhappiness, loneliness and nostalgia in this card and I also see a sense of great void of emptiness in Karen's eyes. I would not doubt other psychics have seen this or other readers it is very apparent.


The last 19 years of Karen's life have not been her best - there has been something undefinably missing and Im not sure what that is but its just such an unhappy card. Her children seem to 'fall away from her' in this picture and so does her family life. There is a 'clandestine' romance going on here with the Moon reversed at number 18 - three people in a relationship and one who meets up with someone. In fact the moon reversed augurs well for that.



The moon can cause a lot of conflict in someones life as a mother too and emotionally can bring serious upheaval - sometimes but not always, medicines and drugs and disorientation can be on this card and it might have been caused by the 'halted travel'.

Her car was found I believe and it did not come to a stop naturally.

Usually a lot of major cards do not have directions on them, this card would normally be travelling to the EAST but it is reversed and it could either be south east or it could mean WEST. I would have said West but I cant be fully sure.


It might be that someone wanted to stop Karen from going somewhere. Low Energy, mild Depression, quarrels and feeling unloved and unappreciated can come up as emotions with this sun reversed so I would feel that there is a lot of emotional entanglement here. Problems with marriage and children all too obviously enwrapped in this card. Next to the Judgement card reversed, she may be forced to deal with the consequences of decisions from her past and have to learn valuable lessons from them. Something had to change but making a decision ? I dont think that is an easy thing.

I am assuming these are Karen's thoughts and feelings writing this tarot but one has to consider it just might be the situation surrounding her in general or be thoughts and feelings of someone else.
Divorce and seperation is in this card not just from spouse but it seems possibly even from children as well. It seems to me that a relationship is coming to an end and someone is finding it hard to let go. This does create great amounts of loneliness and nostalgia not knowing whether the right decision is being made, but it seems a change has to be made.

Seems a bit heartbreaking to me. There seems to be a lot of 'criticizing and judgemental' attitudes here and as we have only the World card in view, and it being reversed, it seems someones world has fallen apart.

Im seeing her out of control and helpless or at least the situation really is.


There does seem to be 'illness' on the sun reversed and it can also be an injury or something significant to the head - whether that is just disorganised thinking or an actual bump on the head I cant be sure but with the moon reversed everything is disorientation. There is something that has been lost too - I dont know if that is an object or just the general feeling or sense of loss. There has been some very 'arrogant talk' someone being a bit egotistic and tempers flaring and disappointment at the cancellation of a trip - perhaps her trip was thwarted in a way she did not expect. Someone does not seem to be taking any responsibility here.
There is a negative part of the sun card that can

produce a weapon and cutting can be in this card too.

Sometimes they say an AXE but that sounds a bit worrying - however, we do have to point out that

there is something sharp in this card

when reversed and it could just be hopefully, sharp words being that weapon.
Its a bit difficult to tell. In this card there are normally two children - I do not know at this stage the details of the family nor the true circumstances of the background.

The Emperor can appear in the Sun card - but as the sun card is reversed that takes the Emperor down with it and suggests a male who may be very abusive or someone who is demanding or commanding respect and doing this in a very volatile fashion. Does this sound good? Im not sure that it does and I know if I decide to travel along the Major route this could turn ugly so right now the signs are very upsetting for this woman and how she feels.

The car has 'crashed' /stopped

- and I see a respiration problem above the shoulders someone might be lacking physical strength.


The Hermit can show someone who is concealed off the beaten track that is often a country type of road/lane or area. Im feeling a sense of abandonment. Sometimes people will feel that what is theres is THEIR RIGHT and for that reason they dont let go but as everyone knows, justice can never serve that way, something has to give.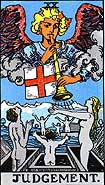 Asking where Karen is I have Judgement card pop up again so I might ask once more. However, this card is a Number 20 card which could be route/road or house number or even a distance marker from her vehicle as it is next to the world/travel card and we need to bear in mind there is a number 30 on that card as well as 21 .


Normally the 30 card is to do with YEARS but in this case I am not quite sure of the significance of it. We do have 'Gabriel' and a Red Cross on this card and next to the Sun card it is showing East in direction. Going forward is what I seem to have here. I have a saturday here. Perhaps Karen is a distance from her vehicle on the mentioned numbers here?
I am going to ask this question again -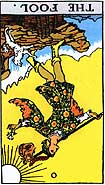 I have East again for Karen but I think its North East.

She seems to have 'lost all her baggage and/or belongings' in this card.

I feel like someone knows how to 'work the system' too and I have a D - R and possible B or J for pointers. I think she may have been in the basement of a building at one point? does she have much to do with her mother?

She seems to come up on these cards too but so does that reversed Emperor and that is someone who is not coming over as anything other then tyrannical. Was there a holiday home that she used to use? I mention that too because there could be one. Might even be a trailer or campers somewhere.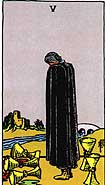 Cups are normally day cards and this one is the five of cups which makes me feel that Karen would be found under 5 days but if not days then the number 5 might be useful or even a road with 5 number. . As you can see this is a disappointing card - someone has been very disappointed here and very unhappy and seem to be standing opposite a river/stream or even water named place with a bridge to the right of them.



Quite often the five of cups has been very right in its descriptions. However, this card is telling me WEST which could be in the name of a road or eventually perhaps she is found West. I do think she will be found but this card can be both happy or sad - it does not promise to produce the endings people want whether its people who are searching for her or whether it is her own feelings here.


I dont really feel there is a reconcilliation in this card but I dont know if that means for us the seekers or whether it means for her emotionally. There is a little building in this card by the water - I hope that if Karen is ok that she can move on but even so I know it would not be easy for her - as I would not wish her to be found with loss of physical health. I dont think anyone will want that.
The six of cups always makes me feel that

she is near somewhere she knows from the past - and that she is there so it must be somewhere familiar?

I really feel she would want to be with her children - I hope this can sort itself out. I really do.

Tarot is not 100 per cent accurate and I do understand myself that not everything I have been given is going to be right in every detail - location is always incredibly difficult for Tarot but I work very hard to try to arrive at suggestions once I have seen a map. However, I really cannot guarantee any locations at any time BUT

I dont think she has left Dyersberg.

I might be wrong but we shall just have to see. I would have thought her to be within 10 miles of 'home town' if not still in it.

This is a very brief outline of what Tarot has given for Karen but I will try to expand on this if she is not found within 5 days to a week.

I know there is a lot more detail that can be available to us on the cards that I have turned over but I feel that for the moment this might suffice. It is possible that 'horse names' and/or church names MIGHT be useful or even a church in the real sense of the word. Also I see a man with a Ruby Ring. Water/boats/lakes are in these cards, but again unless I can find a name of a road or route Im not sure how helpful it is.


EMPATHY.





Sheriff's Department recovers unidentified body

Saturday, December 10, 2011


http://www.stategazette.com/story/1793438.html

The Dyer County Sheriff's Department recovered an unidentified body on Saturday afternoon but they are releasing few details at this time. The sheriff's department is confirming only that a body has been recovered, refusing to even speculate on the sex of the deceased.
.....
The first roadblock was located where Burnt Mill Road meets Harness Road off Highway 78 and a second roadblock was located where Craig Road and Harness Road meet.

DECEMBER 12TH 2011

Karen Swift Update: Missing Tennessee Mom's Body Found

The body of Karen Swift was found just two miles from her Tennessee home, nearly six weeks after the 44-year-old mother was reported missing.

Tennessee Bureau of Investigation Special Agent in Charge John Mehr told CNN that the body was discovered Saturday in Dyer County, near Bledsoe Cemetery.



TAROT VALIDATIONS.
Reading back Tarot and looking at the latest news and tarot posts on the forum it seems that Tarot has a lot correct here. I also did hear that Karen was found a 2/3 miles away. Hence 20 on Judgement and the 30 . I am very sorry to hear that Karen was found in this way. I will update if we get to know what happened. As you can see I did see a cemetary but I dont know Dyersberg geographically and I was doubtful about the cemetary I did see because it was not the right direction. So Tarot did seem to tell me that. I did mention a cemetary but not the right one.
Tarot Post I wrote on the forum.
Re: KAREN JOHNSON SWIFT DISCUSSION THREAD
« Reply #4 on Nov 7, 2011, 5:10 »
---
Im looking at the map over to the West

. Go to BURNT MILL ROAD

its near the water and a Bridge (west from willie johnson road) and there you will see a kind of chalky big car park thing - thats what Im looking at - 'flat tire'? have they looked at the tires? I dont know if its significant but the road on the map is 20 and it is West. I was looking at Sharpe Ferry Road, but Im looking as well.


When the sun is reversed it scorches and BURNS.

Burnt Mill Road

Dyersberg. Thats what I see. As you know TAROT is not great for telling me precisely where a person is/was and no doubt I am off beam guessing locations.



Re: KAREN JOHNSON SWIFT DISCUSSION THREAD
« Reply #8 on Nov 13, 2011, 22:00 »
---
With the

tombs

in Judgement Im wondering about Fairview

cemetary

as another possibility. Its very difficult to suggest an area from the tarot.
BUT this is not West so Im not sure really.




31st MARCH 2012 - UPDATES




Tarot felt some complications with travel with travel 'halted' and did see something being cut. It seems the latest report is suggesting
Karen's tires may have been slashed.
Dee Hitt provided the following update.


www.kait8.com/story/18430806/attorney-steve-f
15 May 2012 –

The husband of murdered Mid-South mother Karen Swift has hired a ... Updated: Monday, July 2 2012 6:28 AM EDT2012-07-02 10:28:49 GMT ...