Randy Scott Nichols


On August 31, 2010, Randy Nichols left his home on College Avenue in Elmira Heights, NY to walk to his mother's apartment in Villa Serene, a short distance away. He never made it to his mother's apartment. He was last seen wearing a gray t-shirt, dark jeans and black sneakers. He has grey hair and always wears a hat and sunglasses.

Randy has tattoos on each shoulder. Both tattoos are done in green ink - one (on left arm) is of a bull dog head with a collar and one (on the right arm) has the name "Carlene".



Please note that tarot will pick up TRENDS /VIBRATIONS of PAST PRESENT AND FUTURE - it will pick up anything that is 'out there'true news or false news - either way it can throw light on what is 'in the air' - please bear this in mind when you are reading the insights.


It is very important that 'readers' of the TAROT understand this, therefore one has to be very discerning when reading. Media news can put out stories that are not factual or are pre -mediated but Tarot can pick that up. It does,nt mean that tarot is wrong, it shows tarot can see what might be suggested. However when writing the tarot it may be taken as fact.

TAROT CANNOT BE CONSIDERED AS 100 PER CENT ACCURATE.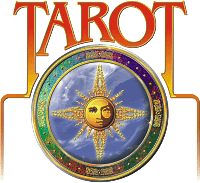 RANDY SCOTT NICHOLS
« 21 JUNE 2011 at 3:07 »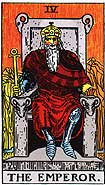 The first thing to say about Randy is that his photograph has sunglasses on and I like to look into the eyes of the person Im reading for. However, Im relying on tarot to come through and give me some details which I hope will help. Tarot tries to shed light on a situation as best as it can showing glimpses of the past present and the future. Tarot is not 100 per cent accurate and this must be borne in mind. Please always check out other factual sources.
The first card I have for Randy when I asked what happened to him on that day is the Emperor. Thats a pretty strong card and a pretty major one at that. Randy may have been going to his mothers but for some reason I have a 'father figure' or BOSS figure here. I wondered if he was going to call into where he worked.
Right now I dont know very much about Randy and will check some details later if they are available. For now I need to just let tarot express what its giving. I have apartments here but there is a B and a J attached and for some reason there is some secret here or something that is not being said. Now I dont know why that is because Im sure his mother would have said everything she knows so what else could be going on here near these apartments?
I am at an impasse with this as we hit the Empress here which is the mother and bypass her to the Emperor which is the Father element. There seems to have been some very odd things going on for about one month either before or after this man went missing and I dont know whether it is to do with him or someone else. Does he have a father and did he see his father secretly or is there something else here to do with a man who might be of that nature to him or perhaps even a Boss? I cant be quite clear on that. But, the Emperor always fullfills his plans but yet it is said Randy did,nt arrive at the apartment. Peculiar.
Meanwhile, the Emperor has a door on it. Its often known as Door 4 and I think if there are apartments that there must be other doors so did he call in to see someone else first, this might be the case but I cant be sure. It seemed to me that he was looking for a little advice from someone who he could trust who might give him some down to earth viewpoint. I do see that he lived at College Avenue in Elmira Heights Now in its own way tarot might be trying to pull that address out as HEIROPHANTS ie, the Pope can be spiritual organisations and even TEACHERS. Teachers are linked to colleges so I am wondering about how odd this is. His mothers card comes before the Emperor.
Perhaps the tarot is simply recognising the journey but I do have some kind of question mark here. The family card is very strong and he seems a physically fit man to me in this initial card Perhaps he is a father himself. Im seeing some kind of work with the hands, some self employment definately a masculine and very capable type of personality here.
I will move on for the moment and come back to this matter but if he did,nt get to his mothers apartment, I keep thinking he left a message or a note because that seems to come up in the High Priestess. I dont know where he left it, unless it was him that received a message its a bit complicated at this point.
The Strength card would show him crossing a bit of ground maybe a little brook somewhere there and Im getting the word Lion but Im not sure if in fact its LYING.
As the Emperor is an authority card it makes me wonder if something was up and authority was looking for him because of some self employment that he did. Im trying to unravel this here as best as I can - but there are secrets around him so everything is possible. The Chariot would see someone in a car and going out of town?? and perhaps visiting a person on their own or taking that time out themselves to be on their own and the Hermit can show someone who not so much wants to be hidden but maybe wants to be concealed. Obviously I hope thats a choice and not for any other reason.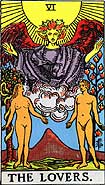 Asking where Randy is the only near description I can get is TWO PATHS or a TOW path. Its where two roads meet. You can see here that a choice had to be made or a decision either for him or we are being given two places. There are only two known places where Randy was - that was at his home or at his mothers. Here we are given a card that can represent family love. Next to the Heirophant again its giving me his address of College AVENUE so Im particularly puzzled about that. Could he actually still be in the vicinity and if so I wonder about the vehicle that I have seen.
This card can give me relationships and meetings and being with someone that he loves and there is also a SMELL attached to this card . I think there is a choice of two places where he is. I also think that there was a choice he might have had to make about what he wanted to do He either went to his mothers or he went somewhere else. I wish I could get the 'somewhere else' clearer. Theres a number 6 on this card and it links to the six of cups which is WEST in direction. It also shows a garden and a house of somewhere he knows well.
I might be picking up all sorts of thoughtwaves in these cards and I really would have liked to have seen a picture of Randy without his sunglasses because I feel that Im receiving a good dump of past present and future here.
I feel there is some loss of early attachments for Randy some kind of sadness here that I cant quite pick up but its related to his past. I have asked about his father and perhaps I should have looked at a few reports to see if his father is mentioned anywhere just in case the Emperor is picking up on that. To me its almost as though he either had a new relationship in his life or he had to choose between them but West is the direction I have which I hope will be helpful.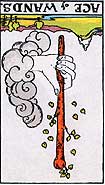 I see we have Ace of wands for when Randy will be found and often the wands represent weeks which would suggest under a week. That seems pretty swift so I hope that would be the case but I cannot guarantee it . However, the wands is a South card and North can still come from this too so North/South depending on which side of it he was originally. This card is a no action card so it might be telling me personally I dont need to look as the matter is sorted out. I hope so or that it is in hand.
I am feeling Randy is close to buildings and probably not far from his own as the two of wands is 'your own domain' so I think Im going to leave this here for the moment and come back in 7 days to see what transpires. Regarding the car that I saw earlier I dont know if Randy has one or not but I wondered if there was a car accident in his life at all or whether someone around him? I thought I would mention this because it is here but not sure what significance it would have right now. Theres also a kind of 'sporty' element in the wands - someone driving too fast perhaps? Is there a girlfriend here that he had to make a choice over as I might be seeing someone blonde here that is demanding to know something because of lack of communication. Im not sure and I dont mean that in a derogatory way. Im just throwing up all I can get from Randys picture for the moment. I will think through it all and come back to make more comments as necessary. Im getting the impression that someone is,nt saying something here but Im not sure why. Do they know something and want to keep quiet about it? - now its beginning to bother me. However, I shall take a break and a re-think.

I have just seen a map

MAP LINK - 2100 BLOCK OF COLLEGE AVENUE - ELMIRA HEIGHTS, NEW YORK:

http://maps.google.com/maps?hl=en&q=2100+block...

-------------------------------------------------------------------------------

MAP LINK - VILLA SERENE APARTMENTS WHERE RANDY'S MOTHER LIVED WHERE HE WAS HEADED (short distance away from where last seen):

http://maps.google.com/maps?f=q&source=s_q&...

I am looking at the Church Road in the South near Eldridge PARK further on there is a stream. Im feeling some strong pulls around here so I will post that . Maybe its just significant that he lived around there Im not sure.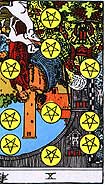 This man had family problems and money problems. I think its possible that he had two love interests. I hate to say it because I have just read the link on him and he has a wife. Im hoping that I am wrong here I dont think its a nice thing to write if it turns out to be a false assumption but the lovers shows him making a choice. I seem to think there were secrets and if he had been acting odd for a month, that might be the reason why. Tarot gave an Ace of Wands to be found - thats normally a week or under. I really have no idea if that will be the case but you never know. Im sorry to have to write this though because if its true about a love choice its a bit upsetting. This card can also relate to
the breaking up of an estate after a death or also indicate burglary. I really am not sure how this relates right now.

A further look gave me these thoughts. Obviously because I have this link with Apartments and the Emperor and read now that Randy was going to call into work at Horseheads I am beginning to see some kind of situation here. The 10 of pentacles reversed can relate to work matters the 9 of pentacles is insecurity with work and health matters and the Emperor is self employment so Im hovering over all of this. Meanwhile the 10 shows a loss of finance in a big way perhaps looking at the Page of Pentacles, not showing up for his job would also point out loss of job/promotion so it can be showing us this story about not going but these cards are reversed.
Now I have to consider here that the work matter HAS shown itself and because it has even though the Emperor is upright, the pentacles are not, they are reversed. It indicates that the Knight of Pentacles is a stationary car. It might be car trouble or someone with car trouble here and there is someone here who has dark eyes and dark hair. He might be foreign - but this is not a friendly person, and it might not be a stranger either. Did he work with someone like this or perhaps its a coincidence. He must have been around his work area at some point. Im getting some belongings here that might be scattered and Im seeing someone who is a businessman near FLATS - I am now thinking about the BIG FLATS area.
I dont know how to piece this together but Im trying to sort out Tarots messages as best as I can. All I can do is post this and see if it might help. I feel that there is a complicated situation here and definately something regarding a loss with finance but I cant put my finger on why. I see roguery here and theft but cant pick up why.
Again Im getting North and South. I have to go away and think about it yet again
Empathy