STEVE LYNN REED

6:30 PM, Jun 30, 2011
From todaysthv.com

Authorities ask for Help Finding Steve Reed of Austin

LONOKE, Ark. (KTHV) - Police are looking for an Austin man who has been missing since June 24.

On Tuesday, at 11 p.m., the Lonoke County Sheriff's Office received a report that Steve Lynn Reed, 48, of Austin, was missing. Reed's wife reported that she had not seen her husband since June 23, but did speak with him the morning of June 24. Reed told his wife that he was having car problem and said he had to go.

His vehicle was later found and towed by the Arkansas State Police on Tuesday. Police believe that the vehicle was abandoned along Highway 65, north of Greenbrier.

Faulkner County Sheriff's Office and Lonoke County Sheriff's Office have been working together on this report. The offices received information from witnesses, who observed a man matching the description of Reed sitting in Reed's vehicle.

Witness reports then said that a white car pulled up behind Reed's vehicle. The report says that Reed left his vehicle and left with the driver of the white car, which headed toward Greenbrier.

Police are asking that anyone with information about Steve Lynn Reed, contact the Lonoke County Sheriff's Office at 501-676-3000, 501-843-2611 or their nearest law enforcement agency.



Please note that tarot will pick up TRENDS /VIBRATIONS of PAST PRESENT AND FUTURE - it will pick up anything that is 'out there'true news or false news - either way it can throw light on what is 'in the air' - please bear this in mind when you are reading the insights.


It is very important that 'readers' of the TAROT understand this, therefore one has to be very discerning when reading. Media news can put out stories that are not factual or are pre -mediated but Tarot can pick that up. It does,nt mean that tarot is wrong, it shows tarot can see what might be suggested. However when writing the tarot it may be taken as fact.

TAROT CANNOT BE CONSIDERED AS 100 PER CENT ACCURATE.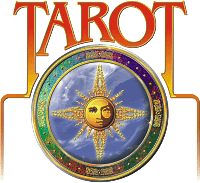 STEVE LYNN REED
« 2ND JULY 2011 at 1:59 »
I have asked Tarot what advice I may be given to help with finding Steve Reed. Tarot is never 100 per cent accurate but may be able to provide some idea of circumstances but will pick out situations past present and future. Please go to other sources for factual information.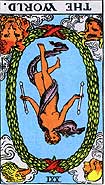 Here the world is upside down which may very well be the case for Steve Reed. Regrets and disappointment are very much part of what was going on with him on the day that he disappeared. There is a sense of betrayal here and a lot of insecurity - it is almost as though if he was going to travel anywhere there was some problem with this. I almost feel as though there was some fear of travel or a concern about a change of some kind. Im not seeing him at his most confident about a situation. There is something here about 30 years or the past 30 years which Im connecting him to, perhaps it is just 3 years and we might forget the zero, but Im feeling there is a lot of thought about the past in his life. The feeling of unfinished work and some kind of obligation seems to be here but there is also inertia and some kind of stagnation involved also. Did this man really go anywhere? or did he personally plan to? There does seem to be a problem with the past and I'm wondering if this has caught up with him and he wanted to do something about it but somehow has come unstuck? I see a fear in wanting to change his home or his profession but maybe something was on his mind that made this an inevitable route?
Someone had a huge influence on Steve, it may be a female and with this sense of disappointment makes me wonder if everything in his everyday life had just come to a point - he has unfinished business and doesn't seem to want the change so something is clearly wrong here. One does,nt travel if they don't want to so the feeling is that love has run out here.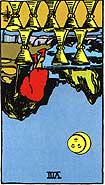 Normally when I receive Cups I always indicate West for a direction and that would appear to be what we have here for Steve, on occasion it can represent East but maybe an East West main line? West being prominent as starting point or ending point. This situation is about an emotional matter, either Steve did not want to move on from a relationship or he refused to or he has left it too soon without thinking things through. There is trouble here with emotional commitment. This card sees him moving away from emotional matters but finding it difficult and scenery is an inlet/cove with water aspects. This could be anywhere of course, but that is the description that I have.

He seems to have a lot of choices but no choices really like an inevitability. I feel as though he might be the type to drink away a few problems or argue with himself mentally about not being able to live with someone and not being able to live without them. I would look for a water location and /or water in the name. He might even have gone to a bar as that is how liquid can be portrayed in tarot. This is however what I have. I am seeing within an 8 - which could be a distance. 8 days also made an impact on his life? There are indications of emotional blackmail on this card and someone with a cold disinterest and certain amount of recklessness.

I am not sure whether this will end up well if it reaches the Knight of Cups because it can show suicidal tendencies and if not, a suicidal attitude in so much someone who really throws caution to the wind and just goes wild in a sense. There is a somewhat immature attitude by someone here towards a female who at best can be seemingly insensitive to a few personal habitual problems.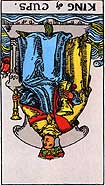 The King of Cups shows a 14 in time measures, it is often renowned for 'days' which could suggest being found within a fortnight. I am seeing either alcohol or drugs on this card or just a very drunk man? or near a place with Water in the name. Stones seem to resonate with me or the name Stone . I also feel that he is within 10 miles of his home again I could be wrong but I am going to suggest this. He will be found along the same direction that I have seen in the 8 of cups. West prominently but even possibly West but facing East if that makes sense.

He cannot get on at home he has had problems there. I do not dwell on matters of life or death, but leave what I have been given to allow it to play out as it will. I know Steve has had some emotional events and he has to come to terms with them and sort it out or be reckless and forget his own security. It may be one or the other.
I wish him safety and calm.
Tarot cannot guarantee it has recorded events accurately but hopes to touch base on possibilities.

EMPATHY.

UPDATED NEWS 18 JULY 2011
Searchers Find Possible Clues in Missing Man Case
http://www.katv.com/story/15101171/searc....issing-man-case
Posted: Jul 18, 2011 8:04 PM GDT
Updated: Jul 18, 2011 8:19 PM GDT
(KATV) Greenbrier - Searchers have found what could be clues in the disappearance of an Austin man.
15 people gathered in Greenbrier Saturday to help look for 48-year-old Steve Reed.
Please note that tarot will pick up TRENDS /VIBRATIONS of PAST PRESENT AND FUTURE -
it will pick up anything that is 'out there'true news or false news
- either way it can throw light on
what is 'in the air'
- please
bear this in mind when you are reading the insights.
It is very important that 'readers' of the TAROT understand this, therefore one has to be very discerning when reading. Media news can put out stories that are not factual or are pre -mediated but
Tarot can pick that up
. It does,nt mean that tarot is wrong, it shows tarot can see what might be suggested. However when writing the tarot it may be taken as fact.

TAROT

CANNOT

BE CONSIDERED AS 100 PER CENT ACCURATE.




UPDATED TAROT 22 JULY 2011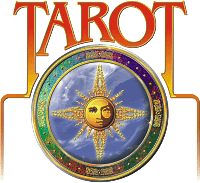 Re: STEVE LYNN REED
« 22 JULY 2011 at 3:27 »
Quite a few cases need updating, whilst others come in very frequently. With Steve Lynn Reed I know that I gave a brief over view and it is difficult for me to get back to writing more and I apologise but I am trying to keep up with requests via Email and on the blogger and forum.

Meanwhile, though I cannot guarantee being accurate with all detail, I want to point out that the last card that I received was the King of Cups reversed. This cup can show drinking and it was the FIND card. Please note that the tarot was written 2nd of July and on July 18th it was reported that some items were found and this would have been within the 14 day period. Albeit, it has not produced Steve but items which are felt to be connected to him, namely a bottle of DRINK. Tarot has its way of telling me things and it could very well have been telling us that something to do with drink would be found within 14 days. If that is the case, then it has in fact been correct though I thought it possible for Steve himself to be found within the fortnight. What I want to say is that we have passed that 14 day mark , something of Steve possibly found but as yet, not him physically.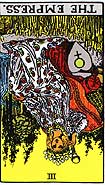 Obviously, at this moment in time, I do not know if those items were to do with Steve as I have not seen a report to definitely confirm that. So at the moment to me it is a supposition but still falls in with the tarot timing. The question would be however, that if those items were Steves and I have to say IF I am sure people would wonder why there is a ripped shirt.
I cannot promise Tarot will answer that directly, I never know what Tarot is going to say so I am in the situation where I have to make big decisions on what I receive. Asking why there was a ripped shirt found I get the Empress reversed. This shows that the owner of this shirt could have been in a situation where there was a 'jealous rage'. The Empress reversed can sometimes mean 'the other woman'. I hate writing this because if it turned out to be the case it hurts someones feelings and that is something I really despise about having to print because it just isn't nice is it? So what I would like to say is that it MIGHT be because of another woman.


This is where somebody goes balistic and its the kind of temper that is like 'us women' when we just lose all sense of control. Now it could be BECAUSE of and not that another woman did this. When I look at the card and I see the Emperor there I know that there is a Male who is pretty strong minded. Emperors reversed are not very nice men because they are full of anger and tyranny. It might indicate a guy here of that temperament who reacted when a secret came out or could be something done to him. I really feel in this case that there is reason to believe or suggest that circling the entire situation is something extremely emotional. I have had the home life reversed which tends to throw the family into a lot of turmoil . Its best to read the first tarot on the matter rather than repeat that.


I get a feeling of items being taken and a bit of roguery here. The shirt episode seemed to be a 'violent act' but you know yourself it is possible for someone to get so furious that they could rip their own clothes, but it seems to me that someone ripped them and not the person who was wearing the item. It could be a male or a female but it might have been done with a real attempt to be destructive. When a shirt is found in various pieces, someone has gone to town by the look of it. Its not just a tear, its far beyond that, its an anihilation of it.

At the moment the labs have to confirm whether these items result in any connection to Steve so I would imagine some news might come up about that.
I have felt that Steve wanted to 'free himself' from a situation. Like I have said, I feel very bad if it sounds negative towards family and hope they understand that I am trying to 'see' for them and of course this family difficulty is hard to pinpoint only that it appears to be there as in the original Tarot.


I have also had the card WEST to try to tell us where Steve might be. I have suggested 10 miles or within 10 miles but I think it would have served me better to have just simply said TEN which could be a route, road or might turn out to be what I originally felt. The West card reversed is always tricky as I have often opted for a southern direction when a card is on its head, but I know it doesn't ALWAYS apply so I have given WEST as the strongest direction and the East plays a part.

North West has been an area of interest, Greenbriar in particular, that would make sense due to the car and where it was found. However, I kept leaning to just the West but that does not particularly make me right. There would have been a party in the 9 of cups reversed where someone could have drunk too much and when we had the King I saw that even more. When the King is reversed they just seem to forget or overlook all their responsibilities to party and do what they want or what they prefer which is to forget the boring stuff and have fun instead and with that ten of cups reversed , this is being done away from home. I do feel Tarot seeing things but I am a bit frustrated about the FIND card.


Even if I look at the 8 of cups reversed I still have not moved away from the family issues, drinking, possible partying and that West direction. But you know if I did slide back a bit into the cups there does seem to be indicated the party element /celebration again and this is followed by an opportunity that likely could have been taken. I understand there has been some information regarding a 'reunion'. This might figure with it all although this information certainly did not come to light for me to understand until after the tarot was written. I believe I was told something about a 30 year reunion and it was due in 8 days or something like that. No doubt I have that wrong and will be running back here to put that right so forgive me I have got that a bit cockeyed. I can't always keep track of matters.

But, the one thing I might say is that the three of cups reversed can show some kind of negative feeling about a get together. Where that is coming from I am not sure but sometimes that three can show women who are gossiping or actually being very bitchy. So it might be that if this reunion had anything to do with this situation with Steve that there might have been some opposition or that if he attended any party or place where he was drinking that some negativity could have arisen from it. I realise that Tarot can be offensive if it were to spill thoughts inconsiderately and I do not every wish to write things that hurt people. I always try to see everything in a fair light and as positively as possible. That really is the only way to write Tarot at all.

Steves first card is normally a really happy card, full of achievement and indicates some kind of travel or going somewhere, its a card where someone really feels they in the right place at the right time. But you see, this card is reversed and it could be the absolute opposite and suggest he was in the wrong place at the wrong time and that travel is completely halted. That to me indicates someone who has encountered a lot of problems and their world is totally upside down. It mirrors situations that are creating obstacles in the persons life. The only place I feel I can go from this card is back to the Fool . The Fool is showing us NORTH WEST. North West is the direction that Steve has been sought. It can sometimes mean South West .

That card is reversed and automatically shows us that some baggage, bits and pieces that belong to the person have been lost. Therefore it could show us that the items found WERE Steves, but we don't know that yet. It would often show someone falling or tripping up. The Fool after all is someone who has to watch where he is walking and it would indicate that he might BE walking because sore feet and being at the side of a road can come into this. The person effectively is now no longer really going anywhere they are seemingly not making as much progress.
Rocks (I think I said STONE) can figure here so the name ROCK??? or it could it be a description of landscape? may be in this card. Drugs and drink could also be in this card.

The Fool is a card of folly and indecision. Its someone who does not know what to do and they might do something silly and realise after how stupid that decision was but whats done is done at that stage. Cliff, Rocks, TIP, FALL all come under the Fool. I think I see a halt in this journey with the Fool. North West on the card but reversed, I am still feeling West is the Strongest area. The World card reversed could be someone who wants to ' turn things around' make good whats bad but feel they are powerless to do that. Its almost as though they are stuck and 'can't' go back on something.

I do seem to see a furious female and you know this is a kind of person who would go absolutely nuts if she was downtrodden in any way. The Empress is known as someone who would be extremely violently charged. That is where we get the ripped shirt perhaps? . I know I could be entirely wrong and lay down my disclaimer in Tarot that it is not 100 per cent because it isn't if I misread it. That can happen, I can get a situation but a few of the details might not be 'quite right' however, it still will hover on checkpoints.
There is a very SLIGHT possibility of 'camps' campus's, campers. Ive seen this only recently and realised that when I see a trailer in an isolated place which comes up on the Hermit - it can also mean areas where you camp or where the name Camp can come in. It could suggest someone HAS camped somewhere too. Its not always the case, but its always worth mentioning because it could be that one mention that helps.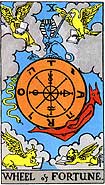 When I ask where Steve is on todays date 22 July 2011, I get the Wheel of Karma. This card suggests a TRIP. But is it a trip as in a journey or does it mean he tripped? This card has four directions on it but notice it is NUMBER TEN. I have picked out Number10 as to where Steve is on the cups card in the original reading. I don't think its a coincidence that this has appeared so it must be a number that means SOMETHING.
Maybe 10 from the vehicle? This card can be a WHEEL as in 'wheels'. Perhaps WHEEL is a figurative word. It is a card to suggest good fortune and it also tells us that it is a lucky sign. So Im feeling that 10 was the given answer as to where Steve may be.
As the card originally was 10 of cups reversed and the 10 of cups is the 'family home' (as a rule) it may indicate that he could be withinn 10 of the home. The family home of a couple figures here. They might have two children, there might be a stream not far from there or some small body of water even a little gullet of water and greenery .


This card also gives us a RAINBOW so it is a place to me which might represent the name of somewhere that has WATER in the name. Not always the case, but worth thinking of. Perhaps the shape of the Rainbow might help. Its an arc and a bow when reversed. I will try to draw a few more cards for Steve but I have noticed Im getting some things that link to the original reading. Without hurting his family, I do see some kind of disunity and disconnecton. There may even be the words FOUNTAIN or WATERFALL, DRAIN, WELL that comes in with the description of where Steve could be connected. I know sometimes when a person is found I can see EXACTLY what the Tarot meant, but its too little too late often enough and I do wish I could grasp the names of places a lot easier then I do but Tarot is not designed to give names. But it can often provide landscape and circumstances directions and situations often in a way that has proved useful.

I will leave this train of thought for now and I know that I will go away and have yet another think and come back and add as soon as I can see something else. Before I go, when it comes to finding Steve, the Wheel of fortune can tells us that there is 'unexpected luck'. It rather makes me feel that he could be in an 'unexpected place'? I just feel a kind of 'prison' around him it might just be the way he feels but I feel some kind of injustice here and cant put my finger on it .

Justice is number 11 and we are in 2011. Libra is October and I just still feel that he could be found before then. I just didn't feel he was lost forever and there are so many who are. Something has been found within the 14 days but I have not given up that Steve could be found soon. Family homes are also foundations when they are turned on their head and that could bring back the word Stone and Rock that I mentioned in the last reading. So perhaps it all has its part to play. As cales are within the Justice card, he may have lost his balance but one cannot say if it is emotionally or physically here.

I really do seem to see legal matters possible police matters and courts/trials judgments all in this Find card It seems to tell me that a WRONG has to be 'righted'. So someone has done something wrong and there seems to be a debt to pay here and that can mean morally or it can be actually.

Sometimes we get involved with situations that we realise were stupid.
I hope the price of this is not going to hard. The Law is in Justice but sometimes the Law does not catch the perpetrators of bad things. This can be because situations are twisted about however, time will tell how things will emerge. I really hope that people get some answers in this case as I do for every case on this site. Something was unfair. But will it be seen? On other thing that is a possibility is that IF the items found belong to Steve, because of the connection to the FOOL card and the reversed Magician, it may be that someone scattered the items and/or put them there or they were some kind of decoy as the Magician is a deceiver at times. It may not be the case but again the possibility is there.

Once again, I will come back here to see if I can turn something else up soon.
NEWS UPDATE
Jul 25, 2011 4:45
http://www.katv.com/story/15138623/one-m....&clipId=6083064


CABOT - It's been a month since 48-year-old Steve Reed went missing in Greenbrier, and now his family is forced to cope with the possibility he will never return home.





UPDATED NEWS 4 NOVEMBER 2011



http://www.katv.com/story/15963929/sheriffs-office...
This news has just come in. Bones have been found and they think it might be Steve. The body has not been ID'd or confirmed positive yet. I will update when more is known.
EDIT. Steve has now been identified. My sympathies to the family.