http://www.helpfindmychild.net/paige-johnson

Have You Seen Paige Valisa Johnson ?
Case Type: Endangered Missing
Missing Date: Thursday 23rd September 2010
Missing From: Convington Kentucky
Missing Country: USA
Sex: Female
DOB: 29/Aug/1993
Age Now: 17 Paige Valisa Johnson
Specific Details:
Hair: Lt brown Eye Color: Brown
Height: 5'1" Weight: 110lbs
Race: White language: n/a
Special Facts: Paige's ears, tongue, and navel are pierced and she has highlights in her hair. The teen was last seen wearing a multicolored jacket and jeans.


HFMC International Searching
Known Circumstances:

COVINGTON, Ky. -- Police have issued an alert Friday for a teen missing from Covington for more than a week.

Investigators said 17-year-old Paige Johnson was last seen in the area of Scott and 15th streets and reported missing Sept. 23.

ANYONE HAVING INFORMATION SHOULD CONTACT

Covington Police Department (Kentucky) 1-859-292-2222 or

National Center for Missing & Exploited Children 1-800-843-5678 (1-800-THE-LOST)
If you have any information on Paige Valisa Johnson please contact the official numbers above immediately. Alternatively, you can e-mail us here at Help Find My Child - you can do this in strictest confidence - we will make sure your information is passed on to the relevant places.
Please note that tarot will pick up

TRENDS /VIBRATIONS of PAST PRESENT AND FUTURE

- it will pick up

anything that is 'out there'

true news or false news

- either way it can throw light on what is 'in the air' - please bear this in mind when you are reading the insights.

It is very important that 'readers' of the blog understand this, therefore one has to be very discerning when reading. Media news can put out stories that are not factual or are pre -mediated but Tarot can pick that up. It does,nt mean that tarot is wrong, it shows tarot can see what might be suggested. However when writing the tarot it may be taken as fact.

TAROT CANNOT BE CONSIDERED AS 100 PER CENT ACCURATE.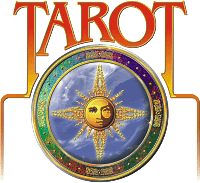 PAIGE VALISA JOHNSON
« Thread Started Today at 0:14 » 6 October 2010
I have a request on the blogger to look at tarot for Paige. Please remember to read ALL the notes about Tarot so that you understand that

I cannot guarantee 100 per cent accuracy.
Looking at Paige and asking what happened to her on the date of disappearance, Tarot has been very dipsy at first sight and just said that Paige has gone travelling and might have changed her address!!
On this card - we have to bear in mind that it is the last card of the Major Arcana before it all begins a new Journey with the Fool. We have to take that into account here.
However going back to the 'world' card it does appear to represent a safety so it would be assumed that Paige would have thought she was safe on her travels and I am not feeling she would have had any concerns. The card feels rather empty as such when asking what happened exactly so I will have to investigate further and bring the fool into this and perhaps the card of Judgement which comes as the card before.
The Judgement card has a red cross on it and can represent a hospital which in turn can be a minor accident. That doesnt mean it is Paige herself, it is just telling us that perhaps something like that happened around her at the time. It does seem to at show a health concern or issue.
The world itself representing safety in travel seems to have indicated that perhaps she could have gone somewhere on the back of what occurred in the Judgement card. Also The World card has a 30 year connection and whilst it does,nt really suggest the 'past' as such tarot always takes into account past present and future. I see that the Judgement card can bring people 'back' from the past and because of Paiges 'age' and the fact that she is only 17, it does,nt really connect that she met someone from 30 years ago. However, maybe it was a family connection? Or something happened in their family all those years ago and somehow came into focus for some reason or other.
If that is not the case then someone came back from the past because Judgement suggests this is connected to where Paige went on 23 September 2010. The World card has a number of 21 on it and I only mention that because it could be a significant number. Did she meet someone on the 21st or perhaps it has some other meaning at the moment I cannot be sure.
I have a sports connection in the world card which comes up for Paige - and there are physical concerns connected to it, which, I have already seen noting the Judgement card that preceeds it.The World card shows us a dancing Joy and it is a card of achievement, and being at the right place and at the right time linked with travel and re-location which is sounding much like something came up that actually Paige was very much interested in, but I am wondering if she was an 'action' person regarding animals and pets because there is healing or wanting to heal on the Judgement card and on the Fool is a dog so we have a four legged animal, also noted in the fool card is that the four legged animal might bite her. So Im not sure if she was bitten at all??? I cant be completely sure.
The Judgement card is unconciousness for a woman, and I am wondering if she was knocked unconcious??? or maybe someone had that effect on her?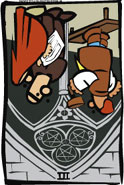 Asking where Paige is now I get the three of pentacles which is a stable card on its own and shows a building upright and strong that has a good sense of business going on and a plaque on the door so it does seem to be a business premises. However this card is upside down and whenever I see that I think of the business as going down or not doing very well and often think of the situation as being 'unstable' so it always leads me to the underneath of buildings or buildings that are not necessarily safe or are in fact unfinnished. If not that, then a business/building that has maybe gone out of business or needs some work to it in some way.
Often there is an ARCH to this building as depicted in the picture, and there is water not far away. It might have been a place where apprentices might have gone or people went to learn how to do something or study something.
I also see Paige might have had some 'plans' for herself because she might have had some ambition in life perhaps she might not have wanted to follow family tradition or perhaps she wanted to try something new for herself. I see a very lethargic feeling here towards work and perhaps a great sense of boredom and desire for something else.
These are just aspects covering the Pentacles card in general. I do see there are a couple of other people in the picture, I imagine Paige could be the youngest person there but I cant be sure of that. But with that card reversed it shows a breakdown there of something where people are working towards a business and maybe she broke away. Again I dont want to put words in here. The most appropriate answer is using this card as a location I would have thought - and I would consider either the direction of NORTH in the Winter at Midnight - so her direction could have been North or connected there - or possibly South as the card is reversed. Either of those.
Number 3 is also significant.
The three of pentacles can sometimes represents, sons daughters and members of the family so maybe they wanted Paige to follow in the family business? but it seems she has met someone here somewhere through the Judgement card - and into the world card the travel card leading on to the fool - the Fool can show pretty much a totally naive attitude. There is 'music' in this card not that I am sure what connection this has unless it is to help to specify either a trait or possibly a place connected to that or even a person. However, the Fool is naive and goes on a journey here.
None of these cards seems to indicate anything really terrible has happened except for that Red Cross on the Judgement card which might indicate an accident perhaps or connected to a hospital or health matter...it could actually show someone that might be in the healing profession IE, Doctor or Vet or someone with that special quality and it could also show a possibility that Paige is connected to that. The world can show global concerns, theres a lot of the humanitrian in the cards that I have picked up I have to say this.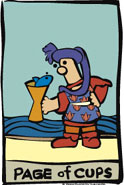 I asked when PAIGE will be found and the Page of Cups seems to show me that it will be unexpectedly. Often there is water in the card and an indication that the person could be near water.
The Paige has an 11 on it but often they are linked to DAYS and I would indicate 11 days but the 11 may refer to other time periods.
This is a very brief synopsis for Paige. If she has not been found in 11 days I will re-cast the tarot for her.
I hope that she is ok but I have only given what tarot gives to me at the time of reading. I am wondering if Paige wanted to be a Dancer or was interested in Music?
The page also seems to indicated 'unexpected news' and that should be forthcoming either to the family or from the family or in some way will arrive pretty soon.
Not that I would alarm the parents but one of the other indicators of page of cups is an unexpected pregnancy. That may not be what has occurred at all, but it is one of the common features of a Page of cups. Either way, they will get hear something soon if this card is in this position as it relates to when she is found and we shall see how things develop and whether tarot has been helpful or not in this case.

Empathy.




POSTED BY EMPATHY 2ND JUNE 2012



An old news report now but Paiges mother has decided to declare Paige as deceased.
www.toledonewsnow.com/story/15452282/paige
Attorney Eric Deters released a statement Tuesday afternoon saying Donna Johnson, Paige's mother, will have Paige declared deceased.