Thought I would upload Tarot from 22nd - 25th December 2009 here. ( I have included corresponding tarot from 2008 regarding the Sniffer dogs which accurately reflects in the 13 January report.
(Tarot does not claim to be 100 per cent accurate in every detail)
Tarot of 25 December 2009 ( SCROLL DOWN) seems to link in with the current news report of 13 January 2010
We believe Madeleine McCann died in family's apartment, detective ..






ThePolice are of course the people who are supposed to 'aid' the Mccanns in finding Madeleine but their work was called into question many times. I feel the frustration in this tarot about the case and I see Mr Amaral comes up as the person who is considered as 'exploiting for material gain. After all this trial is once again to attempt to stop Mr Amarals Book.
(Firstly, please note these two Tarots from 2008 that I squeeze in that pointed out inconclusivity with the sniffer dogs
)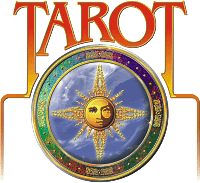 20 April Tarot. Why was death scent picked up?
« Thread Started on Apr 20, 2008, 14:48
WITHOUT PREJUDICE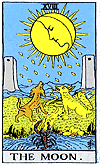 Its a question we have all asked. Do we believe it?...NO, we dont believe this as in the case of Madeleine being dead Why? Because the card is the moon. The moon deceives and gives false illusions. It warns us of dangerous or perilous times however, and intrigues of all natures. The CRAB on the card is a hard shell with soft insides - we could relate that easily to DNA . Bodily fluids that come from the inside...and there are two dogs that bark at the moon - I think of the

sniffer

dogs here - They are NOT barking at the crab, they are barking at the Moon and the moon is secret hidden enemies and most of all 'illusions. However, this card links to the Hebrew letters Qoph Back of Head 100 which means that there may have been an injury to the back of Madeleines head. That of course could make a scent available .

In some variants of this card we see a woman walking by the moonlight with a dog, Madeleine was taken and because of the 'dog/female' in this picture, I feel it may have been towards the 'Murat' villa as it may be that is the direction to the sea.




This card suggests someone who went into a boat...a woman? was present.

Madeleine Mccann suffered at night from bad dreams because of hostile environments. People here always arguing. I still see alchohol in this card and I feel someone was drunk around Madeleine.

There is a story connected to the Moon card as an example. It is about destructive relationships where there is a possibility of a woman or a man who want to leave each other...and the question that comes up is ' what about the children - what will they do without their father' - at this point something emotional has to be done to prevent the obvious....

It is my view it is possible that someone was arguing...Madeleine was removed - not dead - removed - because it brings the TWO PEOPLE together when the 'relationship' was dead or in serious trouble I recall writing something about this wondering if this was done by one of the parties to keep the other person with them.
There are three people...one person has removed Madeleine to help the other person keep this 'relationship' together...death scent? - I dont see death here, I see deception - lies - illusion.

-it really appears that someone close seems to know who took Madeleine because it suggests one of them 'consorted' for it to occur.

Madeleine was taken by someone close to her out of fear and worry about what they would do without the other partner. Yes an accident may have occurred..not death..
(I will add here, that it is not clear who the partner is - it may not be what it appears to suggest)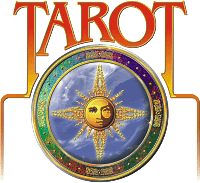 TAROT 20 March Did the cadaver dogs find DNA
« Thread Started on Mar 20, 2008, 1:43
According to the question asked of the Tarot with regard to the Cadaver dogs. I have the Lord of Defeat the 5 of swords.

This card could very well imply that the Cadaver dogs did not find Madeleines DNA. That appears very odd but if you look at this card it represents chaos driven by disputes and complications. What it shows is that there have been very many disagreements over what the dog had found. The Lord of Defeat is shows a negative response on the DNA. This card can also point out possible sabotage which could imply the DNA was planted.

I also have the seven of wands reversed which shows a failure to stand up for convictions.

Though at one point it was stated that the

cadaver

dogs

found DNA belonging to Madeleine this card shows us there is

a great embarrassment about that

because it seems that maybe DNA was found, but this card tells us that it

cannot stand up for fear of failure

....

therefore the results from the DNA and Cadaver

dogs

are INCONCLUSIVE and unproven to be Madeleines.



Link News report below from -13 January 2010 to link with 25 Dec Tarot.



25 DECEMBER TAROT MADELEINE
« Thread Started on Dec 26, 2009, 3:55 »
Briefly looking at Madeleines situation today I received the three of wands but this was reversed.

This is about 'sunken ships' and wasting energy and action in short.

It can really indicate a lack of cooperation, wasted efforts, delays, or bad luck or obstacles from outside in commercial or communication ventures. Trying to find Madeleine is like having a creative block or some kind of wall up to try and break through and it just makes it really difficult.

This card tells us to be able to find Madeleine one has to be open to receiving help and input from others, but know at the same time that

opposition may come from a person who exploits other people for material gain

. There is the possibility of

betrayal of an enterprise by a person who had the power to aid it

. We are warned also not to put expectations too high.

It does seem to show us that we need to be more realistic about looking for her. Well as it tells us of a waste of energy and being realistic it really still makes me wonder about this 'looking for Madeleine' which I have pointed out before. . This card tells us we have to deal with difficulties in the exchange of goods or ideas or with matters of trust.
Someone has been quite deliberate and 'thwarted attempts ' to find Madeleine, but with the charity mention I have thought that

finding

Madeleine had something to do with Brian Kennedy. Some forum members will remember me writing that. I only mention that because he has backed the Mccanns with his finance.

Altogether though this is an odd card and I would like to remain hopeful.

Perhaps everything should start again from scratch - I still dont think the search in Portugal was amazing , it was pretty half baked in my view and hundreds of excuses why this and that was,nt done and what seemed like pretty shoddy police work.

I would have thought that the Detectives would have gone over old ground - perhaps thats a good idea?

They might even find a boat that was sunk - because it seems to me there was one.
Tarots for Madeleine for 22nd December 2009 are printed below - whatever I write in tarot are the trends I see - they may be 'part of circumstances' around the issue or connected in some way. Please bear that in mind. I do not claim I am 100 per cent accurate.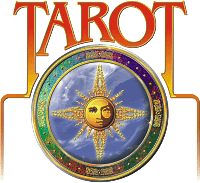 The tarot below is currently

UNCONFIRMED.


22 DECEMBER MADELEINE
« Thread Started on Dec 22, 2009, 4:20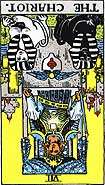 I asked Tarot is Madeleine is currently alive. I received this card which is the reversed Chariot.

Most people would say this is a very negative card to receive with this question. I cant seem to see any 'rescue calvalry' being needed or required with this card at the moment. It could mean there is no need for that which might make me feel optimistic about this card.

Chariots upturned often suggest 'car crashes' which can be literally translated or just mean the whole situation is like a car crash. Messy and complicated even. Its like applying energy needlessly almost.

There may even be a failure to face reality with this card too but it sits between choice and strength. Its always possible that Madeleine is alive but as the car crash element is there I still feel as though we are in COMPLETELY the wrong direction about this case and this question.

Its the kind of card that you CAN PUT RIGHT if you want to you know? but unless the question is relevant to the subject matter we are going to get a result like this.

I often wonder WHAT questions we SHOULD be asking but certainly where this one is concerned it seems like there is a waste of energy in doing so.

So I feel quite 50 /50 about this one today because its neither a yes or a no - Im sure you will get the same impression as me.

The question is likely - is this question relevant?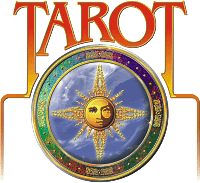 22 DECEMBER TAROT MADELEINE
«

Thread Started on Dec 22, 2009, 4:28
The Tarot below is UNCONFIRMED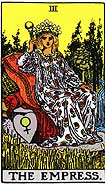 I ask if Madeleine has
'been found
' and I get this wonderful picture of the Empress who is the mother figure and a door with the number 4 on it and 244 days as timing .
I have a FRIDAY connected to this card and the planet Venus which on this occasion I feel may simply associate with Love.
There is action and initiative on this card - and the elements of Earth and nature connected too. Usually the Empress is linked to the number 3 overall.
Mostly this card is connected to the Spring months but Autumn can sometimes pop up on this card.
So it does suggest between those times that Madeleine would have been considered to be found?
Venus on rare occasions is the door to 'the vault'.
So I think Im looking at a church again or someone/someplace where one would be nurturing.
This card can tell us about charitable organisations like orphanages or someone involved in them.
Anyway one thing I can say is that a close friend of relative
possibly
female is linked to her. I have always thought that personally. It does,nt seem to answer the question, unless of course thats the person who she is with or who finds Madeleine.
The opportunity to find Madeleine would have dropped into someones lap. Its not a bad card - I think we have to consider counsellor, nurturer or someone linked to charity/orphanage or something like that - or perhaps we will hear from them in some way.
EMPATHY