Michaela was abducted by an unknown individual while trying to retrieve her scooter from him in front of the Rainbow Market on Mission Boulevard in Hayward, California.

Garecht was abducted at approximately 10:15 am on November 19, 1988. Garecht and a friend left home at 10:00 am and rode their scooters to the market, two blocks from Garecht's home. They left the scooters by the side door as they went inside the store. Upon leaving the store, the two girls started walking home, completely forgetting about the scooters.

When they realized they had forgotten them they turned back to where they left them; however, they saw that Garecht's scooter was missing. Garecht then spotted her scooter further down in the market parking lot, where it had been placed near a parked car.

When Garecht bent down to pick the scooter up, an unidentified white male jumped out of the parked car, picked up Garecht from behind, and threw her into the back of his car. Garecht's friend was the only witness and she ran back into the store to get help. The abductor managed to escape with Garecht and she has not been seen or heard from since.The suspect was between 18 - 24 years with a slender build. He had a pock-marked or pimpled face and dirty blonde hair. He was driving an older model full-size car, possibly a gold or tan 4-door. Her case remains unsolved. Her photo at right is age-progressed to 33 years.

Any information please contact.
HAYWARD POLICE DEPARTMENT 1-800-222-3999



Please note that tarot will pick up

TRENDS /VIBRATIONS

of

PAST PRESENT AND FUTURE

- it will pick up anything that is 'out there' true news or false news - either way it can throw light on what is 'in the air' - please bear this in mind when you are reading the insights.

It is very important that 'readers' of the blog understand this, therefore one has to be very discerning when reading. Media news can put out stories that are not factual or are pre -mediated but Tarot can pick that up. It does,nt mean that tarot is wrong, it shows tarot can see what might be suggested. However when writing the tarot it may be taken as fact.

Tarot does not have all the answers or claim to solve issues. All it can do is show what it feels may be of USE or point out possibilities.

Please always read the following
ABOUT TAROT ON THIS SITE

which is a useful article in respect of all the Tarot printed for Missing people/children.

TAROT CANNOT BE CONSIDERED AS

100 PER CENT ACCURATE BY LAW.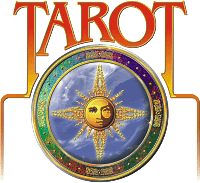 MICHAELA JOY GARECHT
5TH SEPTEMBER 2012

I have had a family request to look at Tarot for Michaela who disappeared in 1988 and has not been seen since. Above are the background details as to what has been reported about Michaela's disappearance. Tarot often can pick out glimpses of the past present and future and might be able to throw a little light on the matter however please remember that factual sources must always be sought . Tarot is not considered to be 100 per cent accurate by Law.

I thought that as this is a long term missing child with quite a bit of background already reported the best thing to do was to try and set the Tarot at the time that Michaela disappeared. Tarot may link into known events but hopefully will produce other information to help us. However, generally Tarot just tells us what it wants and I just write it down.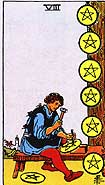 When I look at this card it could easily link to the 'shops' and tradesmen and there is already quite a bit of background on this little girl so I am not going to 'follow it' I am just going to write what I get and hopefully some of it will be useful. This card is normally North or has a North connection but it can also give the South West. I can quite see the Bicycles in this card and something linked to the colour Gold. I also see possible theft which might be the removal of the bike and also holding someone to ransom? I did wonder about the possibility of a contract kidnapping. The reason I say this is because if there is a ransom possibility and the person in the card is clearly 'making money' then I somehow do not feel it is a random abduction.

When I first saw this card I thought it was odd because it did not make sense to me until I looked again and realised about the possibility that there might have been some revenge here. Was there a debt unpaid in any way? people do things to get back at people and yes its true I could be completely reading this wrong but I just go by what comes to me. Now in the picture the person you see is actually dark haired but as you see the cards unfold you will see other people in the picture.

How it works together one cannot say, if I had all the answers there would be NO missing children.
However, I am seeing a 'businessman'. This business is linked somehow to trades/shops but also to embezzling finance so maybe someone crooked. I even thought at one point that this little girl was stolen in order for ransom purposes or that perhaps someone wanted to clear a debt or make some money somehow. Finances do have something to do with it though I cannot figure why.
I actually looked at all my cards before I began to write on this occasion. I think you will see the description of the man seen to abduct this child in them but how odd that there are other descriptions too?

Now, I have to give descriptions but please be careful with them as they can describe areas but may just be to do with the vicinitys that are located around the areas. I honestly cannot tell you how they all link I just write and see what happens. Before I go any further, I also have some kind of school/college or university links also a dark haired person. The word Mission (possible church or charity link ) and letter G can come up but we know that Mission Boulevard is where the child disappeared therefore that connection would be right. There were two girls and one was selected and I have wondered whether it was selection rather than random or a plan that was hatched 'for a while'. I seem to see someone who wants to 'make money' but dont ask me how unless one intended to sell her.

At the end of this there may be a very gifted businessman (accountant/tax real estate tradesman even attorney) who is good at identifying opportunities and will prey on the weak in order to to achieve his ends. But even so Im seeing someone who might be an apprentice perhaps even in a shop? I think they are the dark haired person. I might be wrong but this is a young person.
Also possibly soldier or military connections?

A description of a person here might be average height, build is slender with straight, angular features. The lips are thin and the forehead may be high, with the eyes small and piercing. The hair is dark. Movement is light and quick, the voice is small becoming high pitched or shrill when raised. I am getting some connections to this card which may be 'soundalike' place or names or links to someone all I can do is write them and hope they mean something somehow.

Pentacles are earth cards so I am getting places that are low down and near to the floor. Rural places, agriculture, harvest and agricultural storage, dairies, granaries, malt-houses breweries, cornfields, hay-ricks, greenhouses, places connected to barley, wheat or peas or where cheese and butter is churned or stored.

If inside the house/or building there are links to objects used for study, accountancy, or storage; the former includes libraries, book cases, or places where books, pens and reading/writing instruments are kept, typewriters, word processors and computers, , office areas and items used for book-keeping. The latter includes cupboards, pantries, closets, cabinets, drawers, medicine cupboards and drug stores generally through its association with health. Other possibilities that are places used to store, restore, or repair things. Sewing instruments, knitting and spinning equipment, tools and places with an annex or servants quarters or store rooms.

Dogs, cats or small animals and veterinary services and possibly even farm land show up. Valley names, parks etc could also show up.

Tradesmen's shops, markets, fairs, schools, common halls, bowling-alleys, tennis courts.

Another person description might relate to SAME person - Tall and straight thin body, a high forehead narrow long face, long nose; fair eyes, neither black or grey, thin lips and nose, little hair on the chin, full head of hair in depressing brown colour nearly black, long arms, fingers and hands; complexion like an olive or chestnut colour. Shifty type.

Person could be foreign, or ethnic? Someone who appears clever or has intellect, argues well, eloquent in speech, a searcher or helper in searches, sharp and witty, a bit of a know all, likes to Travel to foreign places, very curious person seems to exceed in trade or ways of expanding or obtaining wealth. I see the word Diamond. The Number 8 may be of importance perhaps a route or other significance.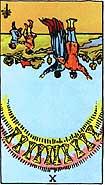 This card shows a house on a hill and rural surroundings with a stream. Note that it is reversed. This card can produce the word RAINBOW and this is thought of as the place that Michaela vanished from. It is thought of as a water card and the direction is West. Numbers to consider are 10 or 1. This could be the route 101 or 1 or a distance. This card describes areas that either are or sound like places linked to water and points North West. I cannot be sure which is the starting direction or ending direction but all points can be put on a map to see how it works out.

The watery places could describe fishponds, rivers, springs, watermills, water pumps,

wells,

marshy or watery ground, moats, springs, the ocean, and all places near to water inside or around a house. It can also show churchs, monastries or places where it is quiet or secluded. Holy places may come up.

There may be other links here, 5 streams of water, a white bridge or a bridge, a building near the water, a Tree name, an island and a bell? The name Angel comes up with the 'holy places' Basements and cellars could show up or ruins or buildings that are untenanted or nobody lives there or they need repair?

I did actually think 'Angel Island' I dont know why and that is probably a ridiculous thought but there is a Fire Road there and a Military Ruins. Please dont take my 'meanderings' as absolute though because I could name many places with Tarot and be wrong. Location is very tricky but a Map will be provided. However, I believe there is a trip here near or by water and some link to boats so how that figures I cannot say. There may be a person (if it comes up ) described much as before - straight and tall ; brown, ruddy complexion; oval or long face thats full or fleshy; high forehead; large grey eyes; his hair soft, and a kind of auburn brown; possible beard; a large, deep belly:

Likes attention, might be a drinker, and even possibly he could be someone that is 'known'. I cant make up my mind about it but it seems to me that there is a person that might know the family comes across as a good friend but is a love and em an leave em type, a charmer, flirtatatious type but does not care about anyone but himself a pure manipulator and liar, a useless father, cunning, violent and rotten to the core. Manically professing to be a moral and nice natured person but quite the opposite. Sweet smells? Churches may come up.

Something about the feet? North West is shown. A container?
A broken home or marriage can be seen, disruption and upset and much sorrow. A man who is a liar or was a family man? Someone controlling stern and strict . Something about a ring? ruby? possible link to drugs or alchohol. Someone may be connected to hometown?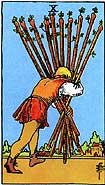 Lastly asking if this young girl will be found we have this card which tries to tell us that success is always possible but we have a lot of oppression and obstacles to hinder finding Michaela and it would seem that perhaps she cannot be found. However, I feel that everything is possible and had we pulled out the Knight of Wands we would certainly have a definite yes and swiftness with that . The only problem with this card is even if Michaela is found would the outcome be good or not. The most it could say is that she might be found but there are pros and cons to that negatives and positives as this is a card which is not going to give everything a person wants without great problems and it may end up with little or no reward possible unhappiness and distress.

At the very worst it can talk about opposition just being too strong to succeed but the fight will go on. . Someone here may have hair that is blonde. There are buildings in the background as well as trees and rolling hills.

It seems to me that we need to just look at the number on this card and we once again have a 10 or a 1. Here we are given South but also we are asked to think of South East too. These may be vicinities and directions or road names but could link in or connect to persons involved also or may be areas searched or to be searched. I feel like there has been some kind of treachery regarding trying to find this child. Someone has been in disguise? May even have moved home as I can see packing boxes?

There are heat and fire references on this card. They may be names of roads or have other references. Military references, stables, upper rooms, attics, eaves of houses and construction could all show up on this card. Sex and weapons could also come up as can walls, fences, barriers and perhaps even airports in the distance.

I really do not know if anything here will help or if it connects to anything. Sometimes not all the references apply and they are 'white noise' but I believe that in here somewhere are some clues that might assist. There may be a court trial and something about 5 people and 'mind games'. There are some

sporty elements

such as gyms, tennis courts, football I dont know how they come up I am sorry but I am seeing someone who is a bit of an adventurer here and may be inclined in a 'lustful way'.

I cant be sure if thats going to be bad but its a virile type of person who is very ignorant. Burns and injuries show here. There may be a bridge? Jetty? Landscape could be described either actual or by name as open fields, hills and land that rises higher than the rest. Someone perhaps tall and large. The complexion ruddy, dark or tanned, hair light-chestnut in colour. Very strong person.

Overall finding Michaela is full of hindrances success is possible but there is a downside to it all too so I have to say 70/30 for finding her. Perhaps route 101 or 1 and route 8 may be helpful?

I would recommend reading 'everything' written combined as I cannot say in which order we should be considering events or people as Tarot is past present and future.

Empathy

.

UPDATED 16TH SEPTEMBER 2012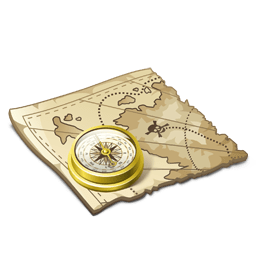 Dee has compiled a map which OUTLINES all the areas that Tarot may be touching on or may be describing. Please bear in mind that this is not guaranteed and Tarot can mean somewhere else entirely.


CLICK LINK FOR TAROT MAP
(Hit the Grey word that says MAPS)
Show on Maps
UPDATED 20TH DECEMBER 2014.
I have just come across a couple of reports from 2012 a month after writing Tarot. It seems that bone fragments were found in a well but they were not Michaelas.
Murch's daughter, Michaela Joy Garecht, was kidnapped on the morning of November 19, 1988, in Hayward, California, a suburb of Oakland.