CHINGFORD: Concern grows for Andrew Cooke
man missing from rave

Friday 17th February 2012 in


POLICE have stepped up their efforts to find a man who went missing from a rave at the weekend - as concern for his welfare grows.


Andrew Cooke, 29, was last seen leaving the 'squat party' at a disused building in Lea Valley Road in Chingford at around 3pm to 4pm on Sunday (February 12).

His family say police have begun searching the surrounding area and interviewing witnesses earlier than is normally usual in missing person cases because of the nature of the event he attended.

Friends and family are worried that Mr Cooke, who is from Crystal Palace, may have been intoxicated when he vanished.

His uncle, Brian Cooke, 63, said: "Police have increased their level of activity and are following up some leads.

"As a family we're extremely concerned."

A friend previously told the Guardian that Mr Cooke's disappearance is completely out of character.

More than 900 people have joined Facebook groups calling for information as to his whereabouts, while a campaign to locate him has also been launched on the Twitter website.

Mr Cooke is described as a white man of very slim build who is about five foot ten tall.

He has strawberry blond hair and hazel eyes.

He was wearing a grey beanie hat, a blue Jacket and a red and blue checked scarf.

Anyone with information is urged to call Waltham Forest Police on 020 7232 6246.
The facebook group to help find him is here

https://www.facebook.com/groups/235780609845232/




Please note that tarot will pick up
TRENDS /VIBRATIONS
of
PAST PRESENT AND FUTURE
- it will pick up anything that is 'out there' true news or false news - either way it can throw light on what is 'in the air' - please bear this in mind when you are reading the insights.

It is very important that 'readers' of the blog understand this, therefore one has to be very discerning when reading. Media news can put out stories that are not factual or are pre -mediated but Tarot can pick that up. It does,nt mean that tarot is wrong, it shows tarot can see what might be suggested. However when writing the tarot it may be taken as fact.

TAROT CANNOT BE CONSIDERED AS
100 PER CENT ACCURATE BY LAW.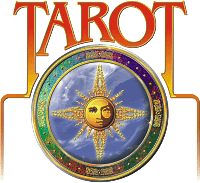 ANDREW COOKE
« Thread Started FEBRUARY 26TH 2012 at 9:22pm »

I have been asked here on the blogger to look at Tarot for Andrew Cooke. This request is made by persons unknown therefore if Family wish Tarot to be removed it will be censored and snipped.
Tarot may be able to provide glimpses past present and future but cannot be guaranteed as 100 per cent accurate by Law. Please go to factual sources for verified information.

Tarot gives its own advice when questions are put to it and it may reveal information to help. I have asked about the date that Andrew went missing. Tarot will produce information that relates to each of the cards given, not all will apply but hopefully something will stick.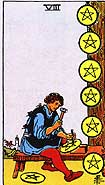 Tarot gives to me the 8 of pentacles. This eight normally suggests a North direction but it also depicts someone who needs or wants to make money. Pentacles can suggest jobs being offered or going somewhere in connection to a business premises as learning new crafts and skills can be in this card.

As Andrew disappeared on a Sunday and Tarot is past present and future we have to bear in mind that Tarot might be showing us this card for a different reason either as background or even as a build up to when he might have gone missing. Please bear that in mind.
This card can also produce music elements and also a dark haired young lady. Most of the time a girl will be depicted but it could still mean a male however, if we were to stick with a female then I am wondering if Andrew had a female friend around him? Im seeing this card as not being in the actual 'town' but outside of the town? on the outskirts and it shows being away from others. It could also be someone selling something and that could mean Andrew or someone else.


Sometimes the pentacles can show us learning/training of 'new skills' study, and even schools but the whole idea is learning something or making something to sell? a craftsperson or an artistic type might show here. Talents in these fields are strongly indicated. It seems that Andrew might have been contemplating a new start with work at some point. This could be just vibrations of what is coming from him. The Colour Green is here, North direction, outside of Town and number 8.
Making money may be on this card.



Has he been picked up on CCTV its possible that this could be so

.

Page of Pentacles might show us that there could be camera shots of him somewhere

. At the moment, the first card seems to indicate healthy conditions and good health. There is nothing detrimental about this FIRST card that I can see. There may be schools/colleges or even large buildings attached here in some form or names of roads. I see him somewhere that could have a rural quality. A large building and two dogs seem to come up here also but not sure in what way.

Connected to the eight of pentacles the 9 of Pentacles may be telling of someone who lives quite a reclusive or isolated lifestyle, who is well able to look after themselves, and do well for it. Is Andrew interested in ecological projects, woods/forests/valleys can come up on these cards and plants.

There may be a link also to August/September. I dont see a party gathering on this first card but there does appear to be music elements on the 8.

The 9 of pentacles can show that though working elements can be fraught in the past there is an improvement on this therefore it does make me wonder whether the original 8 of pentacles is suggesting something to do with new skills to learn or study in regard to new work/business.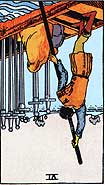 This is the location

in regard to Andrew, however other cards shown in this Tarot may also give ideas.

This card could bring a bit of concern over health matters

it is a sword card and it can indicate that there are three people at one point two have gone off and one is left. I sense being locked in or shut in, with this card.

It may not be the case but in this card there are ideas of going away, going on holiday taking a trip or business trip or just plain travel to get away from difficult circumstances but Im getting locked in and the prison card comes up in this run of events so can show someone feeling imprisoned, that may be a mental thing rather than physical but has to be taken into account.

Is there a prison in the area? This card is generally thought of as East, it can be East as in direction but at the same time it can also represent roads or places with East in the name. Note that this card however is reversed. Sometimes this can change direction (I will have a look at a map to see whats around the area Andrew went missing).

The Swords can show a church/cemetary so there may be one closeby? or name of a road.

Water rocks and stone also come up on the sword cards and can represent names of places with reference to them or actual landscape.

There is generally always a boat in this card and again if there are any boat names or boats on rivers - always worth taking into account because it might mean something.




In this card is a possible condition of someone could have been robbed or there may be a thief or burglar it shows up nearby and somehow I see someone locked up in a place? or shut in. Some friendship or relationship may have ended here also.

This card can show of great problems for Andrew

- there are signs of railways hills or airports somewhere in the vicinity. I also get the feeling of a tunnel but that could be rocks/bricks that I sense.

This is a card to try to describe the location of Andrew the number here is 9 or 6. There may be

a river nearby.

This does not necessarily mean that Andrew has come to a bad end, the 10 of swords can indicate getting into very difficult situations and yes, maybe its possible getting hurt but I feel that disaster MIGHT have been averted, it all depends how these cards are going to materialise when the truth is known regarding Andrew. Check basements?

I do think that there are two other people and I dont think I like their intentions. They are seen in these cards

near a place where there is water

and they are attempting to get the better of Andrew. There may be a 'foreign link' here so may indicate foreign names in a place or they are foreign.

Some kind of situation with three people but one is a rival? There might be police matters involved Im not sure, it depends if it goes that far. I wonder if there is a drug connection here? I hope he did not take anything disagreeable to his system. It is possible someone might come forward and offer some information. Health matters cannot be determined at the current time though

there may have been some difficulties here in respect of it

and that is all that Tarot can really tell us.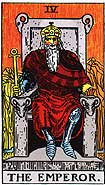 This card is the Emperor, it gives me a number

4

-

The Emperor only seems to offer this on a time scale when asking when Andrew will be found

. I rather think the police are going to be in control with this situation the Emperor is rules/authority and the Law so dont think they are not on the case they will be all over it and in it. I also see that there might be a four door car involved here though not sure how this comes into play.

There are two people that might say something or two people who will have to say something. I am seeing good advice being given here so

I am absolutely sure that Andrew is going to be found

because the Heirophant is giving me a map and a set of keys.

Quay

/Key seem to figure here. A church or some church name could come up I am seeing some kind of spiritual organisation, school or some kind of situation that involves that come up here but again I cant be sure exactly. I feel that North West will come up .



Anytime before the Spring could see Andrew located because the Emperor shows he is spotted.



I will try to look at the Map for Andrew and return if I have anything further to add here. Tarot is not 100 per cent and not every detail will be accurate. These are glimpses of POSSIBILITIES that may form part of the situation. He will be found . It might be that Andrew is not far from the original area he went missing.

Empathy.
Sadly a man has been found in Chingford in the forest/Bury Road who has committed suicide. It is not Andrew Cooke. However, here is an interesting post that I wrote on my forum in Andrews thread.
Re: ANDREW COOKE
« Reply #1 on Feb 26, 2012, 9:55pm »
I notice on the Map William Gurling Resovoir is near Trains. Im wondering about that direction as it is North West? Theres also a Cemetary and a Road called
BURY road
. It might mean nothing but these places could come up. It could just be describing places around where Andrew was but it does link in with the Tarot.
Enfield LOCK might fit the
Key
significance with the Heirophant?
Its difficult to name location with Tarot.
http://www.guardian-series.co.uk/news/wf....y_of_man_found/

A MAN has been found dead this morning (February 28).

Police found the body on Chingford Plain in Bury Road at 7.10am and said there are no suspicious circumstances surrounding the death.

The body has not yet been identified but a police spokeswoman told the Guardian it is not believed to be Andrew Cooke, a 29-year-old man who went missing from a rave in Lea Valley Road, Chingford on February 12.

It is not yet known how the body was discovered.
Even more strange this man's initial was 'K' and Key/Quay or a K can come up with the Heirophant card as mentioned in my posts above.

Did Tarot see this man for other reasons? or just pick him up in the area?
A dog walker found this man, Tarot saw TWO dogs. Might be just a coincidence? The man found was on February 28th Tarot also mentioned an 8.

See report below.

http://www.guardian-series.co.uk/news/wf....__victim_named/

A MAN found dead in an apparent suicide has now been named by police.



K

arol Strzezewski, 25, from Haringey was found hanging from a tree by a dog walker at around 7.10am yesterday (February

2

8) on Chingford Plain, in

Bury Road
Update from Andrew's father.

https://www.facebook.com/groups/235780609845232/

Police have now reviewed all CCTV footage at the garage near the site where the party took place and at the adjacent McDonalds. Andy is seen on the CCTV at various times between 16.25 to 16.50 on Sun 12th Feb. He seems to be showing the effects of drugs and or booze but is walking ok, he just appears to be working out how he's going to get home. After initially seeming to head off in a westerly direction, he heads back to the garage for a rethink so we don't think he went that way. More footage still has to be reviewed from a number of other places and we would hope that this might give a better lead; it's very frustrating but the police continue to be giving this major effort.
UPDATE 13TH MARCH 2012
Sadly Andrew Cooke was found deceased on the afternoon of 13th March 2012. I leave below his fathers post on facebook and send my deepest and true condolences to the family. I do feel Tarot has picked up a few pointers regarding Andrew though much of what happened to him in the time he was missing is unknown at the current time. The Emperor gave a 4 for being found and 1 and 3 (13th March ) make four which seems to be the correct date. Water/River was prevalent in Andrews Tarot and his health was touched upon though I hasten to say I feel this is a disaster which could have been averted as per Tarots advice. He was found not far away as Tarot suggested. I do feel there may be more information to come for the lost 'time' and I hope that Tarot has more clues in this matter. Meanwhile a family is grieving and there are just no true words to express for them at this time.
Please note that Tarot is 'past present and future' and cannot determine the order of events or how its advice may apply unless events can validate them.
https://www.facebook.com/groups/235780609845232/

Brian Cooke
I'm afraid the sad news that we were dreading has come. A body has been found in a canal about a mile away from where Andrew was last seen. The clothes match the ones he was wearing. Although a formal identification is yet to be done, the police are sure that it is Andrew. Andrew is at peace and we at least know where he is and we knew that he would not have walked away from all those he loved.

Thank you for all your kind thoughts, words and for the tremendous work that so many people have put in to finding Andy. We will update this group as soon as more is known.