JENNIFER WILKERSON - MISSING 13TH JULY 2004

http://www.kcbd.com/Global/story.asp?S=2046775

7/15/04
Authorities Asking for Your Help In Locating Missing Lubbock Woman

The Sheriff's Department released the woman's name and picture late Thursday afternoon and they're asking for your help in locating her.

On Thursday, the Sheriff's Office released information on missing person Jennifer Lynn Wilkerson. She's described as 26-years-old, with a small build, brown hair and blue eyes. She also has several tattoos throughout her body.
Wilkerson was last seen on Tuesday at a friend's house in south Lubbock County. Her father reported her missing Wednesday night which has prompted this investigation. At this point investigators do not suspect foul play is involved, but it is still early in the investigation.

"During our initial investigation a lot of times we can uncover information to immediately locate people and in this instance we weren't able to do that so we're going to go out and let the public help us out in this effort," explains Cody Scott from the Sheriff's Department.

If you have any information on Jennifer Lynn Wilkerson's whereabouts you're encouraged to call the Sheriff's Office at (806) 775-1501.

Print a poster: http://www.projectjason.org/aan/AAN_JenniferWilkerson.pdf





Please note that tarot will pick up TRENDS /VIBRATIONS of PAST PRESENT AND FUTURE - it will pick up anything that is 'out there'true news or false news - either way it can throw light on what is 'in the air' - please bear this in mind when you are reading the insights.


It is very important that 'readers' of the TAROT understand this, therefore one has to be very discerning when reading. Media news can put out stories that are not factual or are pre -mediated but Tarot can pick that up. It does,nt mean that tarot is wrong, it shows tarot can see what might be suggested. However when writing the tarot it may be taken as fact.

TAROT

CANNOT

BE CONSIDERED AS

100 PER CENT ACCURATE.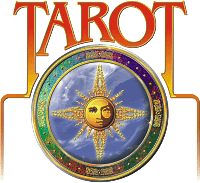 JENNIFER LYNN WILKERSON
19TH OCTOBER 2011
I have had a request here on the blogger to look at Tarot for Jennifer who went missing 13 July 2004. That is seven years ago now and though I have not read any documentation relating to her it seems to me that this case would be considered one that has gone 'cold'. I cannot guarantee that Tarot will give us 100 per cent accuracy as it only shows us 'glimpses' of what the situation could be focusing on past present and future events. I hope something stands out that might assist but would always recommend reading and referring to factual sources of information.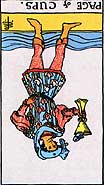 Asking about the date in question and what might have happened to Jennifer, the first card I seem to have is the Page reversed. I seem to see deception in personal and business relationships here. I never really associate business with the cups card but it just seems to me that whatever has come out regarding Jennifer not all of it seems to be clicking at all.
The 10 of cups shows me reversed that Jennifer just seemed to have a few problems emotionally. Whether it appeared this way on the surface or not, it seems to me that she had problems 'getting on with some people'. This could be people outside of her home life or it could have been in her home life too whereby she just could not live with people nor could she live without them making her at an impasse in some ways.
This card that has come forward though shows very 'dreamy states' and for some reason Im feeling that there are drugs/disorientation and the fact that she could have been sensitive to those kind of things. The King of Cups also shows me that there is a male in the picture who on the surface seems like an ok person but in fact is very much the opposite.
This man can smother people he loves either with love or literally. It might show that she wanted to get away from someone who is just 'too much' or is possibly even too controlling emotionally. The King and Queen of cups do seem to give people who you would not consider good for you when reversed.
The Knight of Cups very often shows suicidal tendencies or it can be someone who has made some kind of proposal or given some kind of invitation where they have taken advantage of the situation and turned out to be one really bad influence or bad for a person generally. Not a nice person in my view. It might be that getting involved with this person is a suicidal decision.
This person would have been thought of as someone charming, maybe even a male up to 35 who on the surface of it all could even have been a prospective lover. Travel to lakes/boats or that kind of Terrain is often depicted on this card.
I feel with the page reversed theres a feeling of having been 'foolish' to get sucked into a situation.
Sometimes the page of cups can mean being pregnant but because it is reversed it is suggesting that the family might not have known at one point if that was the case though it is not always a child in the picture and could be a relationship .
I do see an unexpected and new relationship on the cards with this Page of cups in this position - so could either be unexpected pregnancy that nobody knew of or it could mean that she got involved with someone she had just met. She could even have been offered a lift. The card is normally WEST in direction but there is an indication that East is part of this travel or either West or East part of the names of a route or road?
It just seems to me that there were a considerable amount of emotional matters going on here within a possible 10/11 mile radius of the home. I really do see some kind of 'withdrawal from society' on this card - and moodiness and sad reflection over what might have occurred.
I might need to look at the case details to see if there are any thoughts that could reflect this Page of Cups, if so I might be able to elaborate more and if so will tag it onto this reading.
It seems with the Page of Cups however, that a personal relationship might come to an end . This might be because she found out she was pregnant and did not want to talk about it or it could be that she was asked or felt she might have to consider not having a baby.
It really shows me that she could not face up to either one of those two situations or was . Anyone or anything new she was associated with should be looked into as this all surrounds her disappearance. Sometimes there can be 'cult' figures in the King of Cups who act like nice fatherly thoughtful people but they are very deceptive and can be very untrustworthy.
This would suggest an older person but there might be a younger man around her too. All of it looks pretty much emotional in every way.
There is a lot of water in the card of the cups depicting emotional states and also water itself.
This water if it is a vicinity could suggest somewhere near a Bridge or if not a Bridge the name comes into focus somewhere. I put this as a possibility.
This card is given to indicate where Jennifer might be - it looks to me like a building as it is the Tower card. Maybe the word Tower itself might be in a road or place name but as you can see it looks as though it is somewhere that could have had a fire or it might be connected in some way to power or electricity as a lightening bolt seems to strike this building.
It might even suggest a home that nobody thought of until they leave there and it could cause a considerable amount of shock that she could be there?
Maybe unrelated but divorce, breaks from career or total seperation from the past can appear in this card - it could suggest a place where this happened and I have a 2 year time frame on this.
Was there a fire somewhere or perhaps there is a FIRE name?
This card sits between the Devil and the Star. The Star is a card of hope and healing but it is also showing someone draining a pond or lake.
The Devil star on the other hand shows being tied into really negative relationships and addictions which could be linked to people who are really bad for us such as unhealthy relationships or it could be actual addictions in alchohol, drugs etc. This is also a sex card so someone might have wanted to use us and chain us into a situation where we cannot get free. So I have to mention this. Numbers to correspond would be 15, 16 and 17.
It is possible the direction could be EAST as this is shown on the Sun card 'eventually'. It could be East from her family home or origin. I cannot be absolutely certain on that but I will offer it.
The Devil could represent rural surroundings as it is the god of pan that rules this card - and it is animalistic so even somewhere there are animals?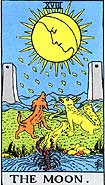 This is not a really good card for finding Jennifer. It is not the healthiest of cards either but it offers many illusions and deceptions around home ground. I think it advises us to read the rest of the tarot and take into account the advise offered there because we have Two Towers in this card and we have water and Cancer is often 'home'. Im not sure whether this might indicate that there could be a building not that far from home that gets 'passed over' or in other words 'overlooked'?
We have a number 18 here maybe that is a timing of some sort or a route number or distance. There is still a feeling of strangeness surrounding this issue. I think its more of a deceptive influence that is and has prevented her being found though. I am seeing in the next card Sun/Family and Travel - going East. So it seems to me that perhaps she is East of her home? This card though can represent being Abroad also as the 'EAST' might even mean the 'Middle East' - and that is not out of the question entirely so you see Tarot is trying to explain things to us and all I can do is write it down and hope something picks up somewhere.
Again there is a lot of water in this card and it indicates to me that it is a place with a water name or that there are high rise buildings somewhere in the vicinity even in the distance perhaps.
I sense a lot of danger on this card about where she might be. There are dogs in the picture and I even wonder if this place is guarded by dogs?
I seem to see a 'dimly lit path' here and also inaccurate information has been given in the past and that is what has made this situation regarding Jennifer difficult to resolve. I have a feeling it could be resolved though even if it takes time to do so. The confusion can be lifted because the Moon is out at night but DAYTIME has to come into play.
When the light shines again answers are going to come about this so maybe this girl is not lost forever. This is a case of cause and effect - I am very torn about whether she is abroad or within her own vicinity of home. That is a conundrum to me.
I hope somehow this might help. Tarot does give various information but tends to stack it on the table in no particular order of what comes first so in here are clues and someone extremely clever needs to be investigative to understand what or where might lead to helping Jennifer.
I cannot guarantee the accuracy of this reading. I seem to have a 'mother figure' sitting around Jennifer. I do wonder if this is to do with a child or not or whether there is some other reason why I have that - it might just mean 'motherland'.

I just want to add that the Moon can show a 'three way relationship' so it could be something to do with that? I will consider this tarot again and make adjustments .
Empathy



AFTERTHOUGHT:
Re: JENNIFER LYN WILKERSON
« Reply #2 on Oct 19, 2011, 15:53 »
---
One of the other things that seems to 'hold me up' is the fact that Jennifer disappeared allegedly from 118th Street Lubbock.

A ONE is the Magicians card and can represent disappearing and 18 is the card of the Moon and represents a building that two people are 'thrown out of'. It also can bring in the three way relationship. Again these are things to consider

The TOWER card tells us about four areas of Red or RED FOUR - so I do need to re examine the Tarot.