HOPE DANIELLE MEEK
Missing Since: 02/21/02
Missing from: Valliant, Oklahoma
Classification: Endangered Missing
Date Of Birth: 1976
Age at disappearance: 25 years old
Height:5′1
Weight:90 lbs.
Hair Color: Sandy Blonde
Eye Color: Blue
Race: White
Gender: Female

Distinguishing Characteristics: Hope wears eyeglasses,
but she left her pair behind inside her residence at the time of
her disappearance.


Details of Disappearance
Meek resided on Section Line Road in Valliant, Oklahoma with her husband and their three young children. Her husband told authorities that he saw Meek inside their home during the day on February 21, 2002. She has never been heard from again. She not reported missing for five days.

Authorities stated that it is uncharacteristic of Meek to leave without warning. Her 1995 Chevrolet pickup truck, her car keys, her eyeglasses and her cellular phone were discovered inside of her house after she went missing. She has failed to contact her children since her disappearance.

Meek's husband filed for divorce from her fifteen days after her disappearance, and received custody of their children.

Meek worked as a jailer at the time of her disappearance; she was in charge of escorting prisoners from their cells to court appearances. Her case remains unsolved.
Oklahoma Bureau of Investigations
Website dedicated to Hope Meek
Investigating Agency
If you have any information concerning this case, please contact:
Valliant Police Department
580-933-4555
OR
Oklahoma State Bureau Of Investigation
800-522-8017

Please note that tarot will pick up TRENDS /VIBRATIONS of PAST PRESENT AND FUTURE - it will pick up anything that is 'out there'true news or false news - either way it can throw light on what is 'in the air' - please bear this in mind when you are reading the insights.


It is very important that 'readers' of the TAROT understand this, therefore one has to be very discerning when reading. Media news can put out stories that are not factual or are pre -mediated but Tarot can pick that up. It does,nt mean that tarot is wrong, it shows tarot can see what might be suggested. However when writing the tarot it may be taken as fact.

TAROT

CANNOT

BE CONSIDERED AS

100 PER CENT ACCURATE.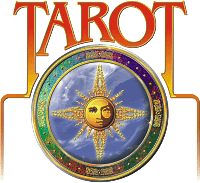 21 OCTOBER 2011
HOPE DANIELLE MEEK
I have been asked here on the blogger to look at Tarot for Hope who has not been seen or heard of since 2002 on 21st February. The brief details outlining the situation are above. Tarot cannot guarantee locations or that all details that it offers are 100 per cent accurate. It rather just peeks at the situation and tries to record what it feels may have occurred. All I can do is write that down and hope it tells us something that might offer up a clue. For that reason please do not rely on every detail that tarot gives and try to read it wisely. It is also recommended to go to other factual sources.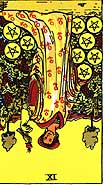 I was a bit astonished when I received this first card. It is a 9 reversed. It was 9 years ago that this young lady vanished so you can imagine I was not expecting that. It is a coincidence by itself. Now as you can see Tarot is telling me that she has lost everything since that time . But that nine is reversed so it may indicate that something was happening in the last 6 years that affected her health and her prosperity and her work in general.

When this card is upside down you know that it is representing insecurity for this woman. This shows that she also suffered from health matters or that something was detrimental to her health as Pentacles can tell us about the health of a person. Obviously reversed it does not give a good view of things. But, we must never jump to bad conclusions on this .

What we are to understand is that for some reason she felt insecure in her home. The previous card shows us her home and it shows us that there is some loss on that. This trend does go through to the Queen of Pentacles where it seems that 'someones home is sold from underneath them' now that is figurative in most cases unless that really happened. The idea is that she lost her home and was 'evicted' from it so it gives me the impression that she must have left the home on that day in some way or another.


Now the other thing I am seeing here but only as a brief glimpse is that there might have been some trickery going on . It could be to do with some dishonest dealings with finance or even work. It may not be Hope herself its the vibrations around the situation. Work does come up here and it seems that she must have felt secure in her job and home at some point but it all seems to have been a lot of hard work for nothing.


We are seeing prodigal tendencies here though. I am also seeing a possible male in the picture who could be up to the age of 35 he would according to this card have dark eyes and dark hair and thought to be a reliable and dependable person but it seems he is anything but. This could be to do with the situation with dishonest dealings and the lack of health I seem to see /insecurity on the matter.


There may be a vehicle here with 'no tax' on it and it could be stationary. There may be a 'crossroads' feeling going on as it seems that no place feels safe??


Im not sure if there is some connection to work it seems to be troubling me but I cant yet figure what is in my thoughts at the moment, but the Page of Pentacles wears a uniform and when that card is reversed it is like they are an 'ex' worker or employee. I dont know if that is Hope herself or not or someone else but I see some kind of bribery but dont have a full picture on it all yet. The colouring of the Knight of Pentacles would also reflect in the page. I think I have three people here AND maybe a fourth but that would be an older man also the same colouring who is very stern.
The page of pentacles can often indicate areas near a school.


Talking about 'picture' there is something about a picture and Im not sure if that is a compromising thing or not but there could be a form of emotional blackmail in her life. I seem to see some kind of education or even school coming up or maybe that was just someone who studied or who studies something and this could have caused a problem? It might be that someone gave her a message about work or money whatever the case I just see some unfavourable news .

The Cards point North but again we have to take South into account as the card is reversed one of these directions would be where her house is. Was she thrown out of the house ? I wonder if thats part of what occurred.

There may have been arguments or some kind of disagreements about work and finance also - but the first card is showing her insecure and seemingly losing all she has that was once hers. This is a mother figure and she has children but the seperation from them is pretty clear also. Im wondering if there were problems with travel on that day?? I am sensing a serious problem to health and I am not sure this is a good sign to have to mention.

I know there are many thoughts here but in some way they are trying to reflect on vibrations of the day and what may have been happening.

Looking at where Hope might have gone.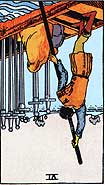 On this card I feel pretty much 'stuck'. In this card it would normally show someone getting to a safe place but there seems to be some kind of delay on this or even some kind of postponement. I am actually being given 'no forwarding address'. Now whether that means she did not go anywhere or that where she went she made sure no body could find her I cant be sure. But if she was going somewhere she would have let her family know as too many years have passed so it makes little sense that there would be no forwarding address.


What that might insinuate is that she did not go anywhere? If she did not go anywhere then she must be somewhere still in the vicinity? This is normally a North East card when its upright but there is also a South West element too. This could be to do with names of streets routes etc. I am seeing somewhere near the water here. Is there water anywhere in the area? I will try to look at the map.

I am not feeling too wonderful about this card there could have been an argument in or about the bedroom ? She has water around her . I am not sure that these are the best of cards. I am seeing a divorce in these cards but I know this was reported that a divorce was filed after this lady went missing. It does seem strange to have this in the Where card however, and that has puzzled me a little. Ultimately there seems to have been wrong reports or someone has not given the right reports about her. Evidence can be cleared away or tampered with when swords are reversed like this. Stories that are untrue and even key witnesses not speaking? It sounds pretty bizarre.

There is a love rival in these cards she shows up on the Page of Swords reversed, someone has been spying from what I can see. I also see a kind of 'release from prison' on these cards and not sure how that applies at this point.
I am going to ask another question about where Hope is as I cannot seem to understand why Im getting more detail and nothing on a place.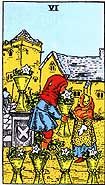 This card tells me that Hope is linked West or West around her home. This card also tells me that 'she is around her children' - and it is also linked to the Lovers card. That is a family card. I have a feeling that she is still around the property where she lived or 'somewhere familiar' If I take the cups through I still come to the 'family home'. I dont think she went anywhere in terms of long distance.

The four of swords can show someone underground. Now that could mean she left and went 'underground' ie went off and kept her life a secret from then on or it can mean what it says. She is underground. There is a Church near the four of swords and there is also a feeling of 'where she was residing' as the picture of the garden shows old familiar territory.

I think that is what I am being told. She might have been withheld somewhere for a while though? Please take tarot as a rough guide and not an actuality as of course it may make sense to someone but in a different way to how I am interpreting it. I am getting somewhere with the name of water or there may be a creek river or something nearby or of that type of name? I am also seeing pottery and flowers in this card? or vases and flowers? This could be near a cemetary? or am I seeing a big building that is like a church.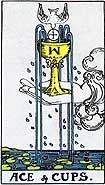 When I ask when Hope will be found I am given 'anyday'. This card is the ace of cups and shows us an M or a W . Maybe that is a Monday or a Wednesday or perhaps it is simply giving us initials of places or a place she can be found. West appears to be on this card.

I am seeing some 'fresh new beginnings here'. It seems to actually give quite a bit of inspiration that she could in fact still be found despite the time that she has been missing. The Ace tells us that there might be a chance message or something unexpected that helps to find her? There is water in the card as you can see some kind of fountain or waterfall and something about a spiritual message here. There is also a peaceful element that I can see through the little white Dove. I seem to see a 'birthday' celebration or some kind of gathering perhaps of three women

I am seeing some kind of container and some kind of idea that we cannot have an exact time on when she will be found because the Ace links to the hanged man who shows that everything has been in suspension. The hanged man is number 12 in the Major Arcana. Could this be 2012? I really could not say as 'anyday' can mean exactly that.

There is a green hill in the distance on the left. The water flows into a lake with green lilies that have pink flowers and Im being given three bells? This may either mean something or be very symbolic. As the aces are linked to the North Pole I am feeling North West?


I have found this Tarot slightly difficult. This could be because of the description detail above. I found myself looking at that and really it is better to have no detail when writing tarot. But, I do think that there could be a possibility that this girl may be found ' eventually'. However, I would not be able to say whether she will be found in good health. Tarot will not allow me to do that. The best thing to do is always to read the Tarot and decide what it gives to you.


I have to state once more Tarot is not 100 per cent and mistakes can be made. I do hope though it can give some help in some way or trigger some kind of idea or thought.

Empathy.