Aurora, Illinois Boy, Timothy Pitzen, 6, Missing After Apparent Suicide of Mother, Amy Fry-Pitzen

This has been an impossibly difficult week for Jim Pitzen. His wife, 43-year-old Amy Fry-Pitzen, was found dead in a Rockford, Illinois hotel room on Saturday, an apparent suicide. Their only child -- 6-year-old Timothy -- was last seen with his mother a week ago. He is still missing.

"He's out there somewhere and I know he's okay. I just want him to come home to his family," said Jim Pitzen, who is determined to hold on to hope.

Police in the Pitzens' hometown of Aurora, Illinois say Timothy's mother left a suicide note.

"It said she left the boy with people would care for him and love him," said Lt. Pete Inda, "but she didn't name any names.

Read more about this article
http://abcnews.go.com/US/timothy-pitzen-....ory?id=13650482
Facebook has a link for Timothy.
http://www.facebook.com/help.find.timothy
Please note that tarot will pick up TRENDS /VIBRATIONS of PAST PRESENT AND FUTURE - it will pick up anything that is 'out there'true news or false news - either way it can throw light on what is 'in the air' - please bear this in mind when you are reading the insights.


It is very important that 'readers' of the TAROT understand this, therefore one has to be very discerning when reading. Media news can put out stories that are not factual or are pre -mediated but Tarot can pick that up. It does,nt mean that tarot is wrong, it shows tarot can see what might be suggested. However when writing the tarot it may be taken as fact.
TAROT CANNOT BE CONSIDERED AS
100 PER CENT ACCURATE.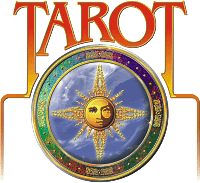 TIMOTHY PITZEN
« Thread Started 16 JULY 2011 at 19:29 »
I have recently been asked if I could look at tarot for Timothy Pitzen and it seems his story is very sad losing his mother. I realise this is a very delicate case and of course I will just try to record what tarot has given to me as best as I am able. Tarot is not 100 per cent accurate and gives information and glimpses of the past present and future. For that reason some details might come up that are already known. Tarot can however give other details that might be of use. Please always go to factual sources for concrete information.

I am not sure of the EXACT date this child went missing so I would be grateful if this was posted in the comments section but I have looked at tarot dated 13th May 2011 as this seems to be the date that is significant at the moment. Please me know if this is not the case as I will need to take another card.
This is a really unfortunate card to begin with as it is a Knight reversed and all the Knights reversed are most definitely NOT the best cards at all. Between them all they can spell very difficult circumstances/occurrences such as running away from fights or engaging in dishonorable combat, problems with travel, miscommunication and changes leading to disaster:

I can almost see this story repeating itself with this Knight of swords because here we have a nihilist situation. What about Im concerned about is that there was some message left that this lady had put this child into safe hands. Now this might be the case and it might just be me slipping up here, but The Knight was reversed. This can tend to give me reason to look at the other cards around it.

If the 10 of swords is reversed the way it is leaving a note and this was received does it mean its true? Thats the question because the Queen of Swords reversed does not give me clarity on this. If anything, it represents a cold hearted person and if this card represented the Mother it does,nt mean shes cold hearted but it might that way by ending her life as she did. I dont know if Im getting this from the prospective of the child or just as a set of circumstances. The Queen when she is upright shows one person possibly dying before another, this reversed would indicate that not both of them do, BUT, I see problems here from a 'rival' which makes me wonder if not all the story is accurate?

I feel like there is someone else in the picture here, I do think the mother is strong through the Queen of Swords but the knight is showing me an aggressive destructive and argumentative man who may up to the age of 35, I may have the age wrong but I just think they would take the opportunity to spy or cause trouble for the mother.

This could been the tip that pushed the mother 'over' in her mind. There just seems to have been a lot of slander against her in her mind. Unpleasant rumours and even possibly posting things to the internet as its a communication card. Whatever it is it has really made this woman bring her sleepless nights to an end. She wanted to be released from what she considered a prison, or even a mental prison.

I seem to see a lawyer or professional man possibly stirring up trouble over an opposing lawsuit.
I have no idea how the events fall in or even if they do, but I give what I see and know that they are possibly events thrown in together but thats how Tarot works and can make no apology for that.

Notice on that first card that this woman felt OVERPOWERED by a male. Again it could be physically or mentally, but I have to write it down because thats what it tells me. There is a bedroom seen in the cards but Im not sure if this woman was alone or not, but there is an indication that there could be violence from an opposing force here to do with possible legal matters. If I have this wrong then so be it, however, it is what tarot is showing me.

When the rest of the Knights are upside down, it can represent suicide in the Knight of cups but that is not the Knight I was given so Im afraid, there might be more to this then at first thought? The knight is an EAST directional card. East can be a route, name of a place or the actual direction it shows me. Also, the one problem is that this card is reversed, so I often get stuck on whether we are just East or South East.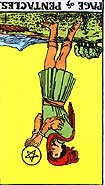 T
his next card which I was looking at also when writing the above is trying to show me where the little boy is. What I can see is a direction of North/South. So one might think one is a starting point and the other an ending point. Notice that this card is reversed. He is connected to a non-biological home. I have a dog or two dogs given as some kind of clue though I dont know why that would be or if its a name of something. This home does,nt look like its his. At first sight this is agricultural ground and previously it looks as though his security was compromised. Ive been told that theres 'nothing on camera' and very poor news regarding this childs whereabouts which we know to be true without tarot confirming it.

However, all I can seem to see is him 'turned out of a home' almost like an orphan and the Queen reversed doesnt help to feel that confident that what we have heard about his safety is true as yet. I see the Knight of Pentacles reversed tells me someone on foot walking or hiking in muddy trials and terrain and might be someone who is lost.So tarot is not helping with this as much as I would hope. This particular card can represent schools or names with the word School on them. I see a couple or a woman and a man who are down on their luck financially and I dont know if this child is with them because I dont know if they could afford to keep him. So Im a bit confused here and will need to revise my thoughts shortly.

If I were to go back to the 5 of pentacles, there is a woman, man and child, the man has something to say but has not said anything. I am seeing a church/cathedral or something of that nature here.
Someone might have had problems with their leg and some form of unemployment but employment will get better. Someone wants to make quick cash here and isnt willing to wait around for it either. I am seeing a house, garden, but Im being drawn more to forests, woodland and places of that nature.

There might even be a 'crossroads' here somewhere. I just find something unreliable in the mix with a possible male with dark eyes and dark hair. I also have someone with a stutter or who has trouble speaking coherently or gives mixed information, almost like they are speaking a foreign language but not necessarily so.

I feel that the snow has been melting yet Im not aware of whether there was any snow? I feel that as the school has been mentioned there might be a reason behind that also. Theres a lot of 'bad finances' here and problems with them and a man.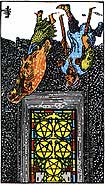 Surprisingly this five of pentacles might be a key card because it has actually turned up and tarot made me go back and look at it when asking where this child is.

This card gives us a FIVE now under pentacles that means within 5 years he will be found. But, it might just be a distance of 5 from the School. Or, it might be a timing factor but just 5 is all I have.

This card shows that he might have been taken in by a church organisation or he might be somewhere near one. Again all I have is North definately and possibly South there might be a name factor in this. He could have been wandering around and picked up by two people who have not said anything yet.
The bell has not rung around the mans neck but it might.

When Pentacles are reversed they often put a bit of ill health into the situation. How 'illhealth' translates itself I cant be sure. Maybe there needs be a ransom or a reward put out? Im feeling this boy is a 'lost possession'. Lost being operative here but possession might indicate that he is with someone or a couple OR that he was supposed to be. I do not get everything right but I see a money problem here that could resolve things?

I will have to think about this tarot a bit longer and go over it and see what I may have missed here as its possible I might have missed something. Manor is a word that might come up as the 9 of pentacles is considered a manor house but it is reversed and do not see him in this house I see him turned out of it. Anyway, I will consider and post again shortly once I think things through. One other thought that has occurred to me is Illinois might be described in the five of pentacles, suggesting he could be outside of that county? or that he is still there but not well?

Empathy.