Gail Palmgren has been missing since April 30, from Signal Mountain, Tennessee, and her husband is seeking temporary custody of their two children and the exclusive use of the home they shared together.

A Chancery Court judge will rule on the paperwork that Matthew Palmgren, 40, filed in court on May 6, on Friday regarding a legal separation. Matthew, who is the director of pharmacy programs for BlueCross BlueShield, stated in court documents that his wife was unstable and was suffering from severe mental illness after she lost her job at Novartis Pharmaceuticals in June 2010. He also stated that she was writing down license plate numbers to identify drivers that she thought were following her. He also stated that ID numbers for three bank accounts containing about $420,000 had been changed by his wife and she had put in a change of address.

According to Signal Mountain Police Dept. reports, Matthew reported her missing on May 2, ONLY after his family urged him to do so.

Back on April 22 and April 29, police came to their home on Ridge-rock Drive to respond to a call of arguing. During the second response on April 29, the police gave Gail the phone number of a safe house. She left with the kids to stay at the Lake House in Alabama.

According to Matthew, on April 30th, Gail left their kids home alone and disappeared. Matthe wtold the local news outlets that she removed $30,000 worth of valuable possessions from their home before her disappearance.
Continue reading on Examiner.com Gail Palmgren: Missing, husband files for custody of kids - National missing persons | Examiner.com
http://www.examiner.com/missing-persons-in-nationa...



Please note that tarot will pick up TRENDS /VIBRATIONS of PAST PRESENT AND FUTURE - it will pick up anything that is 'out there'true news or false news - either way it can throw light on what is 'in the air' - please bear this in mind when you are reading the insights.


It is very important that 'readers' of the TAROT understand this, therefore one has to be very discerning when reading. Media news can put out stories that are not factual or are pre -mediated but Tarot can pick that up. It does,nt mean that tarot is wrong, it shows tarot can see what might be suggested. However when writing the tarot it may be taken as fact.

TAROT CANNOT BE CONSIDERED AS 100 PER CENT ACCURATE.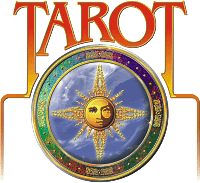 GAIL PALMGREN
« 16 JULY 2011 at 16:09 »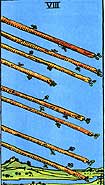 I have been asked to look at the situation of Gail Palmgren to see if Tarot can add to the known circumstances.

Tarot is not 100 per cent accurate and gives glimpses of past present and future.

It may therefore show up some events that have already occurred as well as give other possible highlights or pieces of information that might help. Please always go to factual sources for concrete information.
Firstly another nice bright photo to work with and this is always good for me to meditate with.

Tarot gives me the Eight of Wands for 30th April to describe what may have occurred to Gail. This card gives us a South direction though the arrows point South East it is simply a way of showing us that things happened very fast indeed . This card is moving swiftly over countryside and you can see a house on the hill in the background. It may indicate that she was

driving or moving over terrain very quickly where there are not many houses as that landscape looks pretty much barren.
There would likely

be fields/landscape and a stream brook or river in this card

. It also can on occasion represent going towards an airport as wands do fly and the 9 of wands can often show concrete tarmac. I also do see fences/walls or some kind of palisade or barrier here which she hides behind.This symbolically can mean

feeling injured and looking over her shoulder as she rests in a safe place.
I feel she is outside a town or on the edges of a town here and near buildings. She seems to be worried stressed and wanting to lay down her burdens so she has carried a lot of problems with her. Its possible that she is between borders or boundaries/counties because the seven of wands can show a Hill and stepping either side of it. I think she feared 'attacks' so it is common to suggest that thought she feared it, it may not be actual but it was definately there and enough to make her want to get away.
I see some kind of injury to her head or above neck area, again this could show that she may have been hurt in her past or even at the time. Its possible. I seem to see an older female here and an older male and even spokesman and therefore some of this information could be known and therefore tells us that there is an accentuation on this and perhaps it is inevitable that she should take flight?
I think the eight also tells us that there are eight weeks involved here for some reason, and I then wonder if eight weeks are a marker as a very bad period of worry time for her? I feel she took matters into her own hand as the eight of wands shows bold decisions after a period of indecision and then moving towards her goals, so if she had been contemplating getting away then this appears to be the case here.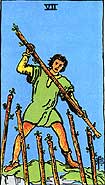 Tarot tells me that Gail is 'between boundaries/counties' and Im seeing her 'fighting off the opposition' here. The cards do seem to repeat the first batch of information and this is SOUTH bound according to the Tarot. It seems that she has felt attacked and has done what she can to fend off anyone that opposes here. I see the house on the Hill and feel it has some kind of significance as it is a building and all the other descriptions do seem to apply. It seems that she is wishing to stand up for herself despite all the bad things in her life and taking action here in a Southern region?
I try not to look at Maps whilst writing the tarot but I will look once the tarot is complete and if anything comes to mind I will publish my thoughts. I feel she felt threatened.
There does,nt

at this point

appear to be a 'death card' and so far a lot of action going on and decisions being made and swift movement and seeing her go towards an older couple. That is what I seem to have here. I might be wrong but I give what I feel..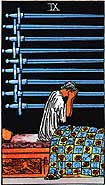 I seem to have the 9 of swords for when Gail will be found. It is generally a card for months and I would have presumed the number 9 may be significant or that

Gail could be found under 9 months OR that there could be news within that time.

It is not the best card to see though as it can show a person that has inescapable guilt in their mind and desperate upsets worrying constantly what to do and how to deal with things. This is often a bedroom scene here and the word BED might mean something or anything to do with that.
It is also a card that shows someone by a riverbank or near a name that describes that kind of landscape. There could be a 'note here' or some kind of written word. I hope that things do not get too much for Gail. There is some kind of interference here by others and that has affected her thinking quite badly. It all depends if this goes too far or not. I do see a lot of emotional and depression type of problems here and not sure if that improves on this card or gets worse as the 9 of swords can be an unkind card. It can represent loss and even worse then that when a person just cant cope anymore.
Obviously, I look to the brighter side of tarot as I feel its always important to keep positive energy here. However, I feel that she could be tracked down by an investigator or a 'spy' as that seems to be in the run of cards. Also perhaps, but not essentially, I do see something to do with railways ,

hills

and airports.

This card shows me EAST and therefore one would assume that she would be found in an East direction or East in a name, route or road.



This card can be unpleasant to say the least and I cant lie about that, but the swords can be emotional or mental distress it always depends just how much that overburdens a person. There is a kind of 'imprisonment' here where the person just can seem to see any further in their own mind. Perhaps a prison is nearby or there is some feeling of incarceration or being stuck?
I hope things do work out for Gail but it has to be said that this woman has burdens that are very great in her mind. One has to consider that being a mother has made things that much worse for Gail because she finds things very hard to cope with regarding a necessary seperation. I think she needs to be under a Doctor for the problems that she has had.

There is illhealth in this card and I see some kind of return or apology here at some point that might not have turned out well. Im not sure when this will occur or if it has occurred but it seems to me that there has been a great deal of deceit and this is overpowering. I feel she might have got involved with a man up to the age of 35 who overpowered her maybe mentally (even physically) who really was not good for her but for some reason she did things against her better judgement.
I feel there is no commitment here or any depth. Therefore I see all sorts of possibilities that bring me to ask about Gails health or state of mind. There may even be some kind of information or news regarding the internet or computers but that might just be telling us that news will arrive via that source at some point and I would think that is an obvious thought?
I will come back to review this reading if I feel I have missed anything out.
Tarot is past present and future

and this must be borne in mind as well as the fact that it is not always 100 per cent accurate in detail.
I have just noticed that BLUE SHIELD is connected to the husband. I would add that a SHIELD is seen in the Knight of SWORDS.
Empathy
TIMELINE OF EVENTS
http://www.wrcbtv.com/story/14669942/tim....ns-disapearance

SIGNAL MOUNTAIN, HAMILTON COUNTY (WRCB) - We are learning more about the days leading up to 44-year-old Gail Palmgren's disappearance.

The mother of two has not been seen or heard from since April 30th.
SEE ABOVE LINK FOR timeline of events leading up to that day and background information:



LATEST INFORMATION:
Thursday, December 1st, 2011

Gail Palmgren's Jeep found on Signal Mountain, no body found inside

http://timesfreepress.com/news/2011/dec/01/gail-palmgrens-jeep-found/



Authorities are suspending the search for Gail Palmgren until tomorrow morning after the missing woman's Jeep was found today with no body inside, Hamilton County Sheriff Jim Hammond said.

The Signal Mountain woman has been missing since April 30.

An air search conducted this morning by the Hamilton County Sheriff's Office and Tennessee Highway Patrol resulted in the discovery of the wrecked vehicle located between the

East Brow

on Signal Mountain and the W Road.

Cadaver dogs will be brought in tomorrow, said Hammond, although he added it's too early to speculate if Palmgren was in the car at the time it went over the ledge.

The car's Alabama plate reads, "EAZY ST" where her family has a lake house in Wetumpka. The vehicle was found in very heavy undergrowth and officials have yet to determine how to remove it.

"[The vehicle is in] very rugged terrain, deep piles of leave, it's tough to navigate," said Hammond.

Residents had noticed that one of the large rocks that was on the edge of the road was missing but they didn't connect to the missing woman.

Hammond said a second vehicle was also found nearby, but they do not believe it is related to the case.

Repellers used 600 foot ropes to get to the Jeep.


MORE NEWS

http://chattanoogan.com/articles/article_214590.as...

Sheriff Hammond said the top and the windshield of the vehicle were ripped off and it is likely that the driver was thrown out.



http://timesfreepress.com/news/2011/dec/02/gail-pa...

December 2, 2011

Search continues for Gail Palmgren on Signal Mountain





MINUTE BY MINUTES NEWS HERE



www.twitter.com/wrcb

Purse and personal effects found in Jeep.





BODY HAS BEEN FOUND



see twitter link.



2nd December 2011



www.twitter.com/wrcb
Sheriff:

Remains found

about 100 feet from vehicle.
Remains found near Palmgren Jeep

http://www.wrcbtv.com/story/16173262/remains-found-near-palmgren-jeep

SIGNAL MOUNTAIN, HAMILTON COUNTY -

(WRCB) - Sheriff Jim Hammond confirms human remains have been found near the Jeep of Gail Palmgren.

The Sheriff tells Channel 3, the remains were found about 100 yards from Palmgren's vehicle,

but he has not confirmed they belong to Gail Palmgren.



Palmgren's red Jeep Rubicon was found several hundred feet down a steep cliff on Signal Mountain Thursday, just off East Brow Road.

Sheriff Hammond says personal items indicate the remains are that of the missing mom. A cell phone was found inside the vehicle and purse with ID was located nearby.



Hammond says a forensic team from Knoxville has been called to the scene to recover and positively identify the remains.





The W Road will be closed to traffic from

Mountain Creek Road to the top at East Brow

until further notice, police report. Residents who live on the W Road will be requested to show identification before being allowed to continue to their homes
.
December 2, 2011


http://www.chattanoogan.com/articles/article_21468...

Palmgren Family Preparing For Funeral: Asks Privacy Respected
Statement By Attorneys Says Gail Palmgren Apparently "Lost Control" Of Her Vehicle