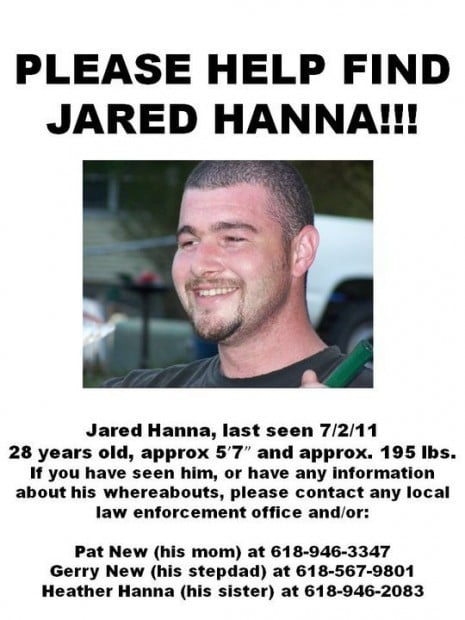 http://missingpersonsblog.blogspot.com/2....unning-out.html

Thursday, July 7, 2011
Jarad Hanna: Missing after running out of gas
Police are searching for missing Jared Hanna, 28, who was last seen Saturday evening at several Alton bars in New Jerseyville.

His truck was found about 50 miles from his home. The police found that the truck belonged to the mother of Jared.

When the family were notified that the truck was found, they filed a missing persons report.
Jared was seen at The Big Muddy Pub, 204 State Street, Norb's Tavern, 2505 State Street in Alton.

Heather Hanna, Jared's sister, said that Jared has two children that she watches while he goes to work at Oros and Busch Application Technologies, and he wouldn't just leave because of his children who he has full custody of.

If you have any information you can contact the Jersey County Sheriff's Dept. or Alton Police Dept.

Also you can visit Jared's Facebook page at "Help find Jared Hanna."
http://www.facebook.com/login.php
Please note that tarot will pick up TRENDS /VIBRATIONS of PAST PRESENT AND FUTURE - it will pick up anything that is 'out there'true news or false news - either way it can throw light on what is 'in the air' - please bear this in mind when you are reading the insights.


It is very important that 'readers' of the TAROT understand this, therefore one has to be very discerning when reading. Media news can put out stories that are not factual or are pre -mediated but Tarot can pick that up. It does,nt mean that tarot is wrong, it shows tarot can see what might be suggested. However when writing the tarot it may be taken as fact.

TAROT CANNOT BE CONSIDERED AS 100 PER CENT ACCURATE BY LAW.
JARED HANNA
«
12TH JULY 2011 at 4:11 »
As far as I know Jared is still missing. Tarot might be able to shed a little light on the situation but it is not 100 per cent accurate and I cannot guarantee that all details will be. Tarot generally works with elements past present and future and may repeat information already known - however it can often highlight other matters. Please go to other sources for factual information.

Well as you can see a nice picture of Jared above, smiley and coming across as a really nice jolly personality. I often feel very sad when people go missing when I see them so animated in their photograph. However, taking a first card for Jared and asking what might have been happening around the time he went missing I receive this card.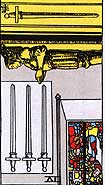 A really difficult card here as it might not be a good start. Here is the four of swords and judging by the reversed swords before we get here its tricky. The four of swords can be a situation where somebody is 'with held' this can be against their will literally or it could be a thought that runs through a persons mind, being held up.

The three tells us that Jared is 'mislaid for a time' that doesnt seem to imply he was going to disappear voluntarily. There are some indications of an altercation with somebody or possibly a quarrel or stand off and that might have created a problem. The four of swords can sometimes speak of banishment, isolation and even a form of imprisonment. I think of that as being withheld really. Im feeling some sort of angst around the five of swords and the six and I keep thinking he might be around a coastline/waterline (either in name or otherwise) or he might feel he was or is facing some kind of 'stormy waters' or difficulties. I think he seems stressed mentally, Im getting some kind of overload here on someones thinking.
Six of Swords shows him being held up in its delayed reaction.

There may be some 'apology' due here from someone who has been away. I am seeing some kind of depression with Jared in this card but I cant make up my mind whether he was looking for some peace and quiet from problems or whether in fact it was forced on him as I did,nt really feel that he intended to disappear. Its as though he went off that day and somehow temporary absence has become a bit more permanent!

Swords are not very nice cards, but contrary to belief, when they are reversed they are not all bad. They can actually look worse then they are. The direction I see is EAST on swords cards, this is reversed of course and it can be awkward to decide but East is/was the main direction that I have.
We still have to bear in mind that swords are harsh cards, and though we make light of them when we can it can mean a person can run into severe troubles and this cannot be overlooked. There are two other people in these cards and they might not have been friendly.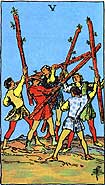 Asking where Jared is and bearing in mind that Tarot cannot really name places as such, we do have the direction South, so our reversed four of SWORDS could have marked a SOUTH EAST direction. I see that we have a very sporty element on the 5 of wands so a SPORTS name or VENUE could come up here. Also so could a motel or a building of some description. The six sees movement towards a town/market or populated place . The word LAUREL and /or VICTORY could be useful descriptions/names. I also see heat/something hot here. Fire is the obvious thought but also it could be a heated debate/exchange with a group of people (males?) Again the waterline seems to appear around the three of wands so Im wondering if there is a coastline or perhaps a water name where he might be. 5 of wands can also be sports fields gyms anywhere of that nature of where people might carry out sports and that can also be the name of a place. I have not looked at the map yet. Somewhere in the distance MIGHT be an airport.

I say this as we travel the wands route and I see also possibly between two counties as we have a border line here and possibly even a district that is 'hilly'. I see fences and barriers - almost makes me think of a football ground but again its very easy to suggest things on these cards. Although there is a 'country feel' to wands cards at times, I rather feel that Pentacles are more agricultural and wands give me more of civilisation feel or places connected to people. I feel there might be a message regarding Jared before long or some information given that could be useful. Perhaps an older female might speak up about it.




Asking when Jared will be found - Tarot is giving me a stationary vehicle. That is not amusing of course because we know that a vehicle was found and that is not helping me to give information on this card, therefore I will ask this question once more. However, before I do, I will say that this card can a stagnation of events but gives a North South route and walking. The knight gives us 12 as a number so whether that has anything to do with Jareds vehicle I am not sure, by this I mean 12 in distance from it or 12 in time after the vehicle is found. I think I will ask once more about this.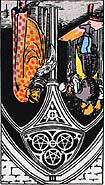 Tarot has kindly pushed me back down the pentacles cards and given me the three. I would think then that this card tells us within THREE and NORTH. Pentacles are often three years but when its reversed it can strike out the years and just give us a THREE to take note of so Im afraid that is what I have. Notice it is reversed and I toy with SOUTH as well as North but it could be in the direction of North but the word SOUTH might come up for description also. I am seeing finance and business on this card and a kind of resistance to being found. An Arch or Bridge can be seen here and we are aware of the Joliff Bridge Road being the place where Jared was sighted. I would have thought that area would have been combed thoroughly but perhaps there might be a clue there that might be overlooked. Skills are not used in that area according to tarot, so it might be suggesting that he 'lost' something here that could be found. Maybe an article perhaps.

I am seeing a building/business or otherwise somewhere and I wonder if he was planning to call in there ? In some way I still feel his security is compromised on the one hand but seeing him quite a strong person on the other. I feel Jared might not be in the best health and yes his security may have been compromised. I see him being 'evicted' from somewhere or asked to leave but I dont know what the time scale of this would be before after or when. I think there is someone who is what I would consider a 'dirty businessman' here who might be difficult to trust. Pentacles are agricultural cards - whereby wands are not especially so though can be linked by county or country type places.

Tarot might have the wrong end of the stick with Jared and I apologise if its a bit askew at times but I hope that all ends well with Jared. However, cannot help but feel he had some problems to deal with that made him out of his depth? Three of Pentacles can often point out December and January as months of importance but also when it comes to work/business/financial matters. If there is anything particularly outstanding about these months then perhaps it might be worth thinking about what might have occurred in them previously. It might refer to the future but I have to put it both ways. The Ace of swords can speak about drugs, and it can affect the respiration as can alchohol. If there were any quarrels that anyone was aware of when Jared was out that evening it might be worth coming forward about those.

Anyway I will leave these thoughts and hope something somewhere might be useful.

This is a brief tarot synopsis and I will come back to Jareds tarot if he is not found soon.

EMPATHY
LAST NEWS REPORT
New search Saturday for missing man
Friday, Jul 8 2011, 4:10 pm
cellis@thetelegraph.com
Family and friends are organizing a search Saturday for a 28-year-old Jerseyville man and single father who hasn't been seen since last week.
Jared Hanna last was seen on Saturday, July 2. No one in his family or any of his friends has heard from him since his disappearance and they are concerned.
"It isn't like my brother to just disappear," Heather Hanna said.
Heather Hanna said that her brother is a dedicated father and responsible when it comes to work. She said that she watched his daughters whenever he would be on a job and, because he had full custody, she knows he wouldn't just leave without any notice.
TAROT UPDATE JARED HANNA AUGUST 1 2011

Please note that tarot will pick up TRENDS /VIBRATIONS of PAST PRESENT AND FUTURE - it will pick up anything that is 'out there'true news or false news - either way it can throw light on what is 'in the air' - please bear this in mind when you are reading the insights.


It is very important that 'readers' of the TAROT understand this, therefore one has to be very discerning when reading. Media news can put out stories that are not factual or are pre -mediated but Tarot can pick that up. It does,nt mean that tarot is wrong, it shows tarot can see what might be suggested. However when writing the tarot it may be taken as fact.

TAROT CANNOT BE CONSIDERED AS 100 PER CENT ACCURATE.
JARED HANNA
AUGUST 1ST 2011 at 16:26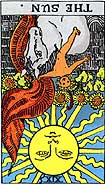 I have been asked to further look at Jared's situation. Tarot is not 100 per cent and I have no guarantee of what it will tell us or whether the information covers the past present and future as tarot looks with a sweeping eye at all three. Because of this I get 'messages' that glimpse into the situation but I cannot always place exactly what period of time they are talking about. Sometimes not ALL descriptions apply.

Obviously, as Jared's mother has asked about the situation I am also concerned that what I write must be as accurate as possible. However, all I can do is give what I see and Tarot does not provide a Map of names for me to pinpoint exactly where a person can be. It is very frustrating but Tarot chooses what it gives to me and all I can do is try to put over whatever it is telling me and hope somehow it can give some kind of Clue.

Now you will see this card for the current date. It is the Sun reversed. Though I have asked Tarot for information about Today's date, again, I have to remind you that I cannot rely that Tarot will produce a definite piece of information about today.

When you see the Sun reversed you know that there is a family in trouble. You also know that travel is problematic. Travel is halted. We know that Jared's vehicle was found and where it was found. It is now important to try to track where Jared might be. It is always best to read the previous Tarot as it has given us clues and then combine this latest card of the Sun reversed.

The sun reversed gives us a path of 30 and it is reversed. 30 could be a date or a route or have some other significance. None of the Tarot is written to be judgmental therefore it must not be hurtful with what it suggests. However, this card is linked to the Emperor who is either the father or the boss and it can also represent being a 'non biological father' or indeed exploring that, can suggest problems being a father commanding respect and obedience. It does and can represent a boss or someone in work that Jared might not see eye to eye with.

This card can link directly to the family but might be more reflecting problems and weakness in family matters. When the sun is reversed it is giving us a RED BANNER perhaps the descriptions of the Sun might show us where Jared is. Red which is also associated with the Emperor is here. We have no direction on this card whatsoever but there is water in the area or names that are water names because the Emperor is also linked to the hanged man which is a very watery card and can show trees/poles.
The Sun card gives us the word WALL as the sun is enclosed in a wall but it is reversed which can suggest that Jared is 'under something' or by somewhere perhaps with the name WALL .


The Sun reversed can also describe someone who is in a basement, it is a card where the 'light does not get in' so perhaps it can show us that Jared is 'hidden' somewhere and not easy to find/spot.
The number 19 is on the Sun card and I also am getting links to a mother figure. Whether this is Jared's own mother or the mother of his children I am not sure. I am also receiving some deceptive influences here. Perhaps being a father was very difficult for Jared? I understand he has custody of his two children. It is always worth looking at all areas of this to make sure he did not have any enemies. Sometimes his enemy could be his mind. I am seeing problems that someone is having perhaps with their stomach. I also see something sharp so perhaps a sharp pain.

The sun reversed ALWAYS shows children in these cards and in this case there are two. I am seeing a situation where there is over dependence on parents here and Im not sure how that is being suggested but all I can do is give messages from Tarot hoping that its overview makes sense to somebody.

The sun reversed can show a 'broken wall' . It might suggest that he is linked to a person in the family but more coming from the past. I feel as though he has made decisions perhaps that he might have cause to regret. Did he feel overburdened, was everything just too much for him? I really feel as though his 'world is upside down' and he is not going anywhere.
I also see that Judgment gives us issues with health and perhaps there is a health building , hospital in this card. I see that there is a 20 on this card and it could be a distance or a route.

I would take into account all the previous information for Jared and read it along with this further update. I do not feel Jared was well whether something had upset him and there were cross words or whether in fact he was actually injured. I do see a strong opposing view in the stretch of swords. Maybe Jared wanted to escape from burdens and decisions he had made. However, I would take all the little clues and see if they can help.
The sun reversed can be about anger and irritation in the family and may represent anything to do with travel. It is also worth looking at the Fool and any area that has rock or stone in its name or a wall of stone.

Did Jared have any problems with work ? I am not sure how to connect all his dots yet of where he worked, where he lived, where his vehicle was found. But I think I have tried to give some indications of what might be glimpses of the situation. I also have a cemetary here or Church yard or even a street that comes up with that name. I do not know whether that is a pointer of place or not. Everything that is in the tarot 'picture' of directions seems to tell me it is on the Map.

I will continue to think further for Jared as I am always aware of other details I might have missed.

Tarot does explain things better then can be imagined, but it is up to me to try to interpret this. I know that mistakes can be made or I might have something cross wired but I just do what I can and hope that it helps.

It did occur to me that the Sun is also the solar plexis and this means the HEART. Maybe at some point there is a connection to 'HART' such as a road or place?

I do not know if it is a past connection or not, but Rock Hill Trials, Hartford, and Wood River might fit at some point?? The word East has significance with Jared whether direction or otherwise. Though the sun does not point a direction it is classified as the destiny of the East. I'm not clear whether I should be looking at a reversed angle to this but have mentioned directions in the previous Tarot which may or may not help.

Empathy.
New search for missing man Saturday
October 14, 2011 9:25 PM
By STEVE WHITWORTH
The Telegraph


Read more: http://www.thetelegraph.com/articles/han....l#ixzz1cQPFaAO3

CARLYLE - The

recent discovery of some personal property

belonging to a missing Jerseyville man has prompted a renewed search Saturday in the

rural area

of Clinton County where he last was seen in July.


A motorist reported seeing Hanna the previous midnight walking along the road, but a

resident is believed to have seen him hours later at his door

, said Clinton County Chief Deputy Mark Etter.
Re: JARED HANNA
- UPDATED
« 2ND APRIL 2012 at 11:00pm »
I have had another look at all the Tarot cards to see what astrological advice may be given regarding location and here below are descriptions of places that seem to be associated to Jared or those around him.
The directions do seem to tell us that South is the ultimate direction to find Jared (or South in a name of place?) though of course one cannot guarantee anything but it does seem to agree with tarot with many of the points both here and in the tarot regarding descriptions. I leave the possibilities below.

Empathy.