http://www.unsolved-crimes.com/balmain.html

Name: Revelle Balmain
Place last seen: Kingsford, Sydney, Australia
Date of Birth: July 11, 1972 - 22 years old at time of disappearance
Description: White Female
5' 8" Tall
120 lbs. (55 kgs)
Blonde hair
Blue eyes
Last seen wearing green calf length skirt, button cream cardigan and a blue glass necklace.

--------------------------------------------------------------------------------

22 year old Revelle Balmain from Sydney, Australia went missing on November 5, 1994. On Sunday, November 6, 1994 Revelle was going to Newcastle to say goodbye to her parents before leaving for Brisbane for a two week dance rehearsal then flying to Japan for a 6 month dance contract. Revelle never caught her train.

Revelle had met an acquaintance that afternoon and was supposedly dropped off at approx 7PM at the Red Tomato Inn at Kingsford, yet no one saw Revelle enter the hotel.


--------------------------------------------------------------------------------

If you have any information about this case, please contact:

Tips (within Australia toll free) (800)000-634. From the USA: (011)61-1-800-000-634 or email tips to: missing@afp.gov.au


Please note that tarot will pick up

TRENDS /VIBRATIONS

of

PAST PRESENT AND FUTURE

- it will pick up anything that is 'out there' true news or false news - either way it can throw light on what is 'in the air' - please bear this in mind when you are reading the insights.

It is very important that 'readers' of the blog understand this, therefore one has to be very discerning when reading. Media news can put out stories that are not factual or are pre -mediated but Tarot can pick that up. It does,nt mean that tarot is wrong, it shows tarot can see what might be suggested. However when writing the tarot it may be taken as fact.

Tarot does not have all the answers or claim to solve issues. All it can do is show what it feels may be of USE or point out possibilities.

Please always read the following

ABOUT TAROT ON THIS SITE

which is a useful article in respect of all the Tarot printed for Missing people/children.

TAROT
CANNOT
BE CONSIDERED AS

100 PER CENT ACCURATE BY LAW.
RAVELLE BALMAIN
19 JUNE 2011

I have a request here on blogger to look at tarot for Revelle Balmain. Revelle is truly a stunning and beautiful girl and the family are left wondering what happened to her.There are various reports on the internet but I have taken a small report of the circumstances so that it does not sway tarots thinking. Tarot can try its best to shed a little bit of light on the situation by looking at past present and future aspects. Tarot is not however 100 per cent accurate and often the information can come in many messages and appear not to make sense at the time of writing. This is often rectified as more information comes to light. Tarot may pick up some of the past elements of what has already been discovered but I hope as always that it will give other insights that can open a few more ways of thinking. Please go to other sources for factual information as Tarot information cannot be relied on 100 per cent.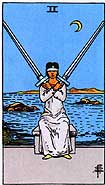 When I look at Ravelles picture I can see tears welling in her eyes and feel so drawn to help her. Asking tarot what happened I am being given the Two of swords and I realise right away that there has been some kind of serious argument or standoff with someone who was much 'stronger' verbally here. This card often gives us an East direction at the time but of course I dont know if that is significant or not. As the two of swords shows a serious conflict we know that things are not good at the pull of this card on that particular day.

In this card there is a lady with a blindfold and that can mean actually being blindfolded but at the same time it can mean that she turned a blind eye to the short comings of someone else. Maybe she just thought things were ok? It seems to me as though there was a difficult decision to be made at the time and you can this card is showing water or someone near the edge of water where perhaps behind is a couple of islands so unless this is just an emotional factor it may describe where she was at the time.

This card can link to the High Priestess so we know that card is full of secrets and often initials of people and places are linked that start with a B or a J. It has often been correct in many readings. The High Priestess is not the card that we have pulled out however, but it will tie in a little as would matters of justice - ie - right and wrong - as Justice is Libra and also linked to the High Priestess as well as the Two of swords.

So it seems to me that perhaps Ravelle had some decision to make which would have been the difference between right and wrong and some kind of secret element attached here linked to those initials. Also you will note that something has been written down somewhere but for some reason it has not been 'finnished' or completed.

That could mean her contract whereby she did not fulfill it but it might also mean some procrastination over it or that she had some kind of conflict or even quarrel or argument about it. She could even have turned a blind eye to it but we shall have to see what develops in this sitting.

The Ace Two and Three show me that there is some kind of separation here and by going away it would mean that she would be separated from someone. Sometimes it can mean that its an emotional relationship and by going away it would leave the other person/persons behind. Perhaps this was a problem?? The Ace does seem to promote some kind of stress with authority and there are 'cutting' signs on this.

Cutting signs can actually mean 'cutting' and also can mean separating something or great stress at being separated. Because this is a masculine sign Im wondering if there is a male here who might have been a bit obsessed with Ravelle?? because there is a masculine determination here. The Ace can definitely mean contracts so I think that is what the High Priestess is talking about. This contract caused a problem perhaps for a Male who might even be linked to it or linked to her and as the Ace is all about numbers/planning etc, there seems to have been some kind of conflict about this contract and leaving someone behind. I just feel that someone wanted 'negotiate' the legal aspects of that contract.

The Ace can also represent drugs and vegetation. That is not necessarily the case here, but Im going to put it forward just in case. The two going into the three and the four shows that Ravelle had to go away but we have a masculine force here who has not revealed themselves as yet. The ace can be a really strong force and it can be hatred as well as planned action/motion. So Im feeling that someone has planned something.

Obviously the cards might just be telling us about Ravelles new contract and going away, but we cannot ignore the fact that if it was plain sailing we would just have an Ace of Cups to show that happy new start and new things coming onto the horizon. The Ace of Swords shows ut that there is something much more darker and prevalent involved here that along with the two of swords definately appears to depict serious conflict to those plans of going somewhere.


If I slide along a little into the run of cards someone feels they have defeated the other person, stopped them doing something maybe? But curiously there would be not just one person in that card there is three. One walks away with the trophy. Interesting to see that. I am not sure if Ravelle has had an abortion or need for surgery at any point or whether she received an injury but swords are cutting objects and we have to bear that in mind here. All of this points EAST. As the Ace of swords goes right through the crown, I can imagine that Ravelle might have had conflicting thoughts mentally about what to do .


There seems to me to be a bedroom scene whereby this lady has had a lot of worry - did she have a grandmother? Im not sure why that has come up here but it seems to me that there is a YEAR reference here for something. The 10 shows me neurological problems and back problems and I feel this girl might have been injured. There is also a riverbank and an item left there but this is a lot further on in the day near to night time. There are railways tracks, a hill, possible golf course anything of that nature where 'sticks are in the air' airports can also come up here .

Clearly the Queen of Swords shows her dancing and the clarity of that but things tend to go wrong before all this can be completed and finally I am seeing a father figure a doctor or a boss .I am seeing quite 'darker skinned' people in the cards here. There could also be foreign elements or person/persons who are foreign.


Going back once more to our first card for a final look I see this card as an avoidance of conflict therefore Im feeling with the masculine element here of which there is NO DOUBT a male influence, that Ravelle was blocked emotionally from carrying out what she was aiming to do. It also suggests perhaps she wanted to avoid this person or avoid a situation. It seems that some kind of communication came from this person to her and that is what has caused the problems.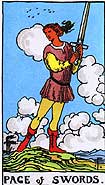 Asking where Ravelle is, it seems to me that the first run of cards has pointed us to the East again and its confirmed here. This lady is East but the next card might actually say where she can be found which can differ in direction.

However, here we have the Page of Swords which already has been described as possible railway tracks, golf course, airport or even a HILL - it is East and there does appear to be some vegetation there so one would imagine that there is some open land?

In this card you can see someone who is attempting to defend themselves and obviously it makes you wonder if this lady might have been attacked it is possible. By the same token it can show that there is a man who is dark haired and possibly dark eyed - he might even be connected to uniforms or military but he is the sort to breeze in and breeze out so whoever it was did,nt hang around long by the seems of it.

This person would be very strong in nature, its their way or no way so you would,nt be able to argue with them much and they have the ability to overpower. Im wondering if its somewhere near the airport and this man flew in FROM the East to her. Its all possible. This person would have been in a vehicle as the Knights always have a vehicle of sorts and it may be a car. I also think there is some rival here or someone who spys . I am getting the impression of a Male but of course that might not be so.


The Queen of Swords is linked to 'black shiny things' - anything from a Bag to a black car that gleams could come up here - the queen of swords is sometimes known for decapitation - so therefore it can suggest someone who 'loses their head' but by the same token may simply being showing someone that just does,nt think things through.


The Knight is a very formidable character - it is not always wise to argue with him. Once again - the Direction is East and the number 11 might be useful but Im thinking that this person tried to 'reason' with Ravelle and she would,nt listen - so that does,nt sound very promising at the moment. Rock or stone could come up here either in names or otherwise.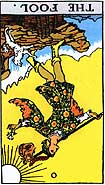 Asking when Ravelle can be found Im given the Fool. I am never pleased to get this card as it is so difficult to determine anything with it. Clearly Ravelle has been missing for at least 17 years and I know the fool will be reminding me of the open endedness of that but the direction normally for the fool is NORTH WEST. This is on its head.


Sometimes I have made a mistake when this happens and given a reverse interpretation such as South West but Im gong to have to think about it. Both the initial cards are giving me East therefore one might be sensible here and suggest NORTH EAST. Unfortunately there are drugs in this card and robbery and loss. Money is stolen and so are belongings. The fool reversed can suggest a total sign of madness - and being completely off your head with drugs. It also represents campus landscape and landscape that tourists are not immediately in. So it can suggest WHERE tourists are but that they do not tread on this particular ground.

I seem to have a little dog in the picture here - I am not sure if that is a clue or not. I am going to try again on the direction of Ravelle but I see a case of total obsession here that is the cause of her disappearing. I think the B and the J could reveal where this girl is because going back on a run that is reversed it shows that these secrets can definitely be revealed.
Roses, necklaces, shields and the name SHIELD may come up here.

There seems to be no end of tarot information for this girl and it seems to want to run on and on perhaps its a sign that something might get found out this year??? I am definitely receiving the number 11 for her. Is this a year number or perhaps a ROUTE number or Road number, door number or area number? I cannot be sure which. She trusted someone and took a risk which was very foolish. Wherever she was, she was moved.

Someone who is a kind of authority over her, maybe an ex boss, non biological father, someone who seems to have some hold over her is in the picture and the person offers no Map or Key to where she is but they know. Is,nt that always the case??

I will have another look at location and direction very soon. However, I am feeling that it is centered around the Page of Swords and that information there might be the most applicable.
The Queen of swords might show a person as a widow and/or that one person can die before another. I am not sure of the significance of this but I offer it as perhaps the future revelations make more sense of it then I can now.

Someone might have tried to 'stand up' for Ravelle but I feel they might have both been overpowered. I am also feeling the B and the J are standing for Brisbane and Japan which was part of the conflict of interest that has been brought up in the two of swords. I think this is a correct assumation.

Please bear in mind that TAROT is not 100 per cent accurate and some information may not apply.