Nicole Louise Morin
Missing since July 30, 1985 from Toronto, Ontario Canada
Classification: Non-Family Abduction



Vital Statistics Date Of Birth: April 1, 1977
Age at Time of Disappearance: 8 years old
Height and Weight at Time of Disappearance: 4'0; 51 pounds
Distinguishing Characteristics: White female. Brown hair; brown eyes.
Marks, Scars: Morin has a birthmark on the right side of her forehead and protruding ears. She has pierced ears.
Clothing: She was wearing a peach, one pieced bathing suit with colored stripes on the front, a green headband, red canvas shoes, and was carrying a peach colored blanket and a purple beach towel.
Dentals: Gap between her front teeth.



Circumstances of Disappearance:
On July 30th, Nicole left her mother's penthouse apartment in The West Mall, in Toronto's Etobicoke area, and vanished. There has been no trace of the 8 year old girl who was likely abducted moments after leaving the apartment in the Highway 427 and Rathburn Road area.

At 10:30am Nicole had gone to the lobby of the twenty story apartment building to pick up the mail. She returned to the apartment and got ready to go swimming with a playmate. Before leaving the apartment Nicole had spoken to a friend through the building's intercom and promised to be right down. The playmate waited about 15 minutes before buzzing the apartment again to find out why Nicole hadn't arrived. The two girls had arranged to meet in the lobby and go to a supervised swimming pool at the rear of the building.
About 11:00am Nicole said goodbye to her mother and left the apartment. No one has seen the girl since she closed the apartment door and walked into the penthouse hallway.





Please note that tarot will pick up TRENDS /VIBRATIONS of PAST PRESENT AND FUTURE - it will pick up anything that is 'out there'true news or false news - either way it can throw light on what is 'in the air' - please bear this in mind when you are reading the insights.


It is very important that 'readers' of the TAROT understand this, therefore one has to be very discerning when reading. Media news can put out stories that are not factual or are pre -mediated but Tarot can pick that up. It does,nt mean that tarot is wrong, it shows tarot can see what might be suggested. However when writing the tarot it may be taken as fact.

TAROT CANNOT BE CONSIDERED AS 100 PER CENT ACCURATE.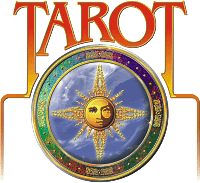 NICOLE LOUISE MORIN
« Thread Started 3rd JUNE 2011 at 1:52 »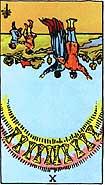 I was very drawn to Nicole and though this is a cold case from 1985 I felt her very vibrant in her picture. I sometimes get pulled to look at tarot just by their image.
As always I would ask that the notes on blogger are read and understood. Tarot can only really give glimpses of the past present and future and cannot be relied on 100 per cent as accurate in every detail. Please always seek other sources of information for the facts.
Looking at this girl and asking what happened to her near to the time she disappeared I have been given the 10 of cups. This card does clearly show that something is wrong as this is reversed. Cups are water and it makes sense that they appear here when this little girl had intended to go swimming BUT this card is all about the family and always has been a card that shows children of a family. This card is reversed and it seems to be showing me that all is not well in the family. Now I cannot say that is true all I can do is say what tarot has given to me. When this card is reversed in this manner it can suggest that something is wrong in the family and that there may have been a quarrel and even that the child can turn on their parents? .
It does seem to show sudden and violent disruptions of the family. Obviously when a child disappears this to me would be a natural kind of situation as the family would be distraught. However, it IS suggesting that there has been a quarrel here. Now if the family have had a quarrel with anyone in or around this girl disappeared or some time before it might be notable. You see I am a little bothered by the fact that the 9 of cups reversed shows that this girl did not get her wish this day. She might have wanted to go swimming but was it opposed? and if so by whom? The 9 of cups is an incomplete action /wish therefore even if she wished to go swimming was there more then one reason why she did not go? The 9 of cups can show us reversed that someone may have had a lack of money and drugs money and sex can come up on this card. I see that the knight would show trickery and fraud and someone who is very deceitful and not to be trusted and then there seems to be a mother/father figure here that is showing some insensitivity. So Im wondering why that is???
I dont know if there was someone 'new' hanging around or whether there is anyone here who had a baby prior to this girl going missing. Im feeling like something is,nt true Im wondering if someone lied about something here.
The Queen reversed is someone who is not nurturing and the King very crafty and sly. So Im not quite sure just what to think of this right now.
It is possible with the run of cards that there is someone who acts like a teenager here and they definately have odd problems - a bit too fond of young children so I guess that means there could possibly be a perverse element but there are still a few things that bother me and in particular - the possibility of a quarrel??
Someone here needed money - why? was there someone who had a lover/boyfriend or someone linked to the family who had odd problems? You see the problem I also have is that 8 of cups shows someone 'walking away' but reversed - they dont go anywhere? So Im most certainly in a quandary here as these cards are also showing lies being told. That does,nt make me right but tarot is trying to show us something is not quite kosher. Someone here is linked to substance abuse or alchohol and they seem to be alienated from people who care for them. All I can see is 'dreamworld or fantasies' here also someone who is incredibly greedy for money?
Bear in mind the cards are picking up many things but I am not sure how they will fit together at the current time.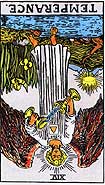 I personally am not so sure yet that this little girl is alive or dead because of the card temperence. It seems to show someone with a total lack of self control has been in the picture here. Two sides of a family that dont see eye to eye and all sorts of other things and the mix is not good but it seems to refer to immediate family?? I really am at a loss to understand this because it can suggest things which may be completely incorrect but it is what I have. This card comes after the death card at number 13 when that card is upright it can show a total change of life and even that someone 'cheated death' but it might show a life that has ended because of the problems that were there. I have no idea of the background and what the circumstances were although I have learned since that the parents were seperated. Im not sure if that has a bearing on things or not.
I am sure that this girls disappearance has got something to do with the building she lived in but I believe it was searched. This card Temperence showing up here asking where this child is shows again a situation where there were arguments and quarrels so therefore when I ask where the girl is it tells me everything is out of whack, theres some kind of syntax error here. I seem to get the colour BLACK very strongly. Part of me deep down wonders if she went anywhere. Was there a basement in the building and was it checked?? maybe even somewhere that laundry was done.
Im seeing with the tower that later on quite by accident something is going to be found out. In fact I have every belief that something is going to be found out about this case and this child and if there has been any misdemeanours even at this late stage after all these years its going to surface. I cant say exactly when, it might not even be until 2014, but Im willing to suggest that its been a long painful journey but whatever the situation its going to come out - yes I feel sure about this. I also wonder who who Michael is. Thats a name that often comes up with the Temperence card. I will mention it in case it applies here it may not. I dont think this girl went very far and thats because of the stagnation of the death card. Death can bring up METAL or metal objects. Often cars/carparks can come up with this card but of course I dont know how that would fit with the situation but I,ll mention it. Notice the towers in the card of a death card and it is showing apartments and very tall ones. So I feel that one should be looking around very tall apartments. I have a WEST signal in the cards so LEFT in direction I would have thought?? Is there more then one apartment block??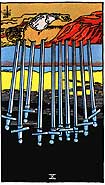 Well I do believe in tarot when it tells me that it is possible for a child to be found. This card as horrible as it looks really shows the dawning of a new day to me that is DAYLIGHT. And the light will be thrown on this case. Swords normally are months and this card is a 10 reversed, one could almost say she will be found in 10 months but I know is not the case as this child has been missing for many years despite what it is indicating. Im getting an 'off the record' type thing here and not sure what that means. This card seems to suggest East as a connection for this child also and the season of Autumn.
I am feeling this girl was locked up or kept a prisoner I dont know why but its what I feel and she may have been released but I see an end to suffering but then I cant seem to get beyond that and Im not sure if she is alive at the current time as this is such a difficult card.
It can mean that the person suffered a lot and that they grew used to it over a long period of time that somehow nothing mattered anymore that is how this comes to me today so in a way Im not sure if this is a depressing conclusion or whether it is hopeful. I just feel that this girl suffered a lot in a bedroom and that bedroom floors and carpets figure somehow. I might totally wrong but we all make mistakes. Im sure that one has to realise that tarot cannot be 100 per cent and of course we do have to understand that though it can throw a lot of light it is quite easy to misinterpret some elements. But one thing for sure, whatever happened to this young girl is going to come out. When it does theres going to trouble. I seem to see someone going' undercover here'. Spying is strong. I really dont know how to put this into words but all I can say is that its not over until its over.
There is a very bad woman here that has not thrown light on things when she could have done and again a man who also has not come clean about something. I dont know who these people are but there may be something forensic to come up even at this late stage and when it does you know what hits the fan.
Empathy