Age enhancement

10 yrs - 1983 and 32 yrs - 2004

http://www.rcmp-grc.gc.ca/cc-afn/pederson-joanne-eng.htm

Joanne Marie PEDERSON
Cold Case Files

Location : Chilliwack, British Columbia (BC)

Details : On the 19th of February, 1983, at approximately 8:15 pm, Joanne Marie PEDERSON (Date of Birth: May 17th, 1972) went missing from the Penny Pincher Store near the corner of Vedder Road and Watson Road in the Vedder Crossing area of Chilliwack, British Columbia, Canada.

At the time of her disappearance Joanne Marie PEDERSON was ten (10) years old, 4' 6" tall, and weighed eighty five (85) pounds. She had shoulder-length light brown hair and brown eyes.

She was last seen using the pay phone outside the Penny Pincher store, on the south east corner of the building, facing Vedder Road.

An unidentified male was seen with her in the phone booth. He was described as being a caucasian male, approximately twenty ( 20 ) to thirty ( 30 ) years old, 5'6" to 5'7" in height, slim to medium build, light to dark hair ( that was below the ears ), clean shaven and wearing a dark jacket.

To this date all attempts to locate Joanne Marie PEDERSON and the male last seen in the phone booth with her have been unsuccessful.

Contact: If you have any information regarding this case please contact Cst P. Neetz of the Chilliwack R.C.M.P. Community Policing Office, Serious Crime Unit,
1-604-792-4611.




Please note that tarot will pick up TRENDS /VIBRATIONS of PAST PRESENT AND FUTURE - it will pick up anything that is 'out there'true news or false news - either way it can throw light on what is 'in the air' - please bear this in mind when you are reading the insights.



It is very important that 'readers' of the TAROT understand this, therefore one has to be very discerning when reading. Media news can put out stories that are not factual or are pre -mediated but Tarot can pick that up. It does,nt mean that tarot is wrong, it shows tarot can see what might be suggested. However when writing the tarot it may be taken as fact.

TAROT CANNOT BE CONSIDERED AS 100 PER CENT ACCURATE.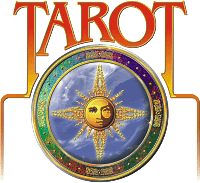 JOANNE MARIE PEDERSON
« Thread Started

22 January 2011

at 15:10 »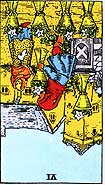 A request is on blogger for this little girl and what may have occurred to her but first please take note of the important notices on this page regarding tarot. Tarot does not have all the answers but shows glimpses of what MAY have occurred. Tarot is past present and future and throws up information over those epochs of time. Tarot is not 100 per cent accurate and not all details will reliable. Please look to other sources for factual information.
The first card I have for this little girl is Six of cups reversed. This card shows sexual immaturities and could spell out a predatory situation here . Five of cups previous will shows us a sorrowful situation and 7 of cups choices that perhaps were not hers to make. I always think of the seven of cups as the seven steps of sin when reversed but thats my way of looking at it. It may be that this situation actually is behind her and not in front suggesting that she may have suffered certain sexual problems around the home. That is not accusing her parents but could suggest someone else that could have put this pressure on her. Perhaps someone turned a 'blind eye' to the situation and this had to be rectified. There could have been a young male around her in this way. Perhaps some things had to change or be rectified.
Seems to me on first glance that this girl has been taken away from an 'unsavoury' situation, tarot is past present and future however and can still mean walking into it rather then walking away but I do not have any 'people' on my cards to show that cause this disappearance except someone who may be young or have a young attitude possibly either paedophile nature or a sexual problem/insecurity.
I feel its possible that this person is to do with the past insomuch that they messed about with this child and therefore action was taken to release her from the situation looking to the future and improving health matters. I could be wrong but thats what Im going to give at the current time.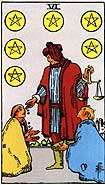 Asking where this child is now I get the six of pentacles. I seem to have her linked to 'charity' or charitable situations. I feel like she is in a position where there is payback therefore someone would be dominant over her but pentacles is reversed and often can show poor health in this situation. North and East show up on this card but South and West may be more predominant. The moon can figure on this card therefore I am not sure whether this child is with us or not however, there is not really anything solid to say she is deceased. There is a 'key' on this card which could represent Quay or KEY in name however, I cannot be sure of that.
Jealousy and problems have been part of this girls life Im not sure if it has contributed to where she might be currently. We cant rely on the present in this card only on the past.Therefore it may be an indication that she is still within the wider area of where she came from.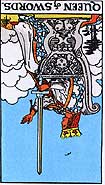 Currently I dont have great hope that this child will be found because Queen of Swords does not throw clarity on this at all. This girl is 'underground' and you can take that any way you wish. Lack of love in the past has caused a scar - so this card tells us not to push for answers.
Empathy.