12/20/10 - The search continues for a missing woman who was last seen in the Fowlerville area. 58-year-old Kathleen Andel was reported missing on December 9th to the Fraser Police Department and two days later, Fowlerville Police discovered her vehicle parked at the Junior High School. Surveillance video showed Andel leaving the vehicle and walking in a southern direction toward Munn Middle School but that's all it revealed. Police Chief Tom Couling tells WHMI that an extensive search last week turned up nothing and Michigan Search and Rescue sent out 11 people with five K-9 teams. He says they spent most all day last Friday searching the entire school campus, and portions of the village with assistance from search volunteers and the cadaver K-9 dogs. He says they found nothing and the family hasn't heard anything since then, so they're still asking for help from the public. Andel has not had access to her medication but police say there was no indication of any suicidal tendencies. However, one piece of the puzzle that's particularly confusing to authorities is how Andel ended up in Fowlerville in the first place. Couling says she has no contact or relationship with anyone in the area and there's no indication she had ever been to Fowlerville before. Anyone with information on the case or Andel's whereabouts is asked to call 911 or the Fowlerville Police Department at (517) 223-8711. (JM)

FRASER, Mich. -- Fraser police are asking for help in the search for 58-year-old Kathleen Andel, who has been missing since Dec. 9.

Andel was last seen by her boyfriend, police said. However, security cameras showed her in Fowlerville on Satruday -- more than 60 miles from her home.

Police said Andel parked her car near an elementary school in Fowlerville before she walked out of the camera's range.

There has been no sighting of Andel since then.

Anyone with information can call the Fraser Police Department at 586-293-1425.

http://www.clickondetroit.com/news/26174301/detail...
Please note that tarot will pick up

TRENDS /VIBRATIONS of PAST PRESENT AND FUTURE

- it will pick up

anything that is 'out there'

true news or false news

- either way it can throw light on what is 'in the air' - please bear this in mind when you are reading the insights.

It is very important that 'readers' of the blog understand this, therefore one has to be very discerning when reading. Media news can put out stories that are not factual or are pre -mediated but Tarot can pick that up. It does,nt mean that tarot is wrong, it shows tarot can see what might be suggested. However when writing the tarot it may be taken as fact.

TAROT CANNOT BE CONSIDERED AS

100 PER CENT

ACCURATE.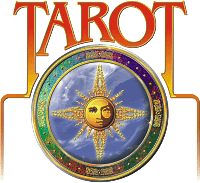 KATHLEEN ANDEL
« Thread Started Today at 23:17 » 24 December 2010
I was going to take a short break over Xmas but sometimes peoples faces jump out and this lady did so I cant ignore it.
According to the above report she was quite a long way from home and the Police are baffled as to why she was seen at this school.

I can never promise 100 per cent accuracy on the tarot and always ask everyone to read the important notices on the blogger so that no misunderstanding may occur. The tarot is to hope to assist and never to offend. Tarot can give incidences past present and future, sometimes they do come out a little muddled in the order of appearance but I cant help that, its what I am given. Please always refer to concrete sources of information for factual evidence.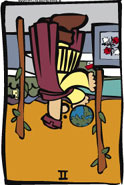 Looking at this Lady, and asking what happened to her I am being given the two of wands. This card seems to tune in immediately suggesting that she did go in a South direction. This woman is very disappointed about something Im also seeing some astonishment here and surprise.

The Ace of wands when it is reversed shows a lot of masculine energy and being as the Two of Wands is a two it makes me feel there is a very strong Male figure connected to this woman. Sometimes it is the Boss of the woman or just someone that might be very influential in her life. With that reversed could signify an unwarranted domination which might produce some fear or concern. Theres an auful lot of virility in this masculine influence from the ace of wands and that has gone into the two which is the card that we have which has produced surprise and even possible something like a bizarre situation. We have agriculture in the Ace of wands, Im wondering before anything else whether someone has jumped out and surprised her.

When I looked at her all I could see is the word PINK. Im not sure yet why the word 'enchantment' seems to come with the two of wands so Im just wondering now whether she knows the person thats surprised her?? because its almost like an 'extroadinary occurrence' maybe she was,nt expecting someone to be there that she knows? I see someone unforgiving and obstinate in this card. Mars Aries and Domination and Life force in reversed position does,nt sound that good right now.

I feel like she has gone to this place with a plan, and then for some reason weakness and second thoughts seems to come in and some kind of lack of strength.
I seem to see some kind of plan for a business or personal relationship here as Im seeing now that this surprise is actually part of her wanting to change her life there is definately a male figure here, Im feeling that the domination must be something she actually wants so this is quite conflicting. She seems to be making a change and taking some risk of some sort here so Im wondering what the tarot is getting at.

This card puts her somewhere she can be found so Im not sure she intended to just run out on anyone deliberately. It mentions medications so in the report so in health matters this card does,nt promise miracles for her health at all there are no promises there apparently except to say that she would have to think positive about her health because Miracles can happen. Im not sure this woman really liked Doctors or even put faith in them? I am definately seeing a guy here that she puts a lot of trust in but Im feeling that its not quite to her benefit to do that. I dont know if this woman has any money but I would not have thought it is a good idea to let anyone take hold of her financial situation. I dont see a thief here or anything because these cards are not saying that I am merely putting forward what they do give.

I think if we look to the Three of wands to try and get some prospective here. I feel somehow as though there was some kind of opportunity in work that might not have come off and she did,nt want to burn her bridges.

Im even wondering if she has gone for a job interview that she might have been turned down for before, it just seems like she went to pick up some pieces and there is a Male there that I can see that she might want to 'take up with' for one reason or the other. This is what Im given for what occurred to her on that day. Overall am seeing some financial prospects here but there might even be a third person in the background here. I wonder if she has a relationship with this man or some connection to him even so I feel that perhaps she should,nt believe everything she is told?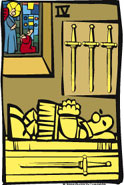 Well asking where Kathleen is - we have the four of swords which when I see this I always think immediately the person has taken some time out but that time out could also be a hostage situation or being with held somewhere. We do have to consider that the five of swords is the next card which shows someone winning out over a couple of others so maybe I am right about three people being in the picture somehow. Sometimes the four of swords can be thought of as a tomb or churchyard or near a church or even using CHURCH as a name for a place. Its not that clear Im afraid. The direction on this card is South and East so we could consider SOUTH EAST to be the answer to direction for this lady. The four of swords is one of those cards which can swing either way. It can be a card where someone is at repose or being held or it can also mean that they are taking some kind of spiritual break even a holiday at the outset but certainly shows them being away from sociality.

I seem to get YELLOW for this card for which it may draw some significance and some kind of connection going back to October so I cannot quite say what that is only mention it.

This woman needs rest and physical healing. There is no indication of her going to visit a doctor but if she did I wonder if she would have told anybody of that I cannot be sure. I seem to see her isolated in this card. Its not thought of as a great card but I dont want to put bad thoughts out there. The three of swords does come beforehand so does show total seperation and some kind of problem with her heart. Of course the other scenario is that she could be upset emotionally about a three way situation so that has to be borne in mind. I hope she is okay I really do. She seems a nice woman and her face seemed to reach out.

I dont know if the direction of South East and possible Church connection will help but I will do my best to see if I can get more on this on another sitting.

Meanwhile asking if she will be found.




Im getting a reversed lovers card for when this lady will be found. All I can think of doing is linking it to the six of cups which does connect to the Lovers card and say either six days (cups are days)

or within six months?

- The lovers card always seems to show a tryst situation - she might be found by a couple and a child, or it may still be referring to some kind of three way relationship . I feel that she might have in laws? I dont know if they will get news of her as the Lovers card tends to bring them up as a mention. I am quite aware that tarot cannot pinpoint every single detail but it tries very hard to help and I feel like I have cloth ears sometimes as it shouts away at me to wake up and SEE IT. So, I apologise if I dont always 'get it'. I do think she should be found though.

I hope I have not left anything out I will definately re read and see if I can add more its just trying to get out a brief idea of what happened and where she might be as finding Kathleen is the most important thing is,nt it?

The Lovers card does sit next to the Chariot card, so we are picking up her car here, is there a clue in the car as I feel maybe there could be even if it has been looked over by the L.E. dept. Im seeing now that Im being taken back to the car and then given the lovers which is the tryst - three people situation that has come up and after this I seem to have the Strength card. Sometimes the Strength card can be going to see a doctor but it is reversed which seems to give me some kind of problem with her neck too. I feel like her strength has waned rather a lot here.

I think she could have had a powerful attraction to someone she worked with I just seem to get this perhaps she could even lose out as a result and this card cautions to be careful about who she gets involved with so I think she is or was full of optimism but this has soured? She might be connected to a teacher, pastor or an instructor of some sort I am not feeling this would be a good idea to embark on any kind of relationship with this person as I dont think they are that trustworthy and caution over risks should have been taken.

I think the best thing is to try and find her to stop her family worrying. Again this lady had a lot on her mind which when it comes through tarot can appear confusing as it seems to be all her thoughts on the table in one go.

Please bear in mind tarot would have told me the truth of the situation and its whether I have picked it up properly. Tarot is not 100 per cent accurate so please bear in mind that what is written here is not a concrete source only what I feel I have seen about the situation. I will take another look at this situation very soon with a fresh eye.

Try South East and something to do with CHURCH.

The two of wands upright can show a building where one stands up high and looks over water, but this is reversed. It could be 'moving away from this building' but there may be some water in the area. Its a possibility and I mention it.

Lovers reversed could

possibly

be a stalker element. That does,nt necessarily mean a stranger but its possible that it is part of the equation in some way as it can be someones mentality.

My thoughts to Katherine

Empathy.


UPDATE NEWS 18 MARCH 2011



I am very sorry to announce that Kathleen has not been found alive I wish to express my deepest sympathies to the family as this is not a happy ending.





I do not have precise information at the current time to highlight any Tarot validations or what it has picked up only the report below. Curiously Tarot showed me a couple and a child - but perhaps it should have read a couple of 'children' which Teenagers would still be considered as so that was fairly close. Tarot also gave us a south/south east direction and seemed to think Kathleen would be found under six months. I have only highlighted the timing at the current time as I cannot be sure of the direction though it appears it could be correct.





If the direction is correct, Church Street is not that far away as specified in the tarot.



Until I have further confirmations or background information I cannot speculate therefore will post back.

Empathy.


http://whmi.com/news/article/11942



Remains Discovered Thursday Thought To Be Missing Woman
March 18, 2011
Remains Discovered Thursday Thought To Be Missing Woman

3/18/11 - Two teens playing in a wooded area near the Fowlerville Community Schools campus came across skeletal remains yesterday believed to be those of a missing Fraser woman. 58-year-old Kathleen Andel was last seen December 9th after parking her car at Fowlerville Junior High School and walking in a southerly direction toward Munn Middle School. The location of the remains found yesterday, as well as clothing that matched what Andel was last known to be wearing, has lead authorities to believe it was her. The body was taken to Sparrow Hospital for an autopsy and conclusive identification. Andel was reported missing by her boyfriend after failing to return home. On December 11th, Fowlerville Police found her car in the junior high school parking lot. A check of the surveillance recording revealed her getting out and walking off camera. (JK)

Brief report here but not really pinpointing much more detail

http://www.livingstondaily.com/article/20110317/NE...