Bobby Jamison, his wife Sherilynn, and their 6-year-old daughter Madyson have gone missing. They haven't been seen since October 8 near Red Oak, Oklahoma, and police now fear the worst...
The Eufaula family was looking to buy 40 acres of land near Red Oak when they promptly disappeared. Their abandoned truck was found by hunters last weekend, but this doesn't look like a case where they vanished on their own accord. Their dog was found in the truck malnourished after days of going without food or water. Police also discovered their IDs, wallets and a substantial amount of cash.
6-year-old Madyson Jamison is also missing
​ Nothing in their past says the family was experiencing any trouble or wanted to disappear and start a new life. "It didn't look like to me that they got out and walked, it just looked like they got out and that was it," Sheriff Isreal Beauchamp told NewsOn6-TV. "They didn't take their coats, it was kind of cold that day, they didn't take their cell phones, of course they didn't take their dog."
Searches have spent days going over the countryside, but dense trees and the hilly area are making for slow going.
Bobby Jamison is 44, 6-foot-3, and has a back problem that causes him to slouch. Wife Sherilynn Jamison is 40, stands 5-foot-7, and weighs 105 pounds. Daughter Madyson is blond and 6-year-old, and is said to be missing her baby teeth in the front of her mouth.
Please note that tarot will pick up

TRENDS /VIBRATIONS of PAST PRESENT AND FUTURE

- it will pick up

anything that is 'out there'

true news or false news

- either way it can throw light on what is 'in the air' - please bear this in mind when you are reading the insights.

It is very important that 'readers' of the blog understand this, therefore one has to be very discerning when reading. Media news can put out stories that are not factual or are pre -mediated but Tarot can pick that up. It does,nt mean that tarot is wrong, it shows tarot can see what might be suggested. However when writing the tarot it may be taken as fact.

TAROT CANNOT BE CONSIDERED AS

100 PER CENT ACCURATE

.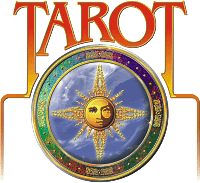 THE JAMISON FAMILY
« Thread Started 6 December 2010 at 16:23 »
I have had a request on the blogger to look at tarot for this family who appear to have gone missing. since 8th October 2009.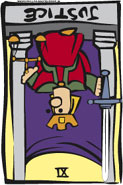 When I get a card like this I often feel a bit stumped because this is a justice card and its reversed. In normal readings this card would show that there is a some kind of legal matter that has to be settled possibly in a court or that there is some matter that requires justice, fairness attached to it. It might have come from the past as a situation. However, this card is reversed and it seems to me that someone here is being taken advantage of. and past situations still seem to effect the current situation. So clearly, something was going on with this family whether on the surface or not. Somebody here and I dont know who seems to have 'looked down' on this family unless it was themselves looking down on others and it appears to me that somebody lost their temper.
You will note that the Wheel Fortune comes before this Justice card and automatically shows us that this family was on a trip. That much is noted anyway. The Justice card includes home and field. That seems to sum things up considering they were looking for property. There might be a touch of revenge in the Justice card. There is a number 11 on this card which I will leave as number in case that is significant.
If there was a court case in the past and someone did not get any justice they might have taken things into their own hands. I do seem to see some kind of dishonesty surrounding this case though Im not quite sure to who it is pointed out and if there was a court case or anything legal or complications with legalities the impression Im getting is that something was unfair as well as sense of bigotry.

There might have been something 'odd' or unacceptable about a marriage which could also form part of a legal contract.
It feels to me like they were 'grabbed' and possibly by people who they might have considered were friends. I have not read any real depth of information about this case so have not a lot of background. I dont know if people were aware they were going on this trip or whether they met up with someone - this 'grab' was not the grip of friendship however.

If this family were involved in any legal proceedings or court case in the past - this is why they have gone missing.

There is something very corrupt about the story according to this card. It might simply be REVENGE and Im wondering if that is the case and for some reason the word 'theft' is being given. I just feel that there was a 'debt' to be paid. I feel like these people were persecuted because of the past and whatever happened at that time. I feel like theres something quite wrong here - I seem to see 'jailhouse bars' or imprisonment of some kind and a guilty concience. So I would need to research back into the family to truly understand the nature of this.

The hanged man which sits next to this card seems to show that these people have just succombed to whatever was thrown at them. The hanged man is a worrying card in many ways. This might not have turned out very well at all because there are some 'self righteous individuals' in this card of the reversed Justice and those sort of people can do almost anything. So it seems that they must have come up against some issue that they might have been aware of. If someone felt cheated at any time they have sought their revenge for this its a bit like, you do this to me and I will do it back so it sounds very ominous.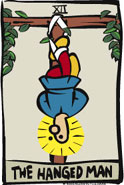 Asking where these people are I have automatically been given the next card after the Justice card which I have briefly mentioned so it does seem to tie together.


This card empties their pockets. I understand that they left their cash behind - so this seems to be about right. The card seems to suggest some kind of self sacrifice. I feel that somehow these people have been punnished. because it seems in someones eyes they violated a 'law' that was to be paid for. I may be completely wrong but one look at this card could suggest what might have occurred to these people.
This card also can suggest water/Liquid of some form- the main feeling from this card is trees in an area and some form of liquid or water perhaps even submerging oneself? . there could be the number 40 attached this card.and also the number 12 which may help in location.

The card following this is the Death card which does,nt show a lot of mercy and will bring a huge transition to someones life wiping out every single thing in their past. However, going back to the Wheel of Fortune and then seeing the Death card as a moving object I am wondering if these people were knocked down. They may have decided to sit out at the side of the road and this could have been a hit and run because the Death card is like a 'mower' it mows things down in its path and as it is a horse it can represent a vehicle. Again this is just conjecture as its very difficult to 'call' this.

I dont like to talk about ugly possibilities because there really are two here, one is that they just left the past behind and went off into a new existance - Im not sure about that though or they could have had a vehicle come towards them.

Tarot is not 100 per cent accurate so therefore I cannot say for sure that I am correct here because these cards really are quite difficult to make an ultimate decision but they could alternatively have been 'run off the road'. So the two scenarios are that they had to make an involuntary change - forced to do something - or they may have met a difficult end.

There is so much deception with money it has affected the little girl too as I dont see security around her and when I ask where she is Im being given a lot of vain hope. She could be connected to gardens but her situation does not seem stable or guaranteed to be so that I can see at the moment as this nine of pentacles reversed places a question mark on physicality..

It would be pretty wonderful for the rest of the family if Bobby Sherilyn and the little girl had decided to just begin anew, well there is always a possibility, but I just see something there that does,nt look good - theft and deception.

When I think of the liquid in the hanged man and the vehicles it does make me wonder if these people were immersed in it. I am not feeling so good for these people right now.

Tarot can pinpoint some things and miss details out or not quite get them accurately but The hanged man seems to show some kind of 'giving up' and some kind of Voluntary effort and then Death card shows that whether involuntary or not there is a total change put on these peoples lives which could signify bad things. I dont know why theft has come up here or revenge all I can do is write down what I believe is a rough indication of what some of the factors might be.

I feel this case is very depressing because it has involved a little girl and the children always upset me the most when they go missing. I will re- consider what I have written once I have a look at the case in more detail . Some details are available but not with any depth and then I might be able to see a little further as to what makes sense here and what else I might need to ask so i will come back to this case as I cannot decide if these people were a victim of a crime or whether it is something else.

Please bear in mind that tarot might be referring to 'people' but does not know who these people might be, it might be the family themselves therefore I cannot be 100 per cent accurate in this reading and suggest that another source of concrete evidence is sought.

Empathy.
Re: THE JAMISON FAMILY
« Reply #1 on Dec 8, 2010, 1:25pm »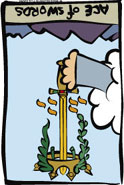 I have been asked to look seperately at tarot for the little girl Madyson Jamieson.

I have received the Ace of Swords reversed. Communications are generally always related to swords amonst other things and tarot does seem to confirm that there has been no news of her.

However, this Ace of Swords is giving me a bit of a 'masculine' obsession around this girl. So I dont know if there was a Male around that was particularly interested in her. Im not sure if there were quarrels about this child because this card is 'stirring up conflict at the wrong time' and the next card is the two of swords which is often indicating a lot of arguments and quarrels or at least communication that seems to 'disagree' over her. Perhaps people were disagreeing over something to do with this child?

Someone might even have been 'pleading' about her and the other person not willing to listen. I have 'East, Spring and sunrise' on this card so to me I am getting something around the early morning. This card can also stand for ONE MONTH so maybe someone did not have any communication with this child for one month. I cannot be quite sure if this is a past reference, current or a future reference.

The card also seems to show some kind of breakdown possibly between two people and this card can indicate something about the mother of this child. Relationships are falling apart in this card and communication has gone very wrong.

I notice that the Ace of Swords also has the Fool card connected to it which often means open wide landscapes and tourist attractions or being attracted to these kind of areas. Certainly open landscape but the Ace of Swords is reversed and I feel I need to read the Fool the same way. I dont know if this girl was actually in the open landscape or whether someone did,nt want her taken there.

The Ace of Swords tells us about Marriage being broken off by a woman through her own imprudence. That does seem to indicate there is a problem here perhaps with the mother or a mother figure that might be at the bottom of what has occurred to this child. There is certainly a lot of misery here. I feel like the girl was an instrument of punnishment for someone - so maybe she was in the middle of conflict and a male person has taken a situation in his own hands. It is a sword so it really can represent great difficulties as Justice can be linked in here and whatever happened with regards to this child is someones 'form of justice'.

Sometimes when the Ace is reversed it represents a situation of 'nothing' whereby this girl should have been somewhere but she is,nt. The fool card reversed also makes me wonder if she was actually with the family when they assumedly were out in the country looking for a property. I need to look further on this.

If you consider the arguments and the stalemate of two people who have quarrelled in the two of swords, the following card of the three of swords represents seperation. That is why I wonder if this girl was seperated from her parents at some point or someone threatened to seperate. The next card would lead us to the Four of Swords where someone would be holding on to her and treating her as a possible 'hostage' for their principles.

Again I cant be sure on that. But, swords cards are not at all nice and they often bring a lot of upset and despair. Someone wanted this child under a seperation principle and the other person was,nt having any of it perhaps.

There is a possibility that this child was seperated from her parents in open space but I just need to put all the possibilities here.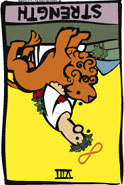 The card above can have various meanings one of them showing that this child could not defend itself and strangulation or some kind of pressure to the neck here.

Anything done to this child could be an act of vengeance.
There are no indications on the strength card for direction but there does seem to be a vehicle (chariot) linked as it is the card prior to the Strength card - following the strength card we have the Hermit which normally shows rustic places.

Again we are looking at this all reversed which shows a journey postponed which seems to indicate some kind of stop or blockage with the journey. I also see a law trial here so I am again wondering whether this child was ever out in the country and whether in fact she has been seperated from her parents as an act of revenge. The only other thing I could think is that she was taken from a vehicle and that in itself 'hijacks' the journey she was on.
This also indicates that the vehicle is by a fence. So this child was taken from the vehicle by a fence which I believe is where the vehicle of these people was found.

Theres a lot of quarrel on this card too so I think there was some almighty dispute going on here or some kind of forced action and someone grabbing this child. We have not been given a direction but I think we have that clarified to where the family truck is.
The date and timing seems to tally also August 23 to September 22 to when the family disappeared so I do believe we have a landmark with this child and where she was.

I see a man who lives alone here somewhere or a man on his own. I link the girl to him. Sometimes these kind of men linked to the hermit card are a bit paedophillic though that is not always the case but they would be interested in the child.

Im not sure what Im thinking here but it could be that an old man has got her or knows where she is or she could have been attacked by an animal she was definately seperated from the vehicle . I dont know if he is right in the head or not. I do think there is fear in this card and I have to be truthful, I am not feeling that all is well with this girl. The strength card has an animal on it when it is reversed an animal can consume you even if it seemed friendly. But with the hermit we can also think of an older man who lives on there own so Im pretty much pulled in two directions here because Im seeing desperate action needed for a desperate situation.

An animal behaviour can be from human beings and we call horrible people 'animals' and also this card could even indicate domestic abuse (i.e., spousal or child abuse). It could indicate a rape or physical assault so you see its not looking good as we have all the pointers here that this is not nice as it is violent and uncontrolled action.

This card is connected next to the hermit card which reversed shows something or someone from the past and might be an old man.

It might be connected to someone with alzeimers disease.

Im sorry I am a bit disjointed because it is really difficult to see what might be happening here and whether this describes an event that has occurred to the girl or describing a person who is just actually nuts but if this girl was not out in the wilds she could be under a roof like in an attic because the Hermit can connect to an attic but the actual surroundings would be like very much tucked away perhaps landscape thats how Im seeing it and the girl is hidden.

Its possible she was taken from the vehicle and taken BACK to someones place where they live. Thats what I would also think is worth checking.

I think this case is a very complicated family issue and there are reports that the mother might have wished a seperation from the father but I get the feeling that someone else is involved here that is a bit crazy and they might have more to do with this then at first seen.

I may not be accurate on all the events and because of this I will always say tarot is not 100 per cent accurate and cannot be taken as solid evidence until we get some validations to try to illuminate what tarot could tell us.

It could be that this girl is still alive and not dead but that is slim but the next card shows three of wands and just tends to say there is opportunities perhaps to think its possible.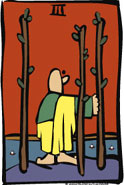 The other reason might be because the next card is the four of wands which definately gives us a building/home with big gates.

So , its 50/50 but the cards do show the fear of this child and what appears to be a lot of quarrelling, disagreement, seperation and indicates that someone who has problems about sexuality and that might not be them as a paedophile exactly but has a problem with relationships with either themselves or others might be in the picture somewhere.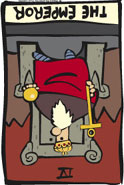 The Emperor reversed gives us a number 4 - 4 WHAT? I cant say, whether its a door with a four on it or whether its a passage of time I cant decide.

I asked when she will be found and this is a runaround card for me its linked to the Pope which somehow does,nt offer any good advice on this question and the Emperor himself is very weak when reversed too. If she is linked to a person then they would not be able to have the character to say but there are dates and timings on this card though not always accurate Im afraid but they are Dates & Timing: March 21 to April 19 and if she were hidden then I dont see her coming to light until around these dates but what year I dont know.

I know this is strange but I see that this Emperor is connected to the 'Law' and I see some abuse of authority for some unknown reason here, there are some indications of problems with a father and battles with authority and problems with enemies. Its a whole wash of negative stuff. I would always feel that in cases like this all the family members are instigated fully and houses searched and places in connection to them.

That is not meant to signify they have done anything wrong but whenever children or parents or anyone goes missing it has to start from the family outwards. Process of elimination is what is called for.

Thats all I can find to suggest at the moment and I apologise for anything here that is not accurate but it is impressions and may take into account much of the situation around this child.

Considering our first card is the Ace of swords Reversed when the Ace of Swords tarot card is reversed we find the opposite to integrity and honesty. Here we find lies, dishonesty and deceit. If we bear that in mind we might consider that we have not received the truth about this child as yet.

Empathy.

UPDATED 14TH SEPTEMBER 2012