http://www.bilalaliproductions.com/news/....em-on-the-road/

The search for three Michigan brothers who disappeared when their father tried to commit suicide shifted focus Monday to an 18-mile stretch of Ohio road.

Fire Chief Scott Damon of Cambridge Township, Mich., told searchers that John Skelton, the boys' father, "may have just dumped them on the road," The Detroit News reports.

Morenci, Mich., Police Chief Larry Weeks also said Monday police have poked holes in the story put forward by Skelton, who is being treated in an Ohio hospital for "mental health issues" after a suicide attempt.

He told investigators he dropped off the boys, 9-year-old Andrew, 7-year-old Alexander and 5-year-old Tanner, on Friday morning with a woman by the name of Joann Taylor, whom he allegedly met online.

Police have now ruled out a connection between Skelton and a woman of that name.

Skelton had claimed that Taylor agreed to take the boys home to their mother, Tanya Skelton, so that they would not witness his attempt to hang himself. The boys were reported missing Friday by Tanya Skelton (the couple are separated).

Authorities now believe that Skelton, 39, may have driven his sons to an area in Ohio between 2:30 p.m. Thursday and 1:30 p.m. Friday, when they were reported missing, Weeks said.

Evidence shows Skelton's blue 2000 Dodge Caravan may have been in that area between 4 a.m. and 7 a.m. Friday, he said, adding, "We've collected information from a number of sources."

John Skelton has not been named as a suspect, but Weeks said they also haven't ruled him out.

The boys were with their father as part of court-ordered visitation, according to reports, and were last seen Thursday in the backyard of their father's southern Michigan home. Police say they "remain hopeful" the children are still alive.


I have been asked to look at Tarot on these three boys. There is rather a lot of news about them at the moment and I have found a link above whilst searching for a picture detailing some of the case.
I will 'cold read' this situation from tarot which will show past present and future detail but I cannot promise 100 per cent accuracy and many details are already on the surface.
Hopefully tarot may tell us something more.



Please note that tarot will pick up

TRENDS /VIBRATIONS of PAST PRESENT AND FUTURE

- it will pick up

anything that is 'out there'

true news or false news

- either way it can throw light on what is 'in the air' - please bear this in mind when you are reading the insights.

It is very important that 'readers' of the blog understand this, therefore one has to be very discerning when reading. Media news can put out stories that are not factual or are pre -mediated but Tarot can pick that up. It does,nt mean that tarot is wrong, it shows tarot can see what might be suggested. However when writing the tarot it may be taken as fact.

TAROT
CANNOT
BE CONSIDERED AS

100 PER CENT ACCURATE.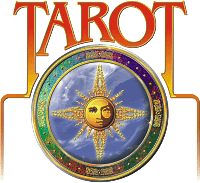 THE SKELTON BROTHERS
« Thread Started 4 DECEMBER 2010 at 20:15 »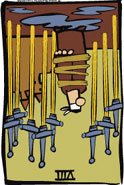 Assuming that these three boys went Missing on 25 November 2010 I have put the question to tarot as to what happened. Tarot just gives what it wants with questions and will address it how it sees fit.

In this case the first card I have is the Eight of swords reversed and automatically could and may reflect the situation. For example the 8 of swords reversed tells us that they are 'released' from a very difficult situation. The seven of swords previous to this would show dreadful deceit but would actually also show that 'something that is stolen is returned' but often talks of months ( 7 is the number) and shows that someone snuck off with them. The 9 of swords reversed which would follow the 8 of swords shows nightmares and deepest upset and worry also with immense guilt attached.

I dont know all the story and have not read the story only that I notice briefly the father wished to commit suicide and has allegedly handed the children over.

Well looking at those cards it does appear that they were taken and in a deceitful way due to many upsets and problems that may have been going on for either 7 months or even as long as 9 months and perhaps a 'conclusion' had to be found. I think that might reflect the fathers actions.

However Im going to forget what has been written and just say to you that there is a possible 'release' which can be from prison or from a confining situation and this can reflect in ANY way. This card can signify the 'departure of a relative'. The seven of swords most definately reflects some sort of treachery or deceit in the past that casts a shadow on the entire situation. Its possible that there are 'blindfolds' used here.

If you look at the surroundings on the card you can see a pool of water, mountains, a hill and what looks like some building on the right hand side in the distance, sometimes showing red roofs.

Im not sure if the landscape is significant with this first question but we shall see.

At this point I am seeing yellow which is for cowardice. East and West are combined in this card.

The next card is the 9 of swords ( it has NOT reached the 10 at this point which is not a great card to see if it had showed right away)

The nine of swords shows the suspicion cast towards the father for death and destruction of these children but is it so?

Theres definately every reason to suspect a doubtful and suspicious character.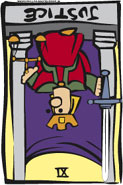 Asking what the father has done with the children I receive a very tricky card as this is Justice reversed.

Sometimes this can show someone in prison who has not actually done anything. Lawsuits and prosecutions are on this card and no decision is made on this yet which is not quite answering me so I will press further. The card previous is the wheel of fortune which can be a trip karma and fate which has seemed to be reflected in the news report as it could be a vehicle.

The following card is the hanged man which keeps things in suspension and it truly depends on whether it is going to reflect as a reversed or an upright card. If it is giving upright reflections can show children near water and if reversed can show them being released in this environment and 'letting them go'.

The Justice card is asking 'mercy' for the father I feel.

Its past legal matters or judgements that have brought this situation to a head. Father has lost his temper with the situation this man is truly remorseful and we are actually being asked not to judge this situation with Justice in reverse.

This card can show a 'field' away from home (cancer). There is something wrong with the 'truth' of the situation. I dont think the truth is told yet.

Justice is the number 11 card and it is linked to the number 2.

The number two is the High Priestess which can show a woman in some cases but it can represent letters B and J. It follows the Magician which shows the boys have disappeared as Magicians make things disappear. Previous to that would be the fool which would show open spaces/landscape.

This card can represent what the father has said he has done with the children that he gave them to someone.

So again lets look further.

Looking at the Wheel of fortune previously there are animals on this card that add up to the number 26 so Im feeling that though I have asked about the 25 of November I rather think the situation is more focused on 26 of November.

This card reversed talks about 'getting the wrong end of the stick' so I dont think people should be jumping in here and suggesting things yet. Now also it may be that everything the father said is lies but Im still holding back looking at the cards we have above. No doubt there are great and deep problems here but it needs a lot of investigation.

There are drink/drugs or something of that nature which is very evasive in this case so do not know how this comes in but we see this on the hanged man which follows the justice card.

It could be that someone 'lost' in a love affair and did not seem to accept this and the father may be involved here with someone else but it seems that he was not realistic about the situation and could not accept it? Either him or someone else but that is what is being reflected. This man seems to have felt he could not overcome obstacles and tried to find peace with himself.

I may be completely wrong but I dont actually have the feeling the father would punnish the children for something that is just not right in his own life. The tarot could show deception here though but Justice reversed shows a lot of forgiveness is being asked here and that the end might justify the means. So that can be pretty difficult as it can suggest a lot of things.

I see this man in prison and I think the lawyers have to work hard because something is not being seen here. It will look a lot worse against this man then it is.

Im still feeling that something is wrong about the story and why this man is in jail? I could be wrong of course.

Was he in debt?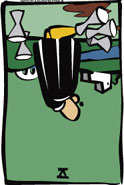 Asking where these children are I receive the above card.

This can be a card that is sorrowful.

It can reflect tragedys and loss and grief all in one but reversed asks us to 'get on with life' accepting what has occurred.

Whether that tells us these boys have suffered and died is rather questionable as it could suggest that, but also could suggest a new situation or partnership where they have to get on with life and accept that it wont be the same again.

Further looks at this card show things have happened in the last 5 days in relation to this.

There is a true disappointment on these boys.

The Four of cups shows 'new things are offered' and a new acquaintance or relationship and show 'west' of their home.The five of cups which we have here when reversed is also WEST but has a NORTH indication with Mars which can show upsetting and possibly even bad things or happenings.

So I would be looking West or North or even NORTHWEST for these children.

I definately think they will be recovered and I dont think it will be long at all.

There is a return either of a relative in respect of them or they could be with that relative/acquaintance but failing that they will be found very very soon. I see 'self sufficiency' on these children so I wonder if they are alive? Yes I think these boys are going to 'show up'.
The five of cups shows the loss of a relationship with two people and the three spilled cups could be the children which can show loss all around so it does not really confirm the children will be found alive or dead but it does show that they will be found without a doubt. I always stay positive in readings and say that if the children are found that is the main thing and they will be without a doubt
I am still seeing some kind of connection to a relative/friend or someone of the past linked to these children. Maybe its just what the father has said about passing them on, but it does come up here for sure.

Empathy
7 Dec 2010 –

A Toledo television station is reporting that a doughnut shop employee may have spotted the three missing Skelton brothers in her Sandusky, ...

www.examiner.com/.../another-woman-claims-to-have-seen...




10 Dec 2010 –

... come forward claiming she spotted 3 missing Michigan brothers in Ohio. ... [Click on photo to see entire image] Tanner Skelton, left, Andrew ...




405 North Winter Street
Adrian, MI 49221, United States
+1 517-263-0524
www.lenconnect.com/skelton
Posted Jun 05, 2012 @ 06:10 PM. A challenge to the ... Vigilance urged on anniversary of Skelton boys' disappearance ... Updated Nov 21, 2011 @ 11:57 AM ...


NOTE FROM EMPATHY.

Not long after Tarot was written someone claimed to have spotted the brothers and I feel this is why Tarot said they may 'show up'. Clearly there has been no news to date that they have been found. I will need to update here and provide a map.



UPDATED 12TH SEPTEMBER 2012
STICHOMANCY - 3000 YEAR OLD DIVINATION METHODS.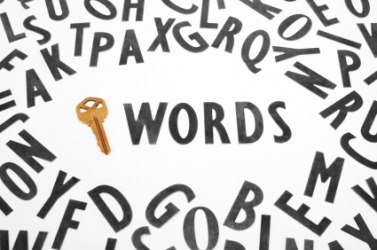 CLICK TO READ MY POST ABOUT STICHOMANCY

Stichomancy offers this extract regarding the Skelton brother's disappearance.
The Man in Lower Ten
by
Mary Roberts Rinehart
:
the loyalty that answers between men for honor that I would have to put her out of my mind.
And yet, all the night that followed, filled as it was with the shrieking demons of pain, I saw her as I had seen her last, in the queer hat with green ribbons. I told the doctor this, guardedly, the next morning, and he said it was the morphia, and that I was lucky not to have seen a row of devils with green tails.
I don't know anything about the wreck of September ninth last. You who swallowed the details with your coffee and digested the horrors with your chop, probably know a great deal more than I do. I remember very distinctly that the jumping and throbbing in my arm
Stichomancy offers this extract with regard to finding the brothers.
The Happy Prince and Other Tales
by
Oscar Wilde
:
great attention. I have not actually appeared myself, but when I do so it will be a magnificent sight. As for domesticity, it ages one rapidly, and distracts one's mind from higher things."
"Ah! the higher things of life, how fine they are!" said the Duck; "and that reminds me how hungry I feel": and she swam away down the stream, saying, "Quack, quack, quack."
"Come back! come back!" screamed the Rocket, "I have a great deal to say to you"; but the Duck paid no attention to him. "I am glad that she has gone," he said to himself, "she has a decidedly middle-class mind"; and he sank a little deeper still into the mud, and began to think about the loneliness of genius, when suddenly
UPDATED NEWS 23RD DECEMBER 2012
| | |
| --- | --- |
| | ... search for missing brothers Andrew, Alexander and Tanner Skelton from ... seen around Thanksgiving in 2010 with their father, John Skelton. |

Detroit Free Press

-

25 Nov 2012

Zuvers would bring Andrew, Alexander and Tanner Skelton to Wakefield ... released by the National Center for Missing and Exploited Children.

The Daily Telegram

-

14 hours ago

MORENCI — Filming in Morenci and the surrounding area has wrapped up for a new TV program set to feature the

missing Skelton

brothers on

...

UPDATED 2ND MAY 2013




www.northwestohio.com/news/story.aspx?id=836599‎

Dec 12, 2012 –

The search for the missing Skelton brothers in Morenci, Michigan is getting national attention. ... Sunday, April 28, 2013 ...

UPDATED NEWS 20TH NOVEMBER 2013




Michigan State Police have taken over the investigation into three brothers who went missing nearly three years ago.

UPDATED 11TH DECEMBER 2013

I will look at this case again shortly in order to get a location map /possibilities.

Meanwhile, below are some news reports.

https://en-gb.facebook.com/MissingSkeltonBrothers‎

December 9 at 5:28pm. More Posts ... December 2 · http://www.hlntv.com/video/2013/10/24/missing-skelton-brothers-mom-tanya-zuvers — in Morenci, MI.

www.northwestohio.com/news/story.aspx?id=895492‎

Sunday, December 08, 2013 ... Posted: 05.08.2013 at 10:46 PM ... Locally, you may be familiar with the three missing Skelton brothers from Morenci, Michigan.

www.wmbfnews.com/.../skeltons-parents-say-missing-morenci-boys-are-...‎

"He said to tell you that his boys are safe and sound," said Roxanne Skelton. ... Updated: Tuesday, December 10 2013 9:54 PM EST2013-12-11 02:54:49 GMT.

NEWS UPDATED 19TH NOVEMBER 2015