Fears grow for missing six-year-old girl Keisha Abraham
Keisha Abrahams vanished from her home after being tucked into bed, and may have been abducted.
Please note that tarot will pick up

TRENDS /VIBRATIONS of PAST PRESENT AND FUTURE

- it will pick up

anything that is 'out there'

true news or false news

- either way it can throw light on what is 'in the air' - please bear this in mind when you are reading the insights.

It is very important that 'readers' of the blog understand this, therefore one has to be very discerning when reading. Media news can put out stories that are not factual or are pre -mediated but Tarot can pick that up. It does,nt mean that tarot is wrong, it shows tarot can see what might be suggested. However when writing the tarot it may be taken as fact.

TAROT CANNOT BE CONSIDERED AS

100 PER CENT

ACCURATE.
PLEASE NOTE - Tarot picks up

past present and future

'vibrations'. Referring to a person is simply their vibration through

intuition

and not alluding to mediumistic qualities.
PLEASE FIND THE REST OF KEISHAS TAROT IN THE RIGHT HAND LINKS SECTION TO READ PREVIOUS ENTRIES. THE LINK IS ALSO HERE
http://empathysinsights.blogspot.com/2010/08/keisha-abraham.html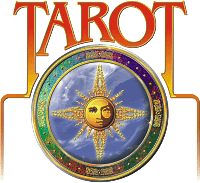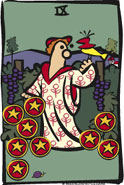 KEISHA ABRAHAM
« Reply #30 Today at 4:38 » 16 Sept 2010

Ive been asked to look for Keisha again in the tarot. I really did feel that I have posted all that needs to be said for the time being, but I really do see how many people are still desperate for this little girls welfare.

The card I have on Keisha is a completion card.

This is a 9 and all completions are number 9. That should normally give me the HALT sign that I have already felt and confirms it.

However, this 9 tells me that whatever happens in this case, this girl is in someones house or on their property. Look at this woman here - where is she? shes in a garden and she has a secret because her Falcon is hooded.

Does that mean that Keisha is in a garden? What it does mean is that she has some rurality around her but it seems to show me someone that is 'kept in' they are not solitary - so there must be someone around her. Even if Keisha was a child who had passed over, there is someone still 'watching' over her because she is in a place of 'security'.

Now you know that I am going to say the optimistic thing here and say that the situation is ok, its stable and Keisha is being looked after even though we cannot see her - but on the other hand we have to bear in mind the FALCON is hooded.

Someone knows who is the culprit here and its cat and mouse right now. I really dont want to say anymore about this case - but whether alive or at peace, this child is definately secure either way. It is exactly what I have said in the first tarot.

I have to tell you that this little girl reminds me of a proper little Shirley Temple, so sweet and everything a little girl should be. It shows to you all who care very much about missing children, how you really end up seriously worrying for them as though they are your own. You are the true mothers of the universe - the more your loving ways increase, the more security it will breed, and the more strength will be found in protecting children in the future.

The only way to protect children is to fight against the injustice that they suffer.

As for Keisha, I know she is 'safe' where she is.

Dates & Timing: September 2 to September 11

Empathy.



Add: 17 jULY 2011.

I later 'learnt' that FALL in Australia was the time that Keisha was found. This seems to take into account the time difference and why I was seeing September - it was not the 'month' it was the season she was found. This all made sense when a reader commented about the hemispheres with timing. It appears that tarot was correct about this and I may have to consider that in the future with readings that come from those abroad.

EMPATHY