April 11, 2009
TEACHER ARRESTED re - SANDRA CANTU
Police have arrested a
Sunday-school teacher
in the killing of California 8-year-old Sandra Cantu, authorities said early Saturday.Melissa Huckaby was arrested on charges of kidnapping and murder, according to Tracy, California, police Sgt. Tony Sheneman.
Police would not reveal what led to Huckaby's arrest, but said it followed questioning. They did not offer a possible motive.
Huckaby lived in the same mobile home park as Sandra's family, and Sandra was friends with Huckaby's daughter, Sheneman said.
Sandra's body was found Monday, stuffed into a suitcase in a dairy-farm pond. The girl, from Tracy, had been missing since March 27. The suitcase that held Sandra's body belonged to Huckaby, Sheneman said.
Police have had contact with Huckaby before
, but she does not have a record of violence, Sheneman said, without offering further details.
An autopsy was conducted on Sandra's body on Tuesday. Autopsy results are not expected for four to six weeks, CNN affiliate KRON-TV reported earlier in the week, citing the coroner's office.
Police have conducted hundreds of interviews in the case.
On Tuesday, authorities searched a Baptist church near the mobile home park where Sandra lived.
The church's pastor, Lane Lawless, and his wife, Connie, spoke to KRON as they drove by the church Tuesday. Lawless said police had seized computers, phones and other items from his family's trailer, located in the same park as Sandra's family. He said his great-granddaughter regularly played with Sandra.
"We've been in the park for 13 years, and we've known her and her sister since before they were born," Connie Lawless told KRON. "So they're like children to us; they're like our children."
The day Sandra was last reported seen, she returned home from school, kissed her mother and left to play with a friend who lives nearby. A short time later, wearing a pink Hello Kitty T-shirt and black leggings, she left to go to another friend's home, according to a family spokeswoman.
Ive printed some of the story regarding this little girl and her Killer. I was asked to write some insights on this in advance of any news of the case and I will print those below. I will tell you that this case genuinely upset me because when I got to know the details afterwards I automatically could see what tarot was painstakingly trying to point out. The tarot did point out the right things but it was very difficult joining up the dots. The essentials were there and I worked constantly to try to piece it all together. I have put snippets of my findings below.
All I can say is that the world has got to get a grip. Children cannot go out to play innocently without getting murdered now and I seriously have a massive problem with this. When you look at the pictures of this child you have to ask yourself what did this little girl do to deserve it? How on EARTH would you think a teacher would do this to her. It defies belief. We cant do anything for Sandra now and this case made me cry - I was emotionally involved in the tarot writing furiously things I had seen - snatches and glimpses - not easy to weave into a story as you can see from my ramblings but the main points were definately given to me.
I cannot excuse myself when I dont interpret it all fact for fact and detail for detail but neither can I do anything but record what I get - in this case like any other readings it is always difficult to tell the difference between a man and a woman when they are represented with a court card. I always say - take no notice of the gender in my posts, but consider the person as an 'it' because it will always be referring to a SOMEONE in the context of the reading and the connections to it.All the church connections were there several times.
I did try to take an optimistic viewpoint with the tarot - nobody really wants to assume someone has died - but there was always the hope against the bleak. Sadly the bleak won in this case.

Meanwhile, I always send in my heart love to these children who suffer - because it should never have happened in the first place. Life can be extremely cruel sometimes and we are always left feeling as though we wished we could have done something to prevent it. Im highlighting below the relevant parts of tarot that did come up in the outcome.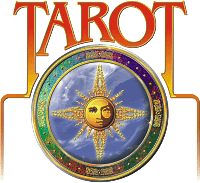 Sandra Canto
Mar 31, 2009, 21:35


As with all missing children cases, I never know what the tarot will bring. I always try to empty my mind of anything before selecting a card. Tarot gives us information from the past the present and the future and anything I write can reflect any of those periods of time. Tarot is a wonderful guidance tool when used correctly, however, it is not 100% accurate though I have found it to be very helpful.

Looking at Sandra I have drawn this very horrible card. It is the worst card to behold in the pack because it shows someone injured and does not indicate how badly they are hurt.


Well looking at this card and considering what may have happened to Sandra, its possible looking at those swords in her back that she may have been pinned down. Possibly injured and yes in a very extremely difficult situation. However, it might not necessarily mean the worst. Fingers are crossed on this one as you can see the man who is lying down doing almost that. I think there may be some problem with her back or her spine and two of her fingers.

I also see that there are decisions to be made with this card. I almost feel like something has come to an end. Obviously I hope that is,nt sandra, as the card is AIR and Air helps us to breathe, so though it could point to death, it may not come to that. I feel like this girl is near water but on land if that makes sense. I feel that her life has come full circle as well in some ways because the ten of swords being a ten has gone past the completion of the nine and in essence begins again.

She will be found in the early morning I think because a dark night passes over her as I do have East here and sunrise.

This card can talk of other things besides loss and tears and worries it can be that someone is particularly bankrupt or they have been laid of work ill - that could be someone around her. It may even suggest there was a divorce in her life around her family and friends - I feel a kind of desolation here that a lot of things have come apart - someone with some kind of nervous disorder is often portrayed in this card so I can only give that as a someone rather than be able to say who it is.
Tarot pointed out the 10 of swords was a kind of 'overkill' in the case of Sandra and that the perpetrator might not have set out to go as far as they did but it kind of led into that.

I have the 8 of swords reversed which indicates some auful treachery in the past and someone who has escaped censure.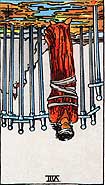 The priest could very well link, but I need to look further so bear with me for more tarot detail later.
I seem to have a 'prison break' with this card
perhaps someone who had escaped from 'prison' in the past.

(this was later shown to be a skirmish with police and Melissa Huckaby escaping charges)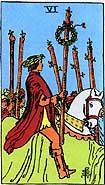 This card shows me a triumph and Im feeling that this child could very well be found within six weeks. I have to give the time as between now and six weeks.

if she has passed on which this card does not necessarily predict as a certainty,then her worries are over. Something in this girls life HAS TO CHANGE and not before time.

I have a father figure here who appears to know where this child is and Im seeing a kind of business associate. Might be someone linked to the' father ', someone who has not got a lot of money and is a very lazy or idle person.





This person has never had any problems getting close to children according to this card as it is the King of Pentacles reversed. He does,nt provide for himself and family very well that I can see and does not appear to be very reliable. There is an older and vicious man here. Hes a real jealousy freak - got a problem I think. Perversity corruption and peril, they are the qualities that belong to him and the very same ones that will take his wheels from under him. You would,nt trust him with your pet rabbit let alone your kids. The trouble with this guy is mistakes, weird he walks into the same ones over and over and does,nt think that people wont find him out? Unbelievable really.

Re: SANDRA CONTU - TAROT REPORTS
Apr 10, 2009, 19:49 »
He is on the surface a family man, and I do have a Minister in this reading. This man is supposedly respected. We know a priest has been asked about this case.

This is what Sandra gave to me she said that this man gives a good impression but he is not what he appears. He enjoys helping people.

These are the other kinds of people who have come up in respect of who killed her inclusive of the minister suggestion.

Professions: Minister, Legal Counselor,

Teacher

, Negotiator, Cook, Homemaker, Family Man, Could Be Client Or Client's Father, Good Friend.

I have said before that it is someone connected to the father. What father means is whatever you want that to be.
One thing - there is some telecommuting in this card. There is an outside reference to home business in this card.
They might be talking to the priest again or someone who wears a kind of uniform. This is definately a person who is like a 'father' and someone you think you can talk to. The colour Blue comes up`
It seems that Melissa Huckaby wore a blue Uniform in one of her jobs in the past and apparently in Church too.
[above the uniform of FOODMAX where Melissa used to work. The photographs are merely to show the uniform which was BLUE and to mention that the people in the above photograph do not relate to this case]


tarot said that there is a man to emerge yet in this case. It will be interesting to see if this occurs.

******************


Many of the tarot points did appear to show themselves in reports that came after -( I have outlined some press reports/proofs in red) Sandra was found in the suitcase while a man was draining a pond I suppose that is where the land and water came in. I felt however that Melissa Huckaby was not entirely to blame for this murder and Im not sure the current circumstances but do think a man will be linked at some stage.
The telecommuting reference was likely the link to computers that were seized in this case and the home business - was Melissa going to her Sunday School work as it was linked to her Grandfather who had the ecclesiastical link as well as Melissa Huckaby. Likely the 'father' mentioned in tarot was reference to priest.
We wont see the end of criminal cases like this unless society turns over a new leaf.

EMPATHY

Confirmation of insights are in
RED.
.......
According to court records, Huckaby had claimed she was not mentally competent to stand trial in the case. The judge ordered her to be examined by physicians. Later, it was determined that she was competent and she pleaded no contest. ........

http://wcco.com/national/murder.kidnapping.arrest.2.982540.html

In an interview with the local newspaper on Friday, Huckaby said someone else by the same name was charged for the November theft from a Target store.

Huckaby was also convicted by Superior Court in Los Angeles County in November of 2006 for a petty theft in Bellflower, records showed.


*************
Suspect arrested in Sandra Cantu's Murder -

Sunday School teacher

related to

Pastor

Lane Lawless
http://www.msnbc.msn.com/id/30159623##

************

Tarot promised the child would be found within six weeks of the date of posting. Sandra was found within that time but also was found on Monday
6th
of April she was also reported found in the morning as suggested by tarot.