I dont know about anyone else but I like Peter Andre and Katie Price and I did watch their series on the TV - I also winced a couple of times because I thought that perhaps it was pretty raw viewing. I really hope that both of them somehow find their happiness in life. They have entertained us but themselves are going through a very difficult time in their lives.
I did look at their tarot and I wish it could be better what I saw. I have to admit it was a brief look and not an indepth reading but it did confirm really a few things at the time which were at the base of the problem. I may look again for them individually as I think they are both stunning people, gifted and regardless of what seems to be the case, each are quite genuine people.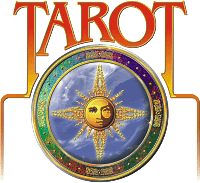 I write the findings that I had when I touched upon the tarot.
Tarot for Katie and Peter.
Jul 11, 2009, 18:11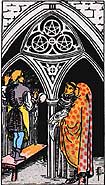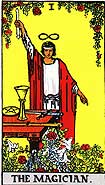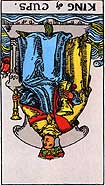 Katie and Peters split up all over the news and some of you might be wondering about it or whether they will get back together again. I have looked at the tarot and we have three cards here.

Firstly, I did produce the Knight of Wands which shows travels and trips abroad and sudden departures - almost unexpected in some ways. Certainly someone saying to themselves they had a lucky escape. The card produces a very hot passionate situation which is full of turmoil and quick tempers. Lots of energy lots of action and to-ing and fro-ing..

I move on to look at the three cards above. First we have a building up of something for great renown. Secondly we have the magician and thirdly we have the King of cups reversed.

Very interesting scenario here.

In the past these two have built up their personas and reputations - put their romance in front of the camera and capitalised on it. We are very aware of that and they themselves would be very honest about it too. Secondly we have the Magician which is a very tricky card. It can make people disappear and reappear - it can make a situation what you want this to look like and it can project a mastery about this that is equivalent to all the ability to produce a situation that is not really happening.

However, here we have the King of Cups reversed. This King of cups suggests a very unfaithful partner. If not now then most certainly this will be revealed in the future.

If Katie and Peters split up is not real then Karma would come in to effect them both very sad but that is how this looks on first glance. Perhaps reconciliation in the public eye might be possible but will it last? Not if the King of Cups sits in the future.

The King of cups is a drinker - a loud persona, unfaithful, unmaternally interested - uses children for their own ends and for their own interests and generally is a person who cannot keep up their end of a bargain. This person lusts for power needs to be on top thats why they are a King. Male or Female can be the gender. If the person is not on the top, they will find ways of creating a situation for them to BE on top. Its the only way to get back the power of being able to produce the three of pentacles once more.

Do I think this is a healthy situation - perhaps not - because if anything has been perpetrated for the cameras there might be a nasty backsting on this one.

If Peter Andre decides to hold out an olive branch in public it will put him in a very insecure position in the future. Im feeling that he may not wish for a reconciliation to be affected full time and if there is one he will decide again not to be with Katie Price. He shows himself to be clinging to his children in this card on his side and it would pay Katie Price to appear to be doing the same thing. Drinking is a big problem for Peter Andre and this appears in this card. He genuinely does not like Katie Price drinking.

Do I think this is a good match between them - No I dont think it is a good match. The entire relationship is built on business and public and building up ones name and renown. It is not based in emotions. Emotions are not the forefront of this relationship - clever masterminding of business tactics is.

Whatever they decide to do in the future - Im feeling there will be more splits between them, forever going back and forwards and not being able to establish a link to make them both settled and happy. One or the other of these two people either is or will be unfaithful and the relationship will not be able to rest on this as both are emotionally jealous and insecure.

King of cups shows that one or the other of these two people was mistreated perhaps sometime in their life. This gives them a maudlin feeling and the entire situation speaks of deceptions.
Again, one or the other of these two are keeping their feelings well hidden and not prepared to let their feelings surface. Therefore I feel that they will never truly be 'together' in the very depth of the word for the near future that I can see.

Peter Andre is not always upfront about his emotions - he will definately keep some things under his belt.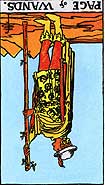 The news that Katie Price was expecting and her baby was terminated because it was dead is going to cause a lot of problems between her and Peter Andre. There is something in that situation that makes it rather suspect. It seems to suggest a tricky ploy. It will send dangerous emotions out of control tarot regards this as imflammatory news.

I dont think the future is great for these two whatever it appears on the surface. The page of wands is generally energy in messages - its normally swords that I link to communication, but as the page is inverted I think that messages or mail or the ability to communicate together perhaps lacks lustre.

I dont think Katie Price should have mentioned the Baby episode though Im not clear why. I dont see many buds forming in this relationship and whoever holds out the olive branch will seem to be dismissed. However there is going to be a great deal of gossip coming up about the 'baby' thing and it will be over exagerrated according to the tarot.

There may be a desire for instant results here for the future with these two but Im feeling that the news regarding them is not favourable. One of them fears domination and because of that I think they will always attempt to wiggle free.
EMPATHY
UPDATE - KATIE AND PETER DIVORCE TODAY 8 SEPTEMBER 2009
Katie Price and Peter Andre row after 'family Christmas' fails