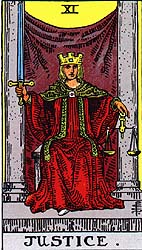 Hello All!
We have now reached the Justice Card in my new Tarot Series - The Journey Of Life.
TAROT - THE JOURNEY OF LIFE - EXPLORATORY
Strange but as I write this, we know the world is in a great deal of turmoil. Many people call out for Justice in the wake of unrest, threats of war and general discomfort in the world of politics. Of course, Justice is something many people wish to instill maybe not just in this situation but in many other situations in their life.
Here, we have beautiful card where what you see is what you get! Justice is exactly JUSTICE. In our lives we will seek it or indeed it can be metered out! Justice is often linked to the Strength card. Justice is borne in strength. It takes strength of MIND to make decisions, to right a wrong perhaps? We pootle through life and know that if we step wrongly there will always be some kind of repercussion and Justice squarely reminds us that there are LAWS. It is not always about Law though is it? it is really about doing the right thing and even in some cases when the card appears, punishment can ensue for doing the opposite! Any court matters, whether Divorce or speeding or anything that would bring us up before a JUDGE may reflect in this card. However, we have to remember that the key issue with Justice is the Libran factor.
Justice is almost a pair of scales. Tip them one way and things can happen positively, tip them the other way and...well you might just get the opposite. It is all about FAIRNESS. I see this card largely as WHAT IS FAIR. Are things FAIR ??? DO YOU HAVE TO BE FAIR ? Yes you do. In life you have to try and size up situations from small issues to large issues but at the very end of the day you do need to use the Libran energy of fairness. Level things out, compromise perhaps? Librans are known for fairness but they are also sometimes subject to indecisiveness and this is why we need to consider the JUDGE factor when in the Justice card. This card shows 'weighing things up' on the one hand and deciding or having to make the RIGHT decision with the other hand. We want to consider things from every angle to make sure that the outcome is FAIR. That does not mean necessarily in your favour but in the favour of what is just.
There is very little else I would point out though of course there are many issues that could be spoken about with this card. We know that in life we will get to many a time that we need to come to a point of decision. This Justice card is not really ANY decision. It is clearly an IMPORTANT decision because being a judge card it is going to affect circumstances based on that decision. Justice might be just yourself having to do that about your own life. Justice is almost your concience. You need to think about situations and look at the pros and cons and this is something you will do often in your lifetime. Remember too that we have just come away from The Wheel of Fortune. That of course is the Karma card. What goes around comes around, we reap what we sow. Your planting will always come back to you one way or the other wont it? In the Justice card you will know what your reaping is! Either someone will be making a decision on that or you are. Karma is Cause and Effect. It all comes out in the Justice card! It wont be long before you will know if you need to adjust your thinking or whether you have kept on the right path.

There are legal situations with this card too where we do have to face the Law. Justice to me is finding fair solutions whether you are making them or whether someone is making them for you. There is very little else to say but FAIRNESS is my key word whenever I see this card on the Table.

This card reminds you that YOU ALWAYS HAVE TO LOOK AT ALL SIDES OF THE SITUATION and furthermore remember that someone else might have another point of view. If there are many opinions , you have to consider THEM ALL. By doing this, you can arrive at the best decision.

There comes a time in life that you become experienced. You might not be experienced in ALL angles of life either, or situations BUT by listening to opinion and by thinking and considering the views (just as you would evidence in a Court) - you are likely to come to the BEST solution but you know that you have to deal very fairly with what you are weighing up. If you didnt, then you would make mistakes and therefore until you learn to deal with making sound judgement, you have to learn by experience when you get things wrong.
Justice is reminding you about CONSIDERATION. It is also a good defense card. After all, you have a reputation dont you? doesnt everyone have a reputation for something? regardless of what it might be. In this card, you can defend a view that you feel is 'JUST' and based on experience. Whether it is right or wrong will depend very much on the results which will always show later. The point of Justice is to make THE RIGHT CALL. TAKE everything into account then go with the facts you are left with when weighing up each element of the problem.
In life remember too, you have to be fair to yourself. Some people are hard on themselves. Some people think others judge them. Some people worry about that all the time. When you get to Justice you should have accumulated a reasonable amount of confidence but you do have to lose your ego and be 'the bigger man' in this card and always do what you KNOW is right.
In a nutshell that would define for how I would see Justice in our lives. We do not need to find a hundred examples because we all have a conscience and we all generally know what is right and what is wrong. Our duty is to act on it.
Please join me next for THE HANGED MAN and if you would like to catch up with the cards please find all the previous card write ups on the link below. I will always come back and add more thoughts
. Empathy