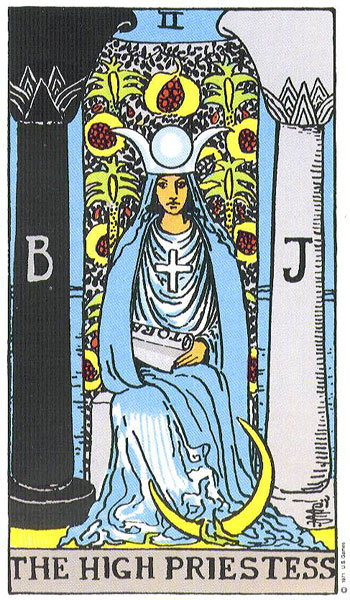 Hello All!
As promised, (see link below) I am going to be discussing the Major Arcana Deck from a very philosophical viewpoint. This is bearing in mind that to me the Major Arcana is 'The Journey Of Life'. In every card a persons life can so easily be tracked. Aleister Crowley always remarked that you could tell a persons 'whole life' in one card. I too believe this.
Here is the link to my introductory post to this series which I hope you will come back and follow as I talk about each card.
TAROT - THE JOURNEY OF LIFE
I need now to talk about the 2nd card in the Major Arcana as I feel it would relate to 'life' and the Journey that we go on from Birth to our given time. These are my own views and not typical Tarot card meanings as it is important to show how the Tarot can take you through your life and how it can represent different epochs of existence.

The High Priestess is often known as a card of SECRETS. Really of course it is the card of intense intuition, the gut feeling. It is about the unknown or what is yet to be seen and whether or not you wish to see at all.

This card shows two pillars and beyond those lies the veil or if you wish to interpret the veil being in front of them so be it. A Veil is a thin covering that conceals what is behind it. We often talk about the 'veil lifting' regarding psychic matters or it can be applied to any other subject as a way of description to what is either not seen or not revealed or COULD be. The possibility that there is 'something else there' lies within this card. Severity and Mercy are on those pillars. The woman is often pregnant. She holds a scroll with words on a page that do not seem to be completed. She is often associated with liquid or water or something that is fluid. We see rivers and oceans, we do not know also where the water goes, we see it rush in to the shores and then recede but do we see the same wave again, do we know how the sea really behaves. We underestimate the sea which is a body of great strength but it has its mysteries as does the High Priestess.

She is then, a very intuitive card. She KNOWS things but may not often say what she knows. She has things deep inside, thoughts, analysis all ticking away there BUT she does not always SAY them. We hit this phase too in our life. We 'realise' things or consider things but may not actually say what we are thinking. We get flashes of insight, moments or realisation perhaps but are not quite sure how its going to 'pan out'. So, our child goes into the next phase and becomes a person who is still not quite sure. Is not quite sure what is behind that veil but realises that there is and are other things to find out, to explore to understand. Are we brave enough to find out, explore or contemplate them?
Our emotions are like the Ocean. When we are teenagers we have so many emotions inside. Some are crazy, some are deep, some are embarrassing, some are just for us alone, we do not always share at that time of life what is going on with us. Young women have periods, young men are discovering themselves too. We can say what we think but we often do not say everything and we are not always sure of ourselves or how to deal with what we think . It is a very strong transition point in life. We realise that life has many things we dont understand and even if we get that gut feeling, we dont always trust it because we do not have much to back it up. These are feelings of the High Priestess.

They are feelings of the UNKNOWN. The things that are not tried and tested. The things maybe also that propel us based on that gut instinct without really knowing if we are going in the right direction.
We know in this card that we are made but have to write our own story. We have a foundation but must pave out our own destiny. Maybe the lady in the card is the mother or female influence in our lives at the time. Perhaps our birth mother too who gives some guidance but understands that we can only find out for sure by ourselves. Maybe it is secret longings? We have a life but not all the answers and hence we must travel on the Journey of life to find out.

We know now how we are feeling, we dont always know why though. We are needing to discover more and we need answers to our questions. We do not know everything at this stage of our lives. We do not know whether our thoughts are correct. These are normal conditions of the human psyche. It is just another stage of our life. We have a 2 on this card. Sometimes we can feel like two people maybe? one that is and one that is yet to be. We have to learn to trust ourselves and our thoughts yet cannot do so on the limited knowledge that we have. It is a conundrum and hence why in this card we discover that awareness and hunch type feelings that we need to work through and find out more about. The world is still a mystery in this card and we have to keep moving forward. Some days we will be feeling very happy just like the wonderful yellow background and other times we will be feeling very blue! Most typical of a person not yet adult but not exactly a child.
I will talk more about this card as we go along as there are many things I will wish to add so will be returning to it, but now we need to see what happens next with the EMPRESS. Please join me for thoughts on that card.
EMPATHY.
CHECK ALL THE TAROT CARDS SO FAR!
TAROT - THE JOURNEY OF LIFE - EXPLORATORY