Stephen Ivens has been a Special Agent (SA) with the Federal Bureau of Investigation since September 2008, and is currently assigned to the Los Angeles Field Office. He wears prescription glasses and is an avid runner. He was also a former police officer with the Los Angeles Police Department.


http://www.fbi.gov/wanted/kidnap/stephen-ryan-ivens/view

Information is being sought regarding Special Agent Stephen Ivens, a resident of Burbank, California. SA Ivens was reported missing on Friday, May 11, 2012. His family had last seen him at his residence the previous evening, and information indicates he left on foot. SA Ivens' service weapon, a Glock handgun, was missing when police responded to the residence. Comprehensive searches conducted in the nearby Verdugo Mountains have proved unsuccessful. It is believed that SA Ivens may possibly be suicidal, and there is no indication that he intended to harm others.
SHOULD BE CONSIDERED ARMED AND POSSIBLY SUICIDAL
If you have any information concerning this case, please contact the Burbank Police Department at 818-238-3000; your local FBI office or the nearest American Embassy or Consulate.




Please note that tarot will pick up

TRENDS /VIBRATIONS

of

PAST PRESENT AND FUTURE

- it will pick up anything that is 'out there' true news or false news - either way it can throw light on what is 'in the air' - please bear this in mind when you are reading the insights.

It is very important that 'readers' of the blog understand this, therefore one has to be very discerning when reading. Media news can put out stories that are not factual or are pre -mediated but Tarot can pick that up. It does,nt mean that tarot is wrong, it shows tarot can see what might be suggested. However when writing the tarot it may be taken as fact.

Tarot does not have all the answers or claim to solve issues. All it can do is show what it feels may be of USE or point out possibilities.

Please always read the following

ABOUT TAROT ON THIS SITE

TAROT CANNOT BE CONSIDERED AS

100 PER CENT ACCURATE BY LAW.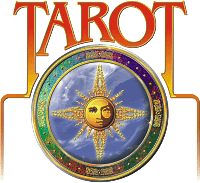 STEVEN IVENS
31 MAY 2012


I have been asked to look at the Tarot via family request for Stephen Ivens. Tarot can often produce clues but it is not considered 100 per cent accurate by Law. Tarot also gives details past present and future and all I can do is write down the information that is given to me. Hopefully there is something that will turn up that might be useful. Some information may not be 'as important' as Tarot can pick up 'white noise' surrounding the person but does its best to convey messages to us that could relate to circumstance and descriptions of whereabouts. It CANNOT name a location in 'words' as it does not possess that ability but may show directions that could connect.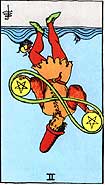 When I ask about Stephen I am being given the two of Pentacles reversed. I can only give to you what I feel I am being told. Here on this card we have to assume that something is wrong with work, family and financial matters. There is a lot of disharmony and imbalance in this card and it causes upheaval and transformation in his life.

Usually with this card I would say it would represent somebody who had to take on a lot of responsibility and they have to juggle their time between all the avenues of their life and as it is that is difficult for them but reversed it suggests that they feel for every step they take its two steps back so its a feeling of being very overwhelmed I think with many issues in life in general. Health and work and many circumstances can be thrown into a kind of chaos and I feel this card represents that.

There may be something about a contract which could be to do with work and something either gone wrong with that or not feeling that its a challenge that he wants to take. I could be wrong of course but the main thing is seeing all aspects of his life in disarray. Priorities are all getting tangled.

Sometimes with this card we can be holding down two jobs or contracts because it helps to make ends meet but it seems to me that this man might have been letting people think that everything was ok with him on the surface but all the while there is some kind of lack of faith here.

There also could be a work partnership here though Im not quite sure how I should interpret this as it could refer to falling out with a partnership at work or it could simply be just showing a man who has lost a lot of faith in himself over many situations that have all built up into a big problem. He does seem to be trying to juggle various issues and yet there is some kind of doubt that he has been going through that he can pull things off. So yes, a person overwhelmed. I feel that he is preoccupied with some kind of situation or event that he just wanted to resolve. Frustration and recklessness can come into the picture here.

Maybe there are high expectations of him and he wants to be 'what everybody wants' but sometimes it just gets too much. He masks his true feelings. There may have been some negative news or information that has created this problem of disappearance or be connected to it in some way.
These cards can lead to issues of theft, insecurity, robbery and embezzlement or could show up issues like this around him or connected in some way. His health could be threatened - body aches and pains and muscular 'stiffness' can show up here - also its possible in these cards that somebody needs to make some quick cash here.

Now this card is a number two. It could refer to various problems that have commenced during the period of the last two years or indeed it could be talking about a period of TWO.
Normally I would give NORTH for the direction of this card. Now the directions can be WHERE the person went missing or the name of a place. All directions given must be taken into account as they are starting and ending points.

Here we get North but reversed cards need to be looked at more closely. I feel South may come up either in direction or name of road/place - and also anything that could be connected either by name or actual regarding location such as farms wood stores and places where farm animals roam. Also descriptive places that may have bare land, barren fields, land, bushy and thorny, or much soil. Water can come in to these cards therefore its possible water names or near water, such as creeks etc. Im feeling

'low down near the ground'

maybe even a dark place. Boats can come up but with all descriptions they may not be really actual objects but names of places.

Gate names or Gateposts, walls, garden fences, confined places and even

church names or places can come up.

At this moment I cannot say whether this is where Stephen started out from or where he is . All descriptions must be taken into account.
Property can come up in these cards as can school/college universities could be in the district.

It is possible there is a 'G' initial somewhere? either place or person.

There may have been something written down, I did think about a work contract but whatever it is I can only think of it as bad news or some kind of message that has created hostility and perhaps a lot of indecision. Did he want to work on his own? or have work problems/money problems?
Were there any debts, such as gambling debts?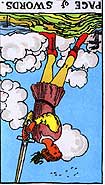 Generally this card is EAST - but we do have a reversed card here, perhaps South East may come up though there is still that distinct connect to the North. In this card we have a a 'green hill' a pair of trees and cliffs, water rocks and stone can also show. These again may be names to try to describe an area as you can appreciate Tarot does not give names of actual areas on a map but tries to put them forward in a 'roundabout' way.

Hills, railways, and airports or names of such can appear to be in the area of where Stephen might be.

Im getting the sense that Stephen may have lost something. Dogs can come up and a feeling of attack but I do not know in what way. Someone is prodigal when we see this card and there may be 'someone else' in the picture like a 'rival', but this is an espionage card also - the card for the spy. When I look at this card I see an impulsiveness of actions and in truth a feeling almost like I should not be asking where Stephen is.

I have a bird name like 'falcon' come up . Spring, canals and all descriptions previously mentioned may be useful. I also seem to have property somewhere. Mountains or mountain names. Also the number 11 which could reduce once more to 2 so we must take into account what we read in the first card of the tarot above. I feel as though there has been an argument which could have involved another person or even two people is possible.

The word HEART or Hart may come up. A younger person may be difficult?

Concrete surface or name can come up too.
I feel a bad decision has been made and trusting the wrong people could have occurred.

Its possible there is a car gone off the road. It is also possible that there is some kind of problem with someone known to him. I seem to see a kind of abuse or authoratative situation or just a strong feeling of disrespect from another person here.

I feel respiration is affected in some way.



Someone feeling ill.

Something to do with their head?

or nervous system.
Edge of a cliff? or Cliffs or the name cliff could come up. Perhaps they are in the district?
The colour yellow and roses.

I did think I saw a church? or churchyard but he could be past that if it was on route.

Someone who could help is not giving information. I feel also that there could be something wrong with a message or a witness statement? jealousy and quarrels ?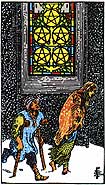 This card tells me that Stephen may be found with the number 5. We are in May but rapidly coming to the end of this month so I cant be totally sure its May he will be found but the 5 could be a timing; route or a distance.

In this picture we have a church . The direction is North and besides being a church it is also a place of retreat or a mission.

I seem to see rural aspects but also water figures somehow. The initial G comes up again and also a 'bank' whether in name or part of a name or actual.

I see problems which reflect everything that tarot has given already. Also descriptions that have been expressed in the two previous cards all show up here so its a combination of everything that may help to find Stephen if one can pinpoint how the descriptions could fit a place. I see gambling or the word Gamble here - as this is a money wasting card and also its a card of ill health so I think Stephen is sick or ill or has been. At this point I think he is alone and rejected somehow. Rural places can be parks , big landscape,

trees

etc . I do see family crisis here .

I also see a 'bell' and again once more I see a property or a building and South East seems to come up again here. Farm land or pasture land away from housing estates. Low houses bungalows, cottages, sheds , barns, single storey buildings perhaps, cellars even basements can show here

Did he argue with someone younger? I may be incorrect however I hope there are some things here that might produce some circumstances past present or future. Tarot can give us a series of messages and they could be for now or they may be linked in to any time period. I do hope that Stephen will be found.

I feel he will be

as pentacles upright are often a sign that brings benefit as a rule though the number 5 is strong in this card.

Pentacles are often year cards which could suggest up to 5 years but sometimes that has been quite wrong and it was the

5

we should be taking into account I hope it is May but no promises on that. I cant comment on Stephens health because I see illness in these cards and

I would have thought he could self sabotage

but having said that its just the overwhelming feeling of despondency that must be taken into account here. Even if he were found and alive Stephen needs some kind of counselling or consoling as I do feel that he has kept a lot of things to himself.

However, this card can indicate that

he could have been 'overlooked' in other words perhaps where he is has been searched before. The idea here is that 'we have missed something' so everything needs to be rechecked

if certain areas have been thought of already, there is no hard in looking again. One thing I will say is 'dont give up' and though finding Stephen may be difficult clearly it is not impossible.

I hope he is found. Meanwhile, I have presented the possibilities from Tarot but it cannot be taken or guaranteed that all details will be correct only that certain elements are likely to apply in some way.

Empathy.
Dee has provided a map which OUTLINES all the areas that Tarot may be touching on or may be describing. I have left the link below the Icon. Please bear in mind that this is not guaranteed and Tarot can mean somewhere else entirely.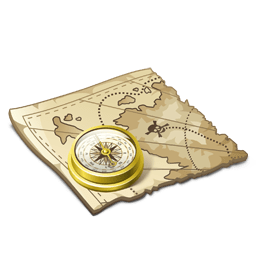 CLICK LINK BELOW FOR TAROT MAP

PLEASE NOTE: Tarot was NOT posted here in full on account of respect to the family who were given a copy of my reading when it was written in May. I said that I would not print the reading until Stephen was found. Sadly Stephen has been found and it seems that Tarot has some of the details of his finding correct. My sympathies go to the family at this time.
Stephen was found in Scott Road Burbank near a Church as pointed out by Tarot South East of the Number 5 route as per the map. The area had been searched around there and must have been overlooked (see news reports) eventually he was found near this area of search. He died through an injury to his head via gunshot wound (self sabotage) as reported via the Coroner as suicide.

EMPATHY.

UPDATED 15TH JUNE 2012

Stephen's wife is organising a community search party on June 16th and 23rd.

Please visit the Facebook link below for more details.
https://www.facebook.com/LetsBringSteveHome
NEWS POSTED 23RD JUNE 2012

15 Jun 2012 ... Stephen Ivens of the Federal Bureau of Investigation (FBI) has been missing since May 11, and his ... Stephen Ivens FBI Missing Agent 'More Than a Missing Person,' Says Wife. 2 ... For evangelicals who are global warming activists, convincing the Christian . ... By Sami K. Martin , Christian Post Contributor ...
global
.
christianpost
.com/.../
stephen
-
ivens
-
fbi
-
missing
-
agent
-
more
-
than-a- missing
-
person
-
says
-
wife
-76700/
NEWS UPDATED 1ST AUGUST 2012
New York Daily News
The body of missing FBI agent Stephen Ivens was found Monday evening by two hikers walking in the foothills above Burbank.
The body of missing FBI agent Stephen Ivens was found Monday evening by two hikers walking in the foothills above Burbank.
A suspicious odor led them to Scott Road, near St. Francis of Xavier Catholic Church, where they discovered human remains.
On the second day of the search, FBI search dogs had tracked Ivens' scent toward the Verdugo Mountains,
near where his body was eventually found
Monday evening.
NEWS UPDATED POSTED HERE 12 AUGUST 2012
Body of Missing FBI Agent Found in Burbank After Hikers Investigate 'Suspicious Odor'
FBI Agent Steven Ivens, who worked at the bureau for over three years and specialized in national security, had been missing for over three months and was last scene walking away from his house in the 1700 block of Scott Road on May 10, reports
KTLA
. Ivens' wife, Thea, said her 35-year-old husband—an avid hiker—was being treated for depression since February before vanishing with only his keys and FBI-issued pistol in May.
Coroner: FBI Agent Died Of A Self-Inflicted Gunshot Wound
laist.com
The FBI agent whose
body was discovered by hikers in Burbank last week
died of a self-inflicted gunshot wound to the head, according to the coroner's office.
The 36-year-old FBI Agent Steven Ivens had been missing for three months before some hikers decided to investigate a strange odor emanating just off the trails not far from his home on Scott Road.
When he disappeared, his family said that he had disappeared with his gun and was possibly suicidal. But after his body was found, it wasn't apparent how he died. The coroner's office has ruled his death a suicide, according to the Burbank Leader. It is not clear how long Ivins was dead.
A hiker in the area Gretchen Bingea told the Burbank Leader what happened in the moments after her neighbor found Ivins' body:

"I found a skeleton," Bingea recalled him saying. "I said, 'You are kidding.'"
He wasn't. He led Bingea and her friend to the spot, where she said she saw a body leaning against a small tree.
"I could see the skull, just kind of leaning against the tree — the clothes on a body and a leg bone," she said.
The group immediately backtracked and called police.




Stephen Ivens Suicide: LA County Coroner Confirms Self-Inflicted Gunshot Wound



The LA County Coroner's office confirmed to The Burbank Leader Monday that FBI agent Stephen Ivens died of a self-inflicted gunshot wound, but wife Thea Ivens is taking issue with the date of death on Iven's death certificate.

Sounding off on her search site LetsBringSteveHome.com, Ivens' family said that the current date of death, July 30, "doesn't make sense at all."


Assistant chief Ed Winters confirmed to HuffPost that July 30 reflects the date Ivens' body was found, not an approximate time he died. For that, explained Winters, he had to wait for a final doctor's report to estimate the time of death. Still, he conceded, the doctor's report wouldn't be able to give a specific date of death -- just an approximation.

At this time, Winters said he hasn't heard about a formal request from the family to change Ivens' date of death.


Ivens' body was found about 300 feet behind St. Francis Xavier School in Burbank, near the home he shared with his family, reports The Burbank Leader.

In a cruel twist of fate, Thea Ivens happened to have been attending mass at St. Francis Xavier the morning after her husband's body had been discovered. In a blog post that day, she wrote, "I was in the church that morning and I was looking at the helicopters wondering why there was such a commotion in the hills. I was there that morning and I DIDN'T KNOW!"