JENNIFER HA


Case Type: Endangered Missing



DOB: Jan 29, 1994
Sex: Female
Missing Date: Jan 1, 2012
Race: Asian
Age Now: 18
Height: 5'4" (163 cm)
Missing City: VANCOUVER
Weight: 90 lbs (41 kg)
Missing State : WA
Hair Color: Black
Missing Country: United States
Eye Color: Brown
Case Number: NCMC1187520


Circumstances: Jennifer was last seen on January 1, 2012.

JENNIFER HA, Age Now: 17, Missing: 01/01/2012. Missing From ASTORIA, WA. ANYONE HAVING INFORMATION SHOULD CONTACT: Vancouver Police Department (Washington) 1-360-487-7400.



Please note that tarot will pick up
TRENDS /VIBRATIONS
of
PAST PRESENT AND FUTURE
- it will pick up anything that is 'out there' true news or false news - either way it can throw light on what is 'in the air' - please bear this in mind when you are reading the insights.

It is very important that 'readers' of the blog understand this, therefore one has to be very discerning when reading. Media news can put out stories that are not factual or are pre -mediated but Tarot can pick that up. It does,nt mean that tarot is wrong, it shows tarot can see what might be suggested. However when writing the tarot it may be taken as fact.


TAROT
CANNOT
BE CONSIDERED AS
100 PER CENT ACCURATE BY LAW

.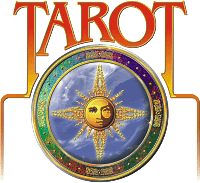 JENNIFER HA




Reading begun 20TH APRIL 2012




I have been asked if I would look at the situation regarding Jennifer Ha who disappeared this year on January 1st 2012. There is very little information regarding Jennifer except details of her Personal information and statistics. We are now in April and it does not appear that Jennifer has been found so I have agreed to have a look to see if Tarot can help.

Most readers know that Tarot can only really produce glimpses of past present and future, what Tarot gives cannot be considered 100 per cent accurate so you are recommended to go to factual sources and not regard Tarot as an absolute guarantee of events. I will just see what Tarot gives and hope that something helps. If Jennifer has been found or there is any news that you are aware of please do make a comment in the comments section. Meanwhile I will just write what I feel Tarot is trying to portray to us.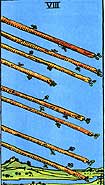 Jennifer has such an open and clear expression and I hope that working with her photograph will bring some clues to us. The first card I have is seeming to show us some rapid travel or journey here. Our card is South but the wands are moving East. It could signify that she went out of town and possibly by a lift from someone . This first card is not giving me anything negative on the surface of it but it depends how the reading develops. Firstly though here we have movement quite quickly and perhaps even towards an airport I would expect to see one somewhere in the area or the distance.

There is a number 8 on this card and for whatever significance it may bring whether a road number or route or other reason I will give it . It might even represent a lot of action going on in travel and business for 8 weeks. Wands are action cards so she could have been offered an opportunity to go and do something, she could also have hitched a lift if the 'ride' I see is not chosen by herself or arranged by herself.

These cards can show a 'few people' in them including a younger man and an older man and female. Whether this a group of people I am not sure but really its quite possible.
There seems to have been a 'decision' to make - was she a hiker or the type to hitchhike? or maybe this is just her leaving town though I seem to see a group of people here and not sure what significance they have.

There is a 'sporty' element 'feel' to the cards which might show an adventurous personality or just that there was a trip a big adventure there for the offering it might have been something that was offered to her but opportunity seems to be what I see most of all and then this travel card so it does imply she went somewhere . Wands can bring us dusty roads and also a body of water somewhere in the vicinity, maybe in the area she lives. I am not familiar with the area and have not yet looked at a map to pinpoint as yet so Im talking blind.

Meanwhile, I seem to sense some kind of weariness, stress or anxiety about an issue and of course we do have the concern of the 9 of wands sitting right by her travel. This could indicate having to make a difficult decision causing a 'headache' but also can mean someone who hurt themselves but let me see what else is here.

This rapid movement really might include air travel, those arrows are shooting over the skyline here and therefore I am at least going to mention an airport and travel here. This wands imagery gives me the impression that her travel is in connection with work or is work or job related, so it does seem that her movements are rapid here everything happened quick and to do with or connected to something/someone in working life? it can mean moving residence or even job itself so not knowing the circumstances of the day of disappearance this is what I seem to have.

The 10 of wands is really the only card that is rather in opposition which can show someone who has not quite reached a town and appears to be outside of it and I seem also to have an 'entertainment factor ' here which could be to do with anything 'stagy' sporty or simply amusement etc.

I am feeling there is some kind of 'teamwork' here and also I am feeling that somewhere along the line there was some kind of 'surprise' something unexpected that linked in to events, now whether that is positive or not I cannot be quite clear because, on the surface it appears that she has travelled.
It shows slightly competative edges too, so I hope that if she was with travelling companions that they are people she could trust. The Knight of wands is often very friendly indeed, but blink and you find your facing someone with a hot temper if nothing else.

Im getting a connection to the Moon but it is on a Sunday and it is relating to her individual fate. I dont know if I like seeing the Moon in cards because it is always pointing out some kind of illusion so I would hope that if travel were involved here that nothing happened that became confusing and uncalled for. Wands! What tricky cards they can be, both positive and in some areas can turn on us when we are not looking for that.

While the 8 can be positive, it is also showing risk taking and there is a negative side here the possibilities of not thinking through those risks and being in a situation where one is dominating and aggression can creep in. It just depends if that would refer to Jennifer or whether or not it would refer to someone else. I do have her work here though and I am not sure of any details to be able to see exactly what the exact problem could be or how work adventure and opportunity to travel would have come to her.

There is a feeling with this 8 of go getting and very strong and sporty masculine input here and a desire to make a lot of wealth. Whether that is applying to Jennifer or not I cannot be sure but this can be an absolutely good and positive choice she has made to further her life or it could be someone around her with this kind of energy. Im seeing something here about 'efficient workers'??

I do have to point out that 'cupid' whether ugly or kind is in this card and both sex and weapons are linked to Wands . It just depends how weapons are going to come out here, whether it is using our own personality or whether it is something material remains to be seen. Sex is not always sex, it can be lustful so it might just be representing desires but just not who from.

I am sensing 'competition' in these cards and I want to mention that also. Whatever opportunity came her way, I do think she said YES and whether that is work or travel or a job or some desire initially, this does come up .

Normally I would not read too many negative factors into a positive card such as this and have looked on it as a positive thing but just the warning that wands can turn difficult or nasty. Anyway that is what I seem to have as a glimpse and I cannot guarantee whether this will represent some of the issues unless something shows up to give us more indications.

There is something humanitarian here in Jennifers makeup, she would seriously make a good missionary because the teacher and healer can show up here so can unexpected pregnancy that would cause slander so even though that is not really related to my direct card it is not an impossibility.

I wonder if she had some kind of ambition that she wanted to fulfill, though all I can really see is that swift travel on this first card and try to fill in some possible blanks. I do think that there is a concern of problems in these cards when walking into the nine and ten as they are not so friendly and can signify having to stand up for yourself and your belief and having to fight the opposition, you see? wands are not ever going to go quietly always something raises a problem in them somewhere along the line.

These cards can bring a HILL whether in actuality or in a name into the picture and also a border as on a map so can signify being between two places.

Overall I see Jennifer as a person with many visions of what she wanted for the future and a true determination to achieve that. I feel this girl has had struggles and difficulties. I cannot place how any of the events that have been mentioned will arrive in the pockets of past present or future but I feel that they might have some relevance somehow. What Im hoping is that she has not accepted a lift and fallen into the wrong hands.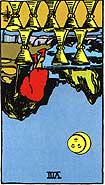 Here we have the eight of cups. This card is showing someone who wants to move ahead but you can see that they are actually felt stuck in a way. They are still in a place where there is 'water' in a name. This person in the card is near a lake, pool or body of water which could represent a name and note that 8 again. Now this would bother me and note it is reversed.

There seemed to be some teamwork in the first card and this card is telling us categorically that there seems to be a problem or concern to a new romance, relationship or partnership. In fact it could be destructive.
This card is water and emotions that have quickly diminished. It might imply that she is near a place where there is a water connection and possibly outside of her home town. Also we have to watch for buildings or basements here and damp areas.

Do I feel good about pulling this card, well no, because its reversed and I know that there is a big problem here as someone who gave an invitation has turned against us which is what I wondered would happen in the the first card looking at that friendly and affable knight. Someones changed their tune and instead of being friendly and nice, we have someone who has turned out to be quite the opposite. Not sure if this is good in truth we shall have to see. Perhaps in general Jennifer was just unhappy about relationships around her including family and friends at some point.

Now I see Jennifer disappeared from Washington. Washington is a great name for a watercard - and Im trying to decide if she is still there or not. because bells can appear in the beginning of the cups cards and could bring up Belleview or places with Bell in the name.

This card is generally always west, it is reversed and could represent South or North West but I need to bring up a map on this. I have to say location just does not fall easily into place with Tarot its a matter of trying to work it out. There is a bridge here and also a Tree name and perhaps an Island. The Bridge is always thought of as a White Bridge and there may be a building there. It can be seen quite clearly on the four of wands and also on the five of cups.

Though we are not presented with that we are being shown that its possible these features could be in the area. The 10 represents her own home town but this is reversed showing us that there is some real big problem with the city she lives in. Now that can mean bad things for Jennifer that have occurred in this town or it can show her moving slightly away from it.
What seems to have appeared is some uncertainty about her future and indecision has now set in as well as soul searching.

The knight reversed can show suicidal tendencies but this could also show us that someone is in a situation where they are not protected or safe or do not feel that they are. I can only describe the place she is at as being 'water' ? I feel she has put her emotional security at risks. Now boats/ships and water do appear in these cards without a doubt but at the same time as I have said before they can also just be describing a place.

I do think that a third party knows where she is and if asked might be able to say so. Everything about these reversed cups can bring illness upset, drugs, drink, drowning, emotional problems or pure seperation and problems to our lives. Thats the downside. The upside is when we have just about had enough of all the crap in our lives and think Im not living with this and simply move on to begin again. Its a very temperamental situation here. There is also a money issue here.

I wondered is Jennifer is away from family or whether they live in the same town as her. It would have been helpful to know. This card can be 'taking the cowards' way out so Im hoping nothing has happened to Jennifer.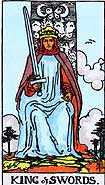 The King of swords gives me clarity that Jennifer will be found linked to 14 on this card. Generally I apply this card to months and even if it happens beforehand I would at least give WITHIN 14 months or that 14 would be a number that could help even if it is not a time factor but a road/route.

However, I feel it could be a time factor. Here we have legal/police matters so I feel they will announce when she is found as they will find evidence to find her or have or obtain evidence THAT finds her. Im not sure how positive this card is to just say YES she will be found because there are law courts/legal problems in this card . This card can show me rocks/stone and water - and a riverbank, so I am feeling that even though we have a mountain in this card (not sure if that is useful or not).

The King of Swords is a judge in his own way and he will choose the right time to announce when and if Jennifer is found. We are expected to trust this source. I can only leave you with the 14 and hope that this is going to help. The Star connected is hopeful and full of inspiration so I do feel that there will be some hope to finding her. I am also seeing spring or xmas here - and perhaps East or North East? I would need to look at locational values but I do want to post up this tarot for the time being and will come back to that.

Still see a connection to Hills, travel, airports,railways anything of that nature possibly connected in some way. Next to the Tower the Star card might actually show us that Jennifer is found unexpectedly or by accident.

The feeling of being chained or linked to unhealthy associations could come through but also a Bridge and water. There is a link somewhere to a mother or nurturing figure too. I am not quite sure how right now. Mostly Tarot dumps all the information in any old order it wants to and we have to somehow pick out bits and pieces that can make a bigger picture. I do hope something will assist.

We have to keep hope and faith for Jennifer and that is what we are being told in respect of whether she will be found or not. Some 'old ideas' might need to be thrown out about her and a need to brainstorm for new ones but the new ideas are what I think will help to see the situation through. I am seeing water again in the shape of a pond, but it can also mean emptying away all previous concepts and rethinking the situation in order to find her.


I hope that this tarot will help in some way. I do not expect it to have nailed every issue but if anything here helps I am always happy to have tried . This King of Swords might indicate that she has been found particularly as the Star is a recovery card but there is no news to confirm this so I just have to write as though she were missing.

Empathy.
POSSIBILITIES OF LOCATION/MOVEMENTS/CONNECTING ENVIRONMENTAL FACTORS/ASSOCIATED PLACES - ( BUT NOT GUARANTEED)

Hills, fields or land that is uneven or with an eccentric skyline. Airports aviation, roof, attic rooms, eaves, upper parts of buildings.

Water places, fountains, springs, vineyards ,bathrooms, sinks, oceans, rivers, fishponds, moats anything water connected. Deep wells, quarries,mines, land recently dug. Monastries/churches spiritual element.
Hot places hence heat/fire element.



Directional suggestions


SOUTH / NORTH BY WEST / WEST BY NORTH

UPDATED 27TH APRIL 2012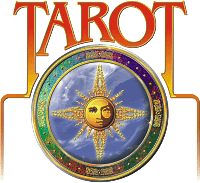 Re: JENNIFER HA
« EXTRA TAROT 27TH APRIL 2012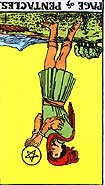 All I seem to feel is that if Jennifer had a minor health problem it should not have been left to go unchecked. I feel that there is a debt here and something has spiraled out of control. I feel as though she felt her life was dull and uneventful even though there are good opportunities for her. I just feel as though there is a huge apathy here where everything has spiralled out of control.

Tarot will not tell me about whether this girl is living or not and it never points out that issue. It is more concerned with what is going on around the person. I see her losing money hand over fist and I really am not sure why that is. I think she has had arguments about her future and money also and it has created a bit problem. Its almost as though she took a gamble that did not pay off or took a risk and I just feel as though she has lost everything because of it.
It does not make me right but thats what I seem to feel. Maybe someone opposed her plans or put obstacles in her way. Again its just not hitting me right that everything for her was hunky dory.

Somehow I am pointed to Justice and debt. I feel as though we are not seeing this whole issue properly and that something might be missing in the story too. Maybe its only Jennifer that knows but August comes up here and so does November and I think in November she was spent up.

It is November that health or problems have become something on her mind. If health problems where not sorted out it could spiral out of control or become a major problems. It is possible this is all in the past but I cannot be sure.

I feel as though her chances seemed blocked. This is the type of girl that if anyone gets in her way to what she wants to do, she will try to find a way around it whether its risky or not.

She had vision and that is what I seemed to see about her. Perhaps this is all past thinking and things that were going on in her head I cant be sure of that, but she was very optimistic about her future and it seems to me some kind of bad luck has put a spanner in the works.

I just think that we need to consider the King of Swords and hope for her to recovered. Being recovered means being found. I see this as a positive card and I really cannot give anything else here at the current time. I need to let a little time pass by. Number 14 can be two weeks, two months, 14 months. It can also be split into 1 and 4. This can be timing, a route road or have some other significance. It gives to us the number 5. It makes me feel that two people will either find her or will offer some good advice as to where she is or its something to do with two people regarding finding her. Sometimes a church can come up here either in a road name or for some other reason even spirtually. We can sometimes see Keys or Quaysides in this card.

It can give us links to schools and organisations . Whatever the situation I do feel she will be found. As always I hope that Tarot is giving me the best of its advice personally but all I can do is offer what I have been given. Its possible with the Page reversed that she has been 'overlooked' or passed by and nobody sighted her. But she will be found. Strangely the Page can suggest being somewhere not far from her home but I may have that wrong. Nothing is guaranteed.

Empathy.



http://maps.google.com/
maps?q=Vancouver%2C+WA&hl=e
n&ll=45.577793%2C-122.5396
59&spn=0.013727%2C0.041499
&sll=37.0625%2C-95.677068&
sspn=31.839416%2C84.990234
&t=h&hnear=Vancouver%2C+Cl
ark%2C+Washington&z=15
Find local businesses, view maps and get driving directions in Google Maps