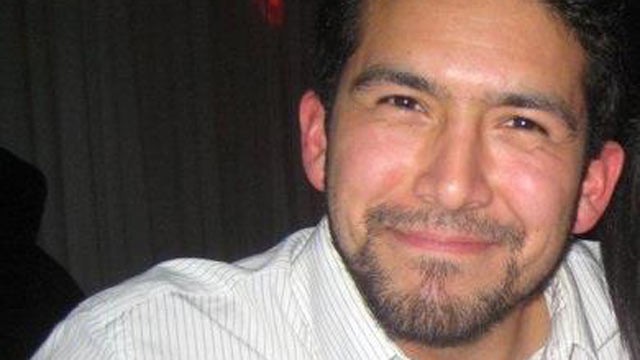 A new air-and-ground search was launched today for the 26-year-old hiker who disappeared in a Southern California desert on Sunday while camping with his family.

http://abcnews.go.com/US/hiker-26-missing-desert-f...

Guillermo Pino could have fallen into a mud cave or down a ravine in the "challenging" terrain of Anza-Borrego Desert State Park, according to the San Diego County Sheriff's Department. The park, which is the largest state park in California, covers some 600,000 acres and is filled with mud caves, steep dirt trails and ravines.




Please note that tarot will pick up
TRENDS /VIBRATIONS
of
PAST PRESENT AND FUTURE
- it will pick up anything that is 'out there' true news or false news - either way it can throw light on what is 'in the air' - please bear this in mind when you are reading the insights.

It is very important that 'readers' of the blog understand this, therefore one has to be very discerning when reading. Media news can put out stories that are not factual or are pre -mediated but Tarot can pick that up. It does,nt mean that tarot is wrong, it shows tarot can see what might be suggested. However when writing the tarot it may be taken as fact.

Tarot does not have all the answers or claim to solve issues. All it can do is show what it feels may be of USE or point out possibilities.

TAROT CANNOT BE CONSIDERED AS
100 PER CENT ACCURATE BY LAW.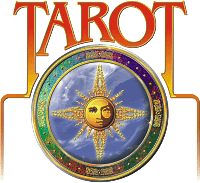 GUILLERMO PINO




1ST MAY 2012



I have been asked if I would look at the TAROT for Guillermo Pino. The only date I have for him being missing is 6th of April 2012. I am not sure if that is correct but I will look at the aspects around that time to see if something useful comes up.

Tarot can only show us glimpses or possibilities that will bring up information past present and future and might refer to other elements of his life but it might show us something that we can work with. Please go to other factual sources of information as Tarot is not considered to be 100 per cent accurate by law.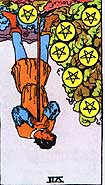 Firstly we are picking up on rural aspects with this pentacles card and I usually think of Farmers fields or that kind of land.

With this card I get a trapped feeling.

Suspicion can come up on this card so Im not sure whether to view Guillermos disappearance with that frame of mind or just to take notice of this direct link to fields. Usually

pentacles can affect our health

but they can throw up other problems with work and money which just might be an outside event but it is here.

In this stretch of cards we have thievery robbery and unpleasant situations of being thrown out or thrown over but there is no indication of this in the basic report. The fact that Guillermo was Camping might make sense from the rurality of these cards but there might be more to this. There may be some 'disturbed' earth here? Fingerprints and footprints should be tracked. I feel like someone has lost their possessions here or maybe someone tried to steal something?

There does seem to be some call for anxiety regarding money or possessions and also concern about ones health and safety here? As a rule this is a 7 card so the 7 might have some significance this is also a North card but it has other directions attached to it. So if he was North at the time or in a place with North then the other direction we are given is South East. Cattle and places like pastured land and fields do come up here and the impression is looking at the earth or low down. If any buildings come up I would see cellars or basements, or

underground places

or abandoned properties, single storey buildings, barns on their own.. I have not looked at a map or seen any other information other then what we have here but I will try to see where he was geographically.

These pentacles really can suggest losing your 'things'. If finance is concerned in any aspect of life here then it is basically showing us that either there is a loan unpaid or someone wants our money.

Im not quite sure what that has to do with going camping but it shows up so I write it.
The sevens are not great cards reversed they can throw up all sorts of things , deceit and subterfuge, doubtful situations, being attacked or

falling over heights,

hills in particular and being disorientated. I think this is giving us a general outline of possibilities and this does seem to come up in the report. Tarot is completely random and touches on various points already known.

Clearly from the Page of Pentacles, he cant be seen. The throat neck and shoulders can come up here and right on the 'outside possibility' so can a stalker or someone who could have followed him. That is not in the picture completely though and unless there is any reason for vengeance or someone around him to 'make him disappear' certainly fatigue, depression and stress are indicated and we need to see what the other cards have to say.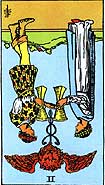 On this card I seem to have a TWO. This card is generally West but Im getting North here which seems to match the first card in part of its direction. When we see cups we are automatically being shown damp/wet places whether in nature or name and stone/fountains/waterfalls can come up as well as initials such as W or M.

There is a 'Bridge' or arch that could appear in either the first card or this one and may form part of the vicinity but there may also be water in some way because this card would show us 'oceans, seas, seasides brooks, springs any water body and also covers basements/

damp situation or underground

. But, it also can mention to us trends towards

isolation and separation

, emotional withdrawal, infatuation, or minor disputes, tiff between friends, and misunderstandings. Again how this comes into play I cannot be sure but on the surface of it is saying there appears to be discord in relationships and the

person breaks off from the rest.



This certainly really would not be what we have in reports and of course I cant say its a fact but just write it down. As we have the number 2 I would assume somehow this might be a number for a distance or for some other significance.

It may just be showing the seperation but we do have 'bells' here and some kind of water or river system? There may be a significant TREE or an island or it may be showing

being cut off .

I really have no idea what the place looks like where this man disappears or whether 'water' can be part of it but thats what I have right or wrong.

He may be trapped in reality or feeling trapped or contained.






The Tower is a 16 number which we can break down to

1 - 6

or add together to make 7 and we have already been given a 7 card.

This card can generally show a person has either had an accident or will be found by accident.

There does seem to be water nearby or a bridge or some

kind of concrete

. It is a tower so can be

a brick tube

such as a well. There might be some 'writing on the wall' or some kind of written or marked surface? OR this could be

a brick structure

or a structure that is falling down or 'ruins'.

I feel as though

there will be an unexpected breakthrough and with the Star card seen also its possible he could be found but it might just be 'coming across him by accident' or he is found out of the blue. So yes, I think he will be found.

This card can represent East but we also have to take into account North . What we may have to do is consider that one of these directions is where he set off from and the others as to where he can be found and its possible some news might be connected to a Tuesday whether past present or future. Looking at the fire on this card we can attach it to 'heat' somewhere hot but that might be country references as in a hot country but also 'desert'.

I will check back in if Guillermo is not found before the end of the month.

Empathy.



Body of hiker missing since Easter found at the bottom of a 60-foot hole

22:47, 6 May 2012 | UPDATED: 22:47, 6 May 2012
Search crews have found the body of a hiker, missing since Easter, in the bottom of a 60-foot-deep hole called the Hidden Cave in the wilderness outside San Diego California.

The grim discovery of Guillermo Pino Jr, 25, ends a month of frantic searching for the fit student at University of California-San Diego.
Mr Pino was hiking with his family through the rugged mud caves of Anza-Borrego Desert State Park on April 8 when he became separated from them.

Treacherous: Anza-Borrego Desert State Park, where Mr Pino was hiking with his family, is littered with mud caves like this one
At the time, he had didn't have shoes, water, food, a flashlight or a cell phone, KGTV in San Diego reported.

Authorities found a Mr Pino Saturday night when they lowered a camera 50 to 60 feet into a cavern and discovered human remains with the clothes Mr Pino was wearing when he disappeared.

Rugged: Searchers were hindered by the remoteness of the Anza-Borrego Desert State Park
Police don't know what happened to Mr Pino, whom friends call Memo, or how he got separated from his family during the hike through the rugged terrain.

On Saturday, his family posted on Facebook: 'We found Junior at 5pm yesterday, in the Hidden Cave. Search and rescue will be there at dawn. PLEASE CONTINUE TO PRAY FOR MEMO. SEND GOOD AND POSITIVE THOUGHTS TOWARD MEMO. ALWAYS HAVE HOPE. God Bless You.'
Condolences poured in from friends.

'I will never forget Guillermo's smile, always had it on! May he smile down from above with the angels and help all those hurting that he is gone,' Annie Gaas said.
FOOTNOTE:
I think the Tower card has tried to describe where Guillermo was the cards feeling he was trapped and contained. I did note that I had the date of his disappearance wrong and Im wondering if some of the other elements were 'in his life' being as I dated it from the 6th of April thinking that was when he disappeared. However, the police do not understand themselves yet why Guillermo got seperated, but it is being said that he wanted to go off and enjoy peace on his own.
He did not have anything with him though and I am not yet aware of how far this was from his camping site. It is a risk not to take anything with him if he was scouting around so I really think as an experienced hiker that was rather avante guarde to just wander off in the way thats being described to view the landscape without any shoes or supplies. However, Tarot is written and this is the news that has come in. Until there are any other details, we have to say goodbye to a young man with so much going for him. Its a horrible end and I cant help feeling really bad for him and those that love him.
Empathy.