If you have any information concerning this case, please contact:
Vermont State Police
Detective Sergeant Glynn
(802) 524-5993
OR
Crime Stoppers
(800) 427-8477
Please note that tarot will pick up
TRENDS /VIBRATIONS
of
PAST PRESENT AND FUTURE
- it will pick up anything that is 'out there' true news or false news - either way it can throw light on what is 'in the air' - please bear this in mind when you are reading the insights.

It is very important that 'readers' of the blog understand this, therefore one has to be very discerning when reading. Media news can put out stories that are not factual or are pre -mediated but Tarot can pick that up. It does,nt mean that tarot is wrong, it shows tarot can see what might be suggested. However when writing the tarot it may be taken as fact.
TAROT
CANNOT
BE CONSIDERED AS
100 PER CENT ACCURATE BY LAW.
BRIANNA MAITLAND
30 March 2012
When I pulled out the card 8 of cups I was asking about the time of disappearance which is deemed to be between 11.30 and 12 midnight and being an upright card I could not see anything particularly wrong even checking aspects around it. I could see that she may have been asked to go somewhere by friends as that would have reflected earlier in this cup journey but the fact Brianna may have refused is also possible as this can also be seen.

In this card we have water and Brianna was working at a washing up position and then thinking of going home and all that would make perfect sense with this card but not telling us anything in particular except that there might have been somebody who was quite enamoured of her and and invitation to go to a lake or even trip on a boat, but more then anything - to go somewhere is the main thing . That person would have been around 32 and fair haired. It might be a car/motorbike in the picture.

But it somehow made me doubt that I was seeing actual events and whether or not I was just picking up on the situation already known. I thought I would just adjust the time and go forward a day to pick up events in the next 24 hours and to my surprise this same card appears to have surfaced. I do think we should stick with it then!!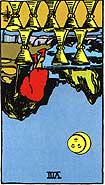 Obviously this card IS key and I was right to receive it in the first place. Now it is suggesting that somebody has come along here but first I just want to say that this girl to me is projecting loneliness. She might herself have lost interest in a few things in her life it is an emotional card. I feel like she wanted to go home but for some reason someone she trusted has let her down.

In this card there are either pending problems at home or in her lovelife and not feeling there is a way to resolve them. When I say 'home' I am not sure exactly what home tarot is telling me about, whether its where she actually lived at the time or family home, but you know, she just seemed to have problems with being in both places and Im not sure quite why unless she just felt disatisfied with choices she had made.


I think that she was offered a lift that was my first instinct or that she received an unexpected invitation to get a lift but that would have been from someone she knows if I had to go by the first card. But as you can see when this has come reversed it is telling us that this was not a good idea because this person who she may have known (not sure how well) is the last person she need to give her a lift as this person is cunning and very unreliable in temperament. They might come over all nice, but they are not nice at all.

Everything goes out of the window from there because even looking at the rest of the cards on this row we have deceit lies, cunningness, even possible violent tendencies and this person came over as a father figure someone who would give her advice or she could normally feel she could speak to. But I see a difficulty on that person because on the one hand I felt she might know them and on the second hand it did not feel like a relationship it was like an estrangement so maybe someone she did not see a lot but knew?.

The initial direction I have is WEST but that could alter being reversed so I will put location ideas and tag them on the end to try to get the directions a little more clearly.
I also think she wanted to resign from her job I dont know which job but thats what I have.

I feel that when this 8 of cups is reversed it is not a good time to move home or travel and I do think that another person or perhaps more then one even has prevented her movements. I think this has come in the form of the Knight who has appeared and created a problem. She may have been asked to take a lift but she should have checked with a third party that this was kosher. A married man might come into the picture as might Church names and perhaps unhealthy associations.

On the surface of it thats what seems to come through. I cannot guarantee it but thats what it seems. I hope she did not change her mind and decide go out with friends via a straggler and was duped. There seems to be a temptation there to do this maybe to catch up with them. I just feel that if this situation came up it would have been a bad choice to make. However, there is such dissatisfaction in the cards about everything that I feel from her and she may have even thought about changing things in her life but was at a kind of standpoint. These may be thoughts and feelings just filtering in.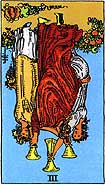 When I ask about where Brianna might be ( I have not looked at a map) this card again shows West but it is reversed and I will clarify better with a tag on for location thoughts.

This card represents friends or people she knows but at the same time it also is linking to feelings in the other cards as this card represents people OR someone who she might consider a friend that she had fallen out with. So is it showing us that there is a person in the above cards that is responsible for where she is now? this could be the case. In this card we are near somewhere that has a TREE or a Tree name and there is the feeling of an 'island' so being alone comes up here or might represent a place name. There may be an M or W name here too and possibly a few miles from home. The number on this card is 3 so we must take that into account.

This card can signify excess partying so that is why I feel she could be connected to people she knows or knew. I also see there might be an accidental pregnancy here as an offside remark.
I wonder if she was pregnant whether she would have wished to not have a child. It seems to me also that there is a container here but that could be information being contained and people not speaking out.

Whatever the situation, I feel she is linked to a group of friends in some way or something to do with them as in the first card. There is a lot of water in this card so you would need to consider places near water or by water either actual or in a name. It may even be near a drinking place? or place where there is liquid. Drugs and drink can come up in the first cards as a possible environmental factor but Tarot cannot name a place which is very difficult to ascertain only descriptions.

There may be a big river nearby and a bridge or small building by it. It seems to be somewhere that she is familiar with and takes her back to the past but instead she is there at the current time? A familiar vicinity then? Other numbers to consider are 3/43 and 7. Gardens could come up here.
I feel as though there is some kind of domestic issues, arguments particularly here. Clearly there is an isolation from others in this card and again makes me feel she is abandoned or on her own somewhere. I might be wrong but thats what I feel Im being told.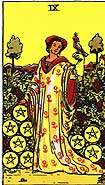 Asking when Brianna might be found, it suggests she could be found within a 9 if she is not found already. So if it was not 2009 then I assume that its possible within 9 years from the time she went missing ? I see her in this card alone but in a garden. There is a falcon that is hooded in this card.

The picture seems completely rural in so much that perhaps there are garden elements here. There is a house in this picture and it is described as a manor house so perhaps the word 'manor' might have some bearing. The card is generally North but will have to check those aspects. This card also can show us somewhere not far from the word college or school, so could be actual names or places in the vicinity. It is also a business/work card so it could be not far from a business or in the grounds of a working environment, pastures or fields around and about.

This card seems to say there is good luck in finding her in these descriptions. Small animals or dogs appear to come up here though Im not sure why and a very old building which is sometimes even thought of as a home that is linked to a person or a vicinity of that nature.

Obviously, we cannot know that for sure as Tarot is not considered 100 per cent accurate but I hope that is the case and I will tag on below locational environments which I hope will help.
Meanwhile I hope this will help in some way however small.

Empathy.
POSSIBILITIES OF LOCATION/MOVEMENTS/CONNECTING ENVIRONMENTAL FACTORS/ASSOCIATED PLACES - (BUT NOT GUARANTEED)

Fishponds, rivers, springs, watermills, water pumps, wells, marshy or watery ground, moats, springs, the ocean,sea, rivers - brooks, springs, wells, wash-houses, sea shores, marshy land, and all places near to water inside or around the house and places near ponds or waters . Hermitages, monasteries holy places such as Churches or places of seclusion or retreat.
In houses it represents cellars, cisterns, bathrooms and places near water.

Farms, farming equipment, wood stores and places where farm animals roam. Fallow or bare land, barren fields, land that is bushy and thorny, dunghills, compost heaps or soil prepared with manure. Locations that are low down, near or on the ground. Low dark places. Could signify boatyards.

Places that divide or contain rooms and territory; such as walls, garden fences, gateposts and international borders. Mausoleums, church yards and ruins. Inside the house it is a low dark corner, on or near the floor, doors, closed in or confined spaces, and can signify waste disposal.

Directional values - North-west / North / South


UPDATED WITH MAP 11TH AUGUST 2012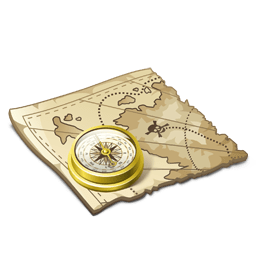 Dee has compiled a map which OUTLINES all the areas that Tarot may be touching on or may be describing. Please bear in mind that this is not guaranteed and Tarot can mean somewhere else entirely.

CLICK LINK FOR TAROT MAP
(Hit the Grey word that says MAPS)
Show on Google Maps
UPDATED MARCH 14TH 2013
Dee offers another Map Possibility

with reference to the Tarot I have written

.
A mention to

Burton Island, St. Albans Town, VT and the following:
.
SHOW ON MAP
UPDATED 5TH AUGUST 2014
Various news reports.