A 3-year-old Arizona girl and is missing and police are believe her father is to blame, MyFoxPhoenix.com reports.

Ava Enlow, and her father Brend Anderson have not been heard from in a week.

Ava's mother told police that Ava was with Anderson for five days before vanishing. She also reportedly didn't notice anything unusual until it was time to pick up her daughter last Wednesday, MyFoxPhoenix.com reports.

When Ava's mother went to Anderson's home to pick her up, she learned that he no longer lived there.

According to police, the house has been foreclosed on and Anderson has recently lost his job.

Police told MyFoxPhoenix.com that they are not sure if Anderson would harm Ava, and neighbors said he was moving out of his some the same day Ava was dropped off with him.

Ava turns 4 in April and is about 3 feet tall, with blond hair and blue eyes, her family says.

Anderson is 31. He's about 5 foot 10 inches tall and weighs 235 pounds. He has blond hair and blue eyes.

Anderson drives a 2002 dark blue Chevrolet Silverado.

Ava and Anderson were last seen in Anthem, but Phoenix police have taken on the case.

Read more: http://www.foxnews.com/us/2012/02/25/pol....#ixzz1pNGc Vk5w




Please note that tarot will pick up
TRENDS /VIBRATIONS
of
PAST PRESENT AND FUTURE
- it will pick up anything that is 'out there' true news or false news - either way it can throw light on what is 'in the air' - please bear this in mind when you are reading the insights.

It is very important that 'readers' of the blog understand this, therefore one has to be very discerning when reading. Media news can put out stories that are not factual or are pre -mediated but Tarot can pick that up. It does,nt mean that tarot is wrong, it shows tarot can see what might be suggested. However when writing the tarot it may be taken as fact.

TAROT CANNOT BE CONSIDERED AS
100 PER CENT ACCURATE BY LAW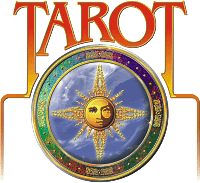 AVA ENLOW
17TH MARCH 2012

I have been asked to look at tarot for this little girl who is missing since 17 February 2012. Apparently the date has also been said to be the 18th and the 22nd which is difficult to decide which date to focus on. There is a lot of news about this little girl on the internet but the same applies to every case unless I get to hear of it the day they go missing for a priority reading. I think there is plenty of news out there but I will just show what Tarot has given to me. Tarot is past present and future which will show glimpses of POSSIBILITIES. Tarot cannot give every single detail but I turn the cards and hope something will stick .

Tarot is not considered 100 per cent accurate by Law and for that reason please go to factual sources. Please note that if a family wishes this Tarot to be removed or objects to it being posted it will be censored to suit the family request.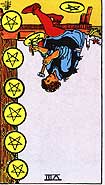 This first card is linking to a lack of finance and work. It is already stated in reports that this is a problem with the father. However, this is the card I have received. This card is primarily a North card but may be North West being as it is reversed. Clearly this card would normally show someone who works outside of town or who is on the outside of town but reversed shows us that same person in the town. Number 8 is on this card and does not change its value when reversed.


The situation here may describe someone who loses not only their work but their home and leaves them in poor financial straights. They might even lose money or be a victim of roguery but the overall picture is seemingly of loss of welfare and security. Sadly in these cards is a person that is not really the type to want to work. Im not directing that at anyone but King of Pentacles can show somebody who would normally be upright and a good person who is dutiful and responsible but there seems to be an overall neglect of duty here. It may just be referring to lack of work rather then not wanting to work but unfortunately this card the King that links in could be a bit harsh.
If the father looked for a job it does seem to say that there are no trials or apprenticeships or promotions here so looking at these cards I would say that this being around Ava makes for insecurity all round. Health could come into question also .

I wonder if there is a specific working building/business that could be linked here for both child and father or just the child. Someone really needs to make some quick money so some things might even have to be sold?

This is normally a very earthy and rural card and I always see landscape within it but we are somewhere either in a town or just on the outside here

but there could possibly be college/school names here.

Even military areas could come up but its not necessarily always the case. There are sometimes 'musical' connections to this card so if that makes sense to someone I will leave it here just in case.


There may be a burglary or breaking in somewhere

but I am not sure how that works out I have not read the details of this case just what is on the link above first few lines.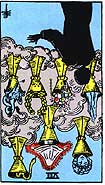 Location can always prove a problem for Tarot and only descriptions are really available rather then place names. However, looking at this card its showing

me a place with water

or water name and Im feeling some lack of choice in the matter which is obvious considering she is so young. Children dont get choices at that age. The past seems to come into the future and when I think of the 9 of pentacles house and garden and look at the six before this seven I am getting a

vanishing act

but also still seeing the home town in some way.

This card is generally

West

but it is reversed it might be South West or South or West in a name or route. Number 7 here not the favourite number when its reversed it can throw up all sorts of intrigues and misconceptions as well as deceit and dishonour. Nothing about the reversed cups makes me feel good. Too much water in them for a start and I am always torn between whether it is a strong feature or true element or whether it is an emotional overload that makes people do suicidal things without thinking.


This card can show somewhere near a bridge but it can also show an unforgiving nature that someone might have. Tarot does its own thing and wants to say its own piece so I cannot make it stick to location only. I have to say that there is water here that could represent drinking/drugs or poisionous liquid. It may not be the case I do stress this but I have to offer the options that I am given here. There may be a bridge next to a large river/body of water not so far away from where this child could be at the current time.

The home life is clearly upside down and there is a big dilemma here about not being able to be at home but not having anywhere to really go so in itself it might still reflect the past but it could

also encompass the future showing us a home

with a garden of this childs childhood. So there just seems to be some kind of link there.
There is sometimes 'pottery' or 'pots' in the six and I do hope there are no drugs involved here.

This card is also linked via the six to

the Sun which is the family and travel

-

one would imagine that we have to think of it as perhaps the father with the child in that case.

However, there is also the possibility of basements or areas with walls and gardens and a lot of Yellow is in this card. Now this is not the seven of cups but it is right next door to it and we might have to take it into account. There is a part of me that keeps wondering just how far away from where Ava lived that she is now because this six is a card of the past - and the past reflects the future so it might be her own home town vicinity.

Closer to home then thought?

but whose home?

I might be wrong but I have to say what I think and prepare myself that it will be useful or I have it off key.

I am thinking more of a West direction. I am also seeing some form of container. That might be just something like a chairseat or carseat but it can be other forms of container too. This might not be an object it could be that she is just contained or kept in a certain place?

I feel that she might not be far. There seems to be a lot delusion with love and relationships here, broken relationships figure very strongly. Marriage possibly broken or breaking up and a lot of upsets bad words, perhaps even slanderous gossip. Seems to me October might have kicked things off as that is a possibility maybe around Halloween. Im not sure if I am looking at basements of buildings or not or areas with water but both seem to come up.

I dont like the Knight of cups reversed because it has a streak of someone who gives up on everything. I hope that is not going to be the case or we could be looking at a sad scenario. Someone just needs to say sorry here but there is an insensitive queen - drink/drugs and a man who wishes very much to do the right thing but everything has got out of hand. He tends to smother his children with everything he can but he can be someone who hides his feelings of anger and it comes out in other ways.


Difficult cards as it could go one way or the other. Perhaps there was a plan that someone wanted to carry out and theres a few complications to that. Im feeling that theres more to the story. I think I will have to offer West or South West here. Numbers on location which could route numbers or for any other reason dates etc. 7 , 11 and 47. They could be reversed ie 74 or added together which would give 11 again.

The fact that Neptune is linked to this card showing many deceptions may mean that there is more to learn about the facts. Also we have venus which is love so there appears to be deception in a relationship here. It seems to me that water/boats and lake can come up here but I feel that perhaps they are in the vicinity.

Sometimes also horse type names can come up. I will try to look at a map. I cannot guarantee the name of a location but kitchens/drains/parties/drinking/drugs/medication/containers, water and more water show on cups cards. I would hope that nothing negative occurs here and of course am not able to place

whether the insights are past or present or for the future.

I can only write them and they need to unravel.

An

M

or W may come up

perhaps that is a place name /initial of something

and waterfalls, pools.swimming pools ,water. Again this may be describing damp places or just the name of a place that reflects water.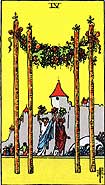 This is a card that is telling us this child will be found. This card can be her home or that she is near somewhere that is called home

. It can also be a hotel. This card appears to have gates in it and reflects

a celebratory thumbs up.

So I do feel she will be found and it could be not far from somewhere there is water as seen on the card previously.

Wands are weeks and this is a four and one would have thought four weeks as it represents a homecoming and reunion.



So I hope that this is correct

and no harm is done,

but, there are situations here in the cups cards that do worry me a bit as do the pentacles. I do not discuss really the details of a little childs health as I write for the positive and

all I can say for sure is that this girl will be found

.

I would add that South is strongest in this card too which might

indicate South as in a direction or a name and note the 4 w

hich is the Emperor and the father.

So maybe they will be found together?
The link to the 4 and Emperor can also link to a vehicle so I dont know if this is found yet? or if it was also missing.

I think it will be found if it was as the colour Blue does link with this cup card.
This is the home/settlement so I really want to see some good news that this child will be found. I cannot comment any further then that.

If this little girl is not found by April or the end of April I will certainly look again I have an indication of April 20th as a final date but I know Tarot can go offcourse with timing so that is why I will come back and look. There have been conflicts here and it just depends on what the emotional element does, whether it begins to rationalise events and put things right or whether in fact it goes opposite. I do feel someone needed someone to talk to in dire conditions and worries.
Therefore, lets hope it will resolve in a positive manner,

whatever happens I do see this child being found. I hope that it just boils down to finding another home.



Empathy.
I want to add an afterthought about the flowers in the six of cups. Flowers may be symbolic but could also be in a name or an action. So I want to mention this. A place with flowers?



UPDATE: March 31, 2012
Well this is WONDERFUL NEWS! I am not aware of all the details yet but I will be able to look at Tarot pointers more when it comes in. I kept seeing a new home for this girl but I was not sure where it was!! I cant get everything spot on, but I feel that Tarot has hit some hot spots. I will come back to verify and bold red any matching points once we know the situation. It looks like this little girl was with her father. Great news though to have her safe I feel like rejoicing!! I have just added a few news reports and it seems that the door was kicked in (might be my mention of breaking in) and it was Brents wife's Grandmothers house, so that explains the feeling of home or the connection there. I was pretty confused about that but now it makes sense. I will post the updates as they come in.
Empathy
AVA FOUND SAFE IN MEXICO.
Ava has been located safe in Mexico. Her father has been arrested
Ava has been found! more information will be released as it comes in. Ava Enlow to be reunited with her mother soon in Phoenix. Baby Ava was rescued from a home in a small town outside of Mazatlan, Mexico and whisked away by social workers.........more information to be released as it comes in.
http://www.myfoxphoenix.com//dpp/new...exico-03312012
Missing 3-Year-Old Girl Found in Mexico
Police detectives, deputy U.S. marshals and Mexican authorities were able to track him to a small town outside
M
azatlan.
Holmes says t
he little girl was found in a home
late Friday and placed with social workers. Anderson was arrested on a U.S. warrant Saturday.
Both are expected to be returned to Phoenix next week. Anderson doesn't yet have a lawyer.
http://bringavahome.com/Brent_Anderson.html
! Brent Anderson was Arrested and taken into custody by the Mexican Authorities on March 31, 2012. After Authorities kicked in the door of the house that Brent was staying at and grabbed Ava Enlow and turned her over to social workers. Brent and Roxanne were staying at
Roxanne's grand parents house in a small town outside Mazatlan, Mexico
MAZATLAN IS ON THE MAP BELOW - SPOT THE RED DOT AND RIGHT BY WATER!! AND WEST OF MEXICO.