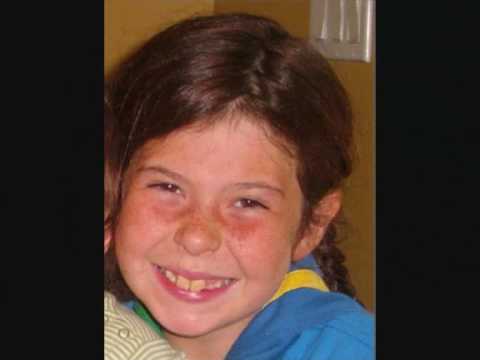 http://www.helpfindmychild.net/cedrika-provencher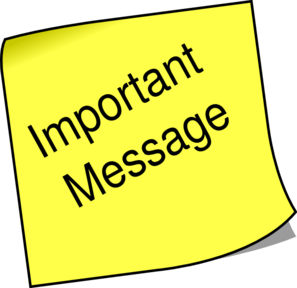 Please note that tarot will pick up

TRENDS /VIBRATIONS

of

PAST PRESENT AND FUTURE

- it will pick up anything that is 'out there' true news or false news - either way it can throw light on what is 'in the air' - please bear this in mind when you are reading the insights.

It is very important that 'readers' of the blog understand this, therefore one has to be very discerning when reading. Media news can put out stories that are not factual or are pre -mediated but Tarot can pick that up. It does,nt mean that tarot is wrong, it shows tarot can see what might be suggested. However when writing the tarot it may be taken as fact.

TAROT CANNOT BE CONSIDERED AS

100 PER CENT ACCURATE.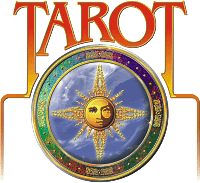 CEDRIKA PROVENCHER
« Thread Started on Nov 4, 2010, 5:06am »
I have been asked whether I have done a reading for this little girl. I have to say I have not come across this case before. There are so many missing children that I dont get to hear about all of them hence the reason why I have a request link for people to alert their case.

Here is a brief synopsis of Cedrika from the tarot. Tarot is not 100 per cent accurate so please always consult a second opinion.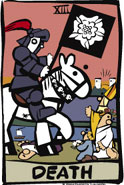 I asked what happened to Cedrika on 31 July 2007 when she went missing and I have been given the card above.

Yes, it does look a nasty card and I am sorry that this one was the first out, but what it tells us is that on that day Cedrikas life was completely and utterly transformed without any mercy. Therefore she would have had absolutely no choice in what happened to her that day as it would have been highly traumatic and unexpected.


This card really can be an 'elimination' of someone but it can also represent a swift and shocking change of life almost in the blink of an eye. The card previous to is is The hanged man which has a lot of spiritual elements on it is often linked to Neptune so there is water in this card and can suggest that this little girl came into contact with water and the card seems to suggest that this child accepts her destiny and the complete and sudden change that happened in her life. The following card is Temperence we also have land and water with that card also and again the watery element is present.

I note that Justice is leading up to these events and it seems to me that someone was 'righting a wrong' in respect to this girl. When we get a sudden change of life - someone can pluck us out of where we are and put us in a new life that is as good an explaination for the death card - it has that transformation process on it that we cannot argue with. Justice seems to me that someone is balancing some Karma here - though what right they have to do that I am not sure but they took it on themselves to balance Karma by the disappearance of this child.

I definately cannot promise at this stage of Tarot what the health is of this child now. At first glance it did,nt look wonderful but you never know.

The Death card also has water connected to it so we have three cards with that element in them. We also have some kind of transport or metal yard or some kind of area maybe like a quarry or unused ground/tip. This may not be a particular point but it does and can show with this card. We also have to bear in mind that 'new beginnings' can be here but only once the person had been through a state of trauma.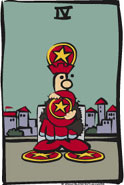 The location of this child is outside of a town or city. This is a very earthy card. I see her NORTH at the current time possibly North of her own city/town. Theres also possibility of a Cathedral in this card either actual or in place name. This card also has elemental directions suggesting 'JUPITER' in the South. So North and South may be directions rather than East or West?


I also seem to have 'working for the family' so that may not suggest she has died and the water elements might be the emotional elements that have occurred for her. Bear in mind that the Death card has scorpio on it so the mystery of this child could be full of emotional secrets. Scorpio is not a great planet and even as an insect they do hide away and will sting you quite quickly and that is how I see the disappearance of this girl.

In the Death card you can see a priest or a bishop - and next to the four of Pentacles you will see the next card is the five of pentacles which shows people who are 'locked out of the church' therefore they are wandering around with no where to go and seem cold hungry and injured. I dont know if there was religious problem or whether this girl found herself out on the streets or put in a situation where she was bedraggled it certainly shows a great deal of hardship. The card previous to four of pentacles shows two people and a child who are teaching her how to make money.

Pentacles are earth cards as well as finance cards and they are usually about PHYSICALITY - so I would chance to say its possible that the little girl is alive and 'working' with a couple of other people.

Bear in mind tarot is past present and future so it is not predicting what will happen here but the events are over the time pods I have given.

As the four of pentacles shows someone 'standing on the money' I can only feel that she is linked to a place there is finance or a name that sounds like that - I always think of the word BANK when I get this card. Earth and Bank go together too so one has to be very careful to understand that.

Generally FOURS in tarot are 'rest and peace' so this tarot is not overly optimistic but there is always hope in every case until a child is found.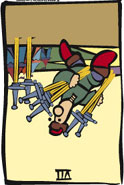 I have asked when this girl will be found - and this card actually suggests that she will be 'returned'. She is the stolen Item that is being brought back and there seems to be an apology in this card? Thats very strange but thats what it gives.

7 months or under is on this card I never hang onto the timings of tarot as sometimes they are absolutely perfectly accurate and other times they are not. Therefore I cant promise anything here. The optimistic side to this card is that it would only make sense that she was alive if she was to be 'returned'??

It would also make sense that the person in the six of swords previously would be afraid they were in trouble maybe thats why she has never been found so far?

I hope she has,nt been returned already and nobody has said anything. My apologies for suggesting that but Im covering tarots information here and its all possible but the six of swords is danger in water or through water which we have already seen. Perhaps someone is not telling the truth that actually does know and is afraid to say what happened. Theres a little bit of cowardice on that card to suggest she was found - whatever condition she was in and its been kept quiet. I think this girl was in danger of drowning. The seven of swords talks about a plan that failed too - there might have been some gossip in this case that has been ignored .

Thats all I have for the current time but will have another look after some time has elapsed.

Empathy