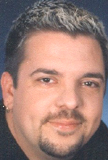 Nickname: Ahrens, Benjy, Benj
Date of Birth: 1969-10-20
Date Missing: 2004-12-04
From City/State: Boise, ID
Missing From (Country): USA
Age at Time of Disappearance: 35
Gender: Male
Race: White
Height: 72 inches
Weight: 220 pounds
Hair Color: Brown
Eye Color: Brown
Complexion: Medium

Identifying Characteristics: Pierced ears, mole by right eye, mole above mustache on right side of face, mole on right temple, previously fractured right forearm, previously fractured foot, tonsils removed.

Clothing: Gray silky shirt, jeans, tan leather jacket.

Jewelry: "Mobado" watch worn on right wrist, possibly wearing a small hoop in each ear.

Circumstances of Disappearance: Unknown. Ahren was last seen at approximately 7:00pm at the McDonald's at Coal and Overland Rd. in Boise, ID. This was Ahren's scheduled drop off location for his son to meet up with his mother. The following day, Ahren failed to call to arrange a pick up time which was very unlike him. His vehicle was located the same day he went missing at his residence nearby.

Investigative Agency: Boise Police Department
Phone: 208-373-5406
Investigative Case #: DR 440-526

Charley Project Info:

Barnard was last seen in Boise, Idaho on December 4, 2004. He dropped his son off at 7:00 p.m. He was planning to see the child again the next morning, but never arrived, which is uncharacteristic of him. Barnard's last cellular phone call was at 7:15 p.m. on the day of his disappearance. His car was later found parked in his driveway. He has never been heard from again. He may be driving a green Land Rover sport utility vehicle (SUV) with temporary Idaho license plates.

Barnard is a gun dealer and may frequent gun shows. He also has worked as a disc jockey in strip clubs and has been known to carry weapons. He had an outstanding warrant for his arrest for battery in Ada County, Idaho at the time of his disappearance, but police are not sure whether his disappearance has anything to do with it.

Prior to his disappearance, Barnard was fighting for custody of his son and had a falling out with his business partner. There is no evidence of foul play in his case, but due to his lifestyle, his disappearance is considered suspicious. Barnard's family stated he is a dedicated father who would not have willingly abandoned his children. He also left behind his dog and cat without making arrangements for their welfare, which his loved ones stated is uncharacteristic of him. His case remains unsolved.

Please note that tarot will pick up

TRENDS /VIBRATIONS

of

PAST PRESENT AND FUTURE

- it will pick up anything that is 'out there' true news or false news - either way it can throw light on what is 'in the air' - please bear this in mind when you are reading the insights.

It is very important that 'readers' of the blog understand this, therefore one has to be very discerning when reading. Media news can put out stories that are not factual or are pre -mediated but Tarot can pick that up. It does,nt mean that tarot is wrong, it shows tarot can see what might be suggested. However when writing the tarot it may be taken as fact.

Tarot does not have all the answers or claim to solve issues. All it can do is show what it feels may be of USE or point out possibilities.

Please always read the following
ABOUT TAROT ON THIS SITE

which is a useful article in respect of all the Tarot printed for Missing people/children.

TAROT CANNOT BE CONSIDERED AS

100 PER CENT ACCURATE BY LAW.
AHRENS BENJY BENJ
« Thread Started 21 JANUARY 2012 at 12:10am »

I have highlighted the disappearance of AHREN (BENJI) BARNARD on the Forum and Blogger in order for anyone who can help to add their information. Meanwhile I have written the following Tarot report. Tarot does not have all answers in cases of Missing Persons but can give glimpses of the situation past present and future and sometimes provide very helpful information.
Please always seek out factual information.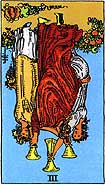 My first card for Ahren is the three of cups and as I looked at it I wondered if this was the right card to have been given. It seems to me that this card is discord between three people. I just feel a sense of rejection here and because of that it seems on the surface that perhaps Ahren decided to take off somewhere. On the Ace Im seeing that there was a meeting or some kind of appointment to go to or some kind of 'invitation' to do something but it is reversed and it rather cancels that out and /or puts a damper on it or delays it. Basically it just did not happen.

He did not meet up with someone from that initial invitation and I get the feeling of a sense of gossip and upset in the three of cups which has led to rejection for him.
I have to be honest and say that when cups are reversed like this, it can show a deep sense of emotional sadness for the person or perhaps even for a situation. It can show relationships and loves going sour or show that as a background to the issue. So my feeling is rejection for Ahren here.


When I move along with the feelings of these cups they can get very depressive and they can drive a person to drink or drugs or even to the point of despair where they dont care what happens to them anymore . Maybe life has not come up to expectation, maybe something has triggered things off for them. This card is normally a WEST card so that should have shown Ahren going West but it is reversed and though I dislike reversed cards and really hate the confusion they can install with directions they are necessary to get to the impact of the problem.

This could suggest that Ahren might have gone East or West in that case. There may be an M or W here and also a water element which brings me to wonder whether Ahren wanted to drown his sorrows?

I think with the King reversed he might have been a family man who did not get enough time with his children and when he did perhaps he just spoilt them. Maybe the problems with the family home became too much. Its a case of cant live with them, cant live without them?

Maybe there were issues 'before october' that led to this problem and why he disappeared.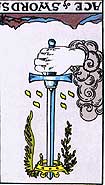 When I ask Tarot where Ahren might be now this card seems to tell me that maybe it is better to have no clarity of this as perhaps it could lead to difficult complications. It seems that there may have been some kind of stand off or argument with someone that was pretty much strong, maybe that got sorted out, but then I get the suggestion that Ahren is only 'mislaid for a time'.

Thet does not indicate to me that he is gone forever or that he will not be found. I dont even know if he has been found or what the updates are. If he is found obviously I will dismiss this reading and take it down.
As for the direction of where Ahrens might be, I think I am probably looking more to the South East.

I would have said North East but my card is reversed and I have to consider that. I feel as though there is a verbal violent outburst and that can lead to difficult consequences.
I do see a 'crown' in the cards I also see somewhere away from a river with islands in the background of it.

There appears to be a church name or a sacred place attached here. The first card can also show being somewhere near a bridge and a building but Im feeling the word Island quite strong and not sure how that would come out in a location.

Overall water does appear to be in both cards so a place with or near a water name or by water itself perhaps. I am not sure if Ahren had an accident or something happened to him by accident.

The Ace does/can tell of respiration problems so I have to think about that too and hope it is not an actuality. Sometimes airports/travel can be prevalent in the location card that is a sword.
It really feels that either Ahren or some other person has covered up where he is.

Was there a note left? I am given the word SPRING as a clue of location I feel that there was a lot of interference in his life and I feel he may have had a stalker or rival that spied on him. Perhaps even the word HILL might be useful in a vicinity. I feel as though the situation has to 'thaw'. I also feel that there could be some kind of accident and I see the word JEWEL.

It just feels like evidence is removed as though he were already found or that he cant be found because of false statements about him at the time? I really feel like there is something wrong with the timing of everything and I also get the feeling that asking location should be abandoned.

I am seeing a woman here who is cold hearted to say the least and seems to be a very jealous kind of person. I feel all details are not revealed at all and that a lot has not come out.
I also sense a 'deliberate lie'.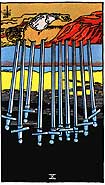 Im not sure I have a year date but I do think this card could mean that Ahren will be found in an OCTOBER month or before an OCTOBER month. Again this is an East Card reversed which makes me wonder if East was correct but whether it is South East. I think if a third person speaks Ahren could be found. Again Im seeing him linked to water, maybe also Rock or stones. That could be in a name of a place or actual.

I feel as though he was 'robbed of things' in a way and Im not sure why I feel that I also link him to vehicles, ,quarrys or places where they may be. But overall the idea is to try to find out when he will be found and I still get that sensation that information is withheld on that but it could be linked to a 10.

When I look at the overall information here - I am getting the spiritual sense of churches, schools, or some kind of spiritual organisation or linked to charitable concerns or religious connections. I see three people and a set of keys - two keys in particular which could mean they are the key to where he is or that he had the KEY to somewhere.

This is a very brief overview for Ahren and as always Tarot cannot be considered 100 per cent accurate. One can only try to dicipher the messages that tarot gives and it can be haphazard telling us past present and future in one hit. That can be rather cumbersome to readers, but in there somewhere will be something helpful I hope . I feel that there is a very strong link to family here and I seem to feel as though two roads are leading into one. A lot of courage is needed in this case.

Empathy.
UPDATED 4TH AUGUST 2014
Nothing else to report for Ahrens at the moment but heres a report below.
http://www.idahostat...appearance.html
Six years after Boise man's disappearance, police say foul play may be involved