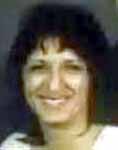 Shelly Renee Markley
Missing since December 15, 1995 from Bristolville, Farmington Township, Trumbull County, Ohio
Classification: Missing

Vital Statistics

Date Of Birth: about 1964
Age at Time of Disappearance: 31 years old
Distinguishing Characteristics: White female. Brown hair; blue eyes. She smoked Marlboro cigarettes at the time of her disappearance.
Height and Weight at Time of Disappearance: 5'4"; 125 lbs.
Marks, Scars: Scar on right forearm, freckles. Pierced ears.
Jewelry: Stud earings, round gold ring with two diamonds.
Dentals: Available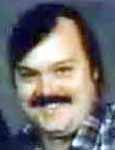 John J. Markley
Missing since December 15, 1995 from Bristolville, Farmington Township, Trumbull County, Ohio
Classification: Missing

Vital Statistics

Date Of Birth: 1959
Age at Time of Disappearance: 36 years old
Height and Weight at Time of Disappearance: 70"; 150-170 lbs.
Distinguishing Characteristics: White male. Brown hair; green eyes.
Marks, Scars: Scar on right forearm, scar on back, mole on back.
Items: Pocket knife, black Peterbilt knife case, cigarette lighter.
Medical: He was on disability for a back injury at the time of his disappearance.
Dentals: Available

http://www.doenetwork.org/cases/2270dmoh.html

Circumstances of Disappearance

Shelly Markley was last seen with her husband John Markley at their home in Farmington Township, Ohio on December 15, 1995.
The couple's children went to school that morning, but when they returned home that afternoon, the house was unlocked but the parents weren't there. There was no note explaining the Markleys' absence.

The Chevrolet pickup was gone. The gun cabinet that was upstairs in the master bedroom that was never unlocked, was found opened. A small safe in the master bathroom also was open. Birth certificates and other papers were strewn about. The beds were unmade; in the kitchen, the coffee pot was still cooking and had nearly boiled dry. Shelly left her pack of Marlboro cigarettes on the kitchen counter. She was a pack-a-day smoker at the time of her disappearance. In the attached garage, the kids noticed that the protective tarps covering their dad's prized 1978 Corvette were missing. John Markley never left the car exposed.

John Markley's pickup truck was later found locked in the parking lot of a store about 10 miles from the Markley home in the village of Bristolville. No one could recall how long the truck had been there. The doors were locked and the keys were missing. Inside the cab, on the console, was the couple's cellular telephone. In the bed were the two tarps that John Markley used to cover his Corvette. On top of the tarps was a tire for a semi. Nothing else of use was found in the truck.

John Markley was an independent trucker with no criminal record and no life insurance at the time of his disappearance. Shelly was a stay-at-home mom who was dedicated to her children. They had been married sixteen years, left a house that was paid for, and a freezer full of food for the winter.

The next week, detectives from the sheriff's office examined the couple's checking account. The last transaction was on Friday, December 15, at 10:36, two hours after Shelly Markley had put her son on the bus. A personal check, made out to cash and signed by Shelly Markley, was cashed for $1,000.

The woman working the drive-through window that morning knew the couple and recalled them pulling up in their pickup. John Markley was driving. His wife signed the check on the dashboard. The teller remembered Shelly was seated between her husband and another man, a stranger whom the teller was unable to describe.
A man who had worked with John Markley said he was holding the couple for $10,000 ransom. But, investigators have not found anything that would lead them to believe he had any involvement in the Markeley's being missing.







Please note that tarot will pick up TRENDS /VIBRATIONS of PAST PRESENT AND FUTURE - it will pick up anything that is 'out there'true news or false news - either way it can throw light on what is 'in the air' - please bear this in mind when you are reading the insights.


It is very important that 'readers' of the TAROT understand this, therefore one has to be very discerning when reading. Media news can put out stories that are not factual or are pre -mediated but Tarot can pick that up. It does,nt mean that tarot is wrong, it shows tarot can see what might be suggested. However when writing the tarot it may be taken as fact.

TAROT

CANNOT

BE CONSIDERED AS

100 PER CENT ACCURATE.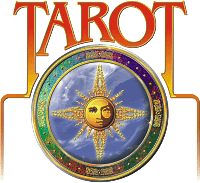 JOHN AND SHELLY MARKLEY
« Thread Started 3RD DECEMBER at 21:54 »

I have been asked on the blogger here to look at Tarot for this couple John and Shelly. The best way for me to do this is to write seperately for them so that I can concentrate on each and see if there are any distinguishable circumstances that might differ or whether a pattern arises.


Tarot can only give us 'glimpses' of the past present and the future. Tarot cannot be considered as 100 per cent accurate and you must go to other sources to check details. The only details I have are taken from a Doe network link and those are the details of the case as I have it. I will look at Shelly's Tarot first and then Johns.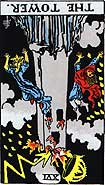 Looking at Shellys first card we have quite a prominent situation going on here. This card shows categorically that were quite serious problems which could have totally created immense catastrophe in all areas of her life. This to me seems very sudden, not planned at all just get up and go which is how it appears from the information given on the case . Tarot confirms that this upheaval did take place 'unexpectedly'. It seems to me that something must have occurred to make her leave like that but there are also issues here to do with divorce and business and this could have been a complete shock to her?


It seems that this card is letting us in to see that there were unhealthy situations or people around and it might mean that in order to get away from them the only thing to do was go there and then.


The Devil card is showing those unhealthy and bad circumstances which could have been sexual, or drug related or just people who are no good for us that for some reason we are 'bonded to' and cant get rid of. So it seems that this disappearance was a way of breaking free of the situation.


I need to look at more cards to try to come to a better reasoning because there are a couple of reasons here why this might have occurred to make Shelly disappear as she did.
Either it is someone or some situation around the family or HER which was going to create serious problems OR it could be marriage or business matters.


It could really be a serious thread to partnership because the Tower reversed shows that a partnership which could be a marriage is in serious trouble. I might see clearer when I look at Johns Tarot. But, to me it was to get out quickly in order to 'save yourself'. I need to decide if there is anyone else involved here or whether it is just this couple but it seems to me you 'run to dodge a bullet'. I also seem to see some kind of accident that has occurred here somewhere or at some point - so something pretty strange has gone down as I am seeing ''false accusations' in these cards.


We then see that theres a lack of inspiration going on and someone has not been able to heal Im seeing a pretty hopeless situation, but it depends if it ends that way or whether its just part of the events to trigger them. The Tower is a December reference and tells us that there was something that happened during the two years BEFORE this disappearance occurred so it could be something that came up that was dramatic and devastating and brought everything to a head where it was a desperate situation to get out.

Maybe the effects of it did not materialise until the day that Shelly disappeared or was the reason why. Clearly her 'whole life' came down in a flash. I feel as though she 'expected it to happen' but maybe it was just a case of 'when'.
Let me move on for the minute as there is much to try to cover.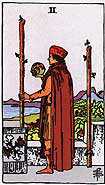 According to this card Shelly is South - the figure shows looking west so one might presume South West. However, it may be South but with West in the name of the place or road/route. The number is 2. This is clearly somewhere by water whereby if one stands up high you can look over the sea/marina or some kind of water expanse.

Im feeling its somewhere 'up high' could be near cliffs but possibly some nautical reference attached, ie boats etc. I am seeing a place where there are gates perhaps in a property or nearby some kind of gated community perhaps not that I could be sure - there are possible sport fields or sports arena or elements such as that. It is rather vague but Tarot cannot give a name as such only describe location.

This to me is america indicated by the interstate on the Ace . I see packing, boxes and some kind of moving here so I wonder if its near a place where Storage might be? It might even be some kind of storage container type home but I can only give ideas or thoughts that come to mind. Definitely feel a water area and I would have thought not that far from the coast - so I might plump for South here or South West.

I feel in this card that a decision was made to 'go here' because of things that happened in the past. Tbe names Rose Lily Cross and possibly Ash might be useful , it is not always the case but often they have come up and have pointed something helpful. I feel that if this card was a circumstance that it is telling me that one comes to this point to decide a plan of action MAYBE it was a temporary location? or meant to be that way. She may have gone to this location looking to the future only to find that it meets with a great disappointment because there was a duality to the situation.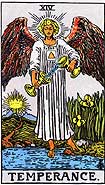 Well asking when Shelly might be found we only have 14. A number. It seems to me that there are three people involved in this whole and entire situation. There is a possibility that someone is linked to a 'Michael' it sometimes shows on this card - it could be the name of place however so thats something else to bear in mind or it could be because of someone called Michael.

What I seem to feel here is no definite idea except to say that when it comes to the hope of finding Shelly it would be a matter of balancing up information carefully. It could also be that there was some kind of drug/medicinal connection in this case also which could have been seen in the Devil card linked to what happened in the first place. I think if that connection is understood that is what can lead to Shelly being found.


What does temperence show us but land and water - it shows being between the two and being both physical and non physical . This might indeed imply that Shelly is still out there but possibly under another name. I cant promise that but there is a slim slim possibility of this.

This is my two worlds card when someone does not exist anymore but somehow they still do? so I really cannot see that Shelly can be found IF she is under a different name. If she is under a different name then it is because something happened that threatened her future in the past. I will have a look at Johns Cards to see if they make sense along with Shellys. I might also be able to balance things up a bit and see if I have something wrong here.

As there is a spiritual element on the Temperence card we also have to consider that too but it seems only patience could find Shelly and how long is patience? However I think ultimately Shelly may be East or South East.

On to John let us see what his first card gives to us.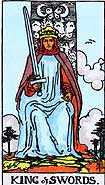 First card for John - the King of Swords, it shows that the woman next to him wants to be divorced - there is a marriage break down here - unfortunately this card can show one person dying before the other - that does not always mean ACTUALLY but it can mean that the relationship died in one of them before the other decided to accept it. The King links us to the 10 which is a card showing someone with back problems which John apparently has.

The King is a LEGAL card, linked to matters of the law. Perhaps John learned 'the truth' about a situation that day or knew that a truth would surface? this King shows me someone has to judge a situation and obviously act on that. Maybe something was going to come out about his disability? maybe his marriage was breaking down because of it? or maybe someone was going to come back from the past over this issue. I am seeing John in the bedroom and then again I see the East card and going East.

I just feel like some 'truth' came out or come to the surface on that day and it meant a seriously quick change of situation and going perhaps towards hills airports, railways - it does seem to show travel and it gets complicated because it goes East and East to West. Someone here DOES have a gun and someone here is concerned about a rival or third person so a picture could be emerging here .

I get the feeling there is only one winner left but I cannot be sure. I feel almost as though some expert advice was needed to make a decision. I see someone here demanding their rights and being up on their game here.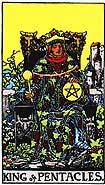 This card shows John is NORTH according to Tarot and for that reason I am not sure that he is with Shelly. I think this card being pentacles and agricultural shows John North and maybe still in Farmersville because the farmer still comes up in the pentacles run. This is difficult to describe except to say it is rural and woody and bushy area.

I am linking John to possible business premises but really its very difficult to suggest that as a definite what else there is here is a property you see, and this property is a home that is familiar - or property is familiar because the king links to the ancestral home and I just feel he is still in the area. I might be wrong. The King also can be a vehicle and we know his vehicle was found 10 miles away.

That is intriguing because it identifies that but we know John was not in the vehicle so I would think that John was NORTH of that vehicle. Its worth a try to think that way. The King has 15 on it so may be is route 15 or 15 away from the vehicle or 15 away from home but North? I note Bristolville is mentioned as to where the truck was found so I will look at a map to see what is up around there but 5 miles or 15 miles further North. Does he have any family that way??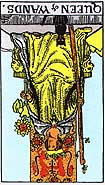 What I have in finding John is contempt from a female. I am not sure how to exactly explain that one. But, this card is usually a SOUTH card and its always hard to decide whether to consider it as North when its upside down. What it does tell us is that a female can tell us where John is. Its that simple.

I also have the idea that this may not be told, not ever because the King of Wands reversed will prevent that, the spokesman who could say something has sealed lips and there will be a reason for that . Im not sure whether there is a hush factor here.

I see some secrets that could be revealed if someone would talk. So I present all my findings and know that they wont be 100 per cent accurate but will give glimpses or ideas into the situation and hope really that I have some of this information correct if not a good portion though no doubt I could have worded it better.
I hope it is useful though please understand Tarot is not 100 per cent accurate and there may be errors in interpretation. However this is a brief outline of what I have received. I have seen that regarding John being found he also has the number 14. - Interesting!

EMPATHY