http://dedekeene.posterous.com/alert-endangered-missing-krestina-senkow-age

Krestina Senkow and her son Skyler Patterson were last heard from on or
about the 21st day of Sept. at 1pm.

Krestina suffers from depression and has indicated in the past that she may want to harm herself.

Krestina and Skyler were last seen in the area of Highway 95 and Ann Road in Las Vegas Nevada 89131.

If anyone has information about the whereabouts of either of the two, please call the Las Vegas Metropolitan Police Department Missing Person's Detail or the none emergency listed below.

Local Hospitals are asked to check their patient registries for the above missing persons and notify police if found. It should be noted that "HIPPA" permits disclosure upon request from Law Enforcement, and is authorize pursuant, to 45 C.F.R. section 164.512.

Las Vegas Metro Police (702) 828-3111
http://lostnmissing.posterous.com/endangered-missing-krestina-senkow-age-24-sky







Please note that tarot will pick up TRENDS /VIBRATIONS of PAST PRESENT AND FUTURE - it will pick up anything that is 'out there'true news or false news - either way it can throw light on what is 'in the air' - please bear this in mind when you are reading the insights.



It is very important that 'readers' of the TAROT understand this, therefore one has to be very discerning when reading. Media news can put out stories that are not factual or are pre -mediated but Tarot can pick that up. It does,nt mean that tarot is wrong, it shows tarot can see what might be suggested. However when writing the tarot it may be taken as fact.

TAROT

CANNOT

BE CONSIDERED AS

100 PER CENT ACCURATE.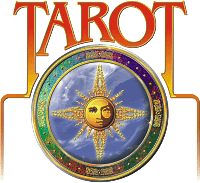 KRESTINA SENKOW AND SKYLER PATTERSON
10TH OCTOBER 2011
I understand this lady and her child are missing and I have had a look at Tarot to see if it might be able to help . Tarot is not 100 per cent accurate and therefore mistakes can be made please bear in mind that you should always seek FACTUAL sources of information. Tarot may be able to give 'glimpses' into the situation over past present and future events. I write what I have been given below.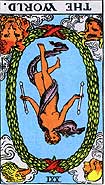 Firstly what a beautiful woman and such shining eyes also a cute little boy. Asking Tarot what happened on the date of disappearance . My first card is 'the World' and as you can see this card is reversed. This makes me feel that Travel has been halted severely.
Im not sure when I look at this card how to feel because it does feel like 'the end of the road'. Literally. This card does show immense disappointments and upsets in life or the feeling of this and appears to be magnified here. The Fool reversed can also show great folly and making an error perhaps even trusting someone that should not have been trusted. The feeling is of 'going nowhere'. Trips and travel are greatly postponed in this card. The Fool makes me feel that all her belongings are seperated from her. The direction might have been North West though when reversed can take us in the opposite direction.
I feel as though if she was in a vehicle the vehicle has broken down, OR I see her on foot and on the side of a road. I think there is a man here with dark hair and if there is a vehicle involved I keep thinking perhaps a vehicle breakdown whereby help might have been offered.
If not then I feel there might be something negative about a car and Im not feeling very good at this precise moment about this lady or her boy. I look at her face and see so much beauty and those shining eyes and wonder why she felt so overwhelmed and what the problem was for her and I just feel that she could not go where she wanted to. She seems to me to want to go somewhere but for some reason it cannot happen it is halted.
Its like she was 'scared' to move for some reason and I cannot pinpoint why that is. Insecurity seems huge on her. I also thought I would look at the Judgement card and reversed it seems her judgement was completely impaired. There seems to be some kind of seperation from family - has the boys father come forward?? OR was there a non biological father figure somewhere?
Things have not been right since the Summer it seems. Did she loose a lawsuit or was there some kind of judgement that went against her that affected her thoughts and feelings because Judgement could very well suggest this. Bitterness can come here so can loneliness uneasiness and sickness, poor lady she must have been going through it.
I might just be seeing things 'over a period of time' or from different periods of time with Krestina but overall I seem to see some problems or delays over travel and starting anew? I also have something about a 'Saturday'. Its almost like she has to deal with some problems that came from the past or some kind of obstacles that arose that made her afraid to make decisions about what to do. I keep wondering if there is a male involved here because sometimes Judgement is a divorce or some seperation from someone who was close to you in the past. I dont know if something happened when she was about 20 or knew someone then. I see her afraid of the future and various concerns. Maybe her past caught up with her?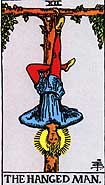 Again another 'major card' and representing big milestones of fate in Krestina's cards. Asking where Krestina and her son are I am seeing suspension, this shows the 'hanged man' in this card.
Its so difficult when there are no real 'wind' directions on the major fate cards but this card can often represent trees and water.
This card could signify North being next to Justice as Justice generally points up to the North so it could portend that direction though I am not sure but its the closest I can get with the cards I have had so far. Justice one side and Death the other, really could mean being near a vehicle somewhere or not far from one and in the landscape I have described.As death walks towards the East perhaps EAST may figure in a road or even in a direction also. Often there are two towers in this card . I keep sensing - 'Im doing the right thing for the child'
Metal/quarrys/carparks/trees/water/rivers/ all may figure. I really feel as though September has been a month of complete 'letting go and transformation' for Krestina. I still am not sure if this is for the better or the worse however. I seem some kind of 'imbalance' and I feel the 'law' around her ? I MAY be seeing something connected to a Gate.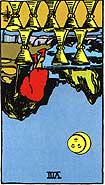 Im seeing an inlet or cove here . The 8 shows that if Krestina was near somewhere that was water she has not left there. I feel her not moving on, wanting to but just not able to.
There is an 8 on this card and she could be within 8 of her home maybe that is miles I do not know or perhaps a route number. I thought I saw medication in these cards but I hope I have not and I hope that all is well for this lady and her son. I feel with this card she may actually be found WEST as all cup cards are this direction or West will come up in some way. Reversed it could suggest East so we do have that East/West option but one of them could be a place name. I hope that if she has had problems that she is alright. I seem to have a TREE name but have not looked at a map so will look. Being found also could come within a period of 8 . This last card is also linked to February though I am not sure if that will be the case. Orange is also linked to this card.
I am sensing freedom (Fremont)? so whatever decision has been made here it is the one that Krestina wanted to make. This case could have a sad ending or it could be that she finally decided to move away from the past though Im not sure whether she has gone that far. This is a brief overview and will look more into it as soon as I am able if Krestina is not found.
Please remember Tarot is not 100 per cent accurate and I give only what I feel Tarot has shown to me. This does not make it absolutely the truth of the matter. Time can only give that.