Name: Anthony Holland

Date of Birth: 12/12/1957
Date Missing: 06/21/2009
Age at time of disappearance: 51
City Missing From: Cordell
State Missing From: Oklahoma
Gender: Male
Race: White
Height: 6 ft 1 in
Weight: 200 lbs
Hair Color: Gray
Hair (other): Auburn mustache
Eye Color: Green
Complexion: Light

Identifying Characteristics: Anthony wears glasses.

Clothing: He was last seen in a salmon-colored shirt, jeans, and work boots.

Jewelry: None

Circumstances of Disappearance: Anthony was last seen at his home in Cordell, Oklahoma on June 21, 2009. He left his home at around 5:30 PM. Earlier in the day he had been at an Elk City Gun Show. Holland left in a green GMC 4-wheel drive pickup, which was found the next day on farmland he owned that is south east of Cordell, Oklahoma. His cell phone was found on that same farm on June 24, 2009. Anthony did not have any possesions with him. His wallet, check book, drivers license, and money were all left at home.

Investigative Agency: Washiteea County Sheriff's Office or the OSBI
Agency Phone: (580) 832-2334 or (800) 522-8017



Please note that tarot will pick up TRENDS /VIBRATIONS of PAST PRESENT AND FUTURE - it will pick up anything that is 'out there'true news or false news - either way it can throw light on what is 'in the air' - please bear this in mind when you are reading the insights.



It is very important that 'readers' of the TAROT understand this, therefore one has to be very discerning when reading. Media news can put out stories that are not factual or are pre -mediated but Tarot can pick that up. It does,nt mean that tarot is wrong, it shows tarot can see what might be suggested. However when writing the tarot it may be taken as fact.

TAROT CANNOT BE CONSIDERED AS 100 PER CENT ACCURATE.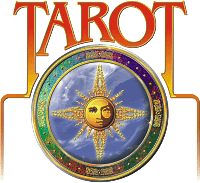 ANTHONY HOLLAND
« Thread Started

7 FEBRUARY 2011

at 2:15 »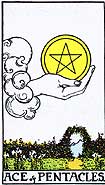 This is a brief Tarot Synopsis for Anthony Holland who went missing on 21 June 2009. Tarot only sees glimpses of events past present and future and is not 100 per cent accurate. Please look to other sources for factual information.
The first card I have received is generally the 'best in the pack' its the Ace of Pentacles which shows business prosperity and 'making your dreams come true'. Sounds odd but thats basically what we have. Its a kind of opportunity that appears to come up with finance. Doing well for oneself has been a priority making sure everything is comfortable and finance is in place. Here though the Ace shows this opportunity come out of nowhere which appears to be agriculturally centered. The Two of Pentacles next to that is weighing up the options of this opportunity against family home and commitments and I see a scene initially with landscape water and mountains. In the next card I am standing more near the water whilst a storm brews in the background. It seems important to this person to have all their 'ducks in a row' in order to meet what appears to be a working opportunity. The three of Pentacles then shows us a building of 'learning' or somewhere you might obtain some skills. Sometimes the Ace of Pentacles can actually show someone going on a vacation or a break somewhere. The Ace also shows us a GATEWAY whether physical object or a name.
None of the first cards show me anything very negative, its abundance that I see in these cards but obviously a business proposition or some kind of something that Mr Holland thought was a possibly good opportunity regarding finances. Gardens and lands are very important in these cards. He might have felt it also important to 'close gates' . So new business/financial adventure and trying to balance with family matters. The two of pentacles can sometimes bring embarrassment and concern in the future. The three is about using and learning new skills and possibly attending a 'building' in order to do this.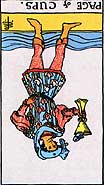 I have received a 'deceptive' card in the Page of Cups reversed and I wonder if Anthony told his family all his private concerns? This card shows deception in personal and business matters and some kind of retreat from Society. This is often called the Fishermans card - it is somewhere near water.and often it is considered the direction of WEST. Because it is reversed, one might say the Page though upside down is looking towards the East. So both these directions might have a glimmer of importance.
The Page can bring a 'deceptive colleague' into our midst or someone who is close who is not to be trusted or relied upon - there would be something foolish about this relationship and something immature so it makes you wonder if there is a very 'young person' being mentioned here. The directions are given on this card. Water does appear to be very strong but could be in the name of a place. 10 of cups shows being roughly 10 miles from home and the Knight of Cups is a problem because it can threaten the health.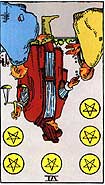 I am still seeing this man about 10 from the home so under 10 miles from home is what I feel Im being given. I feel he has made a financial blunder in some way and I dont think he told anyone about it. Pentacles are also years and can suggest being found under 10 years or under the distance of 10 as mentioned before.
(I wrote alongside the wrong card My apologies.)
I should mention that the six reversed is a man who has gambled finances hoping to get things back into prospective and may have made a mistake in doing so. The 10 of pentacles follows what I have already said.
He was 'cheated' or 'used' in terms of money through domination therefore I feel he was generous to the wrong person.

Im seeing the name 'Michael' an M or a W and 14 months or 14 for something?

Empathy.
UPDATE NEWS 1 APRIL 2011
I am sorry to report that Anthony has been found deceased on March 29th 2011. The details have not been released at present where or what has happened to him and I will update as necessary.
Meanwhile all I do want to say is that he will be missed very much by his family and his friends and I convey my sympathies to all.
Empathy.