KARA ELISE KOPETSKY
Case Type: Endangered Missing
DOB: Feb 17, 1990 Sex: Female
Missing Date: May 4, 2007 Race: White
Age Now: 20 Height: 5'5" (165 cm)
Missing City: BELTON Weight: 110 lbs (50 kg)
Missing State : MO Hair Color: Brown
Missing Country: United States Eye Color: Hazel
Case Number: NCMC1072327
Circumstances: Both photos shown are of Kara. She was last seen on May 4, 2007. Kara's ears are pierced twice. Her navel is pierced. Kara has a scar on her forehead. When she was last seen she was wearing a white tank top and jeans.

http://www.missingkids.com/missingkids/s....earchLang=en_US
Please note that tarot will pick up TRENDS /VIBRATIONS of PAST PRESENT AND FUTURE - it will pick up anything that is 'out there'true news or false news - either way it can throw light on what is 'in the air' - please bear this in mind when you are reading the insights.


It is very important that 'readers' of the TAROT understand this, therefore one has to be very discerning when reading. Media news can put out stories that are not factual or are pre -mediated but Tarot can pick that up. It does,nt mean that tarot is wrong, it shows tarot can see what might be suggested. However when writing the tarot it may be taken as fact.
TAROT CANNOT BE CONSIDERED AS
100 PER CENT ACCURATE.
KARA KOPETSKY
« Thread Started 23 January 2011 at 3:22 »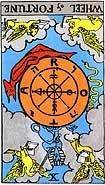 I have been asked to look at tarot for Kara Kopetsky in the hope that Tarot might be able to shed some light on what may have occurred on the day that Kara disappeared. Tarot is not 100 per cent accurate and I always ask that readers look to other sources for factual information. Tarot meanwhile looks at glimpses from past present and future and may bring up any situation in response to my questioning. Tarot will throw up thoughts and ideas of what may have happened but not ALL the situations will apply. Please also bear in mind that some descriptions may be about someone else connected and not Kara.
I have asked what happened to Kara on the day she disappeared and I am being given the Wheel of Fortune. This is really an unlucky card when it is reversed because it does show fateful events that just could not be avoided. It often shows a trip that has gone wrong, or one that has been postponed or interfered with in some way through no fault of the person.
Sometimes the reversed wheel is telling us about situations or even actions that a person took that were just too late to change at the last minute and because of that, fate is inescapable. I try not to 'form a story' with the tarot but just give what I get as each message can be seperate and linked in the past present and future.
Here we have some kind of link to a period of 12 years though I am not sure how that fits in as a timing or whether it is linked to somebody. Usually the Wheel can tell us about big new adventures and huge changes in a persons life - but as you can see, these big changes are not really wanted when this card is reversed so its not really a matter of choice. If it were just an idea for an adventure at the start it certainly turned out to be a rolling stone that could,nt be stopped. I almost see here a runaway train either figuratively or literally. Did Kara ever take trains to anywhere?
I somehow do think of wheels and travel when seeing this card for Kara. Whatever the case here, it was NOT a good idea .It seems there is someone who wishes to control Karas life and in this card can often show very jealous people or jealous person maybe someone who wanted to 'put her down' or destabilise Kara really because they did,nt want Kara to get on without them. Perhaps they wanted to keep her to themselves?
When I picture this girl
I can almost see a fairground and the big wheel and just something going way out of control.

That does,nt mean she was at a fairground but its just how I see this card. A big adventure gone completely wrong and because someone else wanted to control events or even control her all linked in.

I feel there is a very traumatic element because this girl may have wanted to make changes to her life but to me it seems she was waylaid by someone elses wishes. She may have been on top of the world about something new that she was thinking or considering but someone else did not want to let this girl go. Jealousy, is the main reason why this girl went missing.

If Kara retaliated then this was one battle perhaps she should not have picked perhaps the other person was in a stronger position? She may have felt cheated and robbed.

Sometimes when we ask if someone has disappeared thinking it is for a bad reason we can see this card reversed which tells us that we have the wrong end of the stick. It could be that Kara intended to make changes herself and did this but fell into the wrong hands which then proved to be a very bad situation because the person then did not want to let her go.

We have to bear in mind that the Wheel is number 10 but prior to that is the Hermit which is number 9. Hermit almost always shows a situation of 'aloneness'. It can show a person who wants to 'go it alone' and for that reason I may think perhaps it could be so that Kara had her own plans. However, the Hermit does show lonely places and rurality, places up 'high' like hills and even apartments have often been linked. Following the Wheel is Justice which shows some kind of legal complication and delays in legal matters. I have no idea about details regarding Karas case working only from the initial information however, I can say that bad luck is linked to all legal affairs and if Kara was looking for justice or hoping that a wrong would be righted then this was not going to happen. Someone takes advantage in my view and theres a lot of dishonesty in this card and a considerable loss of temper.

I am not aware of how things were with Karas parents but I do see maybe a feeling of disagreement she may have had as the Emperor and Empress do show up and they would be in a reversed mode also. Feelings of estrangement come to mind it may have been something very small but it is here.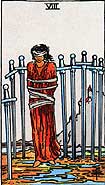 Tarot cannot give names to places/counties though sometimes it has pointed out useful information. Asking where Kara may be we have a very trapped feeling on the eight of swords. I feel almost like Kara could free herself of the situation but for some reason is afraid to do so. I wonder if Kara got involved in some 'trouble' and is worried about the legal implications of that? Here we see her completely bound up. Some feel this is a hostage card and it may be so, but the previous card shows a thief who two other people do see walking away. I therefore feel that Kara is in company somewhere and its not far away from a place that could be a 'camp' of sorts or the name camp could be important. I see her away from shops and people and main streets and more in a kind of barren area but you can see buildings in the distance as you do on this card so I do not consider her completely isolated. The 9 of swords following would show a terrible amount of worry guilt and upset. All things to be considered. She may in reality be a hostage but I am not entirely sure whether this is a reality or a state of mind/being.

She seems to be wrapped up and I dont see her being able to see anything when I am asking about where she might be.

I feel Kara is linked to the 'west' but I see her East. There is a possibility it could be the other way around but I give these directions. It is possible that someone is linked to a prison and waiting for release.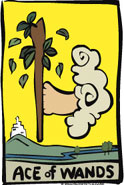 Asking when Kara can be found, she has been missing for three years but this Ace of Wands shows that a surge of action is needed in order for Kara to be recovered. The Ace of wands tells us that there is a masculine energy here who has a 'hand' in this and may be the one to find in order to find Kara. Wands are always weeks but after three years it seems very unlikely that a week is enough for this action to be forthcoming. However, perhaps there may be a new surge of activity coming on the horizon that may help. It helps to stand up HIGH and look 'over' these are the instructions to finding Kara and that is what I have been given.

Tarot is not 100 per cent accurate and not all details will apply but I do hope that they help in some way however small that may be.

Empathy.
POSSIBILITIES OF LOCATION/MOVEMENTS/CONNECTING ENVIRONMENTAL FACTORS - ( BUT NOT GUARANTEED)
In or near altars of churches, in public conventions, synods, convocations, in places neat, sweet, in wardrobes, courts of justice, oratories.Thursday. first hour after sun rise, and the eighth. SOUTH

Hills and mountains, high places, barns and storehouses for corn and grain. Libraries and studies, the walls of houses, the hall, playrooms, chests, drawers, coffers and places where money is stored or kept, ie, treasuries, purses. Places off the ground, high up or near sources of light, such as windows or rooms that are notably light, bright and 'airy'.West.

East - Sandy and hilly ground, newly built land or where construction work is taking place. Land where sheep and small cattle feed or stables for small animals. Unfrequented places where criminals find refuge. In houses - the ceiling, plastering or covering of the house. Brick foundaries. Possibly also places near fire or sources of heat.

North East - Places such as theatres, lavish public buildings and monuments, public halls, auditoriums, parks; places connected with royalty and principle rulers: palaces, castles, forts. Also inaccessible places, deserts, forests and areas where wild animals roam freely. If inside houses places near to sources of heat and fire such as chimneys, or areas where the furnishings are particularly grand.