Please help us find our beloved son, brother and friend. Brian Barton has been missing since March 10, 2005. He was last known to be at his residence after 5:00pm in the vicinity of the 1300 block of SW Campus Dr. in Federal Way, WA. All personal belongings were left behind.

Name: Brian Roy Barton

Age: 30

Birthday: Aug. 6, 1979

Height: 6' 4''

Weight: 180 lbs

Last Seen: Federal Way, WA

Missing Since: March 10, 2005

Classification: Endangered

Identifying Marks: Freckle on right cheek. Tattoo(s) of the numbers "726-5917" on inner wrist, tattoo of "flames" on arms extending from wrist to middle of forearm, tattoo of an "angel" on arm, tattoo of a "ball and chain" on ankle, tattoo of a "skull and crossbones" on shin


http://www.findbrian.org/Brian_Barton_-_....2005/About.html



Please note that tarot will pick up TRENDS /VIBRATIONS of PAST PRESENT AND FUTURE - it will pick up anything that is 'out there'true news or false news - either way it can throw light on what is 'in the air' - please bear this in mind when you are reading the insights.


It is very important that 'readers' of the TAROT understand this, therefore one has to be very discerning when reading. Media news can put out stories that are not factual or are pre -mediated but Tarot can pick that up. It does,nt mean that tarot is wrong, it shows tarot can see what might be suggested. However when writing the tarot it may be taken as fact.

TAROT

CANNOT

BE CONSIDERED AS

100 PER CENT ACCURATE.
BRIAN ROY BARTON
« Thread Started 29 January 2011 at 23:52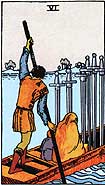 I have a request to look at tarot for Brian Barton.

Tarot produces glimpses of possible situations past present and future. Tarot is NOT 100 per cent. Please seek other sources of factual information which are reliable.

This first card for Brian is the Six of Swords. It shows an East direction and seems to show someone 'going to safety' and somewhere that there is less 'trouble' and leaving situations that are not tenable or unacceptable. It is often also known as a travel and exploration card in a protective environment. It generally shows someone who has gone to help someone else as this card is taking care of the well being of others. Often it also describes going over water it does sometimes show boats and the previous card is also a card to do with water and high areas such as cliffs or ravines.

In the 5 of swords it can show at least three people and two are walking away from a situation that might have got out of hand. The six of Swords shows that perhaps Brian may have tried to help someone in such a situation. The seven of swords shows that there may have been a thief, burglary or robbery and two people might have tried to get away with something. I wonder if Brian has intervened and tried to help.

The six of swords can be deceiving in some respects as it may mean more than one thing, either that Brian has tried to help someone in a situation near to water or that he has tried to protect them and get them to safety. Does he lifeguard? If not, its possible that Brian could have journeyed across water actually by a boat but the direction does appear to be Eastbound at first, or just escaping from a situation he wants to put behind him.

The next card is the seven of Swords and shows someone walking away from a 'camp' Brian lived at Campus Drive. There seems to be two people in the background here and perhaps Brian himself. It generally shows that there has been some kind of deceit, burglary, or something that happened but in all three people are here but two have not said anything and they know something.

I think he wanted to distance himself from some kind of conflict with at least two other people so there might have been some kind of altercation that he was trying to move away from.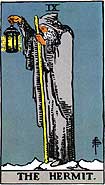 I ask where Brian is and I get the figure 9, that may mean nine miles , or 900 if it related to distance or it can just be the figure 9 standing for something -or have some other significance. The hermit is generally a place where someone would live alone or be alone. The hermit card shows various descriptions of where someone can be. Firstly it can show rural places, campers, caravans, Hills and places that are up high. The 'high' element is also attributed sometimes to apartments or attics.

There may be an 'older man' connected in some way. I am given the word Roof

and the month of July

and someone with a stick who has tried to protect someone else. A Lion symbol may be significant. I do not have a direction on this card but the Hermit is

looking towards the West

however, I cannot guarantee this direction.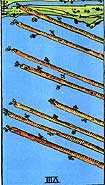 Im only being given an 8 number to find Brian

. 2008 has passed so perhaps this number may simply link to

the 8th month which would be August. I do not know however which August this would be.

Generally Wands are weeks

but I am not seeing this as weeks in this case,

(if it was it would be under 8 weeks)

I am seeing it as a delay until he is found and then it would be in the Autumn

. I am still seeing very rural land with a stream and a house in the distance on a Hill so this information is very similar to what is picked up in the Hermit card.I would look EAST and

I would also consider WEST

from an area that is a HILL or even named as a HILL.


I notice there is a place called AuBURN to the East sounds similar to Autumn but I cannot guarantee this. 8 of wands can sometimes even show an 'airport' because of the flying wands when the card is upright, I note there is a Lea HILL in that direction but again these are wild guesses from tarots explanations everything worth mentioning 'just in case' as you never know. The only other thought that came to mind was whether Brian knew someone from Gig Harbour to the West and I have no idea why I am saying that.

I do not see death in these cards however this is a brief synopsis of Brians Tarot. The five of swords prior to the six does show some kind of defeat or some kind of conflict and strife but the six seemed to indicate moving to safety. I dont want to raise false hope but if he was in danger it does seem like he would have made a concious effort to move away from that. Only time will tell in these situations as the five of swords can be very specific and it would be easy to misinterpret the six of swords because of it.

I wondered why he had not contacted his family if he was alive and I received a nine of swords reversed which appeared to mention something about concerns regarding his childhood that bothered him. Often however, it is not always a good sign when someone is not in contact after a long period of time so I would prefer to not second guess on the health element.



I think Brian will be FOUND in a West Direction

eventually again what I have seen on the Hermit card.

Tarot is not 100 per cent accurate and for that reason you do often have to read between the lines with it but I offer what I have seen with the tarot and hope somehow it helps eventually. Some details may not apply to Brian but to people around him.

Empathy.

UPDATED 12TH SEPTEMBER 2012
STICHOMANCY - 3000 YEAR OLD DIVINATION METHODS.