http://www.findstevencook.co.uk/About_steve.htm
Age: 20

Height: 5' 9" - 5' 10"

Eyes: Green / Brown

Build: Medium

Hair: Dark brown. Short at the back and sides and spiked up with wax on top.

Distinguishing features: Steve has a scar at the outer corner of his right eye. He also has a scar between 1/2 - 1" long on the back of his head. Steve also bites his nails.

The link below tells you all about Steves disappearance and where he went beforehand.

http://www.findstevencook.co.uk/disappearance.htm
Please note that tarot will pick up

TRENDS /VIBRATIONS of PAST PRESENT AND FUTURE

- it will pick up

anything that is 'out there'

true news or false news

- either way it can throw light on what is 'in the air' - please bear this in mind when you are reading the insights.
It is very important that 'readers' of the blog understand this, therefore one has to be very discerning when reading. Media news can put out stories that are not factual or are pre -mediated but Tarot can pick that up. It does,nt mean that tarot is wrong, it shows tarot can see what might be suggested. However when writing the tarot it may be taken as fact.
TAROT CANNOT BE CONSIDERED AS 100 PER CENT ACCURATE.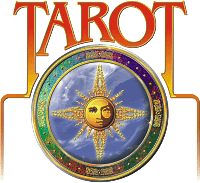 STEVEN COOK
19 December 2010
I have been asked on the forum to have a look at tarot for Steven Cook.
Steven has such a nice fresh face and very open and Im hoping tarot will help us to discover what may have happened.
First I would recommend everyone read my guide notes on the blogger indicating that anything tarot gives to us is past present and future insights. Some incidents may be already known but tarot will pick that up.

Tarot is also not 100 per cent

and I ask that everyone looks to factual sources of information for ultimate conclusions.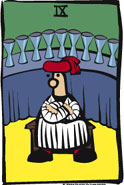 The first card I have for Steve is drinking and partying which makes perfect sense the next card would suggest that he went 'home' which is the 10 of cups. I did ask what happened to him at 1.am and this is the card I was given. This may be describing exactly the time factor and the point he was wanting to go home. Cup cards generally always indicate the WEST direction but I am not sure from the Map whether this is the case or not only that tarot gives this.

I have asked what happened to Steve on time levels. The first time level was 1am - 1.30 am and I still have the nine of cups for this. In this period of time I still have party mood but moving towards home. The nine of cups is the 'wish' card so it does seem to tells us it was Stevens wish to return to where he was staying and I do see him on his way there.


I have pushed the time on a little bit to 1am - 2am to see if Tarot can tell us anything about that time of night.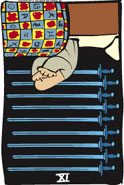 Here we seen to have a different scenario altogether. I have to consider this card because the nine of cups tells us that Steve wanted to go back to his digs. This card is a 'bedroom scene'. I do not seem to have any other card between the nine of cups and this one and this card if depicting a bedroom scene must show that he likely did get back to his digs? But the card does show some kind of ill health on there. Was it known whether Steve drank a lot of had a lot to drink and said he did,nt feel that good? I am not sure myself except that when this card is reversed it shows someone who might be ill or feeling ill.

This card is often known as an 'insomnia' card so if Steven did get home and went to bed he could have been very ill and not able to sleep.

The eight of swords previous can suggest someone who is bound up and gagged when reversed it shows a release from that before we get to the 9 of swords. The nine of swords is reversed and the next card 10 of swords must be considered to read the same way and this seems to suggest some kind of escape from a very difficult situation.

Whether tarot is indicating Steve actually got back to his digs or not I cant be quite sure but it does indicate he was definitely on his way home. I find it strange that the nine of swords can show someone being 'tossed out of bed' however and that is causing me a little bit of concern. I do not know at this stage whether anyone has reported whether Steve got back to his digs or not. Let us say that if he did there is definitely something not right about it when he did get back there. It does seem to indicate that he managed to 'get out of something'.

I seem to feel he has been 'held' at some point as there is a degree of isolation on the 9 of swords reversed and

the overtones are not particularly good.



Im not sure if everyone has put the truth forward about Steve, perhaps there is someone that knows a little more?

The Nine of swords gives us a direction of EAST. Again

there is some indication of being 'imprisoned' in this card

which is very strange when the previous card suggests release from bondage. Im not quite happy with these cards.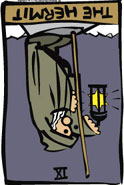 Wanting to jump to today, I wondered where this boy is and

I am given the fact that he is concealed and hidden

. For some that might sound ominous but it can also mean that a person has cut themselves off from friends and family THEMSELVES as this can be a self imposed card. The Hermit can give us apartments/flats and places up high. It can also represent

rural areas and people who are 'on their own'. It can suggest someone who is hidden away and concealed or disguised but it equally can represent those who are buried out of sight.

Therefore I am going to look at a full spread on Steve and see what else I can pick up.

I am feeling that there is a robbery or thief in the cards. I do see altercations and I also seem to see a car accident though Im not sure how this would fit the picture at all. I feel on the one hand Steve is alive and on the other hand

I see him in a situation where he is somehow in a situation where he is cut off from others.

I feel like someone got hurt as I have riverside or somewhere along the riverbank or near to a canal of water.

I also see the underside of a building

which is flats or apartments and I feel he may have been under there for some reason

perhaps in a basement.



The five of cups is showing me somewhere that is near a bridge with a stream of water. You can see to the other side. I dont know Crete so I have no idea where this might be but if anyone knows this vicinity thats what Im getting. It might be that someone tried to rob this young lad and he got into a struggle with that and a passing car may have knocked him over. I did see him feeling unwell in a bedroom scene. Its not always a bedroom though it can depict just a scene where someone is very ill or feeling ill.
There is a possibility that even he or someone was knocked down by a car or vehicle and then put

in a building in the basement.

I cant be sure of this at all but Im feeling that there has to be something linked here somewhere.

If his friends have definitely not seen him in the digs when they got back he might have had insomnia and gone out again and then the rest of this situation may have occurred.

In glimpses I am also seeing a mother figure. I am pretty sure that these cards have not said that Steve is deceased but it seems that whatever happened here if he is alive he is keeping out of the way because of something that happened that he feels would ruin his character???

Regarding the tarot asking the question of whether Steve is deceased Im actually just getting a change of location.

So Im thinking that whatever has 'gone down' here if Steve is alive he is feeling 'guilty' about something that happened because looking at all of the cards it appears that way to me.

There are too many indications of isolation and being cut off from people that make me feel that it could be his choice, but if it is,nt then I do apologise.

I do think that it is very difficult in light of the cards I have seen to guarantee this boy is still with us - again if it is not Steve feeling guilty here then it is going to be one or two others who may know a little more then we have been told.

I see Steve right next to the water

in the two of pentacles and I see 'bikes' or bike in the vicinity.

I will look at Steve again if I manage to get more thoughts on what I think I have seen here as clearly this case needs a lot more work before final conclusions can be drawn but I offer this as a very short synopsis of what the cards have indicated at the moment.

I do not want to give false hope to the parents with my reading because there are some very 'dark' cards that I have seen and sometimes

it is not always positive

so please be aware of this BUT there might have been an 'accident'.
Asking when Steven Cook will be found I am given the Four of Pentacles.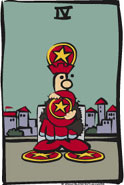 Pentacles are often thought of as 'year cards'. Therefore the indication could be four years and looking at that card

it could be outside of a town.

The only other time factor is a FOUR.

Whether it is four years from now or whether he was in fact found AFTER four years I dont know but if someone knows they are holding on to that information ar,nt they?


Empathy.
UPDATED NEWS 17TH FEBRUARY 2017
https://www.thesun.co.uk/.../human-skeleton-
discovered
-down-well-in-greek-resort-of-...
UPDATED NEWS 1ST MARCH 2017
I am very sorry to report that the remains that were found in the Well were Steven.
It is a very difficult time for the family but they now have some closure and I feel
every sympathy in this auful situation. Of course, who can know what happened or
why Steven was inside the well, there is a background to that and it will depend
whether or not those details will or even can be revealed in the future.
At the time of writing Tarot Location methods were pretty much basic and I was not
posting maps at that time and at the moment I cannot be sure how the directions
were useful in respect of where he last was. However, there are one or two pointers
that could have suggested being enclosed, all surrounded in mystery yet still.
At this stage, respect must go to the family and perhaps at a later time there may
be other information. Sometimes the 'find' card can represent distance as well
timing ie he could have been '4' away from where last seen.
Liverpool Echo
-
27 Feb 2017
Tributes have been left at the spot where LFC fan Steven Cook's remains were
found in Crete. Steven was 20-years-old when he went missing ...
Skeleton found in well on Crete is that of missing British man Steven ...
Stuff.co.nz
-
27 Feb 2017