Please note that tarot will pick up

TRENDS /VIBRATIONS of PAST PRESENT AND FUTURE

- it will pick up

anything that is 'out there'

true news or false news

- either way it can throw light on what is 'in the air' - please bear this in mind when you are reading the insights.

It is very important that 'readers' of the blog understand this, therefore one has to be very discerning when reading. Media news can put out stories that are not factual or are pre -mediated but Tarot can pick that up. It does,nt mean that tarot is wrong, it shows tarot can see what might be suggested. However when writing the tarot it may be taken as fact.

TAROT CANNOT BE CONSIDERED AS 100 PER CENT ACCURATE.

. Today we have had a new news report regarding the Mccanns in their search for Madeleine and I looked at the pictures on the link ( you can find it below) to ask three questions that everybody will want to know. I have given an extremely brief synopsis of what these cards have given to me. I still ask everyone to support the Mccanns and still look for Madeleine along with all the other children and people lost in the world today.

Tarot is NEVER 100 per cent accurate and I ask everyone to read but take a second opinion.

The tarot below is in response to the latest News report.

MCCANNS SAY THEY FEAR 'HUNT' FOR MADDIE IS OVER.


http://www.thesun.co.uk/sol/homepage/new....aring-en d.html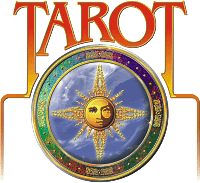 MADELEINE 3 NOVEMBER 2010
« Thread Started Today at 17:58 »
Todays News report in Novembers current Madeleine threads I posted the latest appeal. It is already mentioned on the forum.

I looked at the pictures there from the Suns Newspapers and I asked why the Mccanns need more money in respect of Madeleine?

Tarot gave to me the seven of wands.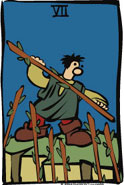 I asked tarot if the Mccanns knew where Madeleine was and Tarot gave to me the Four of Pentacles reversed.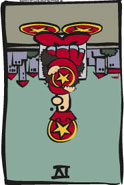 I asked tarot where Madeleine was November 3rd 2010 and Tarot gave to me Judgement reversed.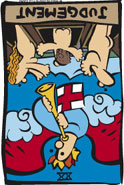 Now I will go through these questions and write what tarot has said .


The First Card asking why the Mccanns need more money is because they have to 'fight off adversity'.

This is a wands card and the fire of Wands is action. It is very suggestive of someone literally fighting people who are brandishing staves at them. The obvious answer is that they need the money to gain a victory and to beat the oppression. This is not a seeking card though and it is also next to the eight of wands which shows some very swift activity during the period of possibly eight weeks that might be from the time of this card perhaps. There is also a dark haired person mentioned in this card - though I have always seen Wands as Red headed people so not sure why dark hair is mentioned.

The fact that the person who is standing on that hill fighting people off is wearing TWO different shoes shows there would be likely TWO different reasons for this finance being required.

The person on the hill is the person who is the one with vantage point. It makes you wonder whether thats the one with the red hair???? (Still a puzzle about dark mentioned here)

This money is to allow them to take a stand against struggles.
Or to stand against or stand up for themselves in the face of someone ELSE?

But this card can be like a boss at a rally, like a team member who has to get others together to go out and fight so its to rouse up the support.

That would make sense when we think of getting people to stand together for a cause. So this card does seem to bear that out?

So I will leave that as being the reasons for the required extra finance.

Next up we have the Four of Pentacles which came as the answer from tarot as to whether the Mccanns might know where Madeleine is.

Well if you put that card upright it shows someone hugging material matters to themselves and in the reversed cards they are simply letting material matters go.

What that could mean is that there is a lack of something that is dependable or reliable. So they may not know where Madeleine is. That card though is MONEY that is what pentacles are - material things. I dont know but I guess a human is a material thing too - ?

If they did know where Madeleine was then there would not be any more money in the pot is another way of looking at it as reversed and upright this is a 'closed wallet'. But we have asked about Madeleine and not money and when this card is reversed it shows that they have LOST this person OR the person is lost to them and there is 'no money to keep her' OR for her upkeep?

We could look at the next card and see if it throws any further light perhaps and that would be the 5 of pentacles.

The five of pentacles reversed shows that there is no help given and that these two people are 'on their own'. It does suggest that Madeleine is lost to them therefore and that they dont have enough money to find her.

Looking at the third card Judgement reversed is asking where Madeleine is todays date.

Judgement sits between the Sun and the World.

The simple answer is away from the family and the world means not travelling or somewhere the world is upside down which could mean Australia or places the world is reversed.

Judgement itself can represent the sins of the past, people from the past, keep turning up. There seems to be no escape This could also not be about people but about illnesses that keep reoccurring and could show the person with a health issue, near a hospital or someplace regarded as a 'recovery' place for sick people. Sick people can be on this card.

This card can suggest that Madeleine is no longer with us but when its reversed shows 'no interest in the spiritual' this card could show that she has moved on because the past held her back. It could show being reborn to a new life.

They really may have lost Madeleine as I do recall a new identity and name for her.

But this mystery will continue until we have real concrete answers.


I will also mention that Judgement itself reversed is scratching its OWN head and saying well, I dont have any true clarity about this.

Judgement is all about tombs and the dead and people coming back from the dead when you reverse that Im not sure if someone can come back. So this is very stark tarot today it could mean that Madeleine is 'dead' figuratively ie, her being Madeleine Mccann in name but that she has gone forward into a new life as someone else. Again all I can say is that tarot will recognise the name but does,nt seem to 'have this name' to be able to talk about her.

If she is alive - she is,nt called Madeleine and I did forsee this quite some time ago.
I will just mention that SUN cards reversed can mean BASEMENTS.

Empathy.