Please note that tarot will pick up

TRENDS /VIBRATIONS of PAST PRESENT AND FUTURE

- it will pick up

anything that is 'out there'

true news or false news

- either way it can throw light on what is 'in the air' - please bear this in mind when you are reading the insights.

It is very important that 'readers' of the blog understand this, therefore one has to be very discerning when reading. Media news can put out stories that are not factual or are pre -mediated but Tarot can pick that up. It does,nt mean that tarot is wrong, it shows tarot can see what might be suggested. However when writing the tarot it may be taken as fact.

TAROT CANNOT BE CONSIDERED AS

100 PER CENT

ACCURATE.
PLEASE NOTE - Tarot picks up

past present and future

'vibrations'. Referring to a person is simply their vibration through

intuition

and not alluding to mediumistic qualities.
http://www.facebook.com/group.php?gid=282424405397

MISSING 17-YEAR-OLD GIRL!!!- MARIAM (MARIKA) MAKHNIASHVILI
Category:
Organisations - General
Description:
MARIAM (MARIKA) MAKHNIASHVILI

-cp24
The parents of a 17-year-old Toronto girl have made a heartfelt appeal for their daughter, whom they haven't seen for three days, to get in touch with them.

Mariam Makhniashvili was last seen by her family when she left for school with her brother on Monday morning (near Bathurst Street and Eglinton Avenue West).

The girl is 5-foot-3 with light-brown, shoulder-length hair and brown eyes. She was last seen wearing black pants, a light blue shirt, v-necked and a dark blue jean jacket. She was carrying a large black slightly worn-out backpack with a painted green stripe.

The possibility is Mariam might have walked off the school property on her own and there are no evidence of foul play, or abduction. We are hoping to fit in any small bits of the puzzle left. PLEASE HELP!!!

Please HELP to locate one of our FHCI student!
EVERYONE WITHIN THE GTA & OUT PLEASE HELP LOCATE MARIAM! Thanks for your cooperation.

INFO?
1)Call Toronto Police @ 416-808-5300
2) Submit tips to Crime Stoppers Talk: 1-800-222-TIPS(8477)
3)Type: http://222tips.com, online
4)Text: TOR and your message to CRIMES (274637)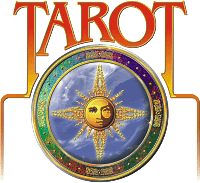 I have been asked about this child Mariam who is 17 and been missing for a year already.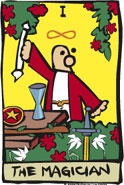 MARIAM (MARIKA) MAKHNIASHVILI
« Thread Started Today at 4:28 »21 September 2010
The first card that comes here is the Magician and we see here a 'man' who is seemingly representing things that appear and disappear. So Im imagining that this card probably suggests a Male responsible for the disappearance of this girl.
The card is a Number one so therefore perhaps it could be assumed that this male was a 'number one' in the life of this girl.
Whether that indicates a stranger or not it seems that if someone is looming large in the picture then perhaps she knows of this man?
It is also a card of vulgar trickery. We must note that the card previously is the FOOL which shows someone setting out on a journey perhaps even with a 'nagging sensation' that it may not be a wise one - the card following the Magician is the High priestess which is a number 2 card. The High Priestess shows us a scroll and on that scroll some writing. Therefore something significant may be found in this girls text books, or perhaps even some kind of indication of what might have been going on in her life.
This all seems somehow to mix together and may be part of the reason for the disappearance.
I have a ''house' and the colour yellow.
That may mean nothing in itself other than 'cowardice at home' perhaps I cannot be quite sure.
Meanwhile, looking at the Male who has 'life and death' on them it seems the Male or the 'person' responsible regarding the disappearance feels that they are doing the 'right thing' for whatever reason and feel justified in what they did.
There is a 'fresh start' indication on that person so whether its because they themselves wanted a fresh start or whether in fact it is this girl I am not quite sure, except that the person is very direct about what their intentions are.
Some say the Magician is a youthful figure rather than an older person but that can be debateable they often have a lot of desires and they always get their own way no point in arguing with them.
Asking where this girl is currently located I receive this card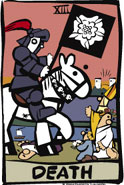 At first glance this card makes most people faint. But it is not necessarily a death card - anyway there is no place called DEATH on the Map that I know of - it is in fact a transformation card and it is often linked to Metal - I have sometimes had car break yards linked to this card and quarries - also the horse is moving towards Two Towers there, so who knows maybe New York might have popped up somewhere.
I also have linked this card to Greece. So there is unfortunately a little choice here which does,nt particularly narrow things down but there might be a reason to have to say the options.
The card of Death is almost like a flat lining experience where basically the old life is closed down completely and a new one begins on a different level.
It is a traumatic card though because it is UNEXPECTED and I would have thought that this was unexpected to happen to Mariam. Whether by people around her or her herself.
I dont know if there is any place that could be symbolised by 'three mothers' but I seem to have that attachment here.
This is a number 13 card and this number may have some significance in some way. I also should mention that Scorpio is heavily attached and with the High Priestess being a number 2 card it looks like a female is in on some secret here at least thats the way I would interpret it.
Places with a B name or a J or even persons with those intials could be worth considering.
I am never particularly worried personally about the death card because it comes up quite often and it does,nt always refer to actual demise, that wasn't the question anyway, it was where Mariam was located.
There is no churchyard in this picture, but there is some kind of religious angle here. You can definitely see a bishop there with a child and I wonder if this child is,nt involved in some kind of religious dispute or some disagreement . I also have NUN FISH 50 which is a hebrew connection to these tarot cards which also seems to pull out some kind of religious connection too. Fish is religion as is a Nun and what the 50 is I really cannot say.
What might be the problem here is that this girl had an idea how she wanted to live her life and possibly someone else wanted something else. Perhaps it clashed with religious values?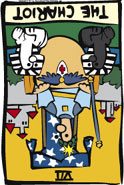 Asking if this girl will be found we have Chariot in reverse.
We have a 'car crash element here'. Thinking about when cars crash and where they go brings me back to the metal element on the death card. Check all places that are car scrapyards or to do with cars or places that have that kind of name in them.
I see that the cavalry is not exactly rushing to find this girl so I wonder if there are some false feeds into this for some reason?
The Chariot is number 7 in reverse, all sevens can be very deceptive. I think if people are looking for this girl they ought to be very 'considerate' about it, as for some reason advancing is to be done in a very delicate way?
I seem to feel that the situation can get out of control very quickly so therefore a more focused view must be taken, probably checking all the facts again about what happened might be a good idea.
I feel as though there is something 'unhealthy' about this situation I feel cars or car are involved here. The Chariot card is a cancer card which is a card of the home - reversed it tells us to look for clues near to home to discover more details of her whereabouts.
Empathy.

Toronto police probing reported Mariam Makhniashvili sighting
Toronto— The Canadian Press
Last updated Thursday, Dec. 08, 2011 10:25AM EST

http://www.theglobeandmail.com/news/national/toron...



Was Miriam Makhniashvili seen in Toronto?

Published Thursday, Dec. 08, 2011 10:19AM EST
Last updated Thursday, Dec. 08, 2011 12:11PM EST
A local man is convinced he saw the mising teen in Scarborough.


http://www.theglobeandmail.com/news/video/video-wa...


Father of missing Mariam Makhniashvili sentenced to six years in prison for knife attacks

http://news.nationalpost.com/2011/12/08/father-of-...

Dec 8, 2011 – 11:24 AM ET | Last Updated: Dec 8, 2011 6:19 PM
READ FULL REPORT HERE.
Mariam Makhniashvili likely alive at time of fall: police

http://m.ctv.ca/topstories/20120309/Upda....mom-120309.html

When Mariam Makhniashvili disappeared more than two years ago, Toronto police launched the largest missing person search in the city's history.

They scoured the area where she lived with her family, deployed an OPP helicopter in the search, interviewed every student at her school and followed up on nearly 500 tips and possible sightings.

But they missed a spot in a ravine under Highway 401 near Yonge Street, where they now believe Makhniashvili's body lay for a long time.

The teen's remains were found on the grounds of a golf course under a bridge last week. She likely died after a "fall from a significant height," police said Friday, adding that the findings of the post-mortem exam are not consistent with a homicide or suspicious death.

"Our search grid came close to that area but did not include that specific area," Staff Insp. Greg McLane said of the grisly discovery at a news conference.

"In my experience in 36 years it's not unusual for remains to be in a particular location for long periods of time before they're discovered."

McLane said forensic tests show Makhniashvili was likely alive at time of the fall. He said they do not show whether she died the day of her disappearance or some time later, although last week police said they believed the remains were two to three years old.

Makhniashvili disappeared Sept. 14, 2009, sparking an international investigation and several rumours of sightings.

Originally from the Republic of Georgia, she had only been living in Toronto for three months, joining her parents after five years of living apart. Det. Sgt. Dan Nealon said her family painted a picture of a content, happy girl, but said it's possible she felt isolated and depressed as she adapted to a new country and culture. During Friday's news conference, Nealon described her as a "bookworm" and an "introvert."

The only clue Makhniashvili left behind was her backpack and books, found in an alley near her school -- Forest Hill Collegiate -- the following month.

The school is near Bathurst Street and Eglinton Avenue West, about six kilometres southwest of the Don Valley Golf Course, where the remains were found. Located in a ravine under Highway 401 near Yonge Street, they were eerily close to the high-rise building where the Makhniashvili family lives.

Makhniashvili's body was eventually discovered by two men who were walking in the wooded area, near the south side of an eastbound Highway 401 off-ramp. It was beside an overpass, and was so decomposed that police could not immediately identify its age or sex.

However, CP24 sources said the jean jacket the girl was wearing when she went missing was found at the scene, immediately tipping them off as to whose body they had likely discovered.
Here is another report.
http://www.thestar.com/news/crime/articl....of-missing-girl