Please note that tarot will pick up

TRENDS /VIBRATIONS of PAST PRESENT AND FUTURE

- it will pick up whether it be

anything that is 'out there'true news or false news

- either way it can throw light on what is 'in the air' - please bear this in mind when you are reading the insights.

It is very important that 'readers' of the blog understand this, therefore one has to be very discerning when reading. Media news can put out stories that are not factual or are pre -mediated but Tarot can pick that up. It does,nt mean that tarot is wrong, it shows tarot can see what might be suggested. However when writing the tarot it may be taken as fact.

Please bear that in mind and note that all insights are dated accurately and correctly from my missing childrens forum and uploaded here. Please ask for a link if you wish to validate.


Please also note tarot is not 100 per cent accurate but can help to throw light on situations and circumstances in certain cases.


Empathy.
http://www.mako.org.au/danielmorcombe1.html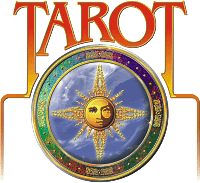 DANIEL MORCOMBE
« Thread Started Today at 3:58 »
3RD SEPTEMBER 2010
I have been left a message on the blogger to look at Tarot for this boy - Daniel Morcombe.

I am going to give first impressions whether or not they tally with what is known, this is what Tarot has given to me.

The first card I have is STRENGTH
This card sits between the Chariot and the Hermit. I would feel immediately that this child was approached by a vehicle or a vehicle is involved and he is connected with a man maybe someone oldish who is a loner or lives on their own. Strength is often thought of as a woman, or effeminate tendencies, we also have the Hermit which can represent someone of a homosexual nature.

The Strength card often shows someone who could be in a sporting situation - that could mean at play - but at the same time could be in a situation where physical strength is necessary to overcome a difficulty.

The Strength card always seems to give physical concerns and I have asked what happened to this child in order to receive this card.

There is an 8 connected here.



This card can represent 'trust and allowing' therefore he may not have felt he was in any danger at the time.

This card can be someone who

is in a stranglehold

. The Strength card is all about control so it would seem that Daniel could have been with someone perhaps that he trusted or shared some conversation with but that they took advantage and control of him.

Because the figures on the strength card show a woman opening a lions mouth, it can suggest someone who is forcing their will but doing it in a way that cannot be refused.

I am feeling therefore that Daniel was 'forced' into a situation.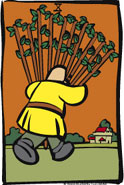 The 10 wands has come up with regards to Daniels status regarding health, it suggests that there was a lot of oppression. This does not bode particularly well as it is really not the best of cards. Sometimes the opposition can be too great and therefore

it would be wise to not pin hopes on finding Daniel healthy

and well although I dont like to say these things.

Tarot is not 100 per cent accurate therefore I cannot confirm categorically that Daniel is deceased. I can only go by the trends of 10 wands and that is not an encouraging card but it is simply an impression.

Thought it isnt the question asked, it looks from this card that someone could have picked Daniel up and put him somewhere near the outside of a town or buildings.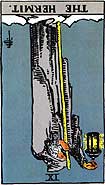 I wanted to know where Daniel might be and received the Hermit reversed. Location is always extremely difficult and mostly I am given descriptions and have to hope others can pinpoint from there.

Again we have the Hermit which followed the Strength card at the beginning of our reading. I feel there is someone who either is detached from society - reclusive out of choice who is responsible for hiding Daniel. Again the hermit is preceded by the chariot which is a vehicle and it is followed by the Wheel of fortune which could also represent Karma and Travel.

I think Travel/vehicle is elemental to Daniels disappearance and also he may be concealed near one, in one, or connected to one in some way.

The Hermit card is linked to sexuality (Touch) immediate thoughts are always of a paedophilic nature involved and I understand that this is part of the thinking of Daniels case.

Either this card is telling us that a man or person who lives on their own of this nature has hidden Daniel, or it may be that Daniel was caught up in a situation which he is still in, and if alive cant tell anybody or it may refer to the person who knows where he is.

I want to mention that the hermit has a ROOF linked to it. Often that can be thought of as high rise places like flats, or attics or somewhere high and a name place with a HILL or simply references of being high up come to mind. This card is reversed which could suggest hidden facts about this building or place or simply that he is below roof level . Decking has also come up under this card before as it is a ROOF but it is a low roof. Mobile Homes/caravans can sometimes come under this description.

I also have the Month of July on this card and an animalistic reference.

There may be a long pole such as a telegraph pole nearby or otherwise a streetlamp. If there are any place names that could reflect from this description its worth following them up.

If this child is still alive - he is being 'used' and controlled and unable to communicate with anyone he knows.

As tarot is past present and future any of the information tarot has given could have already occurred or may occur. This must be borne in mind.

I Ching tells us about not reaching the other side of a river or ford and although I have not received a cups card it may be that a river or stream may be part of the landscape in which to find this child or near the bank of a river. Possibly that could be a place name.

There is a possibility he will be found in the summer and again it could be in the month of July. I also seem to have EVENING time given to me but Im not quite sure whether this is to do with when this child is found but I will leave this open to thought.

Asking who is responsible for the disappearance of Daniel, Iching appears to be telling me it could be someone who is helping with enquiries of the search. This person lives in isolation or has their own little sanctuary and again Im seeing somewhere 'high up'.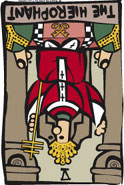 I want to put this card forward.

I have read a little now about Daniel and I understand he had a watch which has never been found.

I sometimes ask tarot questions and it can give me advice about something else that it feels is more important. Because I am not quite sure exactly where Tarot is 'going with this' I want to mention that I do have someone here who might have something to do with the Christian Center. I felt that this 'watch' may have ended up in the hands of 'someone else' that someone else is an adult. I also see a 'wagon' - vehicle and felt it was in a vehicle with this person at some point.

I am concerned about receiving this Heirophant reversed because it is linking to someone with weird tendencies. Again Im thinking on a 'sexual' level here - it may be that Im just getting environmental factors of where Daniel last was and perhaps the last trace of this watch. However, Im still being told about something to do with the Christian Centre which is not far from where Daniel originally went for the bus.


I feel there is a link with someone who either left the Christian Center on that day and came Daniels way or indeed that the person was perhaps a member of the center and was not welcome there anymore or was 'expelled' from there. I cant quite put my finger on that. However, when the Heirophant comes up it does suggest someone linked to religious institutions but that they are somehow 'anti-social' towards it.

Im not really liking the person but I am feeling there might be a link somehow to that place?
One other thing I want to add to this reading for Daniel is a period of '3 years' I do not know whether this is a time period for something or someone but I need to mention it.
Taking into account some of the detail in the insights - I notice on a Map that there is the Thrill HILL Water Slides. I also saw PLAY in the insights and HILL is mentioned in the tarot. I certainly would,nt want to set this as a location for Daniel but it could be something connected in some way?

EMPATHY



UPDATE: MORE ABOUT THE HERMIT REVERSED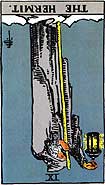 When I pulled out the card of the Hermit reversed hoping it might give me an indication of location or at least WHERE Daniel could be found - I felt that the initial tarot linking Daniel to an Oldish man comes into play here. The Hermit card is a completion card but when its reversed it seems to suggest something incomplete or at a stretch information that cannot for some reason be given.

The Hermit card often shows an older man who lives quite isolated - the description would be in a rustic type of environment - this card reversed can also show someone who can be foolish, give away their money or have chaotic memory lapses - and it also shows a lantern that lights up very dark places underground like a hole. Homes/environments and places linked to an older man could be considered as potential help and perhaps should be searched.

The Hermit is a card of Virgo which is primarily a health card. When this card is reversed it can show the illhealth of someone. Therefore we could feel that someones health and well being was in question or that there is an unhealthy environment.

The Hermit normal can shine a light on things that were previously mysterious and confusing but with this card reversed I see a problem with that and therefore information has been left incomplete or unobtainable therefore it may be too late to do anything about that situation.

It is possible that why Daniel has not been found despite all the answers laying in the past and likely connected to this older person, is that its possible the wrong combinations to accurate information have confused things.

If there was any possibility of Daniel Morcombe still being alive - this card would link him to the environment of an older man but also would tell us that he either has/had a memory loss and became lost - possibly running away from a situation. If Daniel was in a situation like that where he was currently alive he would be unlikely to either remember detail and tell someone or he unfortunately foolishly not wish to discuss this with anyone for many reasons or because of a mental impairment. I would stress that this card may not refer to Daniel but I can only give the fragments that I am getting.

These are all possibilities given via the Hermits upright and reversed but this card links twice in the tarot, once following the first card Strength and secondly linked to possible location.

Therefore the answer to Daniels whereabouts is most certainly linked to an older man.

This card is not answering the question as to whether Daniel is alive or deceased - it deals mainly with circumstance and environment factors of where Daniel may be or how the location is linked.
Empathy
UPDATE SEPT 3RD 2010 - MORE ABOUT THE HEIROPHANT REVERSED


I think more about the Heirophant should be taken into account in the case of Daniel as it has shown itself. There is a person that I see that could have been linked to the Christian centre as mentioned in tarot here but it could be that they are someone to trust on the surface but actually they are quite the opposite. I do feel this has been pointed out in tarot.

An example of an individual Heirophant would be one of those preachers who extols the virtues of the perfect family, screaming abuse at prostitutes and other sinners, for they are destined for Hell... and the money rolls in. Later, he is found in a seedy hotel smoking crack with several hookers, one of whom with apparent trans gender issues. Suitably chastened, tears rolling down his cheek, he implores his flock to forgive him for his singular indiscretion.
It does rather describe someone who was around Daniel and appears to be the person RESPONSIBLE.
Another point to make is that tarot picks up everything and I dont like to make story out of it, I just like post what I see and it is for those with more information to be able to put it together.
The Heirophant can also represent some form of problems at school - even strength card can have a 'school' flavour on it - therefore lessons and learning can be attached. If this reversed, one could imagine someone who did not 'learn their lesson' about something and at a far stretch could possibly be an ex- teacher,lecturer, or someone linked with a high principle attitude but in fact are quite the opposite. All these things need to be considered but exactly how they fall into place I am not quite sure.
I will mention that I do see some facts mixed up as pointed out before and I give my advice to the Police which is to go BACK to the beginning on this matter and dismiss definite statements but bear in mind there are some accuracies been told. Its difficult but it might be the only way to solve this case.
Tarot cannot guarantee 100 per cent accuracy but perhaps may cast some light on events.
Empathy
UPDATE 3RD SEPTEMBER 2010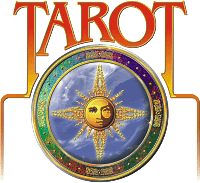 Re: DANIEL MORCOMBE
19:56 »
3RD SEPTEMBER 2010
I very rarely ever wish to get involved with the 'whodunnit' in tarot. My desire is only ever to help the child and locate the child.

I am not a judge and tarot is not 100 per cent accurate but there is some discussion regarding this man.

http://www.sunshinecoastdaily.com.au/sto....-morcombe-case/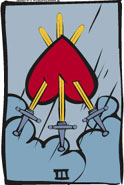 Tarot seems to think it could be an error of judgement believing that this man had anything to do with Daniel. There will be an outright denial in any case.

I see from this card that this man has been linked to two other children but there is a healing on the third. Therefore it puts a kind of obstacle in the way of him doing anything to Daniel.

That does,nt make me right just because I can turn over a card but this does tell us that this man had trouble with finances and also very likely some trouble in an emotional relationship.

This card also tells us that someone might be likely to make suggestions about him. However, I do have some kind of disruption and error and obstacle as to whether he is linked to Daniel.

The crimes of the past have been 'done' as it were and he seems to be moving away from them - so couple it all up with the 3 of swords also denying communication it is a tricky path to pursue.

Therefore, at this moment in time - I think there has to be more facts on the table before anyone is accused of being involved regardless of past crimes, one has to bear this in mind and once again I only give the trends of what tarot has expressed on this matter. It is only for the wise to decide what the truth is.

Empathy



NEWS UPDATE 6 SEPTEMBER 2010



http://www.brisbanetimes.com.au/queensla....0906-14whs.html
Morcombe inquest targets 'should be nervous'
Courtney Trenwith
September 6, 2010 - 9:38AM
A Helping Hand. Get Help: Bereavement Counselling.
Never found ... Sunshine Coast boy Daniel Morcombe disappeared in 2003.
The father of missing Sunshine Coast teenager Daniel Morcombe is "quietly confident" a coronial inquest will make significant inroads to solving the seven-year-old mystery.
New information into the disappearance of the 13-year-old is expected to be made public when the inquest starts on October 11.
UPDATED NEWS AUGUST 2011
The latest news regarding Daniel has been given to me via the comments section. I have now posted an update from the News. It appears a 41 year old man has been arrested in connection to Daniel's murder. We may have to see how events unfold and will keep this section updated for news and confirmation of events.

Tarot did seem to point out an EIGHT and we are in the EIGHTH MONTH - August. It is also Eight years since Daniel disappeared that we have this breakthrough.
At this time family and friends of Daniel are going through distress and I want to extend deep sympathy to them and peace for their hearts.
I will post further updates as they come in.
Empathy.
POLICE will scour rugged Sunshine Coast bushland for the remains of missing teenager Daniel Morcombe after a former truck driver was charged with his murder yesterday.
The surprise arrest of the 41-year-old man after

eight harrowing years

for the Morcombe family came after police lured him back to Queensland from Perth under a covert and complex strategy.
Read more: http://www.news.com.au/national/suspect-....8#ixzz1UvHGl3zc

Hunt for body after man charged with murder of missing schoolboy Daniel Morcombe

* By Renee Viellaris and Peter Hall
* From: The Sunday Mail (Qld)
*

August 14,

2011 1:06AM


Read more: http://www.news.com.au/national/suspect-....8#ixzz1UvHj0UVF



POLICE will scour rugged Sunshine Coast bushland for the remains of missing teenager Daniel Morcombe after a former truck driver was charged with his murder yesterday.

The surprise arrest of the 41-year-old man after eight harrowing years for the Morcombe family came after police lured him back to Queensland from Perth under a covert and complex strategy.

He was arrested at 4pm and charged three hours later with murder, deprivation of liberty, child stealing, indecent treatment of a child under 16 and interfering with a corpse.

At his home on the Sunshine Coast last night, an emotional Bruce Morcombe spoke of the moment he learnt police had charged a man with murdering his son.

Mr Morcombe told how despite the days dragging into months and almost eight years with no arrests, he and wife Denise never gave up hope of a breakthrough in the search for Daniel, who was only 13 when he vanished while waiting for a bus at a Woombye overpass in 2003.


"We always had the resolve," he said. "We have never once given up. We knew this day would come."

Mr Morcombe said senior police officers had been in constant communication with the family throughout yesterday about developments in the case.

He said that just after 5pm, he received a call from Commissioner Bob Atkinson and, almost simultaneously, Assistant Commissioner Mick Condon arrived at the door of his Palmwoods home.

"The Commissioner told me police were about to charge someone in relation to Daniel's abduction," he said.

Mr Morcombe said it brought mixed emotions and a "reality check" with fresh thoughts about what had happened to their boy.

"It's very difficult ... Denise is crushed by it all," he said. "We don't really know what to say. We're not in the right frame of mind. We need to gather our thoughts."

Mr Morcombe said there was no guilty verdict yet and "plenty of work ahead".

He said the family's position had always been "step one: find Daniel; step two: find who's responsible".

"An area has been identified and is being searched and this is our drive, to find Daniel."

Mrs Morcombe wept as she told of how difficult this task would be.



"During the floods, this spot had 10m of water through it

," she said.

Mr Morcombe said they had been told specialist excavation equipment would be brought in today.

He spoke of how vital the coronial inquest into Daniel's disappearance had been and how, without the resurgence of interest and fresh leads generated, the investigation could have been a cold case.

"The coronial process in layman's terms is a review process and (State Coroner Michael Barnes) saw something we didn't see. There's no doubt police have done an enormous amount of work but the inquest was crucial," Mr Morcombe said.

The inquest has now been suspended. Brisbane Magistrates Court will be under tight security tomorrow when the man, who was a person of interest at the inquest, will answer the charges.

The man - who cannot be named - was subpoenaed to provide further evidence to the inquiry later this year but it is understood police did not want to wait and used a covert strategy to lure him into their hands.

Commissioner Atkinson, who signalled he wanted the case solved before he retired, praised the work of detectives last night.

"Despite this breakthrough today, a significant amount of work remains to be done. That includes the search of an area of bushland on the Sunshine Coast," he said.


http://en.wikipedia.org/wiki/Daniel_Morcombe



Man charged



On 13 August 2011 a 41-year-old man was taken into custody and charged with Morcombe's murder and other offences including child stealing, deprivation of liberty, indecent treatment of a child under 16 and interfering with a corpse. The man, a convicted pedophile

from Perth, had admitted to police in 2006

that he used the road where Daniel disappeared, on the day of his disappearance, to purchase marijuana from a drug dealer.
http://www.heraldsun.com.au/news/more-ne....2-1226114892817
THE father-of-three charged with the murder of Daniel Morcombe will face a packed courtroom in Brisbane this morning.

While he cannot be identified, the 41-year-old was one of the central figures in the recent inquest into the disappearance of Daniel.

Known as P7, he has always denied any involvement.

He will appear in Brisbane Magistrates Court today charged with one count each of murder, deprivation of liberty, child stealing, indecent treatment of a child under 16 and interfering with a corpse.

Two weeks after Daniel disappeared, the accused was one of the first suspects police zeroed-in on during their marathon investigation, seizing his car for forensic examination.

He also had lived with relatives at Bli Bli in 1998 and was

believed to be a member of the Christian Outreach Centre at Woombye at that time.



But last year members of that church told The Courier-Mail they had no recollection of him.

Acquaintances yesterday described him as "quiet".



Updated August 17, 2011 20:26:49
http://www.abc.net.au/news/2011-08-17/daniel-morcombe-shoe-found/2844114

Shoe found in search for Daniel Morcombe





UPDATE 22ND AUGUST 2011
http://www.heraldsun.com.au/news/more-ne....2-1226119264796

Two shoes matching what Daniel was wearing has been found at the search site as have human bones.


UPDATE AUGUST 30TH 2011



I want to thank everyone who has posted updates with respect to Daniel who has at last been found 8 years on. I did feel that an 8 would be significant in the tarot and there are other points which have appeared to be validated in this reading. As always it is very sad when the outcome brings us a deceased child and I cannot express enough sympathy to all those close to him. The only consolation is that he is not lost in the wilderness forever. A sad ending for all.

There is a 'story' behind all that has happened to Daniel which we are not aware of at the current time until conviction is made and details are revealed therefore I cannot verify certain pointers in the tarot until that time. Until then, a synopsis cannot be concluded.

Empathy.



http://www.baysidebulletin.com.au/news/l....le/2273813.aspx

POLICE are refusing to comment about a white four-wheel drive seized from Russell Island two weeks ago and its link with the abduction and murder of Sunshine Coast teenager Daniel Morcombe.

It is believed the white Mitsubishi Pajero was taken off Russell Island on a police barge about two weeks ago.

A Sunday Mail story on the weekend claimed the car was impounded after being taken to the island about five years ago.

A police spokesman said, however, he could not comment on the car or operational matters as the Morcombe case was still before the courts.

At the inquest into Daniel's disappearance in April, a witness told of seeing a white Pajero with a vehicle snorkel near the Sunshine Coast bus stop where the 13-year-old was last seen.

The announcement of the car being impounded came on the same day police confirmed three bones found at a Beerwah macadamia nut farm were Daniel's.

Two shoes that match the brand Daniel was wearing when he was last seen alive in 2003, were also found at the site.

Daniel's parents Bruce and Denise Morcombe said finding the bones was the "expected shock we have all been waiting for". The search for Daniel's remains was called off due to heavy rain last week.

The family plans to hold a funeral once all of Daniel's remains are found. The man accused of Daniel's murder is due back in court on September 26.
http://www.abc.net.au/news/2011-08-28/be....00/?site=sydney
Queensland Police have confirmed that bones found at a crime scene in bushland on the Sunshine Coast belong to missing teenager Daniel Morcombe.

But the search for more evidence is expected to continue for weeks and police have vowed to continue until every area is exhausted.

"We're hopeful that more remains and other forensic evidence will be found," Deputy Police Commissioner Ross Barnett said on Sunday.

"As long as it takes, we're not going to walk away from that search until we have exhausted absolutely every area.

"It will be at least several weeks."

A week ago, three bones and a pair of shoes were found in Beerburrum State Forest near Beerwah, the site police have been searching since the arrest of a suspect in Daniel's murder case.