http://www.findani.com/

MISSING : Ani Ashekian

Canadian Tourist Last Seen in Hong Kong on 9 November 2008

HK$200,000 / US$25,000 Reward

for any information leading to her whereabouts

PUBLIC APPEAL FOR ASSISTANCE

Tel/SMS +852 9886 0043 | +1 519 999 8041 | FindAni@gmail.com or FindAniAshekian@gmail.com
Please note that tarot will pick up

TRENDS /VIBRATIONS of PAST PRESENT AND FUTURE

- it will pick up

anything that is 'out there'

true news or false news

- either way it can throw light on what is 'in the air' - please bear this in mind when you are reading the insights.

It is very important that 'readers' of the blog understand this, therefore one has to be very discerning when reading. Media news can put out stories that are not factual or are pre -mediated but Tarot can pick that up. It does,nt mean that tarot is wrong, it shows tarot can see what might be suggested. However when writing the tarot it may be taken as fact.

TAROT

CANNOT

BE CONSIDERED AS

100 PER CENT

ACCURATE.


There is a notice on every reading which I wish to remind everyone explains how tarot works. Tarot is not 100 per cent accurate and even the GENDER of a person can be difficult to decide. Therefore 'He' can be 'She'. Circumstances and situations always come out in the tarot but I am not a detective who can solve crimes, all I CAN do is put down what I receive when I meditate with tarot on the individual.



ANI ASHEKIAN
September 5th 2010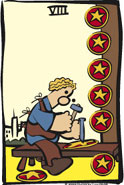 Here is a beautiful woman. This is Ani, and she drew me in to read for her first out of the requests.I have written a brief synopsis of what tarot has given to me.

The very first card I have for Ani is someone who works really hard for 8 years on a project or to some kind of committment. The 8 of Pentacles appears to give the description of a dark young girl or young dark haired person. What you see here is a person who has either left a city or is outside of a city working away and completely dedicated to a task that they have put a lot of detail and care into. It could suggest learning/training/study as it is the 'card of the apprentice' as well as working hard in a business or towards one. They dont have a lot of experience and this is why they would be involved in this produce to educate themselves.

The eight can tells us that a person has to live frugally in order to earn a better future with what they learn or do. Pentacles are Money and material matters as well as pertaining to work and skills. So therefore Ani would be working hard to earn money or the prospect of it. As tarot is past present and future, I cannot say when this is occurring but it does and could even point to slave labour where someone is being made to work really hard but not getting paid a lot for it.
There is often a 'blacksmith' connected with this card which suggests hot sweaty conditions.

The 8 of pentacles can often be linked to music. 8 is the music number. It can suggest the possibility of working hard to music and learning how to get it right. There wont be much money in this. This will not be the aim that Ani had or the original intention of what she wanted to do.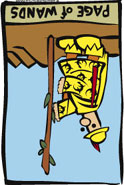 There has not been any news about Ani and when asking if Ani is 'still with us' this card tells us about the lack of news and messages and also that news regarding Ani may actually not be good news. It does'nt really answer the question whether Ani is still with us. but instead it seems to point to the fact that she might be in a position of being dominated. or does not want to be dominated in doing so. Judgement is attached to this card which does show someone coming back from the past as a rule, when this is reversed it tends to put that on hold. With Judgement on this card there may be a lack of vitality and ill health, possibly even a feeling of being alone uneasy and sickly.

There may be a young relation or someone connected in this case searching for Ani but I still see bad news about this. Does Ani even want to be found by this person? or is it another dark haired person who passes news that gives a lot of worry and concern?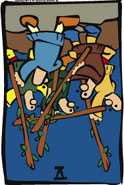 I seem to be seeing Ani as a subject of legal disputes and major clashing of opinion. If Ani is alive she is somewhere that is difficult to get to because it is somewhere a lot of red tape is prevalent. This could refer to any time pocket. I certainly see a lot of violent action in this card so it seems to me she is somewhere where people get extremely angry very quickly. Law and tribunals seem to figure here. Theres a lot of trickery and contradiction here.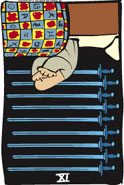 Asking if Ani will be found - we have the 9 of swords which when upright is a completion indication a yes, but this is reversed - it does,nt take away the fact that she will be found but it does rather suggest that this is not yet happened. This 9 of Swords may indicate a period of under 9 months but please do not hold me to that.It does show someone who could narrowly have avoided losing their life or avoided some other terrible catastrophe but it seems to me that brighter days are on this person having gone through a terrible time worrying and being in a state of total collapse and despair. There is a 9 on this card and we could think of 2009 perhaps she was almost located, but of course that did not happen. The previous card however is the 8 of swords which shows someone bonded or in a 'prison' type of atmosphere where they feel stuck and not able to get out, when you reverse that to match the trends of the 9 of swords the 8 can then show someone released from that bondage or prison. Therefore when I look at the 9 of Swords I seem to see the story of someone who has been 'released' from their bondage and because of that there is light at the end of the tunnel and hope for a new day.

I think it is still possible that this young lady will be found.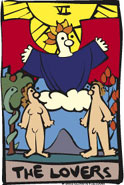 Pressing tarot further and asking WHEN Ani will be found, we have the Lovers card which relates to Number 6 - possible choices and the past.The timing of this card is often around May 21 to June 21 it is not always correct. However the Number 6 may figure and I have to leave that. What I will say is that it is through meetings and harmony that this can occur and this card tells us that we can find a person and therefore I believe Ani will indeed be found. There may also be negotiation for 'another' as I dont just see Ani being 'found' I see there being two people here. It is even possible she met someone who she is now with. I do not know at which point tarot gives us this information whether it is past present or future. I can only lay out what I see but she will be found where 'two roads meet'. South and Summer can link to where she is though I am unable to pinpoint a country with further exploration except it is not the UK or Europe it is somewhere hot.

6 Cups attached to the Lovers may indicate she can be found in a place she had pleasant thoughts about - it could be where she vanished from so she may be back in that vicinity. It may actually somehow link to the word ' flowers' or 'garden'.

I will look again for Ani and I hope that some of this information is useful.

Empathy
UPDATED 14TH DECEMBER 2012
www.scmp.com/.../ani-ashekians-journal-offers-new-clue... - Hong Kong
21 Oct 2012 –

Backpacker's state of mind, possible Macau lead and Argentina job offer turn the case on its head.
UPDATED 5TH AUGUST 2014
No further news yet about the journal clues in the press but have posted facebook below in case anyone has tips.
www.facebook.com/pages/MISSING-Ani-Ashekian/43949059307
MISSING: Ani Ashekian, Hong Kong, Hong Kong. 986 likes. Twitter: http://www.Twitter.com/FindAniAshekian.