Please note that tarot will pick up

TRENDS /VIBRATIONS of PAST PRESENT AND FUTURE

- it will pick up

anything that is 'out there'

true news or false news

- either way it can throw light on what is 'in the air' - please bear this in mind when you are reading the insights.

It is very important that 'readers' of the blog understand this, therefore one has to be very discerning when reading. Media news can put out stories that are not factual or are pre -mediated but Tarot can pick that up. It does,nt mean that tarot is wrong, it shows tarot can see what might be suggested. However when writing the tarot it may be taken as fact.



TAROT CANNOT BE CONSIDERED AS

100 PER CENT

ACCURATE.





Kristi Cornwell

ANYONE HAVING ANY INFORMATION SHOULD CONTACT

Union County Sheriff's Office

706-439-6066

Kristi was last heard from at approximately 9:00 pm on August 11, 2009 while walking on Jones Creek Road near Blairsville, Georgia. She was last seen wearing a white tee shirt and tan shorts. Authorities from the Union County S.O., the GBI, GSP, DNR, Dept. of Corrections and additional officers from neighboring sheriff's departments joined an extensive search for 6 days of the Jones Creek Road area. At this time authorities believe that Kristi Cornwell was abducted by vehicle while walking on Jones Creek Road, and is believed to be in extreme danger.

The community is being asked to contact the Union County Sheriff's Office or the GBI if they have any information concerning Kristi's disappearance. Also, authorities are seeking information from anyone who was in the vicinity of Jones Creek Road between 8:00 and 10:00 pm on Tuesday, August 11, 2009.


http://kristicornwell.com/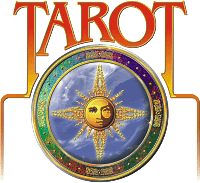 KRISTI CORNWELL
« Thread Started Today at 18:08 »
13 August 2010
I have done a very brief synopsis on the case of Kristi and will go back to look at this particular case again.
Kirsty has been missing for almost a year.
It seems to me that the first thing I have is broken relationships whether with friends family or lover. This is a difficult situation as things are split right down the middle and there does,nt seem to be anyway to repair things.
The thoughts that I had was a three way relationship creating a seperation. I also felt a saw a pregnancy or a child that was not wanted but that its possible Kirsty was kept against her will.
I did not see death in the cards at the time of looking,

but I did see her near water.

I see that a lot in the tarot with many cases but in this case, it could simply be that

she is located near water or is living quite close to the shore or is located in that way.
I see from the cards that a vehicle was involved here and there are some very odd occurrences. There is a school/teacher involvement and it seems three people. I get the impression that one person has now dropped out of the relationship.
It appears that Kirsti is MISLAID - thats what tarot seems to give.
If for any reason Kirsti was kept as a kind of prisoner against her will, it may be that she got used to that fact though felt no love or feelings. If there is a child involved that she had to have then I feel that must have been a difficult bonding. It may not be her where I see the child but there does appear to be a possible child or even a desire for abortion in some respects.
I see that Kristi was freed from a situation of the three person relationship - I am not quite sure but with the three of swords reversed it can suggest that she could be mislaid for at least another three months. Again, I would need to check this as this is brief.
From what I see there is a high priestess card here which contains no amount of secrets and a lot of this story has yet to come out. A B and a J are the intiials of places or people who are involved with this womans disappearance or it could be a location of some description.

There is also a place linked to water with the initial M or W -
At first when I looked at the cards

I really did not see Kristy coming back

- but its possible that

if the tarot has ultimately considered her mislaid, the possibility of her return is not out of the question.
A bath, water, or

somewhere linked to water is connected to her location.

I feel this woman lost a lot of energy. I also see a someone who could be a school person

young dark haired boy who may offer information but for some reason I am not quite seeing this as reliable yet he does seem to be in earnest.
I think there is a bit of an avenging situation here - so I think people should tread carefully with that as he has a message that to me seems like it has a bit of 'cruelty' attached to it. I cant explain that but the Page of Wands is quite clear about this when reversed. Its basically information that is not considered good news.
I feel that

a mother is very intuitive here and she should follow her hunches

- she is incredibly sensitive to the thoughts and feelings of others and she must just try to believe in her own feelings.
I did see a weapon in the Ace of Swords reversed, but it seemed to me that it was linked to being the master of someones own destiny. I did think it could be an abortion or a removal of something or someone - however, once thats done theres no going back.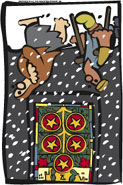 The most important question is will Kristi be found and this card seems to show terrible desperate times, lack of money and resources and really not knowing who to ask for help. However the reverse of this card actually shows difficult times coming to an end. I feel there is a more upbeat sensation with this card and

it does feel rather that its possible that Kristi will be found and there may be a 5 as a number or some symbol involved in that.
I think the family should retain a sense of optimism and that spiritual help will in fact help them
I see the light at their feet and I see help and finances coming to them if they have struggled with this.
I also feel that we could make a couple of suggestions. This 5 of pentacles always points to

North and Winter

- so we could turn it on its head and give out south and summer . Theoretically we are in Autumn or at least partially there as September not far away so its not beyond impossible to find this lady. It wont be all plain sailing though so no point in turning it into something that promises easy outcomes.
Please let it be said that finances should not be wasted and one should make sure that they employ those who have good intentions or who are good investigators -
I will try to look again at this case.
My thoughts go to Kristi who seemed to want to communicate through her photograph and who I feel I would have really liked as a person she has a great face and it beams in such a warm and vivacious way.
My regards go to the family. I hope this nightmare can be resolved.
Empathy



The latest information on this case was posted on 12 May 2010.




UPDATE TAROT 23 SEPT 2010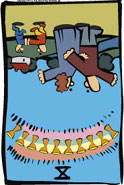 Re: KRISTI CORNWELL
« Reply #1 Today at 6:55 »23 Sept 2010
Asking Tarot where Kristi is September 2010 it seems to me that if you ask Tarot a logical question it will give a logical answer!!
The answer tarot gives is really quite obvious and that is

away from her family home.
The 10 of cups is the family domain of the person and their town of origin and when you reverse that it clearly gives us the impression that the person is not there but for some reason there are great problems and upsets that have caused the rift and seperation.
Looking more intently at the 10 of cups, we also have to remember the cards that stand at each side of it. When I get a reversed card I am not always sure whether to look at the preceeding card and folowing card in a negative light too or whether to consider it as an upright.
However, we could just look at all angles here. We know that the cups pack is all about emotions primarily, it is the most sensitive sign of the minor arcana and we know we are dealing with feelings here more than anything or indeed if its location we often connect this to water.
It very much depends how the cards come out and what questions are being asked of them to derive the right situation.
However, with the 10 upside down it strikes me immediately that there was definately some difficult situation for Kristi that makes it impossible for her to be at the family home, so you wont find her there - fact. The 10 of cups

takes us away from her original TOWN which also suggests she is not in the town she was in when she disappeared

. The reason for this is because of Betrayal, perhaps Jilted, One-sided love, Family Fights, Disharmony and or possible Arguments . The card before that is the 9 of cups which suggests it is NOT Kristi's wish to be in this situation exactly but certain messages pertaining to a 'child' or some immature love or situation - maybe even a short love affair, put her in that situation where she has 'vanished'.
I say this as 9 of cups preceeds the 10 of cups and the page falls in afterwards. Obviously in the 9 of cups there are some hidden factors there but someone is folding their arms over this and is not revealing exactly what they are. Either the 9 of cups is someone who is smug and secretive and clearly not bothered and relaxed about the situation or if a negative alignment is on this, then they are suffering an eating disorder.
The Page of cups can be a baby, news of a baby, or a very short lived relationship or one in its infancy - I think this has been picked up before in the tarot in my previous sitting and comes up to force the point once more.
But the 10 of cups is the card to concentrate on here.
One thing I will just say and this is not a negative thing but Tarot will always work to the protection of the person that it is talking about. Tarot also always recognises when that must be put into place too - so I do try to be careful what I write as much as possible.
The 10 of cups itself - is when relationships just get so out of hand that a person cannot be helped - whatever is wrong with them its just something they have to work out for themselves the 9 and the 10 of cups show severe seperation and difficulties where you cant live with a person and you cant live without them and the cups ask 'in a situation like this what can be done?' this is truly a severe relationship crash here -
West, Fall, Twilight fall on this card, I assume that could be the location and time of day that Kristi disappeared? if that were the case then East Spring and daybreak or Dawn could be of some significance for the current time though that is not something I would put my 10 dollars on - it is a very vague suggestion.
This card can suggest that parents and children are not in good favour with each other, drugs and alchohol can all form part of this though may not necessarily be the case. There are arguments between lovers, damage to the home and all hell breaking lose here - surely if that were the case at the time of Kristi's disappearance the family would have said so. If that is not the case, then that might have 'become' the case????
Drugs and Alchohol addiction may not be related to Kristi herself, but may be related to someone around her, that is another aspect that has to be taken into consideration. Tarot tells us things and it is very easy to apply it to the person we ask about but tarot shows everything around that person as well as connected to the person so we have to be very careful what we suggest here - all the same, tarot gives it.
The 10 of cups shows us a field a cottage in the distance , children playing ( normally about 2) a man and a woman depicting the family,

a stream to the left and hills and trees in the background.
When that is reversed, we need to perhaps bring that into further focus and

bring Kristi closer to that, the hills and trees would be in the foreground

, the cottage up close the family scattered and the stream I guess is the water. I did say I saw Kristi by the water, and reversing this card brings that water right up to her. So she is by the water very close to it and everything around her looks pretty much like Chaos - I dont see the family in the field or the home they dont seem to be there at all because it has all broken up and dispersed, except Kristi who seems to be there now on her own. At least, that is what I would portray from this reversed situation. But it does not seem to be her

HOME TOWN OF ORIGIN. It is away from that.
When this is reversed it shows violence in the home or the place she is.
Cups are RAINBOWS I was asked in the comment section about RAINBOWS and Water and if there is such a destination that could be linked to a Rainbow - I would have to say that it is a negative for her current situation as the Rainbow would be below her, therefore either Water Underneath or place name South OF HER.
However, if I considered a rainbow and turned it upside down and linked it to water - it would remind me of a colourful BOAT on the water but I cannot guarantee this whatsoever.
There are serious quarrels on this card and combat in this relationship that I see.
It doesnt feel like an abduction to me but tarot cannot be 100 per cent precise about this.
If there was a boat in the picture, it would likely have a large blue sale but I do see a colourful element.
The Nine of cups which comes before the 10 is often shown as a completion of motherhood. That is reversed which made me feel previously that perhaps there was a baby that did,nt go to full term. Again though it could have been a love affair that was short lived it may at a stretch have been knowledge of this that Kristi had about someone else but again this is very difficult to try to pin down only that it all seems to resurface when I look at Kristi.
There could be a very young person here, could even be a young male person who is linked somehow to all of this but I cannot be precise and can only leave the options here.
The 9 of cups also has a slight military/uniform flavour about it - perhaps Kristi was aware of a younger person who was involved in drugs and alchohol or maybe had information about them that was hidden information, that again is all very possible - but how it would destroy a family is something I cant quite put my finger on.
Perhaps the family was destroyed because of that information and led to this disastrous situation where Kristi has been put in a difficult position.
All I seem to see are mistakes and errors made here and it might have been very costly to Kristi. Like I said before if she was pregnant there might have been a serious problem attached to that as one way of looking at this.
Kristi was on the telephone to someone that is linked to the family in some way, whether directly connected or linked in some fashion whether acquaintance or friend.
It shows her being alone and this phone call being made in the Page of Cups - and it also seems to point out that there was deception from a friend or close colleague - and also something about a communication that did,nt come?????
Its almost like Kristi was expecting one thing and somehow it turned out to be something else. I seem to see a fair youngish man or even someone younger could even be up to the age of 25 but dont take that as literally as age can be wrong it could just be that they are immature people who dont grow up or have an emotionally immature nature.
The page of cups is attached to the Ace of Cups and here is a picture of the Ace of Cups just in case you have not seen it before.
Plain as day you can see tarot repeating here because on that Ace of Cups that is linked to the Page is a set of initials -

we have either an M or we have a W

- when the cup is turned each way and those two initials must be of some importance and relative to the situation that Kristi is in.
There seems to be NO BEGINNING with the W but

there seems to be beginning with the M.
This card also links up with West Fall and Twilight - so it must link to the phone call of that evening? This card shows us astrological properties - i.e. : Cancer Scorpio Pisces.
Cancer is the HOME - Scorpio are SECRETS and PISCES is either emotions or water based elements.
Pisces depict a religious symbol - so there would be something religious here or someone connected to religion - or it could be pertaining to someone of that nature - so the call could have been about them? or somehow linked in some way? - THEN we have the fact that Pisces are TWO FISH - these two fish are going in OPPOSITE directions up a stream.
Now if they go in opposite directions the question to ask is do they pass by each other - or not? OR does it suggest that our Kristi is either going towards or coming away from somewhere that is linked to a religious site or place?
These are things we have to consider with the tarot.
It would make sense to search areas of this nature.
It would make sense to search and take into account intials that show up. The problem with that is that unless there is a proper clue how would one know what these initials meant?
So we go back to the 10 0f cups and discover that is where Kristi is supposed to be September 2010. We take into account the 9 of cups and we take into account the page of Cups. Linked to the page of cups is the Ace of cups as explained above. The Ace of cups is linked to the Hanged man - this is a situation in suspension . The Ace tells us that if there was a new relationship basically it could have been wishful thinking or could not get off the ground too many delays with that and the suspension there seems to suggest it was very much a relationship that did,nt seem confirmed in any way. Maybe Kristi wanted rid of the relationship and did,nt know how to break things off this again is all very possible.
I cannot really think how else I can pinpoint the 10 0f cups reversed for Kristies whereabouts only that the information tarot has given here be taken into account as it may be useful .
Asking when Kristi will be found, I am given temperance. This tends to tell me to be patient and that patience is a virtue here as self control has to be achieved in order for this to occur.
There are certain elements to this card which could be examined for example - she would be between two counties or two towns possibly on the Border, half on land half on water.
I see Oil in the water.
There has to be tact and tolerance in order for Kristi to be found.
Temperance is Card 14 in the Major Arcana - that number can be very ambiguous as it could relate to a day, a time span or just a number that would help - but November 22 to December 21 is generally dates and timings of this card - though it is,nt always entirely accurate it does just depend.
Temperance is the 'bringer forth of life' so the tarot recognises what we are asking and know we want to know when Kristi will be found and come home.
Temperance does come after Card 13 however, and Card 13 is the death card. The death card always frightens people as they immediately think a person has died , well, it can be the case, but by the same token it mostly means transformation which seems to indicate that the persons life has completely changed in every single way. It can even mean they have left the past behind, it can mean someone who has flatlined and been brought back to life - so it is a very transitional card but it does seem to be the preceeding information before Temperance.
It may be telling us that due to a huge transformation in the life of Kristi, it is,nt as easy as that to say when she can be found because Temperance has already told us that we need some patience and self control with this - it may not be yet that we hear from Kristi or that she has been found.
Temperance is a 'healing card' perhaps Kristi will be found when she is 'healed'.
Im not sure if the healing has something to do with this passage relating to Temperance, but it could make sense in light of what tarot has already told us.
The "water of life" with the "fire of the spirit" to be exact. Feminine with masculine, yin with yang. Temperance is described by Crowley as a "womb;" an interesting and apt description. That place where sperm and egg mix to create a lifeform. Thus, the Lovers don't merely flow together emotionally and as partners, they literally come together, consumating their marriage and producing a child.
Yes thats rather interesting is,nt it.
Whatever the outcome - I cant see that we can push this situation any harder as to when Kristi will be found. It might be 14 months in all - all we can do is wait.
I hope the outcome for Kristi is a good one I have already said before that I love the way Kristi seems to come straight out of the page and I feel it is important to keep a protective shield over her. If Kristi is 'still with us' she needs time to work through her own issues. In that case, the lady needs space and we need to respect that.
Whatever the outcome here I have to say that tarot cannot be 100 per cent accurate in its findings, it is very uncanny at times and can tell us things which are quite unbelievably true, but its sorting out the wheat from the chaff. I will write again for Kirsti at the end of October because I feel that I dont need to do this until then.
Remember that tarot is PAST PRESENT AND FUTURE and anything that is written can be from any of those time epochs.

Temperance has sometimes been linked to COOKING. The 9 of cups is often related to a KITCHEN.

Maybe I have tuned in to Kristi at the time of writing tarot in a KITCHEN ????

Empathy.


UPDATE 3 JANUARY 2011


I am very sad to report that Christi Cornwell has been found Deceased.

I have highlighted on the blogger what tarot has picked out to the current time. It is confirmed that Christi was found 9 miles

NORTH

of her home town.

Christi was found near

Notley Dam

in an area near

Moccasin

Road

Tarot has pinpointed one or two accuracies but is not 100 per cent accurate on every detail and some details are not revealed at the current time to see what tarot was telling us. I will post further updates as necessary.

Christi may now rest in peace and my sympathies extend to all family.

Empathy.


Human remains found near

Moccasin

Road

By Norman Cooper
North Georgia News Editor
Posted Sunday morning

Union County Sheriff's Office and the Georgia Bureau of Investigation are in the area of Moccasin Road. The North Georgia News was told that human remains have been found and will be taken to the crime lab to try and make a positive identification.

UCSO and GBI were in the area Saturday night and numerous law enforcement vehicles were in the area Sunday morning.

Portions of Moccasin Road are closed.

A command center has been established at the fire station on Moccasin Road, a place where media will be assembled, if any arrive. As of Sunday morning 9am no other media inquires had been made concerning the search.



"It's been very tough," Bankhead said Sunday. "It's been tough on the agents and Union County deputies, they've put a lot of work into this. Obviously it's been tough on the family not knowing. And so Union County and the GBI have been in touch with the family to let them know what was going on, to make them aware of the possibility, and to get them prepared for whatever news comes out of this tomorrow."
The remains that were found will allow the GBI to use dental records to identify them.
The GBI has tentatively scheduled a news conference for 2:00 pm Monday.
http://www.11alive.com/news/national/story.as...



http://www.wsbtv.com/news/26345145/detail.htm...

In January, investigators said they received a letter from an anonymous North Carolina woman stating that the sketch of a suspect in the attempted abduction of a woman in Ranger looked like her grandson. Police said they think the same man may have abducted Cornwell.


The grandmother also wrote in her letter that her grandson drove the same vehicle, a Nissan Xterra, seen in the area of the attempted abduction, and he was in Union County on the day of each attack.



http://www.ajc.com/news/remains-idd-as-kristi-793365.html

12:23 p.m. Monday, January 3, 2011

Remains ID'd as Kristi Cornwell, missing since 2009

The GBI's forensic pathologist has positively identified remains found Saturday in Union County as those of Kristi Cornwell, missing since August 2009.




Sheriff Stephens stated that Kristi's brother, Richard, had found the remains while searching.

http://www.nganews.com/content.aspx?...&MemberID=1281


LATEST


BLAIRSVILLE — Officials have identified remains found Saturday in Union County as those of Kristi Cornwell, missing since August 2009, according to John Bankhead, spokesman for the Georgia Bureau of Investigation.


Cornwell's brother, Richard Cornwell,
found the remains about 5 p.m

.
after investigators told him where the next search was planned.


GBI officials said the bones were found about nine miles from where Kristi Cornwell disappeared. Authorities sent the bones to a crime lab for analysis. Dental records confirmed the identification.


At a press conference this afternoon, GBI Director Vernon Keenan said investigators were working off a lead based on the cell phone records of 42-year-old James Scott Carringer, a suspect in the case.


Carringer's cell phone pinged off a tower in the area on the day Kristi Cornwell disappeared, which puts the caller within two miles of the tower and led investigators to plan a search for that area. Carringer committed suicide in April 2010 as police attempted to arrest him on charges of raping a woman in Ellijay.


Keenan also said the remains were burned, and investigators are hoping someone may have seen the fire.


Authorities say Cornwell was abducted late on Aug. 11, 2009, while walking down a two-lane country road near her parents house. Her boyfriend, whom she was talking to on her cell phone at the time, told officials he heard a struggle on the other end of the line. Cornwell's personal effects, including her cell phone, were later found on the side of the road.
http://www.gainesvilletimes.com/sect...article/43763/
Latest report.

http://www.ajc.com/news/brother-finds-cornwells-remains-794176.html

By helicopter, by all-terrain vehicle and on foot, over the past year-and-a-half, Cornwell had searched the wilderness of North Georgia and nearby North Carolina for any remains of his sister Kristi Cornwell.

On New Year's Day, he discovered a skeleton, partially buried by debris, nine miles from where his sister had disappeared.

A Georgia Bureau of Investigations medical examiner confirmed Monday that Richard Cornwell's discovery was indeed the remains of Kristi Cornwell, 38, who vanished on Aug. 11, 2009, near Blairsville in Union County.

Even before her body was found, investigators' had zeroed in on one suspect. The only problem was that he, too, was dead.

"(James) Scott Carringer is our primary suspect and has been for a long time," said GBI agent Mike Ayers, who initially led the search for Kristi Cornwell.

On the night she went missing, Carringer's mobile phone pinged a cell tower in Union County around 11:30 p.m., providing information investigators – and ultimately, Richard Cornwell – used to pinpoint her remains.

Carringer, who has been linked to several other abductions in Alabama, North Carolina and Georgia, killed himself in April when Atlanta police cornered him with an arrest warrant for kidnapping and raping a Kennesaw State University student. Although Kristi Corwell's death has been ruled a homicide, authorities said Monday that evidence has not definitively linked Carringer to her death, and the case remains open.

Investigators said they believe Carringer took great lengths to cover his tracks, from altering and selling vehicles consistent with the description of the one seen the night of her disappearance, to burning her body and possibly even sending a bogus anonymous tip letter.

If that is true, he was ultimately foiled by a man who worked even harder to uncover what he sought to conceal. Richard Cornwell quit his job as an engineer to look for his sister, and the family embarked upon a grand-scale crusade: offering a $50,000 reward from the website www.kristicornwell.com for information leading to the arrest and conviction of the person responsible for her disappearance.

They sold their lake-front vacation home to fund the search, paying for airplane and helicopter flights and mailing 80,000 fliers with information throughout Georgia, North Carolina and Tennessee.

"I've never seen anything like this," Ayers said of the Cornwell family's efforts Monday afternoon at the GBI post in Cleveland.

Working with the GBI and using every lead they gave him, Richard Cornwell searched in every spare moment, using a meticulous system.

"He had a set process where he had to walk every foot of the area he was looking in," GBI spokesman John Bankhead said Monday. "He walked every square foot of an area."

Saturday, that area was the two square miles that cell tower data had identified as the site where Carringer was the night Kristi Cornwell disappeared, Bankhead said.

Richard Cornwell learned about the location a week before he found his sister's remains, but weeks before the GBI planned to canvas that area, GBI officials said. There, about 75 yards from Moccasin Creek Road, just south of the North Carolina border, Richard Cornwell found the partially covered, burned skeleton, authorities said.

"It's always in the place you wish you'd looked," Ayers said.

Other evidence was found nearby, but investigators refused to characterize it or say where it might lead them.

"We didn't want it to end this way," Jo Ann Cornwell said Monday, wiping away tears and holding Richard Cornwell's hands. "I know in my heart that she's in heaven. That's what's going to help me to go on."

The discovery brings some closure to one of Georgia's most high-profile murder investigations of recent years. Cornwell's disappearance received attention from national media outlets, including a feature on "America's Most Wanted."

On the night she vanished, Cornwell was walking on Jones Creek Road, an unmarked crossroad, and talking by cell phone to her boyfriend. The 38-year-old mother told him that a car was following her. The boyfriend, Douglas Davis of Carrollton, told investigators he heard a scuffle and then heard her say, "Don't take me!"

Her shoes, eyeglasses and cell phone earpiece were found at the place where she was abducted and her cell phone was found discarded a few miles away.

Last summer, nearing the anniversary of Kristi Corwell's disappearance, authorities received an anonymous letter alleging to be from a woman who suspected her grandson of the abduction.

But when authorities made public requests for the mysterious woman to come forward, no one responded. They now believe Carringer may have written the letter.

"The envelope address was in purple ink," Ayers said, noting that investigators found several purple ink pens at Carringer's home after his death, along with several calendar entries from him made in the same purple ink.

He was already being considered as a suspect in the Cornwell case, the GBI said.

He was also wanted in the kidnapping and sexual assault of a 19-year-old relative, and was suspected in the kidnapping of a 10-year-old Montgomery, Ala. girl and the botched abduction of a Ranger, North Carolina woman. In each case, reports of a light-colored Nissan Xterra surfaced, the same type of vehicle reported near the scene of Kristi Cornwell's disappearance.

Gilmer County authorities issued an arrest warrant. But when Atlanta police approached him at a Buckhead Mellow Mushroom restaurant, he barricaded himself inside his SUV and fatally shot himself.

Investigators learned that the former home appraiser and builder at one point owned three different Xterras, and removed the brush guard from one of the SUV's soon after Cornwell went missing.

But Ayers still needs more to close the case.

"I would give anything to have had 30 minutes to talk with him," Ayers said.

Still, Kristi Cornwell's brother said he feels some satisfaction.

"I'm thankful that Kristi can now have the proper burial that she deserves," Richard Cornwell told reporters Monday.

Crossover Community Church in Blue Ridge, where Kristi Cornwell was active, will hold a prayer service for her and her family Wednesday.

Rev. Renny Ryder, who Baptized her about four years ago, said Cornwell always spoke about her family.

"It was just a little country family," he said. "There's a tremendous brokenness there."

The finding of her remains, he said, has become "a renewing of all the grieving."

"We will pray that God reveals the evil that did this," he said. "Ultimately no one gets away with these things."

AJC reporters Christian Boone,Katie Leslie and Craig Schneider contributed to this article.

******

James Scott Carringer is suspected in the following crimes.

• The Aug. 2, 2009, attempted abduction of a woman in Ranger, N.C.

• The Aug. 11 abduction and slaying of Kristi Cornwell near Blairsville, Ga.

• The April 4, 2010, attempted abduction of a 10-year old girl from a church Easter egg hunt in Montgomery, Ala.

• The April 6, 2010, kidnapping and rape of a 19-year-old relative, a Kennesaw State student, in Ellijay