http://en.wikipedia.org/wiki/Kidnapping_of_Shannon_Matthews

Kidnapping of Shannon Matthews
From Wikipedia, the free encyclopedia
Shannon Matthews (born 9 September 1998) is a British girl who disappeared on the afternoon of 19 February 2008 in Dewsbury, West Yorkshire, England.[1] The search for the 9-year-old became a major missing person police operation which was compared to the earlier disappearance of Madeleine McCann.[2] She was found alive on 14 March 2008 at a house in Batley Carr, also in West Yorkshire and only a short distance away from Dewsbury. The house in question belonged to 39-year-old Michael Donovan, the uncle of Shannon's mother's then boyfriend, Craig Meehan who was in fact convicted on several accounts of making child pornography. [3]
Donovan - formerly known as Paul Drake - was arrested at the scene, and subsequently charged with the kidnapping and false imprisonment of Shannon.[4][5] Karen Matthews, Shannon's mother, was charged with child neglect and perverting the course of justice, on 8 April 2008. The joint trial of Donovan and Matthews commenced at Leeds Crown Court on 11 November 2008[6] and concluded on 4 December with both defendants being found guilty on charges of kidnapping, false imprisonment, and perverting the course of justice.[7] They were both given an eight years sentence.[8]
You will all remember the really auful case of Shannon from the entry from wikipedia.

I did work extensively on this case - usually in various posts highlighting various aspects that came to light in tarot and I will post a few of those I received here. Shannon was rescued and for that people are very grateful including myself to know she was safe and sound. The only thing we have to remember is that children may be found safe and sound but they have also been through an ordeal. It would be really a wonderful world if these things did,nt happen, but they do and every single day. Children have to live with memories for the rest of their lives. Hopefully Shannon will adjust well - but there are those children who do not. This case is an example of what can happen right under your nose - its very sad. Sad for the family overall - I hope something was learnt from this but more importantly I hope Shannons life turns out well for her and also for her brothers and sisters who currently have to live without their mother who was imprisoned.
Tarot picked out quite a few things in this case I have placed snippets below that were relevant in the outcome of the case.

Card for Shannon
Mar 3, 2008, 10:03

The card represents the critical factor for the issue at hand. Mother of Stones (Spider Woman): Serene, probably an older woman. Self-confidence

Is it 'because of her mother ?


Today tarot 4 Shannon 8th March
Mar 8, 2008, 23:21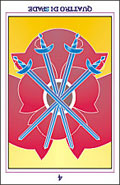 A quick question today for Shannon. Where is she?


The cards say that Shannon went for a 'rest from stress' which was basically a temporary sojourn - meaning that she was going somewhere just to chill out and had no intention of disappearing permanently. But the cards then say about a 'lack of vigilance that could lead to disaster'.

Lack of vigilance? Something she was not expecting coming from nowhere...disaster?
The four of swords reversed also indicates: Banishment, enforced isolation, seclusion, imprisonment, cowardice, depression and failure of nerve.

Not exactly a death card, but the right way up could confirm someone buried underground.

Im wondering if it is possible that Shannon is alive but she is being held somewhere?...

This card also stands for a period AFTER rest and a return to the world and regular activities...

So, is Shannon soon to appear? I noticed that there is still a financial implication here might be minor but Im going to mention it less its forgotten


Ive had the impression its someone she knew....


Tarot for Shannon March 10th late night
Mar 11, 2008, 2:33 »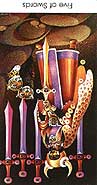 Five of Swords reversed. Not a good card tonight.

This is not a nice one - simply because it represents hostility, or even someone on the end of a crime. This card can also be about tiredness, exhaustion, bitterness. The most definate thing is that this card represents an uncertain outlook which can be very very bad such as a loss, burial , crime or it can mean a possible misfortune befalling a friend. Whichever way it is looked at, someone is regretting what they have done here. I am not happy when I turn up these kind of cards because I wonder what is going to be the final meaning.


someone could have pitied her and hidden her and is now worried sick because of it...I link that to the misfortune befalling a friend perhaps?
Someone was due or has come back into her life with influences she may not have liked. This is to do with homelife
I recall mentioning in tarot somewhere DONT GIVE FUNDS FOR THIS GIRL - and some skullduggery...I think this family are going to be in serious trouble. I know that the cards said that there will be a court case and the 'perpetrator' will pay by example -
A late night card for Shannon
Mar 7, 2008, 8:13
This card, does not look very good.





Why?





Because it shows a slight deviousness behind Shannons disappearance. Clearly I may have to eat my words and if that is the case I would like to back down and put it to you that ok, we all make mistakes. Meanwhile I will tell you what this card means.





It appears to represent a time of waiting until a project matures.




It shows that no haste of immaturity must show at this time because it would thwart any plan. Endurance is needed to be 'in it' for the long haul. If patience is held on to in the right way, then the 'harvest' will mature a healthy profit.





This card suggests that things may be done or needed to be done for protection, ie., like you would insure your home so that if anything went wrong you would reap a nest egg.. The main message of this card is ' all comes to he who waits'





(nest -egg - money)





Tarot saw Shannon possibly in a place 'near by'





*********************



Though it was pointed out by tarot about possibly being buried, tarot also saw Shannon alive so it was miraculous that she was found 'buried' but inside the Divan in a bedroom. Who would have thought it? The tarot also picked up the Financial scam around this case as of course the family were hoping to raise money by hiding Shannon. Shannon did know her 'captor' because it turned out he was her uncle.
Tarot told us that someone would 'pay by example' - looks like that really was the case because just as Shannon was imprisoned - through a plan devised by her mother - her mother ended up being imprisoned also.

Tarot did seem to point out a few resulting factors.

Empathy