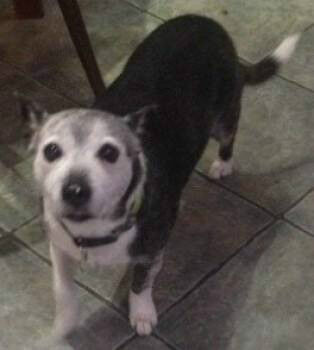 SALLY - PLEASE HELP FIND HER?
I felt I should try to profile this missing dog. It is so important to find Sally so please if you can help would you kindly give information via any of the links below?
DESCRIPTION AND INFORMATION FROM OWNER BELOW:
Mostly Black With White Patches On Her Tail, Chest, Neck And All Paws, Has A Grey Muzzle Female Terrier Cross.. Wearing Green Fabric Collar.
Missing from boat yard in Seaton Sluice. Possible sighting of her at 11.30am near the doctor's surgery in Seaton Sluice and another at 11.45am of a dog matching her description crossing Beresford Road toward, NE26 on Monday, 15th December 2014.
We have contacted all the vets in the area, police and dog warden and issued posts on Facebook, Lost Box and North East Animals. Sally has a medical condition and will need her medication soon!.
She is a very pleasant natured dog who loves people and other dogs. If you happen to see her please try and get a hold of her, she will not bite however she can be very nervous and bark, but its all 'talk'.
www.gumtree.com › ... › Seaton Delaval › Pets › Missing, Lost & Found
www.facebook.com/findsallymarshall
and
www.doglost.co.uk
Can you help find missing Seaton Sluice dog which needs constant medication?
I will write Tarot Impression and put the link here. Please check back.

Hello All, I did say I would write a Tarot impression. This is not detailed but just what jumped into mind. As per locations, it is virtually impossible to guarantee and all Tarot is an experiment on the blog. Sometimes it has been very helpful and come close to where 'we need to be' othertimes a few miles away.
Rather than go into too much chat, This dog disappeared and was allegedly seen around Beresford Road Seaton Sluice. The dog is called Sally and she disappeared from a boatyard I guess must be one around there as I do not know the area. I have a card that gives me a number 2 which might be a distance or a route or a road with that number incorporated. Of course it can stand for another connection. The first thing I thought was DOUBLE ROW which is West and inland but I felt I had look again though I did look hard at that area. Note that there is water in this card but it is in the distance however, we do have to bear in mind that anything with a bridge or an arch might show up. Walls fences too, gardens, green areas, arts centers, museums, shops farms markets..all these things can show up. Schools too and car parks.
The first thing I would ask is whether there was a car park near by?
This card is actually a NORTH cards but it can also give South which means, this dog could be North of where she last was OR she is South. If North she may have gone as far as COWPEN /BLYTH. I do see a Church or Cemetary for whatever reason it gives itself. I also am shown Ash and wondered about Ashington - North of there is Linton Colliery and a place called the Blue Sky Center.
Of course they could just be impression vicinities or even linked to other people. This card takes me up to 30 December but also February. I dont know if this lovely dog will be found because I do see the delays that could come up. However if she is found I would be glad of course. I do see she was 'cold' at some point and might have gone in a few directions. However, its true to say that this card could represent circles such as wheels, bicycles, loops, ringroads or just two circles. I can see a bank and a Square also. Green figures in this card and it is a very agricultural card showing grass and greenery. Maybe even parks gardens orchards.
Hopefully she will be found. Sally was not well at the time of going missing and one has to bear that in mind. Good luck to everyone searching for her. Hopefully she will be returned but this card does say there was a 'change' of location. Perhaps areas near the water in Blyth might be checked just in case, Ridley Park etc as there is a Life Boat Station around there too and ships/boats are connected to this card. Links Road etc. It may not be that Tarot has given anywhere near the right location but does 'see' the wider spectrum of the map.
Please remember I do not claim to have the ability to LOCATE, I simply write down what I am given via Tarot and if it is useful I am glad to assist.
Empathy
Updated: A few hours later and realised that 'Sally' was thought to have possibly been in Cullercoats. I looked at the map and noted that it is directly SOUTH of the area that she went missing, this would make her place of disappearance NORTH (as per Tarot). Walls do come up in Tarot and there is a Walls sounding place West of Cullercoats, called Wallsend there is also South Wellfield. These are areas that could theoretically be picked up from Tarot. I do get a loose link to B J D R which could be initials of people or places, the strong colour BLUE for something and feelings of a 'secret' or something odd around 28 days. Just little bits of info that can link in to Tarot. I hope she was not sold.