www.wbir.com/.../Missing-womans-family-community-join-efforts-t...
Jan 23, 2012 –

The Jefferson County Sheriff's Department has confirmed that Vicky Lynn Burross bought a bus ticket at the Knoxville Greyhound station under ...
Please note that tarot will pick up

TRENDS /VIBRATIONS

of

PAST PRESENT AND FUTURE

- it will pick up anything that is 'out there' true news or false news - either way it can throw light on what is 'in the air' - please bear this in mind when you are reading the insights.

It is very important that 'readers' of the blog understand this, therefore one has to be very discerning when reading. Media news can put out stories that are not factual or are pre -mediated but Tarot can pick that up. It does,nt mean that tarot is wrong, it shows tarot can see what might be suggested. However when writing the tarot it may be taken as fact.

Tarot does not have all the answers or claim to solve issues. All it can do is show what it feels may be of USE or point out possibilities.

Please always read the following

ABOUT TAROT ON THIS SITE

which is a useful article in respect of all the Tarot printed for Missing people/children.

TAROT CANNOT BE CONSIDERED AS

100 PER CENT ACCURATE BY LAW.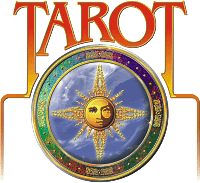 I have been asked via family members to look at the Tarot for Vicky. Vicky disappeared 8th of January 2012.

Please read the notes on this site regarding Tarot and remember that Tarot offers possibilities not fact. It is always wise to go to other factual sources.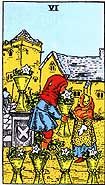 The first card that I have for Vicky is the 6 of cups and for some reason I feel she met an old friend or someone she knows or is close to her and has been led astray. The card is West and the number we have is 6 which might be a route or distance. This might be someone she has had 'ancient' quarrels with but that what I seem to see. There is water in this card which might suggest either an emotional matter or that she is linked to a place with water or water in a name.

This card could spin off a W or M name. The colour Silver or bell or 5 pools of water could come up here and equally a river/place that might have a river with a large white bridge.

Cups cards can turn very negative in places when they are reversed. If Vicky had a meeting with someone she trusted for example they could turn on her but on the surface of it I think she met up with someone.

However, in this card it seems to be around her hometown. I am also seeing North East here.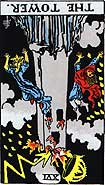 Vicky might be found by accident but this card tells me we have a number 16, 91 or 7 for either route/distance or other significance. This card always reminds me of a stone building of some description. Vicky may have been involved in what would be considered an 'unhealthy relationship' or circumstances that were difficult.

I dont know if Vicky was once married or what her attachments are but she may have either been released from that relationship or situation or she wanted to be. It does suggest people who are 'not good for us' and being linked to them.There might even have been an accident. I am seeing a 7 which is a Chariot meaning transport. She could be 7 away from a vehicle or a vehicle could have come to a halt sometimes it can represent a car crash situation or some kind of catastrophe regarding travel, but I would have thought that accidents specifically traffic related would be reported and of course Vicky has not been found.

Im feeling more that she is linked to a building/stone structure or near one. Im wondering if she had any problems emotionally, either divorce or seperation. I am in two minds about description of locational direction. I think I am seeing North East here though there is a South Fire element on this card. We do have some keywords for this card. They also link into the first card so I thought I would print them only once, but we have the following Keywords which can describe a vicinity or a landscape. I will just mention that the colour WHITE might come up.

Meanwhile the KEYWORDS are a hostile environment,fear or threat, or characterised by a lack of light and restricted movement. Feeling imprisoned. Sense of water muddy or swampy ground bogs marshes, ice or snow. Smelly lakes, ruined houses near water sewers/drains.

Black mud.The word or name Clay. Possible (not always ) church elements/names - cellars, basements, properties that are being renovated or demolished. Damp and decay. North facing walls, any element of water, puddles, ponds etc. Somewhere cold and dark low down or underground or near water. Smiths, shops, furnaces, slaughterhouses, places where bricks or charcoal is burnt, chimneys, forges. These are descriptions that may indicate names of areas or roads or places.

Possible character profile or other keywords to places, strong and large, robust active, quite hairy. Dark hair dark eyes penetrating. Short squat appearance.

Also other Keywords sandy and hilly ground, newly built land or where construction work is taking place. Land connected to sheep cattle or stables. Where 'criminals' may hide; Bricks and mortar, plaster and elements of house building, the ceiling, fire and heat, burns and scars.

Character description which may also be keywords for places, colour red, or redness in complexion or hair - tanned. Strong, might be bald or thinning hair. Or name Bald or baldy for places.
If Vicky got trapped in somewhere she might have called for help.
I just wonder if there is a hill and she fell down somewhere or whether there was a problem with transport.

Smith, Baker, or Taylor come up. Possible motel might also come up.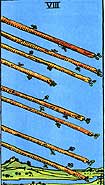 We are told by Tarot that South is a direction to consider and given the 8. It is also suggested that we have rural elements here and some water, perhaps a stream, and symbolically ' a house on the hill'.

Tarot does seem to suggest that we have countryside here and a property or house. It also suggests that we could be found rapidly or that things could move quickly so I rather think that this lady would be found it does seem likely even if its difficult. Its possible that Vicky may not be found the first time around as there could be either a reassessment of the situation or a frustration involved here.
There is also the possibility of air travel or places that suggest that. I therefore feel that Vicky will be found.

This card is a weeks card so 8 weeks comes up here, but it can refer to searches already made too as of course Tarot is past present and future. Im not sure that out of the blue Vicky would be found in such a short time after writing this Tarot but the 8 seems to figure in some way.
Perhaps its for the 8th month such as an August?

Im getting South direction here - and hills, fields, horse names or links to them or the word High or perhaps the area is high up I cant be sure but something relating to the word High. Heat and Fire sources. Ceilings/attics. A Thursday comes up here as do borders/walls.
Perhaps a 'reconstruction' of events may have to be carri

ed out.



I hope something is going to be useful but only time will tell. Please remember Tarot only produces possibilities. There are no guarantees and nothing can be considered factual unless there are reports to validate anything written here after Tarot has been published. Please read Tarots information combined.

Empathy.
I did wonder if Vicky had connections to the White Pine area?
UPDATED WITH MAP 8TH MARCH 2013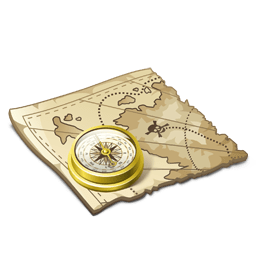 Dee has compiled a map which merely outlines POSSIBILITIES of all the areas that Tarot may be touching on or may be describing. Please bear in mind that this is not guaranteed and Tarot can mean somewhere else entirely.


CLICK LINK FOR TAROT MAP
(Hit the Grey word that says MAPS)
Show on Google Maps