DENNIS MARTIN
www.knoxnews.com/news/2009/.../missing-dennis-marti... - United States
Jun 28, 2009 –

Just six days shy of 7 years old, Dennis Martin was a boy with curly brown hair and a happy smile. He was last seen on the afternoon of June ...


Please note that tarot will pick up

TRENDS /VIBRATIONS

of

PAST PRESENT AND FUTURE

- it will pick up anything that is 'out there' true news or false news - either way it can throw light on what is 'in the air' - please bear this in mind when you are reading the insights.

It is very important that 'readers' of the blog understand this, therefore one has to be very discerning when reading. Media news can put out stories that are not factual or are pre -mediated but Tarot can pick that up. It does,nt mean that tarot is wrong, it shows tarot can see what might be suggested. However when writing the tarot it may be taken as fact.

Tarot does not have all the answers or claim to solve issues. All it can do is show what it feels may be of USE or point out possibilities.

Please always read the following

ABOUT TAROT ON THIS SITE

which is a useful article in respect of all the Tarot printed for Missing people/children.

TAROT CANNOT BE CONSIDERED AS

100 PER CENT ACCURATE BY LAW.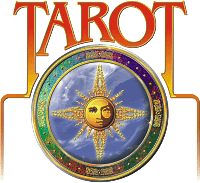 DENNIS MARTIN
22ND FEBRUARY 201

3
From the moment I saw this little boy I felt taken back in time . True Dennis disappeared a long time ago, but just looking at him showed me a different time, a different age and I felt so much coming through his photograph that I wanted to write for him immediately. He seems to call out.

I really do not know how much information Tarot will give to me or whether it will throw new light all I can do is write down what I get sometimes its plenty and other times short of enough but I will do what I can.

Meanwhile there are notes here on the blogger to tell you what Tarot is able to do which is mainly show us possibilities NOT facts. Tarot cannot be considered fact without any validation from official sources after the date of writing. Therefore, please always go to fresh updates or news sources for the storylines. Meantime, Tarot is going to look at past present and future and I will put forward what it gives. It will likely pick up some background event but hopefully other things also. We shall see.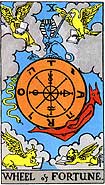 Our first card for Dennis at the time of disappearing is a number 10 or a 1. They could be part numbers of routes, distances or have another significance. The Wheel can show a turning point, it can also show a trip and therefore could in itself point out a vehicle. There are quite a few connecting factors and I can only write them down and not speculate as it may 'tally' up in various ways how Tarot is advising us. Often those closest or more knowledgeable will understand much better if they knnow more circumstances then I do. I can only report findings and may not always get the significance where others do who know more facts.

However, we see the camping 'place' through the Hermit as it often tells us of a place thats off the beaten track and it can show a Hill looking to the West. On this card one is hidden or concealed so it might back up hiding. We are asking what happened here after all and I do know that Dennis and his friends were hiding to surprise the parents. This would fit accordingly. There are other elements though.

Firstly we have to go back to this wheel which is some kind of 'journey' that changes our fate and course of life, the Wheel certainly seems to do that. It is also a card about 'karma' but generally when its upright it is purported to be a good card which does not seem right when a child has disappeared. So we do have to look at all the factors and see how they might help. You see this card can tell us that we might be in the right place at the right time or have a chance meeting with someone who could really help this boy or assist him in where he is going. That seems odd really.

I have found this a particularly difficult case to work with because I have had a lot conflicting factors.

It just seems to me that this boy didnt want to look 'silly' no idea why that is or didnt want to be judged for being silly, so maybe he was not 'up' for the games the others wanted to play?
I just am finding it hard to understand how a vehicle could be involved unless there is a place for it to be where this child was. I am not able to picture the area at all.

The worry is that this card and the others could lead to some kind of suspension where he could have had something hurt his foot or something was around his ankle which 'stopped him' for a while in his tracks. At the same time Im getting that he might have been feeling victimised or punished but somehow sees how he might have been responsible for his situation. Though I am getting something about being made a scapegoat of by others. Its almost like he did not understand why anyone would do that anyway and somehow began to feel very embarrassed? Perhaps even humiliated.

All very well, but missing link here? particular when I see a strong and powerful man here connecting in somehow . The name Will can come up. To me its like a male appeared on the scene.
He could be a smooth talker and might not have had this boys best interests at heart or perhaps this person is 'used' to 'talking' in this kind of situation so Im not sure if its worth considering that someone appeared and how they communicated was pretty convincing to this lad?

Im just feeling that this boy might have gone off with someone but there might also be a female that keeps secrets. Initials here are B J D and or R. Very perplexing. But this person is almost like a father figure so I would have thought someone who was very handy with Tools very dexterous and very able. Perhaps South West is being shown here.

There are various keywords that try to give other descriptions perhaps of landscapes, names of things, places, people even road names but cannot give the name straight so all I can do is to give what I have and Dee will try and find corresponding possibilities on a map which will be posted later.

Those keywords would be describing vicinity that is agriculture, harvest also agricultural storage,dairies, granaries, malt-breweries, cornfields, hay-ricks, greenhouses, places connected to barley, wheat or peas or where cheese and butter is churned or stored. These names can actually point out places when considered carefully.

Other keywords aer rather odd this time around but we are being given objects used for study, accountancy, or storage; libraries, book cases, or places where books, pens and reading/writing instruments typewriters, word processors and computers, study halls, office areas and items used for book-keeping. Also medicines or drugs/drug stores? Names that might describe sewing, like needle or pins? Places that are that are used to store, restore, or repair tools or are rooms or annexes to houses? also animals are seen here but such as pets or vets, small animals in particular.

Teachers? or schooling comes up though I have no idea why this would show here but I can see some kind of tricks or perjury ?

The colour Gray comes up.

Somewhere around a mile.

Shops, markets, fairs, schools, common halls, bowling-alleys, tennis courts also seem to be connected in some strange way?

A possible description here of someone possibly tall but straight and thin with a high forehead and narrow long face, long nose; eyes between black and grey, thin lips, no beard, full head of hair in a brown colour. Olive or chestnut complexion possibly shifty.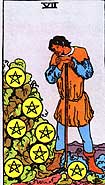 Our next card which I hope is always going to give tips for location is again rather odd because this card can take us to college/school names. It can suggest farmers or agricultural land. This card is a 7 and all 7 cards are pretty tricky. For one thing they are often showing some form of deceit or trickery. This is not particulary a deceitful card but look at the money on it.

Why is money on this card???

This card is not reversed and it seems to show some form of security and right now looking at it I dont know if I could suggest anything that wrong about it, but then we would be talking about Dennis and not location. So if I just stick to the location here, its North.

The number 7 is likely a route or a road number or distance or perhaps it has some other quality. Dennis has been thought to be six or seven when he disappeared. Im not quite sure if that ties in right now but going back to Locational ideas, Im seeing 'somewhere to go'. Its true that he might be walking at some point but I still see him with somewhere to go unless I have completely lost myself here somewhere.

I seem to see links to money, so money names? like gold or coin or penny Im sure there are many 'money' names. I think I see a farm. The colour Green seems to be attached to this boy.

I might be seeing a tattoo?

Are there any snakes in those regions?

Its almost as though I can see a 'return favour'? you help me and I will help you situation.

The South East can also appear to come up here.

Problems to throat neck and shoulders, places described or attempt to name are stables /horses / cattle or where they are kept kept. Farm land or pasture land away from grouped buildings. Single type of buildings like barns/storage or sheds/outhouses, or even bungalows or cottages. Low rooms or cellars so feeling its low down. Mirth and Laughter which makes me instantly think of Happy Valley (theres a big story here that links to another missing person but its rather strange I will point that out later.)

Also given are gardens, fountains, bridal, or bridle, the word fair, some form of lodgings, beds, hangings dancing schools, wardrobes. These are all indications of names of places or possibilities of that.

Pentacles always give Valleys, parks and green spaces. They also show Gates, Gold and Arches even Bridges can come up here. The initial G and the word Bank can also show up and a Square outside a town. This is not all going to be 100 per cent but designed to give some type of clue. The word Bell - some kind of sanctuary or place where people can help you? Perhaps an orphanage or orphan?

This card can show us some type of 'long term planning'?

Real estate can show up at the end of these cards but its too far ahead right now.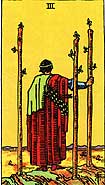 We have to ask whether Dennis will be found - there is a longing in this card and just a sense of waiting for 'the ships to come in' so there really has been a long wait thats for sure. Generally this card would give us three weeks. Well that would be wonderful if that were true, but because timing can sometimes be showing us another way of looking at it, we have to look really at the figure 3 on this card. So a 3 is given. It is actually a thumbs up which suggests that though there is a lot of waiting there are in fact three opportunities here to find this boy.

I do believe he will be found because this card is not negative at all. It just shows the patience that has been required in searching. This card links to the word Alexander. It is also linked to a 'new home' or the word 'freedom'. ?? A house on a hill - an airport in the vicinity or up high. A Wall or the name Wall. Rolling hills and trees - the border? or a border or between towns, approaching a town.

It seems to show that however impossible things may seem there is actually a positive outlook on this situation and I do feel this boy will be found however incredible it may appear to be.

This is a South Card but the person who we cant see is actually looking North. Note the fact that 'we cant see this person'. There is something to bear in mind about that. Do we know who we are looking for? Would Dennis be recognisable or would there be a chance that somehow there is difficulty in ascertaining that it would be him when found?

This card could suggest that there has to be fresh injection of energy to find him because this card is a discovery. There is something RED in this card and it could show something red maybe clothing and Dennis was wearing a red shirt or that we are to take note of this.

Teamwork and joining forces will be enterprising and helpful.

This card when asking when Dennis will be found is giving 'surprise'.

Someone is trying to help find this boy - I actually know who that is and I am going to have to give you a very strange story in just a moment.

Meanwhile lets have a look at some more keywords.

Before that, I will just mention that Bow, Victory, Laurel, Ash all come under this card or can connect. I note this boy was from Knoxville.
There can sometimes be a bridge over water which could be symbolic or an actual bridge over water and a 'castle'. It could suggest a 'longing to be home'.

Another word - East comes up.

Someone with burns or scars.

Description of places or keywords that might be useful - sandy and hilly ground, newly built land or where construction work is taking place. Land for sheep and small cattle/ stables for small animals. Unfrequented places that perhaps criminals might be or hang out ?? Links to plastering, covering of houses, bricks and mortar, places attached to heat or fire or have some other significance perhaps even an Attic or eaves can come up or timber.
Other Keywords are smiths, shops, furnaces, slaughterhouses, bricks or charcoal, chimneys, forges.

A Tuesday.

The word Hunt or Hunter.


Description of person middle stature, strong , big bones, not fat; complexion brown, ruddy or a high colour; hair red or sandy dark blonde crispy or curly. Sharp hazel eyes, very active fearless personality. Bear in mind this may also take us to names of places and not always descriptions of persons. One takes the keywords.


Before I end this Tarot, I have to tell you of a very strange event. Firstly this boy is going to be found. I have no doubt of that. Secondly, whilst searching for an image of this child, another photograph came up wrongly labelled as Dennis and it was in fact Michael Hearon. Michael disappeared from Happy Valley on August 23rd 2008 and has never been found. He disappeared under the most strangest of circumstances. Both Dennis and Michael disappeared in an area not far from each other though many years apart.

Whilst it may sound very profound or rather eerie, I feel that Michaels photograph and Dennis photgraph being mixed up under a title was no mistake. I do believe in synchronicity and I feel as though these two people are connected or that I should somehow do something for both of them.. I have decided that as Michael was 'insistent' in coming through Dennis's Tarot reading session that I should write for him also.

I will be providing that Tarot next. His family have waited and wished for him home and as he has come 'out of nowhere' to bring my attention to him so I feel I have to look at his Tarot. Clearly there is something 'someone' wants to tell us about that area. Whether Tarot is going to help regarding Dennis meanwhile I cannot be sure. All I can do is write down the possibilities that Tarot advices and this is NOT FACT. It cannot be considered as Fact or accepted as Fact unless there are validations 'post' publishing Tarot from official sources to underline or point out accurate information. Tarot is past present and future and the cards should be considered in combination to each other.

Meanwhile, Dennis is in my thoughts and after all these years I am hoping that Tarot can come good for him. Now its time to wish for the best. This really could be a time of divine assistance because I see a form of help here that is going to somehow produce things that have not been thought of before perhaps. One can only wait and see. Please remember that I do not discuss the health of the person found. I only suggest whether they will be which is what I seem to have here.

Empathy.
UPDATED WITH MAP 23RD FEBRUARY 2013
Below is a map of possibilities. I myself wonder if Ashville should be mentioned or the word Ash

which might be connected at some point.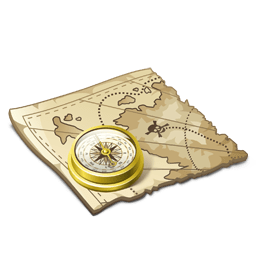 Dee has compiled a map which OUTLINES all the areas that Tarot may be touching on or may be describing. Please bear in mind that this is not guaranteed and Tarot can mean somewhere else entirely.


CLICK LINK FOR TAROT MAP
(Hit the Grey word that says MAPS)
Map 1
Show on Google Maps
Map 2
Show on Google Maps