http://www.kwwl.com/story/15713375/e...ssing-teenager

The East Dubuque Police are trying to locate 14-year-old Chyenne Kircher. She was last seen on Wisconsin Avenue in East Dubuque, Illinois, on Thursday, Oct. 12.

Kircher is described as 5'4", 145 pounds with brown hair and brown eyes. She was last seen wearing a black vest.

Anyone with information is asked to contact the East Dubuque Police Department.
Please note that tarot will pick up

TRENDS /VIBRATIONS

of

PAST PRESENT AND FUTURE

- it will pick up anything that is 'out there' true news or false news - either way it can throw light on what is 'in the air' - please bear this in mind when you are reading the insights.

It is very important that 'readers' of the blog understand this, therefore one has to be very discerning when reading. Media news can put out stories that are not factual or are pre -mediated but Tarot can pick that up. It does,nt mean that tarot is wrong, it shows tarot can see what might be suggested. However when writing the tarot it may be taken as fact.

Tarot does not have all the answers or claim to solve issues. All it can do is show what it feels may be of USE or point out possibilities.

Please always read the following

ABOUT THE TAROT ON THIS SITE

which is a useful article in respect of all the Tarot printed for Missing people/children.

TAROT CANNOT BE CONSIDERED AS

100 PER CENT ACCURATE BY LAW.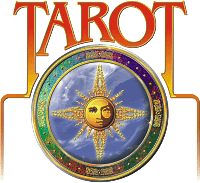 CHYENNE KIRCHER
6TH NOVEMBER 2012
I have been asked via the Blogger to look at the Tarot with respect to a 14 year old girl who went missing on 12 October 2011? . At the time of writing Tarot, I assume she is still missing and I write believing that to be the case.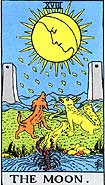 Phew! I pick up a lot of anxiety and worry off this card in respect of Cheyenne and this card is showing me someone who wants to escape realities of a situation. There seems to be drink/drugs problems around this child. It does not necessarily mean she is involved, its just pointing out that these kind of behaviours are spotted somehow.

This girl might sometimes have wanted to get some time alone

to think a lot of things through as I am seeing depression and anxiety on her and wanting a situation to stop or end.

Getting a major card like the Moon is going to suggest that care providers come up here, did she have some worry about care/foster care or perhaps there is some kind of link or concern about a mother figure? I just feel that some things are upsetting and makes her feel like 'things are ruined' or could be ruined.

I do sense a lot of emotion in this card and we do have to look at the card for what it is, this is a water card that sits right next to the family and travel. The number I have here is 18 or 9 and we are looking at this number as a possible significant reference to a timing, or a route or distance number primarily.

There is an element of voluntary change on this card which could suggest that this girl went off on her own but there is also some kind of deception in that. This card can represent hidden dangers particularly for a child of this age. I think the most important thing is to try to give information about where this child might be.
Tarot gives indications of places/names or landscape in descriptions and not in actual NAMES themselves so I think we should try to do that if possible.

Everything has to be read in combination of all three cards as of course Tarot is dealing with past present and future influences and can speak about 'where she was' as to where she is currently or will be found. Please remember this and read all the notes on the blogger.

The descriptions firstly that I am given is a Z and a suggestion of

'sleep' or their head hurting.

I have a North to North West direction which could imply the direction that this girl headed towards and I also have places that sound like or are in landscape that describe, fishponds, rivers, springs, watermills, water pumps, wells, marshy or watery ground, moats, springs or the ocean. I also have feeling alone and there are church elements here whether that is indicating spiritual matters or that there is a church name somewhere or connected to a church name. This card is talking about a

Thursday.


There is also something White.

There is a possible person description here also and that would signify someone who is tall, perhaps possibly plump or big belly and if male large grey eyes, auburn brown hair .
IF this is a male then it is someone with a beard.
There is a problem of 'right and wrong' here and it could be to do with past behaviours and might be linked to Cheyenne or

someone around her.


Someone who might be called Michael.


Unhealthy associations.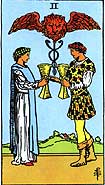 I want to move on to the next card and Tarot has given to me the two of cups which is also a water and West card. The number 2 could form a route number or a distance or have some other significance. The letters M or

W

come up here as do a white bridge and a river and a small building that might be near there. It is possible indicating 'the other side of a river' from home but it may also be describing a place name or what is in the vicinity.

There are friends here, three in particular

and the month of October,

Pumpkins and Halloween comes up here. I also see something about children or childrens playgrounds

or a garden

but I am feeling more that TWO CHILDREN have OR MIGHT have been taken away from home. ?
Pots or pot come up? as does 5 areas of water and the word Bell?
I am seeing something about in the distance there is a house on a hill?

stream/water nearby?



Im wondering if she did meet up with someone else, perhaps

a male

? there is a vehicle and or possible motorcycle here and going towards a lake, even boats can come up in these cards.

Im getting a link back to North but I also have all the water elements here once again so anywhere that links to areas that describe or have in their vicinity the sea, rivers and places

near ponds or waters

- brooks, springs, wells, wash-houses, sea shores, marshy land, . Certainly Cellars cannot be ruled out or any connections with places that sound like that word and I need to link in bathrooms or plumbing.

Our first card could show two towers or a bridge so I do need to mention that. This card also brings that same bridge up.
I am also getting a tree name and the sense of an 'island'. This could represent also a named place or wanting to be alone. I feel as though this girl wanted a new beginning in her life and sought protection? I also see 'poisonous' liquid.

Cheyenne may have been enclosed in a vehicle at some point the indications are there also a field and a fence

not far from home

. However, again these are glimpses and how they fit together one cannot be completely certain right now.
Moving on its important to show when this girl is likely to be found.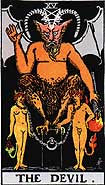 Whether this card is going to reflect an age of 15 for this child to be found or whether in fact the number 15 is a route I cant be sure but I will give it also here you can find the number 6 so those two figures should be useful in searching and finding this child.

There is a difficulty in finding her because of the associations with 'unhealthy people'. Now that either means that she is protected from unhealthy people or it will mean its possible that she is linked to unhealthy people . Either way there seems to have been domination and some kind of 'bondage' here either in reality or as a mental condition of events.





This little girl will be found by accident, like a bolt from the blue.

I do have some kind of tower or building here and some kind of 'sign' on the wall?

Chain link fences or electricity MIGHT come up so I have to put those possibilities forward.
There is a worry here that there is no 'reward' ?
Drink Drugs or sex or unhealthy relationships seem to be all over this Tarot. I am not wishing to pin that on anyone I just give what I have.

Descriptions of places or people or landscape may come up as linked to South - farms, farming , tractors, or farming equipment like combines,

wood

stores places where you find farm animals.

Fallow or land that is bare or barren, bushy or thorny places, soil in fields

. Dark place? Also a reference to boats or boatyards, jettys ? OR somewhere you might store nautical things.

Also international borders/ walls,

gardens

/garden fences, gateposts, churches, church yards and ruins perhaps stone ruins or buildings can come up. Confined spaces seem to come up here. The water elements earlier can even suggest waste disposal or plumbers fish, fishermen or anything linked of that ilk.

They are descriptions of places to find or search and could incorporate also places that have been searched

we have to remember past present and future.

A Saturday can be seen for one reason or other.
Other parts of the vicinity might include deserts,

woods

, valleys, caves, dens, holes, mountains,church-yards, ruinous buildings, coal-mines, sinks, dirty or muddy places, wells and houses of offices. These areas could also link to another person.

A person description might be beard or beard shaven off so stubble, black hair,

dark eyes thick lips and nose. Stooping appearance? Person could be plump.

This is an extremely brief reading for this little girl and I know there are probably other details that I will have left out but it is the main glimpse that I have. I will certainly come back to look if this child is not found by Xmas.

Please read everything in combination as Tarot throws all clues in on the table in past present and future epochs and I just write this down. I know there are doubts about finding this child so Tarot has not given YES for sure what it tells us is that she will be found quite by accident and that is all I can give.

Empathy.
UPDATED 7TH NOVEMBER 2012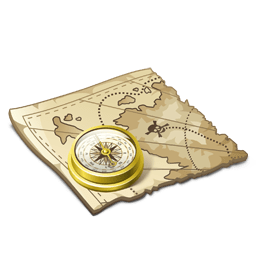 Dee has compiled a map which OUTLINES all the areas that Tarot may be touching on or may be describing. Please bear in mind that this is not guaranteed and Tarot can mean somewhere else entirely.


CLICK LINK FOR TAROT MAP
(Hit the Grey word that says MAPS)
Show on Maps
UPDATED 27TH NOVEMBER 2012
I dislike guessing with maps but I did wonder about Monticello as there is a 151 route there? No doubt I am way off but I like to point out numbers as possibilities whether right or wrong.
UPDATED 20TH SEPTEMBER 2013
Very sad news Im afraid! I will keep this updated as news appears.
Remains Found in E. Dubuque ... for Cheyenne Kirchner continues…just not in the way anyone hoped. ... Remains Found in E. Dubuque.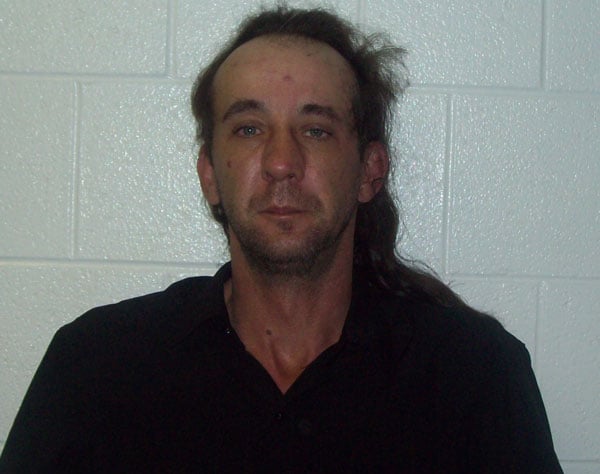 At a Friday morning media conference, the Jo Daviess Co. Sheriff's Office said officials
found human remains Thursday evening
believed to be missing East Dubuque teen Chyenne Kircher.
Officials will remain on the scene Friday to excavate the entire area where they found the remains.
Authorities are still not talking about any motives or details about Kircher's
stepfather Terry Abbas, who is charged with her death.
Officials say at this time they believe Abbas was the only person involved with Chyenne's murder, and do not anticipate her mother will be charged.
According to the criminal complaint court document, Abbas strangled to death a minor with the initials C.K.
on or about Oct. 13, 2011.
That's the date then-14-year-old Kircher went missing.
"She was always alone. You would always see her walking around town alone
and she would talk to everybody.
Jo Daviess County, Ill. chief sheriff's deputy Dave Hachmeister said officials are still excavating the body of missing East Dubuque, Ill., teen ...