Nancy Wyman Jenkins, 57, was last seen at her home at 5760 Turner Smith Road around 5 a.m. Thursday morning 31 May 2012. She was last seen wearing a black or red shirt and blue jeans.

Deputies said she left the home without taking any personal items or her vehicle.

Anyone with information on the location of Ms. Jenkins is asked to contact the Guilford County Sheriff's Office at (336) 641-3355.


Please note that tarot will pick up

TRENDS /VIBRATIONS

of

PAST PRESENT AND FUTURE

- it will pick up anything that is 'out there' true news or false news - either way it can throw light on what is 'in the air' - please bear this in mind when you are reading the insights.

It is very important that 'readers' of the blog understand this, therefore one has to be very discerning when reading. Media news can put out stories that are not factual or are pre -mediated but Tarot can pick that up. It does,nt mean that tarot is wrong, it shows tarot can see what might be suggested. However when writing the tarot it may be taken as fact.

Tarot does not have all the answers or claim to solve issues. All it can do is show what it feels may be of USE or point out possibilities.

Please always read the following

ABOUT TAROT ON THIS SITE

which is a useful article in respect of all the Tarot printed for Missing people/children.

TAROT CANNOT BE CONSIDERED AS

100 PER CENT ACCURATE BY LAW.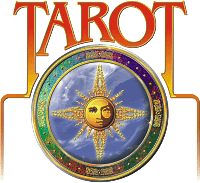 NANC

Y TWYMAN JENKINS
27TH OCTOBER 2012
There is a Missing alert here on the blogger for Nancy and a request here on this site to look at Tarot for Nancy Twyman Jenkins and I am assuming that Nancy is still missing as I write the Tarot. Please make sure you read the notes regarding Tarot as Tarot does not have all the answers but provides glimpses of possibilities past present and future. I always recommend readers to check factual sources of information.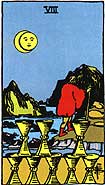 The card presented to me by Tarot advises that there are emotional difficulties here. What you see in this card is someone who is moving on because of a relationship that is either not fulfilling or has lost its mojo. It seems that it is a bit of painful process. Im not sure however if this is Nancy or someone around her that 'lost the loving feeling' but Im seeing disappointment here and a possibility of feeling that there is not much choice in the situation really. Perhaps someone wanted to break free or start a new relationship with someone else or just wanted to be out of the relationship altogether?

Maybe the relationship just petered out for Nancy or someone in her life, there is a kind of soul searching element on this card. Unless anyone had a broken relationship around her and Nancy was going to console them. However, there is a possibility of a new relationship here but again Im not sure if it is for her or someone close either way it may have contributed to her disappearance.

The only problem I have here is that as this person is walking away they are going to a place which tends to suggest a home town or a familiar place or even a home that they know well? Is there somewhere that links to a rainbow or the name Ray?
I seem to see the possibility of a house on a hill. An Island or a tree name may also come up and three women, one redhead, one blonde and one dark.

The card number is number 8 which may be useful in route or has some other significance. Perhaps 8 days comes up here also?
This card also shows us a West direction and we do have water in the cards which if not in the vicinity at the time might link to emotional concerns. The colour Blue and a container.
This card can show us the handwriting is on the wall, or it could be showing us a signpost?

There is a possibility of trusting too much here.

I also have a North West direction and links that could be the actual vicinity described as fishponds, rivers, springs, watermills, water pumps, wells, marshy or watery ground, moats, springs, the ocean or sea any connection to water being signified but also links to churches whether actual or name. References to 'fishing' are here and/or possible journey across water is here. There may be an 'M' or W initial and a white bridge? Im linking her to church, priest or church names at Sunrise.

I also see a possible married man with a family.
There is a person description here tall stature; brown, ruddy, possibly plump , high forehead, grey eyes , auburn brown hair, beard, big belly.

Some place connected to a Garden or childhood memories? a boy and a girl? or male and female and pots or potters? A ruby ring or a necklace? some connection to lake or fishing or boats. Restaurants, food names, kitchen can come up here as can drinking or places you drink?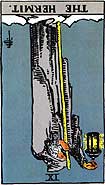 There are two ways of looking at this card. One is that Nancy went to see someone and that would possibly be a man who may have shaved off his beard and planned to take some time out and did not want to be found, or she is hidden and concealed. This card can show camping, camp sites caravans, scout camps, bridges, dark holes, off the beaten track. The number here is 9 or

6 which could be distance or have other significance.

There may be a feeling of uneasiness here. Again we have a Hill but also have to think of names where lamp, bright, beacon could show up even a mountain. But they could all be names of places. Sometimes this card can talk about 'sexual' advances or touch.

There may be a 'pointing sign' or signpost or Finger in a name?


This card also looks to the West

, but possibly South West. Tarot cannot really tell us names of places only describe and I will give descriptions below.

We do have a personal profile here Im not sure that its Nancy but the person would be slender with straight, angular features. Thin lips, high forehead, small piercing eyes and dark hair.
Names of places or actual vicinity might be described as places that connect with agriculture, harvest or storage. Dairies, granaries, breweries, cornfields, hay ricks, greenhouses.
Barley wheat and peas, cheese and butter might sound odd but may be within a name.

Im also seeing places like libraries, books, pens, and office equipment here. Does someone have an office somewhere? Did Nancy need medicine for her stomach? I can see drug stores. Also repairing clothes, or names that link to clothes or sewing machines. Perhaps annexes? There may some links to pets or vets or small animals or names of places that might connect.

Closets, pantries can come up here too as can tradesmen's shops, markets, fairs, schools, common halls, bowling-alleys, tennis courts but they are linked to a Wednesday?
Someone who likes to travel? OR perhaps a travel agent comes in at some point?

The problem I have with this reversed Hermit is the fact that there may have been a trip that was cancelled or something happened on it because luck tends to run out on the Wheel. Not only that but we can consider risky situations.

There might be something White and again a link to animals or small animals

. Land with a river and a mountain and possible health problems or even respiration problems.

These cards can produce a stalker element or a third party element its not always the case but I mention it, it could really represent a 'garden' and a smell. There may be a K or key or quay reference and some wrong advice being given here possibly either concerning two people or involving two. If this lady is not far away from where she disappeared perhaps she is linked to 9 or 6 say on the border of her home town or within it? or linked to that kind of distance?




Three months appears to be on this card, however, that would have brought us to August and I assume that Nancy has not been found. Perhaps its

three months

from Tarot

or the number 3 might assist.

This card is

East

and there may be reference to the heart or HART.

I see three people connected in this card, I am also getting those church references again and I have seen that more then once. I think someone who knows something may bring forward information and here I see the island and water around. I would have thought there might be some news before the end of the year with this card showing here on search and find. Perhaps there is a love triangle situation? and it does suggest painful sep

a

rations.

West comes up again here

. I do seem to see some kind of quarrels or arguments.

Also possible trickery.

I have seen two music links but not sure why but maybe its a name in a song or it comes up in some other way. Gardens, fountains, bridal-chambers, B & B come up as do , beds, hangings] dancing schools, wardrobes. These may all be attempts at the name of places.

Also a Friday.

Again, mountains and hillsides connections to air, such as windmills, wind power, air force bases, airports, high communication towers. Hunting and hawking. Sandy gravely ground, saw pits or places connected to wood or where its cut/stored, barns outhouses but somewhere away from a main dwelling. Ventilation ducts and bedrooms or upper rooms. Stone, water rocks and cement can show up in swords cards.

Doctors or health can appear here.

Though some descriptions can sound strange they often can be found to resemble places in landscape around a person but all the cards need to be combined to consider the information to see if anything resonates. Hay ricks for example could be referring to the name HAY in a name, it really is difficult naming places with Tarot but it offers as many possible keywords it can and its the closest I can get at the moment. Obviously these three cards are going to represent where Nancy was, where she is and places that might be searched.



There may be unsettling or even upsetting news attached to this situation because this card can show delays in finding Nancy

. October and July can come up as months of interest but I cannot be sure what year. We are already in October with only roughly 3 days left so I cannot promise when. If Nancy were found this month I would be very shocked but you just never know with Tarot what year it is giving unless it is more precise with a different card and this one is not helping me a lot but generally swords are thought to be

Winter months.



Maybe this is when a good search and a lot of brainstorming will help to find new leads as it seems to me that clarity was given after three months in this case so that makes me feel that there might have been information in late July or August?
Maybe the three is a distance or it could be a date or refer to three people? Hopefully there might be some new thoughts around christmas time.

Something black, shiny? jewelry comes up.

Im sure things will pick up but it could end up being a police matter or a court matter further along in the future. Railways can also come up and again might be in the vicinity or part of a search?

I am never sure if anything I have seen helps. I often go away and think of things that I have forgotten but if I do I will come back and write it. Tarot tries its best with every case and all we can do is wait to see how it might have helped or if it gave any pointers that will assist.

Tarot is past present and future and some information may link to other people connected or their vicinity. All I can do is write it all down and leave it to puzzle over.

Empathy.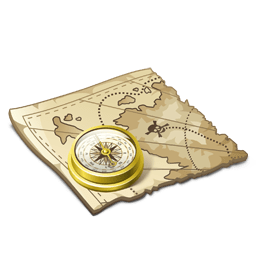 Dee has compiled a map which OUTLINES all the areas that Tarot may be touching on or may be describing. Please bear in mind that this is not guaranteed and Tarot can mean somewhere else entirely.


CLICK LINK FOR TAROT MAP
(Hit the Grey word that says MAPS)
Show on Maps
UPDATED 3RD JANUARY 2013
How very sad. Nancy has been found and I have to leave this upsetting story. I will need to come back to see how the Tarot may have linked in once more details are known. I gave a three to be found and today is 3rd January and this news just received.
I am so sorry for her friends and family.
I will come back to underline areas of Tarot though I have underscored so

me elements until more news comes through

.
Empathy.
www.thetimesnews.com/.../update-deputies-identify-remains-as-those...
4 hours ago –

BROWNS SUMMIT — A body found in the woods here Monday has been identified as a woman missing since May. Nancy Twyman Jenkins, 57 ...
Her body, decomposed to the point only bones remained, was found by deer hunters in the woods at 5755 Turner-Smith Road, about a quarter-mile west of N.C. 61. Jenkins lived at 5760 Turner-Smith Road.
Maj. Tom Sheppard of the Guilford County Sheriff's Office said the state medical examiner in Chapel Hill identified the body Tuesday using dental records. A forensic dentist confirmed Wednesday the body was that of Jenkins.
Sheppard said the medical examiner wasn't able to determine a cause of death through the autopsy. He said a more thorough examination of the body will follow, with each bone examined for possible evidence as to the cause of death.
Officers spent much of Monday searching for bones, which they said had been scattered by animals.